Torrex Pro for Windows 10 goes live for all your BitTorrent download needs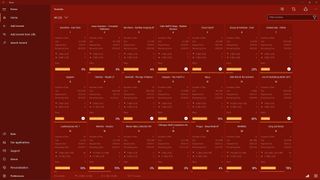 The popular BitTorrent app Torrex Pro has officially launched its universal Windows 10 version in the Windows Store. The app works with Windows 10 PC and tablets, Windows 10 Mobile smartphones and the Microsoft HoloLens headset.
Here's a look at the main features of the Torrex Pro app for Windows 10 from developer FineBits:
Flight: Torrex is now much lighter and faster.
Mimicry: the design adapts to any type of devices.
Invisibility: Torrex works in the background without any problems.
Mutation: a built-in player. Watch media content right in the application.
Time jump: watch a movie or listen to music while the download is still in progress.
Extended vision: improved detection of torrent sources.
Speed control: you can limit the speed and total amount of downloaded data.
Agility: you can now enable downloads over Wi-Fi only to save mobile traffic.
Telepathy: share data remotely using "Share Contract".
Empathy: Torrex speaks over 32 languages and is learning new ones all the time.
The developer has also listed some of the more technical features in the app:
Simple and intuitive interface.
Smart adaptive design.
Fully universal application (UWP).
Support of the Continuum technology.
Background mode support.
Ability to play media files immediately after the start of downloading (streaming).
Built-in viewer for music, video, images and text files.
Plays MKV formatted video files.
Configurable content view (tiles, table, tree) and various color themes.
Download priority management, filters.
Possibility to stop seeding upon completing a download.
Possibility to restrict downloads to non-mobile connections only.
Possibility to change the download destination.
Connection encryption.
Download speed control.
The free version of the app, Torrex Lite, will also receive a universal Windows 10 version in the near future.
Hands on demo with Torrex Pro for the Xbox One!
Beta testing for the Xbox One version of the app is expected to begin soon as well, so you could find yourself downloading torrents on your console very soon. In the meantime, be sure to grab the Windows 10 app on the Windows Store and let us know what you think in the comments!
Download Torrex Pro from the Windows Store (opens in new tab) ($7.99)
I've been using this app as my primary torrent app. It is excellent and this update looks amazing!

When you click a magnet link on a torrent site does it open in this app ? like desktop apps ?

It does but the select program menu displays a generic name and icon, something like CUI app.

Yes, on Chrome. On Opera it doesn't (I thnk it is Opera's fault).

Xbone one support ? Posted via the Windows Central App for Android

Xbone one support ? Posted via the Windows Central App for Android

Read the article?

God those atrocious sigs suck, why do people think they're awesome.

They'll be removed in the next update.

Time for an article titled " TOP 50 Must-have Universal Apps" and what is still missing or not yet universal

This will be bought once and then made available as torrent.

Great article, definitely I gonna check this app. I recently switch from a Mac to a PC with windows 10 and I've been looking for torrent software to use in this SO. Besides Torrex Pro, what other apps are good to dowload torrents? Any suggestions? Thanks!

uTorrent is bundled with spyware and ads. I don't recommend you use it. I use qBittorrent since it's open source.

I use a program called qbittorrent as it's open source and has no ads unlike utorrent.

It really is. I found qbittorrent when utorrent kept making my laptop BSOD for some reason and I went looking for alternatives. Never looked back since.

older versions of utorrent don't have ads either. still using 3.4

Sure, and I know you can disable the ads by changing some flags in the newer versions but why bother when there are already ad free alternatives. I'd still choose qbittorrent anyway for being open source.

Azureus used to be really good until they made it too heavy weight. I recommend switching to qBittorrent.

I use a seedbox and download to my laptop via FTP.

Great for mobile. But for PC, uTorrent always!

I replaced uTorrent with Torrex as my main torrent client. So far everything works fine!

I just think that Torrex Pro takes a little long to actually start the download process, I don't know if it just my internet though.

You can disable them completely. Find it on wikihow.

You can also just use a better app though instead of supporting the shady company that puts ads in their software and uses your PC to mine BitCoins for them

I own the pro version. This means that this UWP is mine too? Or I'll have to buy it too?

have you tried updating it?

No need to buy again. Just go to the store and check it out.

I get 5mbps speed on utorrent whereas for the same torrent file am getting hardly 1mbps on Torrex pro
Any particular reason why?

May be that different ports need to be opened in your router/firewall. Id have a look at that.

4 for the MS and 1 for you. Its so easy :)
But really.. Do a 'troubleshooter'. Empty every cached ip and dns etc config stuffs.

"Background downloading support". So if the app is force closed (killed in the app switcher), will it still work just like Groove Music does ?
:)

Does background downloading finally work?

So basically "grey market" downloading is endorsed now?

Apparently downloading anything found on a torrent is legal now..ahem...piratebay and now with a Universal App!

Not true. WC would never condone piracy. As only legal torrent files are Linux distributions this just means that Windows Central wants us to install Linux.

background downloading still not working

This is too good of a torrent client.... Loving every bit of it

How is everyone using this safely? I presume you are using some sort of VPN service in tandem? EDIT: in the US I mean.

It's all fun until you get a letter in the mail from your ISP. Hey, Universal tracked your IP to some intellectual property that you were sharing.
Good times.

Sony is good at doing that.

who siad that the UWP is dead ?. I think with time more apps will come for both PC and Mobile and Xbox One

WHAT A TIME WE LIVE
The next jump, I hope are the TVs. Or..!? Is it still here?

Âny chance of getting folder monitoring? aka, automatically adding torrents that land in a certain folder on the filesystem?

Torrex is an awesome client. Saved my day many times while on vacations. Highly recommended and respect to the dev for keeping it fresh and updated!
Windows Central Newsletter
Thank you for signing up to Windows Central. You will receive a verification email shortly.
There was a problem. Please refresh the page and try again.