Torrex Surface Edition takes torrents to your tablet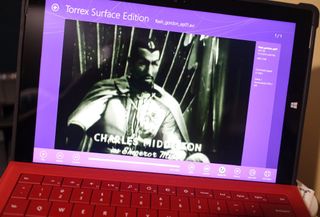 BitTorrent doesn't exactly have the best reputation in the mainstream due to its widespread usage for pirating software and media. However, it can be a useful tool for sharing content and downloading large files quickly, mainly when you are on the go with your Surface or other Windows tablet. With Torrex Surface Edition, it doesn't matter if you have a tablet running the full version of Windows 8 or an RT-powered tablet. You can get touch-friendly torrenting anywhere you go.
Finebits OU, the developers of Torrex Surface Edition, describe it as a "full-featured BitTorrent client" for Windows 8. They aren't kidding.
Torrex Surface Edition works on x86, x64 and ARM-based devices. It lets you download any torrent or magnet link, either inputting torrent links you already have or by finding them right from Torrex's built-in search feature. Downloads will continue to run in snap mode or the background.
Hands down, the coolest feature of Torrex is the built-in media player, which allows you to watch videos or listen to music from torrents as you download them. Streaming music can also be listened to in the background while Torrex is minimized.
As for other features, Torrex Surface Edition gives you control over every aspect of you downloads and uploads. You can choose what folder you want to save files to and whether or not to use background downloading. You can fine tune your bandwidth settings, encrypt your outgoing traffic, and randomize what ports you use.
There are plenty of non-technical options as well. You can select one of the five different search engines to power the built-in in search field. You can also change the theme and background of Torrex, including using Bing's daily background.
What's great about Torrex Surface Edition is how touch-friendly it is. Because it is a modern-style app, everything can be without a mouse or keyboard. That makes it convenient to use on any device.
Conclusion and Confusion
But as good as an app as it is, I recommend you do not buy it.
Instead, take a look at Torrex Pro, also by Finebits OU. It is every bit as good as the Surface Edtion. In fact, the only difference I could find between the two is that each has different themes to choose from. You can also grab the 'Lite' version, which is free and ad-supported.
The benefit of getting Torrex Pro is that it is a universal app. If you buy it for Windows 8, you also get it for Windows Phone and vice-versa.
If you buy it from the Windows Phone Store first, you also get it for $3.99, instead of the $7.99 that it costs in the Windows Store. Why wouldn't you just get it for both platforms and save yourself four bucks in the process?
Either way, if you are in search of a modern-style BitTorrent app for your Surface or any other Windows 8 device for that matter, Torrex is the way to go.
**Also, all of these apps do work on Windows RT devices like the Surface 2. The Torrex Surace Edition and Torrex Pro both work on such devices with no issues.
Get the Windows Central Newsletter
All the latest news, reviews, and guides for Windows and Xbox diehards.