Total Commander file manager for Windows Phone and Windows 10 Mobile launched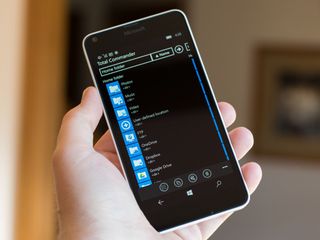 After a year of closed beta testing, the Windows Phone 8.1 and Windows 10 Mobile version of the popular file manager app Total Commander was recently launched on the Windows Store.
The first version of Total Commander, under the name "Windows Commander" was released for Windows way back in 1993 and since then versions have been released for Windows CE, Windows Mobile and even for Android. Here is a massive list of the app's features. As you can see, it's more than just a mere file manager:
Copy, Move whole subdirs
Rename (via properties), create dirs
Delete (no recycle bin)
Zip and Unzip
Properties dialog
Search function (also for text)
Select/unselect groups of files
Select by tapping on file icons
Select range with long tap on file icon
FTP client (built-in plugin)
WebDAV (Web folders) (built-in plugin)
LAN access (built-in plugin)
WiFi direct file transfer (plugin)
Cloud Storage: Microsoft, Dropbox, Google
Thumbnails for pictures
Virtual two panel mode
Bookmarks as in Total Commander
Simple help function in English, German
Supported languages of the main program: English, German, Croatian, Czech, Danish, Dutch, French, Greek, Hungarian, Italian, Japanese, Korean, Polish, Portuguese, Romanian, Russian, Simplified Chinese, Slovak, Slovenian, Spanish, Swedish, Traditional Chinese and Ukrainian. Translated via crowdin.net, using strings from the Android version
Download Total Commander for Windows Phone 8.1/Windows 10 Mobile (opens in new tab) (Free)
Via: Reddit
Is this by the same people who make onecommander (I think that's the name)? The osx file picker program to replace explorer in windows. Anyway, that program is bloated, I hope this isn't...

What specifically do you use this for on a phone?

Yea but what type of files? Like ones people put in office and the cloud?

I want a file manager which can change the album, song name, and artist on mobile. Why isn't there one?

There's Tag Editor that does all that.

Its more than just a file manager ...
Please read the article again (the features part)
I personally use this to access the shared files on my PC via Wi-Fi on my phone while I'm home. You can also turn your phone into a file server via the ftp feature and use your wifi to transfer files using the native file explorer instead of relying on web browsers on your pc.(ftp://bla bla bla)
Its basically the perfect file explorer for your windows phone.
All features packed into one app ..
Much needed.
Going to uninstall at least 3 or 4 apps as this is a nice substitute ... AIO !!
Playback of files is not supported. Seems like its just a file manager.
I thought it could stream like sharefolder explorer app.( bit disappointed)
If only they would add that feature in future :)

What's the use if Microsoft don't give a Bluetooth folder... Leave it waste of time

Where is the download link?

Some of the Windows Central guys don't put the download link in the app anymore, I was chastised for pointing this out earlier.

Go to external links instead..

The external link is a reddit post.
Edit: Maybe they're doing something about it, all the links have disappeared.
Edit 2: Well, I don't know what they did but there's still no link.

Not sure why they don't add the link anymore. Just search it in store and download the one made by Germans (GmbH).

Gesellschaft mit beschränkter Haftung :P

Check out "Total Commander" for Windows Phone http://www.windowsphone.com/s?appid=0cba164b-845e-4dcc-b483-fb88c3dd51c3

Thank you sir. I'd still like to see them get back to adding the feature to posted.

Just search in store by the name

wow, havent used total commander since Windows mobile 6.5!!!

Total Commander on Windows Phone?!?! I had no idea this was in the works.

I dont get it why this is a special app

You must be young or never used Windows Mobile (like WM5 etc.)

Error downloading c101b000

I'm in search for a good file manager app for Windows 10 desktop.

You have found it, search no more. Go to http://www.ghisler.com/

You can download it in view links and click the external link.

It's a pretty nice file manager with a feature pack stuff..

I have used Total Commander (used to be called Windows Commander many years ago) practically since it was launched maybe 15 years ago and I can't imagine my PC without it. It can do all sorts of wonderful things with files and folders.

Well done for rewriting the article.

Always surprised that this type of app is not an MS app. Hope you guys review it.

Because they sort of maintained we didn't need to have one lol. Windows has a common misconception, if your phone is running Windows then it should be extensible and accessible as the desktop version. I imagine that's why the called it Windows Mobile 10. However the problem is Windows Mobile 6.x was very accessible as you could initiate local backups for everything from apps to messages and dwelve into the o/s dirs. Used to use a combination of SPC backup and PIMbackup. I guess Total Commander brings back alot of the functionality to 10 (running wp8.1 not 10 on my 920).

Does the app exist for iPad? That could help my mom with a problem she's having.

Nope because there's no traditional file system on iPads

I still cannot find a file manager on WP that can share files through network; and I mean real file sharing, so that I can browse my phone's shared files on my computer with explorer. I wonder if it's a WP limitation.

It's a WP/7/8/8.1 limitation. Shouldn't have that on W10M, even though it may be suppressed.

Use this app or Yuki file explorer or there are apps that are available in Both platforms so you can do the sync part.

I don't want to install anything extra on my computer, just to access network shares. There is Explorer for that.

FTP server by D_Pavel !!!!!!!!!! how could you miss an app like that !!!!

I'm aware of FTP servers, but that's not what I'm looking for.

Who's playing with the links, they disappeared!

I can see the contents of the folder "Other" with this application?

Are you a w10 mobile user pr wp8.1? I don't see others anwhere!

That's a great app, here's a quick link: https://www.windowscentral.com/e?link=https2F%2Fclick.linksynergy.co...

This link is not working...

Can I delete the "others" files on my sd card with this?

Do you mean 'others' as in storage sense? If yes then No! Its a category of data which your Windows Phone doesn't recognize for areas to sort them.

I think most of features displayed here are no big deal because you will find them on many good file managers like Files and folders pro, Briefcase, folders pro advance file manager and Yuki file explorer(this one has almost all features mentioned here) and they should show what's unique about this app not what are all its features. Even 3/4 app mention hare thumbnail view and folder cut, copy and many more. Even they have their own inbuilt music player, video player and photo viewer!!

but they dont have ftp and lan access
integrated cloud storage access zip unzip do they ?

Is it possible to access shared files on ubuntu Server?

File selection doesn't work - tap on file icon opens the file, tap on file name opens the file, long tap shows only menu for edit file or copy /cut. Deletion of the single file is very hard to do -> Select/Unselect -> Select-> Unselect all other then delete.
Windows Central Newsletter
Thank you for signing up to Windows Central. You will receive a verification email shortly.
There was a problem. Please refresh the page and try again.