Track Runner's version 3.0 update has me running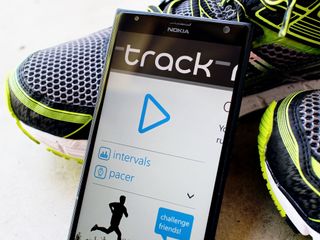 Today is National Running Day, which means it's the perfect day to put some miles under you since we're getting serious with #MobileFit month. One of my goals this month is to get more into running. Tonight I'll hit the pavement with my new GT-1000 2 running shoes from Asics (Amazon.com (opens in new tab)). They're the storm/lightning/limeade color in case you were curious. It won't be a super long-distance run; instead I want to focus on some quality interval training. Track Runner for Windows Phone just picked up a handful of features in their recent 3.0 update, one of which was support for interval training. Full changelog after the break.
We recently covered the best running apps for Windows Phone a few days ago. You'll want to check out that article and vote for your favorite running app. We skimmed over the new features in Track Runner, but I figured we should take a moment to look at them before I go running in a few hours.
Here are the new features you'll find in version 3.0 of Track Runner:
Adaptive interval training
Pacer
Improved user interface
Support for Windows Phone 8.1
I'm really looking forward to trying out the adaptive interval training feature in Track Runner. You get a selection of workouts, like Pyramid Training and Marathon Speedwork Boost, which adapt to your training level and progress. I'm also capable of customizing the interval options to make a workout individualized to myself. Tonight I'll try out Weight Buster interval training included by default in version 3.0 of Track Runner.
The new Pacer feature enables users, like myself, to set a goal. That goal could be running a 5 miles in 35 minutes. The Pacer will then help coach me to during the run to get that goal. You can adjust your speed on the fly so that you hit your target distance and time with the Pacer.
The user interface has been tweaked a bit in this update, and support for Windows Phone 8.1 can also be found. Hit up the Track Runner blog for more details on how the UI has been changed up.
I'm not the best runner and really don't like it. But my biggest #MobileFit goal is to run more and hopefully appreciate it a little bit more at the end of the month. With Track Runner, I can enable Live Tracking, so you guys and gals can cheer me on virtually during the run tonight. I'll probably be slow, but check back in a few weeks to see how I've improved. Later tonight you'll see me tweet a link from my Twitter handle (@samsabri). Follow that link to cheer me on! And it's ok to laugh a little ;)
Have any advice for me or anyone else out there wanting to run a bit more? Sound off below in the comments!
Track Runner is a free app for Windows Phone with no in-app purchases or ad banners. Run with me tonight!
Windows Central Newsletter
Get the best of Windows Central in in your inbox, every day!
Dangit Sam, why didnt u say it was national running day earlier lol. Thanks for showing this app i need to download it :D

Its also national hug your cat day.

Did that already Posted via Windows Phone Central App

We asked our director of bug-hunting what she thinks of either National Running day or Hug your cat day. She sent us this selfie in return: http://trackrunnerimages.blob.core.windows.net/images/KittyLovesTrackRun...

Someone tell that to my cat because she clawed me when I hugged her.

I downloaded this app two days ago and I really like it.

Darn it.... I'm slacking right now and I open WPC and I get reminded to train. LOL. On the other hand, a 35 minute five miler is pretty dang fast, 7:00 min/mi pace for a training run in the sweltering heat of summer.

I haven't tried this app, but won't it be great if it could take advantage of the accelerometer to automatically get split times for interval training? Something like an "auto-interval" mode. That would work great for "fartlek" runs!
I find that those race time predictions (I remember that started with some running club website) don't seem to predict well beyond 10mi races. Or maybe it's just me... Slacker!

The race predicitons aren't too bad actually. We evaluated several methods and chose McMillan's, which has slightly superior results. Sure, if you're a 1500m or 1 mile specialist then you shouldn't trust the Marathon prediction, but other than that most people report them as reasonably accurate. Fartlek training is a great idea and we had considered something along these lines, but our tests suggest the data from the various sensors is simply not accurate enough to provide for a meaningful analysis. Side note: Accelerometer doesn't really play nicely with tracking location in the background. Maybe with a dedicated motion processor (SensorCore) it could work, but even then the analysis wouldn't be very good.

Looks more useful for myself than Runtastic, thanks for this info.

This is by far the best free running app on the market, period. I've tried all the mainstays such as Runtastic and Endomondo - they didn't even come close. The ability to track your gear mileage is very useful so you know when you need replacements. The only problem for me right now is that the voice notification did not tell me my average pace at every mile mark - this is something Bing Health and Fitness' GPS tracker does well. I usually compare myself with my marathon prep friends using our average pace at equal distance - ability to know my pace at every mile I run is thus very crucial so I know I need to speed up or slow down. I'll continue to hope that the developers push through this voice function soon as this is really a truly great app both design and functionality wises!

what i want is a proper apps for cycling.


I've used it to track 38.5 miles since April. (18 runs.) It looks great, works great, and keeps getting better! Thanks for giving this developer some well deserved attention!

I'm like Sam, don't like running, but doing it to get in shape. Everything I've read says interval running for 20-30 minutes is most effective, so I'm gonna give that a try tonight using this app.

Just don't forget proper warm up and cool down with any interval training you do! Good luck!

Yeah. I don't (yet) have the desire to do a marathon, but I do want to run and drop pounds. Interval training / HIIT is the way to go for that. Try out the new interval feature in Track Runner. I will later this evening!

*sigh* No running or any strenuous activity for me till I fully recover from my gallbladder surgery and my Achilles tendonitis resolves.

Sam all I want from them is a way to share my status and I'm good, using Caledos runner now, I have Track runner installed but waiting for the share option.

And I ran cooper test yesterday...

Ice used runtastic for a good while now and I'm an avid runner, quick miles to long distance runs. I usually give new running apps a try to see how they stack up and if they provide what I need. I will give it a try though and give some hopeful feedback to other runners. Nevermind I did use this app already but I ended up ditching it.

Fun following your run Sam and encouraging you. Thanks for encouraging lots of options for Runners on windows phone!

This looks pretty cool especially the interval part. I'm check out out. Just got my fitbit charger since I lost the other one. Look out mobilenations

Christ enough of the fitness stuff. I'm knackered just reading about it. Let me sleep.

thanks for showing us this. is there an app in the store, maybe one of these running apps, that is a solid pedometer as well? I'm jealous of Breeze on iOS, and the few pedometers Ive found on the store leave me wanting.

Good call on the shoes, Sam! Freaking love those colors. Oh, yeah, the fitness app is cool too. Downloading it now.

tried it yesterday, very easy to use

Curse you, Sam!! Read your article down to the amazon link and ended up buying a pair!!! Well, I guess I'll be running ...some.
Windows Central Newsletter
Thank you for signing up to Windows Central. You will receive a verification email shortly.
There was a problem. Please refresh the page and try again.