Track your TV shows & movies with Trakter on Windows 10 and Windows 10 Mobile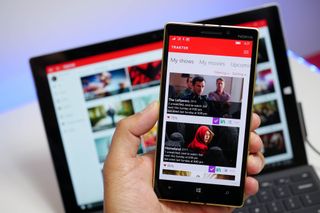 When it comes to watching several TV shows, it might become hard to track down which episodes you're up to. Trakter, a universal Windows app, can help. It looks great on Windows 10 and Windows 10 Mobile.
Features:
No ads
Integration with Trakt.tv
Browse TV shows and movies by popular, trending and recommended
Search for TV shows, movies, and people
Detailed TV show, movie and actor information
List of upcoming and aired episodes at a glance
Trakt.tv check-in functionality
Add new TV show or movie to your lists
Ability to filter out shows that are marked as hidden on trakt.tv from My Shows view
Option to select light or dark theme
Last aired and next aired episode information
Unwatched episode count information
Sort and filter out shows and movies in your lists in various ways
Ability to hide your lists
Play trailers over web browser
You'll need an account to get started. Signing up is as easy as logging into your Twitter, Facebook, or Google account. You can also join the traditional way, which is providing an email address.
Once you're logged in, start populating your dashboard by letting the app know which TV episodes you've seen already. For example, I don't know which episode of Gotham I'm up to, so I search for the show and read the description for each episode. When I see something that rings a bell, I mark it as watched. Do this for all the shows you currently watch, so that your dashboard gives you the most accurate information.
Whenever you open the app, Trakter will let you know how many episodes you've missed, which episode you should see next, and when the next one will air. Tapping a show, gives more details, including the genre, runtime, cast info, trailer, and links to other resources such as IMDB and Wikipedia.
Trakter is also great at discovering new shows you might like. Tap the hamburger button and select Shows. Take a look at the Popular, Trending, and Recommended lists for some ideas.
Trakter can do so much more, but I use it mostly to track my favorite TV shows. You can do the same for movies, but I don't find it necessary. Trakter uses data from Trakt.tv, so you can even have a media center setup that can mark every TV show and movie you watch automatically.
You can download Trakter for free, but can opt-in to pay for premium features. For $1.99, you get:
Notifications on upcoming episodes and seasons.
Live tile with upcoming episodes
Mark multiple episodes as watched / collected
Do more than 10 actions per session (an action is performed every time you mark movie / episode as watched /collected / watchlisted)
Background syncing and caching
If you watch a lot of TV shows, Trakter is a great app to have on your phone, tablet, or PC. You've seen some of the shows I watch. What are your favorites right now? Let us know in the comments!
Download Trakter from Windows Store (opens in new tab)
Windows Central Newsletter
Get the best of Windows Central in in your inbox, every day!
I've had it for a while now. It's great. Especially after the last update where they included check-ins. Though you can't see what you are currently watching in the wp8.1 app, you get that info on the W10 one both on phone and PC.

Maybe soon they'll be able to expand the Win 10 Universal app to the Xbox One, and have it actually check off the shows as you watch them (for those of us pumping our TV signals through the Xbox One).

One of my new favorite apps. Great design and UWP for the win.

Yup, UWP apps have made a great impression on me so far. Let's hope they keep pouring in... Or hopefully start flooding in, now that the W10M release is imminent.

Why isn't there a download app button anymore in app?

They are working on a new app, coming soon!

The app isn't the problem. They change the app links to have advertising tracking links instead

Does it support Canada or is it usa?

Good question. I'm downloading now to check it out.

I think it's not localized

got the beta for a while now . I replaced TV show with it

Is it the same app on WP8.1? There is a Trakter app there also.

Yes and No. There is a WP8.1 version of the app, however it is not the same, as it follows the old design guidelines. The new app uses the universal app platform, and the design is in line with other W10 apps.

It's a great app. It's just a bit of a shame that the best features (live tile and reminders) are paid only. I'm reluctant to pay, since I paid for TV Show, and now that has been discontinued thanks to the closure of TVRage.

TVShow has been discontinued? I thought Rudy pulled it temporarily until he fix it.

TV Show I loved but currently not working so I do need it back or a replacement! Anyone know for sure that Rudy's is discontinued for good?

Rudy had to pull the app because TVRage went offline. That was the site where all the data came from. It is now looking increasingly unlikely that TVRage will ever be back so the app is kind of dead.

It has been pulled because it uses data from TV Rage. TV Rage has closed for unknown reasons (the site owner said to expect news on it's re-opening soon, but that was a month ago). Unless Rudy completely changes the app to use a different source, I would expect that TVShow is finished. I would be surprised if he did revamp the app, as TVShow had not received a major update since the days of WP7. The cloud backup option in the settings was still labelled as SkyDrive even in the latest version.

An alternative could be TV Maze but I'd be surprised if Rudy chose to rewrite the app.

TV Maze is an excellent substitute for TVShow, I tried Trakter app in my phone for some while, and decided to give up and went back to TV Maze, some restrictions for free version are quite uncomfortable to me, I'd rather install it o my Surface3 tablet, since no other suitable TV show app in Windows Store.

Thank you all for the suggestions - I have downloaded and tried all recommendations and have been using TvTime most, not specifically sure why, it does what I need and I like the design. Also, it listed shows as Ended which had been bought to an unexpected end a couple of days before. I am keeping them all and will try them all a bit more before purchasing one. Thanks again, great to have people like you on here :)

Try Push TV. It's free, and though it has no Windows 10 (desktop) app, it works really well on the phone.

Maybe you shouldn't be such a tight arse and expect that paying a buck is good enough for a developer to keep an app up to date for you forever?

Wow. So how long is long enough?

Currently using TV Blaze to replace TVShow. It's great.

TV Blaze and Movie Blaze are brilliant actually.

I use, and love, Movie Blaze. I use TV blaze for show info, but not as a tracker. Of course, I haven't tried it as a tracker in a while. Might need to give it another shot.

Very interesting, I might give it a shot since TVshow doesn't work properly anymore.

I'm really interested in this, really need an app to track my shows, so sounds perfect. Have just tried it on my 1020 (WM10), the sign up process is awful, had to exit the app numerous times - connecting via twitter. Not sure I like the navigation, hamburger menu is on the opposite side to most apps, doesn't feel natural. Also think the tiles are too big for the phone, feel it will get too busy quickly, and reckon there is some strange back button behaviour. However, WM10 is still preview and these issues are fairly minor...can't wait to try it on the pc tomorrow, feel it will fit better.

Sign up on trakt.tv to avoid those problems.

does it support sky italia?

WC site gets pretty weird some times because my comment for this article disappeared my original comment was ( does it support sky italia)

It's right above your current comment, didn't disappear.

I'm in the same boat as others, I've been floating around without a TV show app since TV show quit working. I'll be buying this.

Try Push TV, it's free and works really well!

Awesome. Thanks for this. Just purchased. Exactly what I needed, but didn't know I did. ;)

Drunk History is a great show. That's about all that I'm watching right now. And then Workaholics and It's Always Sunny when they're in season.

Windows 10 is becoming better almost everyday. In small steps, but it is happening.

I've been using TvTime, it's great.

I've had it for a while, and it's very good. I love the fact that I can synchronise it between my Lumia 920 and my tablet Lumia 2520. I don't have to much time to watch TV shows for now but I would advise anyone to try the app. And go premium if you like it, that's two pounds/dollars/euros/whatever very well spent.

Grandfathered is very funny!

RIP TVShow app! Might have to buy this one once I finally get on W10 Mobile.

Thanks for the tip. Am using Series tracker on mobile but was actualy looking for something universal... !

Have been using this app for a bit and have replaced TVShow with it. What I like is that it does not store your data on the device like TVShow did. If you lose your phone it is all there on trakt.tv. I do find myself using the actual web site more than the app on my computer but for mobile this is great. If for some reason this app disapears I will not lose all my watched shows since it is all on trakt.tv.

I've been using it for a while. The new version is much better. I had TVShow, but it stopped working. The good thing with this one, is you can go to the web site and make updates and both are in sync.

i just tried it and its really nice. the paying for full features is kinda BS... just sell ad space for crying out loud. Does anyone know how to display only missed episodes?

Does this work outside the US?

This looks a situation that calls for
Lolwut

TV episode air times are hours off, no matter what I set the time zone to at Trakt.tv. Annoying. Anyone else have this problem?

OMG, the hamburger menu is in the right corner. It's awesome !!

In landscape mode, hamburger menu is in the left corner, just like desktop app. Bit of a weird design choice.

Great app with nice universal Windows app design

It needs a 24-hour time option!

And i still getting the spupid error 0x80072efd on Windows Store.... :'(

Excellent app! I bought the premium for live tile and support the developper. He does a geat job, universal app and all :-) It now replaces TVShow in my phone, which seemed discontinued (tweeted to Rudy Huyn but never received any answer).

Hi all, I'm the developer of Trakter. I would just like to thank Mark and WindowsCentral for this post, it is really helping in bringing Trakter to more users, and also thank you guys for the nice comments. If you are interested in whats next for Trakter you can read about it here: http://trakterapp.com/whats-next-for-trakter/

Thanks for the great universal app, loving it. Keep up the good work.

Another pointless tracker app. Why would I pay to track my shows on a live tile
Plenty of websites do it for free and send notifications.
I'm not going to pay anyone, to track shows when I can do it for free.
What happens they stop support it,or the website goes down.. IE: TVRAGE
Been bitten one too many times..

This is a great app, I'm using it on my Surface,Thinkpad 8 and Lumia 640. One of the best universal apps out there for Windows 10. Keep up the good work.

I am trying to delete a tv show from my show list how do I do it ?
Windows Central Newsletter
Thank you for signing up to Windows Central. You will receive a verification email shortly.
There was a problem. Please refresh the page and try again.