Transcend JetFlash 890S is a neat flash drive with Type-C connector for your Lumia 950/950 XL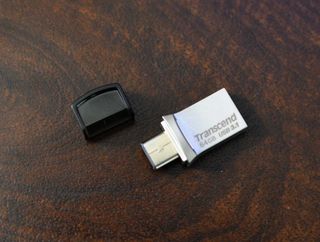 The JetFlash 890S is an OTG flash drive that features a dual connector: a reversible USB Type-C connector and a regular USB 3.1 Type-A connector. With Windows 10, Microsoft's mobile devices support USB On-The-Go (OTG), and the Lumia 950 and Lumia 950 XL sport the USB Type-C port instead of the more common micro USB port.
With the two connectors and reversible design, the JetFlash 890 offers greater portability to transfer photos, music, videos, and any other digital files between your Lumia devices and PCs or Macs. Of course, you can also use the JetFlash 890S flash drive with many Android devices that support USB OTG and pack in a Type-C connector. Mind you, both USB connectors cannot be used at the same time to mimic the functionality of a data cable.
Design
The JetFlash is designed well and looks chic in its metallic casing. There is a sense of style, with the assurance of durability. At 28.6 x 14.3 x 8.6 mm, it is very small, and at three grams, incredibly light. I'm not a big fan of small caps on flash drives since one tends to lose them sooner or later, but the one on JetFlash 890 is at least thoughtfully designed. The cap is designed to fit in with both ends of the drive and when one connector is occupied, you can cap on the other side of USB connector protecting the connector. Transcend claims that the flash drive is completely resistant to dust and water.
Performance
The flash drive is better than a microSD card for the data that you don't need on you all the time, because hooking up a flash drive is quicker and easier than inserting a microSD card. With USB 3.1 support, the JetFlash 890S manages read speeds of around 90MB/s and write speed of 25-30MB/s, just around the mark the company claims – which is four times faster than USB 2.0. USB 3.1 is backwards compatible with USB 3.0/2.0, so it works with older PCs and Macs as well.
The Bottom Line
Available in 16GB, 32GB, and 64GB capacities, the Transcend JetFlash 890S allows you to effortlessly expand the storage capacities of your smartphone. It's nicely designed and works well, and is future-proof until something new arrives on the scene.
See at Amazon (opens in new tab)
The patriot on amazon is $22

I doubt that@ksmirhservices

I wish they would make this for man size hands I can never use these tiny usb drives, really frustrating!

I think external hard drives would suit you better :) Posted from Windows Central for Windows 10

Have Sony's version of this, love it, although I don't own any USB C devices yet. Think Sony's look nicer, because of the carrying case ;)
Buy they're almost the same design Posted via the Windows Central App for Android

The reviews for these are a little worrisome about the qa for safety

I get paid £85 every hour from online jobs. I never thought I'd be able to do it but my friend AT is earning £10k /monthly by doing this job and she showed me how. Try it out on following website…?????????????>*50timeextra.comllllllll
Windows Central Newsletter
Thank you for signing up to Windows Central. You will receive a verification email shortly.
There was a problem. Please refresh the page and try again.