Transformers: Fall of Cybertron will roll out for the Xbox One on August 9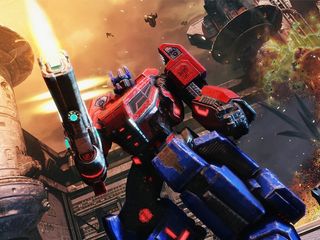 Activision will release a version of its 2012 action game Transformers: Fall of Cybertron for the Xbox One and PlayStation 4 on Tuesday, August 9.
News about the game's current-gen console release was leaked over the weekend, but GameInformer has confirmed with Activision that the game will indeed be released on Tuesday. The original game was released in 2012 from developer High Moon Studios for the Xbox 360, PlayStation 3 and PC. The current-gen console adaptation is being developed by FunLabs.
The original Transformers: Fall of Cybertron got solid reviews when it first game out. It takes place before the first Transformers animated TV series and features the "robots in disguise" teams of Autobots and Decepticons fighting it out for control of their home planet. There's no word yet on if the new versions will also have all of its post-release DLC packs.
Windows Central Newsletter
Get the best of Windows Central in in your inbox, every day!
Yessss!! This is one of my all-time favorite games, I've missed it so much since I got the One. Hoping all the DLC will be there too.

Be wary. Activision (instead of utilizing back-compat) are releasing really bad PORTS, calling them REMASTERS & charging $40-60 for them. Marvel Ultimate Alliance 1&2 came out last week... It is broken & missing content. This is a really ****** business practice. Buy at your own risk.

Well, it seems now that this is pretty much the only way I can play this on my One, correct? If it's a cruddy port, it's what it is :/, I still love this game

I pray they bring "War for Cybertron" too!!

This game was so good! I would totally play it again! I might have to grab a copy from gamestop

Please people, do not buy this! This will be another half hearted port by Activision just made as a cash grab. Don't support the worst publisher out there by buying these lazy ports!

I always procrastinated in buying this as the value for it always held higher than I wanted to spend, but now I am interested again in getting a copy of this. Since I just got an Xbox One, now would be a perfect time.

Yeah, it was full price forever..

It's this the one with Grimlock?

It's in the store already, it's a full price game for some reason.

they should add the 360 version to backwards compatibilty

Then they couldn't sell this for full price

Sooooo.... I read somewhere that this is the same group that ported Prototype 1&2 over. If that's any indication, I'll be keeping my 360 versions.

Eh, I'm waiting on Platinum to bring a sequel to their game.

After their rerelease of Marvel Ultimate Alliance, nope!

Has anyone got this yet? Even if it's the same graphics and game pace as on 360 it should be good, but I'm keen to know if they've updated anything in the port. I get people are worked up about it not being a backward compatible approach, I'd have preferred that too given cost. But... this is FoC, in my view the best TF game there has ever been. Let's show some support and maybe we can show Activision and Hasbro that it's worth investing in a third one. (rise of dark spark really does not count!)

Should be backwards compatible. I'm not paying for a crappy remaster, sorry. Posted via the Windows Central App for Android

Early reports says the game looks no better but all DLC is there.
Windows Central Newsletter
Thank you for signing up to Windows Central. You will receive a verification email shortly.
There was a problem. Please refresh the page and try again.