Transport for London rolling out contactless payment support this September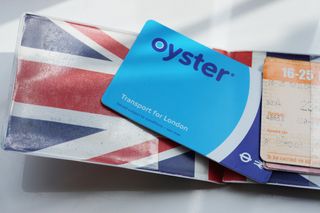 Transport of London (TfL) has today announced that the capital's public transport network will accept contactless payments from September 16. Buses already support the payment method, while the London Overground, Underground, DLR and Tram networks will be upgraded. This will enable the general public to utilize their contactless payment cards or even a smartphone with NFC to access the transport network in London.
Working in a similar way to the pay as you go Oyster cards, the fare will be charged touching in and then out at the end of a journey (unless you're boarding a bus when it's just a single touch-in). The same daily or Monday to Sunday caps will still be in effect. However, if you find yourself purchasing Travelcards and season passes, you'll still need to use the trust blue card currently still in operation. That, and if you utilize NFC, you'll have to keep topping up supporting wallet apps. Currently, EE has announced support with its Android app.
Do you view this move as an upgrade for the TfL network? Will you be using your wireless bank cards or opting to see how Windows Phone can interact with the barriers?
Source: Pocket-lint
Windows Central Newsletter
Get the best of Windows Central in your inbox, every day!
Rich Edmonds was formerly a Senior Editor of PC hardware at Windows Central, covering everything related to PC components and NAS. He's been involved in technology for more than a decade and knows a thing or two about the magic inside a PC chassis. You can follow him on Twitter at @RichEdmonds.
I think it is great that they are updating the system. I have used an Oyster card for ages now and it is so easy. I would like it if my Lumia could be used (NFC) as well.

I used to put my Oyster between my Mozart and silicon cover to give the illusion of my phone operating the barriers.
Damn I miss the Xenon flash.

Though I found out that to get my 1020's NFC to work is kinda tricky (location of the chip etc.) and I think I'll stick to the card, it still would be awesome if you could use your phone instead of the card... and people that buy tickets from the driver are extending my travel time, wich sucks, so I'm down with that idea :)

Unless you've been living in a cave TfL stopped accepting cash on buses

Poland, to be precise, and yeah, shit, I forgot. I still like my cave, tho, You ignorant bastard

Well, perhaps you should have specified that you are not commenting on the subject of the article!

Greetings, I hope you realize that he know neither intended to insult to nor did he actually stipulate any insulting comments. You have made a juvenile attempt at making him feel bad however he probably isn't aware of Polish Public transit since nobody could give a tiny rats arse since it's an insignificant country in Eastern Europe (that's insulting) ipso facto your juvenile claims are misguided and moronic.

It's good if you are in a bind, but I use a monthly travelcard, so they need to figure out a way to get that working. Or maybe just make the Fing fares cheaper.

Unfortunately you can either have investment or let it decay. And to have investment you need to either raise taxes or raise fares. Like they say, no such thing as a free lunch. TBH TfL fares are subsidised so they're not that expensive.

So is there going to be a Windows phone app?

Yep, that's the question. It's be up to TFL to put out an app. Or we could use the wallet to pay, like on a debit card, if that can be linked to our Oyster account. Now the hardware is in place, we'll have to await for software development to follow.

I think I prefer cards. I'm not fond of taking out a credit card in places like the tube to use like this. The phone... I'm not sure. Would have to try it. But I think we're still a long way from mass adoption of this kind of stuff.

Exactly! - No reason to give opportunistic thieves a reason to follow you.

Actually the system was upgraded ages ago. TfL and LU staff have been trialling the system for about half a year now just to make sure there are no issues, hence the announcements about contactless payment cards since then, although I believe the trial cards needed to be whitelisted.

Have my oyster on the back of my phone via my case and it is great tapping my phone as has reduced the amount of time locating my card and tapping it. Can't wait to actually use my phone to travel or pay at the checkout.

Always carry wallet with business cards, cant get away from the fact i need physical ones, have oyster card in back of that, besides NFC drains battery life and these days nee al the juice we can get.

I am still confused as to how the wallet works on my phone and I am sure many others are too. I have a contactless payment card that will probably be my most reliable payment method.

Contactless?
They couldn't have come up with a more contradictory name, Haha.

Would love to have this running on my phone! Currently use my oyster card (student oyster) but the number of times I misplaced it/forgot it and had to either spend time going back to fetch it or pay the huge normal fare is unreal. Hope that the we'll get the software to go along with it! Also, having full mobile functionality of an oyster card (student travel cards) etc would be amazing,but I know that that's only wishful thinking...

I would like this as I have occasionally noticed that when my L1520 and oyster card are in the same pocket the phone will make a 'tinkling' sound because of the proximity of the oyster and the QI charging coil in the phone.

I inadvertently found out my work ID has elements of NFC, but it seems a proprietary system - my handset knows its there but can't read/write it. On another note for UK readers into NFC/Contactless - as of 2 days ago Nationwide bank are issuing PayWave cards to FlexDirect and FlexPlus (FlexAccount to follow).

* Awaits the first story of customer who couldn't travel because his phone was out of battery.

@chris you will never hear of that story from a Lumia owner :) , I would love to be able to use my phone instead of the oyster card

@ Chris, that would amuse but I suspect that we would always carry the card as a back up the same as those who use other contactless payment cards for tfl.

I dont know about tapping my phone on the gate pads but it would be cool just by brushing by it would accept the payment

This because TFL give 10% of their revenue to the company that runs the oyster system