Travel service Expedia launches its Windows 10 UWP app for PC and Mobile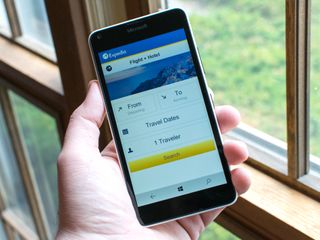 The online travel service Expedia has launched its Windows 10 UWP app for PC and Mobile. The app includes, among other things, support for voice commands via Cortana.
The app allows customers to search and book hotels and flights, along with user reviews and more. Expedia revealed some of the features of the new Windows 10 app in a blog post (opens in new tab):
Update for Windows 10: The Expedia app has been specifically enhanced to take advantage of all the unique possibilities of Windows 10 to deliver a more seamless travel experience across Windows 10 devices. We've also made key performance improvements and enabled faster launching for our Universal Windows Platform app.
Search with Cortana: With Cortana integration, you can book trips with simple, natural conversations and get helpful travel notifications and status updates for all of your upcoming Expedia-booked trips.
Interactive Device Notifications: Receive important travel alerts and changes to your itinerary with Expedia emails.
Deeper Integration: The new Expedia app is native to the Windows platform, which gives our team tremendous opportunity to further enhance the Expedia experience on Windows 10 devices.
Let us know your reactions to the new Expedia Windows 10 app in the comments!
Download Expedia from the Windows Store (opens in new tab)
Windows Central Newsletter
Get the best of Windows Central in your inbox, every day!
I had the update this morning. Good to know. I use this app every now and then when traveling.

Sounds like the team there really understand Windows 10 and what it can offer.

Yeah it's good to see them taking advantage of UWP specific features and technology and sounds like they are serious on supporting it long term. Posted from my Lumia 950

Good news for the UWP platform!

If only ebay would release an app update.

Downloaded (or should say, "updated" as I had it before) and it crashes upon launch. Not good.

Uninstall and reinstall to fix it.

Windows Mobile is dead!!! No way anyone is developing for this platform!!! (insert sarcasm here) ;)

If they don't release Encarta UWP to mobile... I'm going to BlackBerry.

Since its UWP....it will make life much easier.

John - you should upload the new screenshot... the picture you used in the article is the old app. The new one looks much sleeker and it's a native UWP app, not the iOS port you're showing in the picture. :) https://store-images.s-microsoft.com/image/apps.55105.13510798884702806.... ​

Yup, my app updated and now it crashes on launch. 950xl on latest 364 inside build.

I installed from scratch and it does not crash.

I'm not sure the link is for the new version. It doesn't say it's "built for Windows 10" and crashes on my L950.

OK, uninstall and reinstall fixed it for me.

Just in time for my summer trips. Weird though that you have to login twice to see your itineraries. You log into the app and it says "You have no trips yet" but if you look at a hotel and click "Book it" it prompts you to login again (even though you're already logged into the app) and from that point on you can see all your itineraries. EDIT: Until you navigate to another page and it again tells you "You have no trips booked yet".

All sorts of bugs and usability issues with this app. Looks like the release was hurried for the summer travel season but it's simply not cooked properly yet. God, I hope they they fix it asap because it's a terrible showcase of a major app.

Nice. Where are all the fake MBAs telling us that no one will make an app for a "no market" share, dead OS. I guess their fake consulting services weren't listened to. :)

Forget MBAs, we have thousands of future Gates/Musk/Jobs know-it-alls who have never hired anyone in their life telling us how multi-billion projects should be run.

Right. You can usually tell them because they recycle "low market share" and "it's simple business" argument that they don't fully understand.

Does this app only deal with delta airlines? Are there any other similar apps

Looks and works great on phone. Can't download it on Surface Pro 3 tho, as not available... Still rolling out I guess?

Can't change to Australia for the correct currency, uninstalled.

Cool, ill give this a go and see if it lets me log in, unlike the old app... Good to see it released anyway :)

Says it will not work on device... SP4

Does it support importing itinerary passbooks into wallet?