Treo Pro for $249 with AT&T contract - but only at Best Buy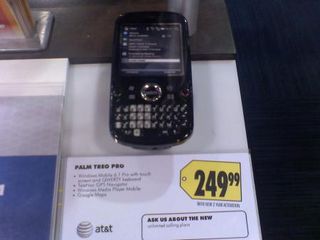 This one's had us scratching our heads all day upon reading about it. You can buy the Palm Treo Pro at Best Buy for $249 if you sign up for a "new 2-year activication" for AT&T service. Next stop: The nearest AT&T store. Nary a Treo Pro to be seen. What's up with that? Here's what AT&T had to say:
Odd, indeed. But we're not going to worry too much about it. The important thing is if you're looking for a Treo Pro on the cheap and don't mind digging in for two years, this might be the best way to do it.
bizarre indeed. If they were going to do this why did not they do it shortly after the treo pro was first released or shortly thereafter why wait until now.

So is this particular GSM version locked down to AT&T only then?

We have worked out deals like this with our other carrier partners as well selling unlocked Nokia E71, Nokia N95, Nokia N96 subsidized with T-Mobile contracts. This is an approved deal with AT&T. If you are not familiar with Best Buy Mobile, we are a joint venture with the UK's Carphone Warehouse. Slowly changing the way mobile phones are sold in the US...

oh...and the Treo Pro we are selling is unlocked, unbranded, NAM 850/1900 version.

When buying that phone from Bestbuy, you have to get the extra PDA internet plan that costs more compared to a motorola. Just like the Iphone 3g, you have to put out more money per month for the same features. I bought it from Dell when it was on sale a month ago for $289 and its unlocked. I just took out my SIM card from the motorola, and guess what people???? I don't have to put out the extra money for the same features ATT charges customers.

Bragging about how cheap you are will not get you an applause in a place like this. ALL windows mobile devices have the SAME $30 data package as long as it's not for enterprise. Since you only refer to your phone's manufacturer, I'm going to assume you have a Q9h, which falls under the $30 a month plan. Unless you've been trying to scam AT&T by putting a MEdiaNet plan on.

Where is this available at BEST BUY?!?! I cant find it anywhere and when I called customer service AND best buy mobile, I could not find anyone to help me and they had no idea where the price was coming from! Help me!! Thanks, Ray rsarabia03@yahoo.com
Windows Central Newsletter
Thank you for signing up to Windows Central. You will receive a verification email shortly.
There was a problem. Please refresh the page and try again.