Truedialer out for Windows Phone, helps you dial the right person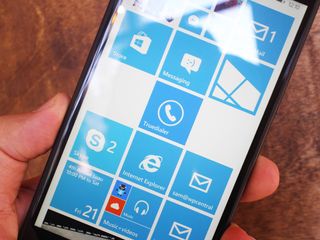 Truedialer for Windows Phone is out and ready for you to download. The app comes from the same company behind Truecaller, a very popular app with real-time Caller ID features. We missed the Truedialer launch on Windows Phone a few weeks ago but figured we'd share the app in case it might be something you're interested in using.
Here's the app description of Truedialer
Truedialer is a smart phone dialer unlike any other! Replace your old, slow and boring dialer for the quickest and most convenient way to find your contacts. This dialer uses a simple and easy to use numeric pad to help find numbers within your phonebook, and beyond your phonebook with Truecaller integration.
Truedialer gives you instant access to relevant information about people you are about to call and lets you save the information quickly into your phonebook for later use. And the best part? It's completely FREE!
Easy to use
Access over 1 billion Contacts through our unique Truecaller integration.
Saves numbers directly into your phonebook
Searches quickly
T9 search (supports predictive text)
Truedialer is brought to you by the Truecaller Team! More than 85M people around the world use Truecaller to help manage their contacts and calls, with millions more joining each month
We see an update that came out yesterday for Truedialer, and it's now being promoted by Truecaller within their existing Windows Phone app. Which could be a very good thing. Early Windows Phone Store reviews for Truedialer weren't too hot, so yesterday's update could have addressed them. Which would make now a better time to download Truedialer for Windows Phone than a few weeks ago.
Truecaller works by blocking nuisance calls from numbers you don't know and identifying incoming calls. Truedialer works by replacing your keypad dialer. As you dial a number, it identifies possible contacts based from your phonebook, if no matches are found in your phonebook it will use the Truecaller service to help find the right contact.
Using Truecaller? Then you might want to download Truedialer and find out if it's useful enough to replace your default Windows Phone dialer. Let us know what you think of the app!
Thanks for the tip Mayank V!
Windows Central Newsletter
Get the best of Windows Central in in your inbox, every day!
I started to use today when TrueCaller send me a notification about it. Nice app, finally you can edit a number before the call.

I just wish it had a transparent tile :/

But was this not available from the beginning itself. I too received the notification and I was using this from last one year or more if not wrong.

Be careful which version you install, as one is for win phone 7

-_- the software detects automatically the phone model and software version! The stores are different for windows phone 7 and windows phone 8!!

Yes !!!!at last my tip got on the news

Does it have both.
Numeric and alphabetic search?
Or its limited to numeric only?

Yes, it has it both, you can easily see that from the screenshots in the article. You see its highlight both numbers and letters. :)

No, you can't search with letters. Just Numbers. Although you can search names using numbers :)

So it does have alphabetic search, just input using a numeric keypad.

LOL, yeah, we said the same thing but you somehow explain it more precisely :) Cuz when you press numkey 1 it shows contacts containing number 1 and letters A, B & C. So, vineet_vpns12, what Zapella Tiago said :)

True caller: You are calling Washington D.C. Me: No, I'm calling my friends. Patrick: No! This is Patrick!

This "Dial Andrew ...?" dialog in the top half of the screen makes dialers meanignless on WP. "identifying incoming calls" if incoming calls tracking is possible for WP I want it for Rapdialer too.

Yes I have been using this for more than a month if I remember right

One of the best use of this app is to keep dialed numbers alive (that you dial during a call ) at the end of the call. You can later save the number to your phone book by navigating to history section and long press the number. You have to press the call button (Truedialer) once to save the number from history section though.

Like true caller it requires a Lumia cyan updated phone for the good features. What dev would do that

Because it needs the features cyan allows. Duh. Complain because the developer doesn't cripple an apps features so a low priority phone can be supported. Who would do that?

Because cyan has the API's TD requires...

Does this not work with the HTC one, like truecaller?

I'd use this but the truecaller fills my contacts with block numbers which then overflow my people tile with red crosses. If they can fix that then I'll try it again.

Just go to settings -> call filter -> turn off my spam filter. Easy :)

Open People Hub-Tap 3Dots-Settings -Filter my contacts -Uncheck truecaller

Ah, thanks for the heads up. I think i'll give this app a go then.

Lol. Same here, and I was like wtf?? XD

I use rap dialer...a very useful and mature app!

Have you compared rap dialer to TrueDialer or is there another point that I'm missing?

I've been using contacts in phones for so long, I don't think I know the phone number for anyone besides my wife and my brother. Heck, I have a phone for my mother on my plan and I don't know what that phone's number is. How many people with smartphones regularly type in a phone number to call?

Dude this helps you dial by predictive T9 so if you want to call John you dial 5466 and all the people with john in their name appear, also sometimes you might remember a phone number but not the name! that helps too. Although i would suggest keeping an eye on Rapidialer

Or could go to contacts and type John...

I stopped using these a few weeks ago when they updated the apps, and added very invasive permissions. Emailed them asking for explanations, no response. Won't go back until there is some clarity. Does anyone know what is the reason for these requirements? appointments video and still capture music library photos library media playback movement and directional sensor

Yeah, apps like these are weird man And in what I think that they upload all my contact list to there servers and collect database of phone numbers

Is it really out NOW?
I have been using it for few months

Apparently you didn't read the actual article\ post

I just wish we could customize the dialpad old boring grey color, options please

This app keeps crashing on my Lumia 1020

Truecaller stopped working a few weeks ago for me

Rapidialer is far better, it offers t9 predictive search in many languages, it offers a huge load of options too.

It's out now?!! ... I've been using this for about an year or so :/

They have completely copied the UI of an app called Easy Dial

truecaller and truedialer ,both sells your contacts to telemarketing companies....

There is no change in app even after the update... I don't see any sense in this article. This app was available long time ago and just because it was updated doesn't mean you should start promoting it unreasonably.
Windows Central Newsletter
Thank you for signing up to Windows Central. You will receive a verification email shortly.
There was a problem. Please refresh the page and try again.