Truecaller with real-time Caller ID launches for Windows Phone 8.1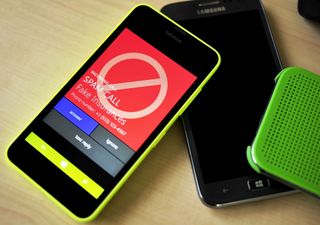 Truecaller, which allows smartphone owners to see who is calling them, has been available for Windows Phone owners for some time. Today, a new update for the app has been released specifically for Windows Phone 8.1 users that adds real-time Caller ID features.
Truecaller claims they have the first Windows Phone app that provides live Caller ID features. It states, "Now, when Truecaller users are using a 3G or WiFi connection, live Caller ID will identify numbers from all over the world, even if it is beyond what is written in the user's contact books. Not only will Truecaller show the names of incoming calls that are not in your phonebook, but it will also notify you if one of those calls is a spam call reported by the 85-million user Truecaller Community."
Truecaller worked in partnership with Microsoft to add this new feature in their app. The company quotes Mikael Stendahl, Head of Partner and Developer Relations at Microsoft, as saying:
Windows Phone Lumia users who update the Truecaller app to the new 4.2 version by October 30 will also get 30 days of free Premium access.
Please note that it does require Windows Phone 8.1 to work, and it may be just for Lumia devices as it also needs the Network+ update.
I'll try this right away. It seems worth the try.

Whats the point of this app if you can just block numbers which is by the way the feature of the OS itself

It shows you who is calling. If you have never received a call from the number before you don't know whether or not it is spam. Could keep you from answering those annoying calls, and then you can block the number to avoid that number in the future.

I personally never answer a call from a number I don't recognize, if it's important they will leave a message.

@Stevied1991 I am the same way, but this could take the guesswork out of whether or not you know the caller. Sometimes people leave me a message and I call them right back. Could have saved time if I knew who they were and I answered it right away.

I never answer calls from numbers I don't recognize but that means I sometimes miss important calls. Not everyone leaves a message, sometimes they just want to try you again later. If this app works well, it will be easier to skip spam calls

I guess its not working. Its says to update network+ which is already updated. At least for me on L720 it's not working.

Same issue with mine... I'm on 3G wp8.1 with cyan network+ updated but live CALLER ID appears not to work

Me too having the same problem on Lumia 820

exact Same Problem with my lumia 525

As a comment, not really to convince anyone who has made up their mind, but something that is important isn't always viewed as such by callers and vice-versa. Addtionally, voicemail... who checks that anymore?? I can't wait until transcription services are available via Cortana or other integrated service we opt-in (like Google Voice). "If it is important, leave a message..", tell that to my bosses, or their bosses, or the emergency room, or police departments. I should probably have their numbers added to my phone as I do my doctor's and also those of everyone near any family member or close friend. Still, even my doctor's office and veternarian calls using different numbers. One can't always document a number in their phone book. This app is providing reverse look up PLUS what amounts to a spam filter real-time.

Apples and Oranges dude. This app will give you detailed info in real time about the caller. How do you know if you want to block a number if you don't know who it is first?

I'm puzzled how it gets the data.. My home number is ex-directory(private). If the number isn't in yellow /white pages.

http://en.wikipedia.org/wiki/Truecaller

TY, RayWP7, for the link to the Wikipedia article. I am soooo not a fan of this app. My friends may not realize that when they sign up for TrueCaller, they're giving out MY information. "The service gains global coverage from its crowd-sourced data, which enables it to work even in countries such as the UK and India where public data is not available. It works like - If you have saved someone's cell no., lets say George, on your phone and you register on Truecaller, the people who have registered on Truecaller but haven't saved George's number can view his name as the way you saved it. The app is available in all countries." So it's not an invasion of my privacy, it's an invasion of my contacts' privacy. Nice.

Well ... if unidentified number calling you (those who don't exist in your contact list), how would you know that the caller is spammers, annoying telemarketers, etc that you don't want to deal with? This app is telling that by the report of other users. Imagine Waze but in telephone number information.

@Blade800 Few things: (1) The OS "itself" does not support blocking numbers, it is an API exposed for OEMs. Samsung and Nokia use it; HTC and other OEMs do not. So there is no call blocking on the HTC One. (2) As pointed out by others, this is not call blocking, but as the title indicated Caller ID to see who is calling from a number not in your contacts. Very big difference.

Okay okay, chill. Dont beat me over it. I personally have no problem answering the call and if it is someone annoying I just hang up and block the number. Didnt knew about the HTC so my bad. When I was writing it I wrote "feature of the phone" first but then I edited it. And I was actually right lol.

What are the premium features. How do we get.

Hi Bunty, Thanks for your comment. When you're trying to "unlock" a phone number while searching on names, you will be asked to buy Premium. That is the only way for the time being, we are not pushing the Premium features as the feature "People you may know" is not included yet. /Truecaller

Right.... I am amaze win phone ppl don't know much about applications and its functioning.

There is no call block in WP. It is a Nokia update only. Which is shame. I also would like to have an option to add wildcards in the phone numbers, when they use a phone central with several numbers to call you.

Samsung has call blocking and call ignoring, so definitely not a Nokia only feature.

Whatever. Both are different system apps, not built-in into WP but added by the manufacturer.

Would be useful for WP to have a global app, that has a spam list. That doesn't need to steal your private phone numbers.

Umm ok HTC 8x you can not block calls so this is good

Truecaller has this big database of phone numbers.. So u get the name of the person who is calling you even if he/she is not in your contacts.

I used to think the feature would never come.. But finally!! Thanks TC.. I ll give you a 5 star rating right away.

Hi there, Thanks for the amazing feedback. We appreciate all the love! /Kamran from Truecaller

why Truecaller removed from wp 7.8 marketplace?

Hey kamaran, the Caller ID feature is not working it asks to update Network+ but its already updated Any thoughts??

For those who wander this is great for small restaurants and businesses in general.

Yahoo.....I've been badly waiting fr this updte.....

All the ratings for that app look like ass.

That's because they were all written before this feature came out. Before this update, the app didn't do much at all. It allowed you to look up a number that keeps calling you, but only after the fact. Kinda useless.

Mostly because it only did caller ID stuff after the call, which makes it a gimped app. People had expectations, they were not met, so they left bad reviews, which is a bit unfair. It's not Truecaller's fault as real-time Caller ID required deeper access to the OS, which is what Microsoft gave them--hence the "partnership". This is also why you need the Network+ update from last week. Try this new version, which is just for 8.1 devices, and see if it works.

I saw the ratings about two weeks ago and skipped the app. This information sheds new light on the problem, thanks

Ditto! I will try it now! Thank you Daniel for pointing this out! Thank you John for the article too

@Daniel Rubino: Exactly. I use it so often for unknown numbers. But, as others stated, I could use it after the call itself. Now, this app is on par with Android.

Hi Daniel, Thanks for briefing everyone about how Truecaller works, we appreciate it! /Kamran from Truecaller

As I have anyway mentioned in one of my mail, this comments section contains the problem faced in turning on the caller id.

Live caller ID isn't supported on HTC 8X w/ dev preview :'(

It's cause it didn't have live caller ID.. People were annoyed that android had it and WP didn't.

My caller id aint getting active on 720 :/

Reinstall the app. And it only works with 3g or wifi and not 2g.

Hey..!! Install the app directly on phone memory and not SD card (like I had, uninstall the app change it from storage sense for apps installation on phone do not transfer the app, directly install it from app store on phone memory it will work :)

I already installed and tested with my Lumia 1520 (Preview for Developers)... Running flawless!

No dice for a Nokia Lumia Icon running developer preview + Black firmware.

Did you update network+? Because according to the article, you need that as well.

I tried dat its up to date and still my caller id aint getting on , on my 720:/

Same problem here. Needs cyan apparently.

Hey man.! Install the app on phone memory after uninstalling it from ur SD card .! It will work do not transfer the app but directly install it from store

My apps installed directly to memory by default, this did not change the fact it's not working for my with Dev Preview on my 1520.

Hi there, Truecaller requires the latest Cyan version, Network+ and WP 8,1. If you have any more problem or wants specific links to the webpage to upgrade then please contact our support@truecaller.com /Kamran

Hey,how to get the 30 day free premium trial?

Well, officially confirmed by truecaller. It needs Cyan.

The app still does nothing, I have all 3 updated an running.

Just got confirmation from the manufacture that it's not working on the developer preview editions.

feel not like as good as it sounds, but will try.

I hope this works. Although I really don't understand why the carriers don't inslude this info as the call comes in. If they can do it for landlines, why not to a cell?

Not compatible with my firmware. Thanks T-Mobile for NOT updating my 925 to cyan, you're the best. (sar)

Why is this an app? Surely MSFT can bake this into the OS?

Surely you are mistaken ;) Caller ID lookup is akin to a service, not a one-off thing you write. It requires access to databases around the world for the relevant information. This is more like Songza/Spotify for Music, as opposed to just an MP3 player.

MSFT have no difficulty updating Cortana, she's both baked in and updated via the cloud.

You are bascially telling Microsoft to get into the phone database business, creating a new division in the company, replicating services already available, and hiring a new team to create and manage. I really think you are glossing over what is involved here. Companies to do not have bottomless pits of money to just endlessly create departments and divisions for apps or services with niche audiences.

They can integrate truecaller in the OS itself. It would be good.

Maybe a purchase of the company itself and rolling it into skype maybe but it's kind of crazy to expect MS to go through this much trouble for a small feature like this.

Was about to tip you guys when I saw this. Its rating won't go below 4 now.

doesn't work without Cyan update. unlucky having a Verizon phone.. :(

Or T-Mobile, my poor 521 suffering here. :c

At least you don't have an 810...

Yep - shit out of luck with the icon from Verizon. They suck balls

Unfortunately true caller is blocked by SA government

Cus they got them rich oil fegs. xD

Your firmware do not support caller id on Lumia 530 with 8.1 update 1

MY HTC 8X says the same thing.

It's only for Lumia devices

Only for Lumia devices?? Completely wrong. The app is not called "Lumia Truecaller". It needs Cyan/official WP 8.1 to work.

I have the cyan update and the updated network+ app. It's still not letting me turn on caller id. Any ideas why?

I have the same problem....

Move the app to phone memory it works for me...

It was already in phone memory

Uninstalling the app and then installing the app directly to the phone did the trick. Caller id is now working.

Real time caller ID does not work with the developer preview version.

Works for me. WP 8.1 Update 1 with Cyan.

Yep me to came to know that the caller id works when installed on phone memory and not SD card .!

Does your phone operate on the preview for developers ?

It's wierd cause while i was installing the new update, it showed that this feature won't work with my phone's firmware version. It's working fine with other devices running Cyan

A pointless app. A proper "Whitelist" which only allowed calls from certain numbers would surely be better offering and something that is missing from WP. I have sent Microsoft this request before. At the moment we can only block unknown numbers after they have called and Cortanas quiet option is too restrictive. I should be able to block all calls that aren't in my phonebook automatically like I could on Android. I don't care if this app can tell me which spamy company is ringing me. If I can block it automatically then its not an issue. My bank etc is already in my phonebook and if its anything important they will write anyway. Come on Microsoft/developers give us this feature already.

Can you not add your entire phonebook as your inner circle and then keep quiet hours on always?

It's sort of an emergency workaround but means having the Cortana Moon Icon thing running at the Top status bar at all times as well as turning off Notifications. I'd prefer a simpler "block all unknown calls" in the OS with a divert to voicemail option.

Looks like MSFT won't be offering the feature you requested.
I too miss being able to block numbers when I was using Android.

I think (hope) at some point Microsoft may offer this feature. When I filled in the feedback online there were lots of other threads requesting a "Whitelist" block everything else option. It's also good for parents to block any unknown callers to their family devices to stop things like bullying etc. The option I used to use on Android was a 3rd party app not sure if this developer could make something similar but if so they could sure earn some dollar from it.

The app also provides more infromation during an incoming call - that's not pointless.

True, not "completely" pointless but I think there efforts would have been better spent on a true safe list option. This app can never be accurate and lots of sales/spam/debt companies withhold there numbers anyway or use pools of digital numbers everyday to random call. Also, this App could get you into trouble. Identifying the true caller on your screen rather than just a random number could be embarrassing in some situations. Imagine your phone flashing up at a family restaurant that the Alcohol Anonymous New York is ringing back or the Las Vegas Strip Club? Haha

If an app isn't what you're looking for, then don't install it. I get calls from around the country that are not in my contact list that I need to take, as they may be a new customer. However, I'd like to know if the number calling has been reported by others as a spammer. I love this idea. Just got the app to work by moving it from SD to the Phone memory. Now working on my Lumia 520 with 8.1 and Cyan.

"Block All Unknown Calls" will be great!

Calling this app "pointless" makes everything else you posted irrelevant. Just because you don't see the use in something, doesn't mean it is useless. I would far prefer the features of this app over a blanket white list... though I can see the usage scenarios for both. Get over yourself.

there is no update for Network+, Truecaller is asking again and again to enable caller id, not working at the moment

Move the app to phone memory...

Dont move install the app fromstore after changing storing option to phone memory it will work then too..!

in my phone true caller is already in phone memory.....bt not working ....

Needs Cyan, thanks Verizon for continuing your quest to stuck as much as possible.

Some of us are still waiting for Black, you know...

Difference between Premium and Free one is......

For those of you who, like me, are on a T-mobile Lumia 810 and therefore suffer from not yet having received the Black (no less the Cyan or Denim) update, it is worth pointing out that Truecaller doesn't work on the Black firmware... Sucks.

I don't suppose Microsoft has any plans to release Cyan to the Preview users on TMoUS anytime soon...

It's been known for a long time that the Lumia 810 will not received any more updates.

At least you know you won't get any more updates. Wish Verizon would tell us one way or the other.

Well, it has EOL'd at T-Mo, but that doesn't mean Microsoft has stopped supporting it (nor what was formerly known as NOKIA). Also, my 810 is on Dev Preview...

Nice enhancement to the OS and great to see Microsoft working to add useful features.

So does this mean they brought back the option to just use the address book like in the good ole days of wm6.x(instead of subscribing to a caller id package from service provider)

Not working on nokia lumia 1520 too neither on wifi nor on 3g

Amazing update. Btw for those this feature is not working, try moving the app to Phone storage from SD Card. It will work.

No its still not working! Any other tips??

Uninstall the app..change the setting to install mew apps in phone memory..then reinstall truecaller app

have you updated the network+ application. and it will require an restart of phone :)

How much will Premium access cost after the first 30 days?

Well I don't bother taking a call unless it's from a known contact or repeated calls from the same unknown number... But sure what's the harm in trying it out

Somebody tell me what are the premium features.

A big "tack så hemskt mycket" to the TrueCaller team who never gave up on us WP users. This feat is long awaited. It's here and its all because of a company that actually cares about its user. From the bottom of my heart, its been a long ride, thnx for sticking with us.

I'm all over this. Not only is it a great tool, but the developer is responsive and a cool guy. All the "pointless" critics need to try stuff before dismissing others work.

caller id feature is not turning on when i try to turn it on it asks me for confirmation when press ok it get turn off automatically

Try moving the app to phone memory.. It ll work..

Can anyone check the date of the update of Network+. Because mine is 10.09.2014 and truecaller is not working. i mean i installed it but nothing happens when someone calls me. its just the wp

What does Premium access bring you and how much does it cost? I'm guessing it is a monthly fee?

L925 dev preview. Firmware not accepted. Da fuq? I blame TMO bitches

Only works with Lumia Cyan. Does not work with Ativ SE

Finally incoming caller id

App is still fked up. Not working with update 8.1 cyan.

Not Working... Ni update available for network+

just installed. Hopefully it ID's business and other useful calls that i might somtimes send to voiceail not recognizing the #. I get some spam calls and many without caller ID (no names) and this can help especially when i don't want to limit my "contacts" to people i call regularly.

"Your phone firmware version does not support caller ID." Great, another feature I am forever denied on my 810. Thanks, T-Mobile.

Lol. Carriers killing windows and Microsoft watching like a fool. When is this gonna change, I wonder.

This shit added a ton of people to my contacts with various spam names with a picture of a circle with a line through it now my people hub constantly shows that symbol because they're are so many entries! They better delete when the app is uninstalled or I'll pissed!

Now you can hide them, just tap the filter options from the peoples hub, and uncheck true caller.

Thank you thank you thank you!!! I was super mad since my People tile was showing a bunch of red circles!!!! I didn't know we could hide them!! Thank you!!!!

Thank the folks at the truecaller and one of them is in WPC, Kamran Mamedi, I guess, this was recently added in the update, they even gave a link and showed how to do it. It is in under call filter itself, though the texts are smaller. Even I was super mad at it before but now, it ALL MAKES SENSE
But, you're welcome. ;)

That's a list of known spammers. I presume each country has its own list.

What does "moving the app to phone memory" mean? We're not techie nerds here people :)

Moving the app to phone memory means to uninstall the app from the SD card in your phone, and install it directly to the Phone instead. Easiest way to explain it to someone who is not a techie like myself is as follows: 1. Uninstall the app. 2. Open "Storage Sense" and set the "Store new apps on my" to "phone" instead of "SD card". 3. Reinstall the app. 4. If desired, reset the "Store new apps on my" back to "SD card". You should be good to go if you have the latest network+ and the Cyan update on your Lumia device. Hope this helps a lot of people out there. Please try this before complaining it doesn't work. If you're on one of those phone companies in the US that won't update you to Cyan, then make the switch to a more Windows Phone friendly carrier, like AT&T.

These guys should really do what WhatsApp does and say you need to install it to the phone and ask if you want to do so.

Not working for me...just shows the message do you want to activate caller id and nothing happens

UGH! I need Cyan! Verizon is killing me!

Hey, Im from India and using the Lumia 720 with the latest s/w 8.1 installed and also have all my apps up-to-date. After installing the truecaller update, I still cant use the caller ID feature and it says to update the network and application. This keeps on going in a loop. Even after restarting the phone it does the same. Please advise if anything else needs to done to get the caller ID working??

Same here as well. India. +520.

Uninstall the app. Change app install location to phone memory in Storage Sense. Then reinstall the app. That's how I fixed it.

Thanks Abhinav, this worked

After the update, when I switch on the caller ID, it takes me to some pop up menu and when k is pressed, it goes back to the app and turns it off again. I have installed it in sd card and I have also updated the network +. Anyone?

Install it to phone memory, problem solved.

Yes, I did. But still it persists.

Looks like a good app, giving it a try right now.

I can't try this yet but I think it is a great update. I use the older version of this app and like the concept. Having real-time checking is even better.

Caller ID not working on Lumia 520 DP 8.1 Cyan. P.S. Downloaded the latest network+ update already but still no caller Id. Help. :(

Mine working like a charm on wifi...but I wanted to ask that does callerid work on 2G network?

Only issue on 2g is that it will take too much time to retrieve data from truecaller server, else it should work

Hey..i am having cyan update and m also using a dp version but was not able to in the caller id feature. I even moved the app to phone memory. Any idea how to on the feature

Indian users seem to be experiencing this.

No, dude, and this seems to affect only Indian users.

Everybody Who installed the app on SD card is facing this. Follow the steps given in a previous comment to get it to work.

I m gonna install it right away!!!

We have this feature on Finland with Fonecta app if using Lumia. Fonecta app at least is very handy, it shows directly in dialer who's calling if the number is not in contact list.

It is now working as it should

Manjot Singh you are on
developers preview or a normal cyan update. ?

Normal cyan update,
I was on DP but few weeks earlier I updated to official Cyan update

CURRENTLY IT DOES NOT WORK WITH LUMIA DENIM UPDATE. WE ARE TRYING CATCH NOKIA GUYS TO HAVE TALK OVER THAT.
-BETA TESTER ( TRUECALLER )
-

WE HAVE CYAN, IT DOES NOT WORK! (NO BETA TESTER)

Yeah,I think app needs to be coded properly for WP8.1.1.
I am having issue for enabling Caller ID,the app crashes after turning ON the toggle in settings.
Currently,I am on Developers Preview WP8.1 update 1.
Also,I got an update today but it didn't fixed the issue.

If this works as advertised, that's awesome!! I've been getting a lot of spam calls lately. Definitely going to try this out!

Its working for me Lumia 520.

I don't understand how!!
It says update network+applications...it already is updated...what should I do?

How to enable it
When I on it,it asks whether enable caller id. I tap confirm and called I'd in the app automatically off.

Instead of answer, ignore, text... They should add in block... Bore that u can see if its a spam call...

Maybe MS should have a spam list. In you networks allow numbers of txt spammers to be blocked by text message to SPAM

Does that mean now apps can acess missed calls & sms? So, now we'll start to see some wp compatible wearables? THAT would be great :)

Nope didn't seem to run when I called myself.

I saw the reviews on the app...and they are bad.

Great way to get numbers to spam people. This copies all your contacts details.

What's the deal with privacy of your contacts numbers? I read the policy and it says if you are getting the app from Google play or Apple, they don't use your contacts info in their system when you turn on enhanced search. Otherwise they do. Enhanced search seams like what I would want. But i can't get it without allowing the app to have all my contact names and numbers. My friends would NOT be up for that. BTW, by accepting the terms, you agree you have all your contacts permission to give up their info. DOES GETTING THE APP FROM THE WINDOWS MARKETPLACE PROTECT YOUR CONTACTS TOO?

As I say, great way to get 1000 of numbers to spam. Serious breach of Data protection.

Lumia cyan + updates network+ on my Lumia 620 but still does not work ... Asks me to update network+ ...

It is not getting on
Restarted two times so far, they were in hurry to update LOL...

Can the Truecaller team please tell if its working or not ,,, I have tried restarting tried updating ,, everything possible ,,, please let me know before I go for a format also ,.. (I'm just glad finally its here for WP , thanks a lot guys )

GREAT JOB! This app has been hacked, Google it. Also read the app reviews in store. So stay away from this app and don't install it.

Does this app still do that annoying thing where it updates your phone book with a bunch of spam caller contacts and then your People live tile is full of a bunch of red squares?

You can always go to people hub, and hide contacts from truecaller , that way your live tile won't be filled with the SPAM symbols

Tried on my Blu win hd. Requires Lumia cyan :'(

The flagship Windows Phone, Lumia Icon, cannot use this app because it still does not have the Cyan update. Good job, Microsoft.

THE flagship? Ok. I think your anger is misdirected. Blame Verizon.

In the US it is THE flagship phone along with the 1520, which for many is too large. So yes, the Icon is THE flagship phone here.

I don't see that this app shows where the number is from. I've always wanted my caller id to to show where the zip code and maybe the city where the phone is registered. Is there such an WP8 app? (Scenario: I don't recognize that number but know I have a friend vistting that city.)

I just installed the app om my Lumia 1020. Still waiting for the SMS message in order to continue the setup...

So, what I got from this article is "If you are a Sprint user, you are screwed yet again as you can't get a Lumia so this app is useless for you". Stupid Sprint and Nokia fighting. Hopefully Microsoft resolves this so I can get a Lumia and have all the features of Windows Phone and not just the gimped ones that non-Microsoft devices get.

If you're in the US, you also need to be on AT&T. Neither T-Mobile nor Verizon has released the Cyan firmware update, without which this app doesn't work.

Anyone using it? Does it work well?

Next I need Jabber for windows phone

Live caller id feature isn't working on my l1320 as it's saying update network+ that's already updated

Seems cool, but I'm concerned about privacy when an app can monitor all my calls

There are plenty of apps like this on Android, I remember using one 3-4 years ago. Also, the Truecaller company seems legit (and based in Sweden just like me). Their history since 2009 http://bit.ly/1vk4nWO (with Google Translate)

I know, apps that can access to eveything is one of the main reasons I don't like Android (Google being the other), I mean, the week I owned a Galaxy S1 I couldn't believe Angry Birds had permission to monitor my phone calls.

is there an app for hidding my phone number ?

I think WP8 has settings for when your caller i shows...

Just installed this on my HTC 8x with 8.1 DP, and it's no go for caller ID : you need the Lumia Cyan Update for it, this will never work on HTC... :( One more reason to get the 830 !

You have the Update 1? (the one that gives you the music live tile), I believe that's the OS version that comes with Cyan. Or maybe that functionality it's only available on Nokia's firmware? would be weird. EDIT: Hmm I just see 2 comments below someone saying that he's got the Update 1 and it isn't working :/

Real time caller id won't work if app is installed in sd card ..uninstall n install d app directly to phone memory ..it works fab!!

Thanks dude ,.. I just moved it to phone memory and it worked

not able to turn on caller id...

ZZZZZZZZZZZZZ Still Waiting....ZZZZZZZZZZZ

Does not work on HTC 8X with 8.1 Update 1. Says it needs Lumia Cyan... hahahah Maybe update 2?

I moved in phone memory. And on it it worked, but again I off it and now it wont on

Will not work on the Icon until Cyan is released. Thanks, Verizon.

caller id not working. they released in a hurry i guess... on wifi, app installed in phone memory, then also no identification at all...

Nokia 928 on T-Mobile. Truecaller tells me my firmware doesn't support caller id

Not working in my Lumia 720,cannot enable the caller id functionality.

Does Trucaller give you the real number of the caller if they are spoofing the caller ID number? Or is it looking up the displayed caller ID in a database and returing the name. Many spammers/telemarketers spoof their caller id numbers with random numbers to defeat simply databases.

There's a network+ update? '-'

Yes. Now Live. There's an article on it today.

So, it arrived finally. Thank you truecaller. Now i need a spammer to call me to check the feature

first live caller ID in WP? O.o i though there were caller ID app on windows phone before this truecaller... example in Finland has Fonecta Caller that recognize every phone number that isnt in ur phone by looking into the data on Fonecta that has every numbers of Finnish ppl (can't detect secret numbers)

Does it interfere with displaying the photo associated with one of your Contacts?

One big issue. It fills up my contacts list with all the SPAM CALLER entries - what if I don't want that? It looks ugly on the live tile...

you can filter your contact list. they tell you how to do that inside the truecaller app. just goto settings.

Really didn't feel all that comfy giving out all that info for this service. We're being put in a data base? Why? How does that help identifying a strange caller? I prefer my own methods.

I agree, there is more to this than meets the eye. May as well post all your phone numbers on pastebin.

Not able to enable this feature...it says update your network+ app but no updates for network is available yet...:(

WI FI CALLING STILL WORKS?

I'll give it a miss until the ratings improve.

Kamran Mamedi: Hi, I have a couple things to report. Congrats! Its a great to the new features. But, I'm not sure if it is the bug with the Network+update or the app itself that blocks the incoming and outgoing calls. The calls are getting dropped automatically without a ring. And I'm sure its better after uninstalling the app. Also the call quality is not good at all. NOKIA Lumia 925, DP8.1+CYAN AIRTEL | INDIA Bangalore, India.

er...anyone using this in the Phlippines right now?

Not working still....it s asking to update my network +.....bt in store..it shows nothing

I thought this app would replaces the default dialer on the phone.

CallerID not working. Lumia 520. Cyan + DP updates. India

While installing this, it told me that Caller ID requires the Cyan firmware. My phone (Lumia 925 on T-Mobile) does not, so the feature was disabled, but the app finished installing otherwise. After installing, my "People" tile—normally a constantly changing mosaic of contact pictures—became mostly empty mini-tiles, each filled with a slashed-circle icon. I've uninstalled it for now, and my People tile is back to its former behavior. I'll try again after I receive the Cyan firmware update. For me at least, Caller ID is a way to minimize telephone tag. From time to time, usually away from home, I give my cell number to parties that I'd never care to make into a contact: hotels, hospitals, merchants, etc. When they call back, I'll answer if I can see who it is. (I can always block the number later if it becomes a problem.)

The issue you faced is when you run true caller it asks you that do you want to enable spam
If you click yes there are about 30-40 contacts added called spam in your people tile.
To avoid this either say no to spam or if you have selected yes , go to people hub and in settings go in filters and untick true caller contacts
The problem will be solved

I think its quite not working as expected. It does show who called but either after call is missed or the call is answered and completed. This information comes in Information Bar, but realtime information is still not available.

It needs Lumia Cyan installed.. which i don't have on my phone yet. Lumia 625

Well, the app itself may support 512mb devices, I don't think the network+ update does. I still haven't gotten the network+ update on my device (Lumia 635) nor is it available to me and so as a result Truecaller refuses to activate caller ID.

this app is pretty useless. it requires Lumia Cyan to work with Caller ID Feature. so stupid. i am using Xolo Win Q900s, which has WP 8.1. how am i supposed to get Lumia firmware when i am using a non-Lumia phone? i am never gonna get it on my phone ever. and the app says it works only with WP 8.1 it must say it works only with Lumia Cyan instead.

This app works great for me in Sweden with my Lumia 920 with Cyan and DP update 1, the only thing missing. When you got text message it not shows the person who sends it.

"your phone firmware version does not support caller id." uninstalled.

So you add a cool new feature and only make it available to your proprietary hardware? HTC One is a flagship, but won''t have caller ID because it's not a Microsoft device? I ask again, are they trying to be Apple or Google? Make up your minds.

This app is great, thank you! Ever since installing it on my 1520 tho, it has made the phone slower at times. Very odd. It's a brand new phone too that I updated to dev preview and hard reset. I also did not restore any backup and built it from scratch. Anyone else having any speed issues after installing?

Getting a lot of UNKNOWN calls lately, I will give this one a try

Not working on my Lumia 930 with Developer Preview :(
Somebody please help!!!!

I have a Micromax Win Can - Windows Phone 8.1. Just want to know if Truecaller caller id function will work or not.? Thanks, Praveen, India

This app has become a waste after the update... Live caller id automatically gets off as soon as I tap the back button... It isn't even showing the caller name in the notification centre after the call is completed... Live tile doesn't work...i dunno what's new except the UI... Earlier it showed live caller I'd and I could see if it was a spam...

Hi there..
I was previously using truecaller which mistakenly got uninstalled.Now when I am trying to install it again it shows the error code: 80073cf6 .
Please help me in this regard!..

https://www.truecaller.com/support#/Windows%20Phone%208/a2
Windows Central Newsletter
Get the best of Windows Central in in your inbox, every day!
Thank you for signing up to Windows Central. You will receive a verification email shortly.
There was a problem. Please refresh the page and try again.