Tubecast brings Full HD, 60 FPS and QHD (2k) support for YouTube on Windows Phone!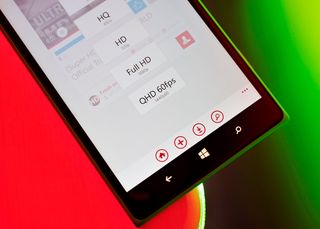 One of our favorite YouTube clients for Windows Phone goes by the name of Tubecast. Besides being a full-featured, beautifully designed YouTube app for managing and playing videos, it can also DLNA and Airplay stream content to your TV at the touch of a button.
Version 2.9.8 of the app brings some significant viewing improvements, including some ultra-high resolution support! Best part, there are no audio de-synchronizations.
Tubecast 2.9.8
Cast QHD Full HD & 60fps to DLNA devices
Preload QHD, Full HD & 60fps videos
Channel Menu: New design (Windows 10 style) with smooth animation.
Thomson TV & Android TV added to Tubecast list
Bug fixes
Support for QHD is the good news. The bad news is playing such videos – even on a Lumia 1520 – taxes the system so much that videos are a bit choppy. Still, they do play and in theory, you can even 'cast them to your TV as well.
Full HD (1080p) videos at 60 FPS though look fantastic and perform well.
Of course, if QHD can slow down a Lumia 1520, Windows Phone with 512 MB of RAM are obviously out of the question. Yes, you can use this app on those phones, but do not expect to run content at Full HD and 60 fps on them.
Finally, the new menu system for those logged in is very fancy and elegant. Overall, this is a fantastic update and we cannot wait to see what comes in 2015 (cough, Windows 8.1 Tubecast app, cough).
Make sure to check out our tutorial and demo of how 'casting works on Tubecast!
Daniel Rubino is the Editor-in-chief of Windows Central, head reviewer, podcast co-host, and analyst. He has been here covering Microsoft since 2007 when this site was called WMExperts (and later Windows Phone Central). His interests include Windows, Microsoft Surface, laptops, next-gen computing, and for some reason, watches. Before all this tech stuff, he worked on a Ph.D. in linguistics and ran the projectors at movie theaters, which has done absolutely nothing for his career.
Best YouTube app to date.

Agreed. I downloaded this a few months ago and it immediately became my number one app. I use XBMC and this streams to it perfectly. In fact it works much better than my iPhone and Airplay. Easily one of the best Windows Phone apps.

Me too, love this app. Would love to see it as a universal app too.

Man I have to agree... I have them both downloaded but I like this one a little better, only if it was as smooth as MyTube when switching from portrait to landscape view. MyTube got all of them beat with that, I hope this one gets that smooth then I'm deleting MyTube if that happens. :)

myTube is getting a big update soon, stay put before committing ;)

1080p is coming to mytube as soon as they can get the name straightened out.

Waiting for that....VERY EAGERLY!!!

This YouTube App is perfect.

I don't see a download button like myTube has.

It has a download button ;)

Ok, I just found it. I saw the button called preload but I thought it was a buffer button or something. Seems like it should say save or download. Not as user friendly as mytube. I guess I prefer the metro style of mytube.

No there is a download button! When you open a video, one of the four button in the bottom bar is the download one

Right, I found it. It said preload and I didn't know wtf that meant but I guess it means save\download.

Is it possible to play whatever video in the background when you've minimized the app/switched to another? MetroTube can do that.

Yes there's an option in the settings ;)

Ahm, that means on regular youtube html, there's no option to switch to 4k?

Preloaded videos are getting deleted automatically in version 2.9.8 :( .pls help.

I use mytube but it looks like mytube might have some real competition with this app. Is there a dark theme. I hate light themes

Yes, Dark theme option along with different accent color choices.

Yes, it includes a dark theme.

Tubecast and metrotube are best

Strange, I've never heard of this app before XD seems like its fast :D

Only one thing is left..which is downloaded videos must be exported to gallery

is there any available Youtube client do that? I really want this feature. In fact The vidoe folder should be the default directory for downloading vidoes for every youtube client!

Awesome. Been my main YouTube app since it came out. Incredible work by the developer(s).

Best YouTube app ever ! And btw , so does that mean there will be a QHD Lumia phone coming soon ? "maybe"? I hope so !

As of now, everything is tied to Windows 10 release.

Doesn't the Lumia 535 have a qhd display ;)?

qHD is quarter HD, which is 960x540
QHD is quad HD, which is 2560x1440
Tubecasw has support for QHD, 535 has only a qHD

Pretty sure the developer doesn't have any inside information! lol YouTube recently started supporting 1440p video content. There's no reason why devs like this shouldn't tap into that, whether your phone has the resolution or not.

waiting for the mytube update. The developer says that he needs to change the name of the app for some reason in order to update the UI (the update is supposed to come in this week) and add 60fps

He said the update is delayed :(

myTube beta supports 60 fps.

Yup, the beta App is sweet. I get an occasional playback issue. Black screen, video restarts, but besides that its a really nice update. Love the UI.

I really wants to know about the new UI. For my that will be the deciding factor between choosing mytube or tubecast (I don't like the Ul of Mytube but a like the features)

The first time I tried this app a couple weeks ago, it immediately replaced MetroTube on my start screen/primary Youtube app.

myTube will offer these features in the next big Update very soon, too. I'm using the beta and it is my favorite YouTube App.

As long as Tubecast doesn't have 480p, MyTube is still ahead of it in that perspective. MyTube beta received 60fps, 1080p and 480p a couple of weeks ago. It'll be public for everyone pretty soon I think

"As long as Tubecast doesn't have 480p..."

Not sure what that means...I can play videos at 480p (HQ) on Tubecast. Tubecast has Auto, SQ (360p), HQ (480p), HD (720p), Full HD (1080p), QHD (1440p).

on my l720 running smooth at full resolution

I make you like the Tubecast app ;)
Every tip I sent to you I hashtaged it with #Tubecast .. Tanzim :)

Guess I gotta give it a try now! Been using myTube for many months...
Thanks for the article Dan!

What's the benefit of having QHD resolution videos when the display is 'only' normal HD?

Not nothing. 2k downconverted to 1080p (assuming the 2k stream has sufficient bandwidth) will always look better than straight 1080p. It may not be blatantly obvious on a small phone screen.

Okay technically it's not "nothing" but in reality the difference is insignificant and borderline unnoticable.

Not sure about that. It'd be true if the app used an oversampling algorithm (and that's not the case here). Otherwise I think that a 1080p video with a good compression will look better than a QHD video resized on the fly by the phone.

At the moment, 2k is done for the cast, try it to your TV, it's beautifull.

Pretty sure you meant QHD. Which is quad HD. qHD is quarter Full HD. Many people on this commenting section are not aware of this I guess.

Yup I meant QHD, otherwise the whole oversampling thing wouldn't make sense ahahahah :)

I even use their bookmarklet so in case something open YouTube in the browser I can switch to Tubecast instead.

http://rykenapps.com/openinmytube/ Follow those instructions. This works for myTube and Tubecast (and probably more YouTube apps).

Wait a sec, there aren't any QHD windows phones :-o

Yeah but there are QHD TVs. This helps in streaming QHD content to them as well incase you have one.

Lumia 535 has a qhd display

That's qHD. By QHD he means the 2K resolution, which has a height of 1440 pixels. The 535 is 960*540.

qHD is nt the same as QHD, look it up on wikipedia

I can't stand the UI compared to Mytube (I don't like the bar with all the icons, the rest is nice)... But the 1080p 60fps video support is so sweet!

Wooooot, it is even in Dutch. Love that. Might Ditch MetroTube
Edit: Tried it, i'll stick to MetroTube. Like Dennis i don't like the icons on the menubar and i keep swiping.

I like this app! The layout is a bit better than mytube. Oh snap! :)

Is the best youtube app somewhat better than youtube, it totally replaced metro tube for me

Great functionality, could use some UI polishing. It's really hard to decide between this and myTube, as each has its benefits.

Discovered this app with that article... Wow what a fantastic Youtube app !

Why I never tried this app? It's just perfect. Clean and with a very ordered menu.
Metro tube, I loved you so much...

Can't get it to recognize my Chromecast...

I have two routers and it can recognize chromecast on either wifi network without any issue....also got VPN router and I use Pin to cast from non vpn wifi. You might have to update firmware on your chromecast.

It's my most favorite app....replaced mytube and metrotube. Still have to figure out how to create the queue to cast.

Chromecast support on L920! Fantastic...