TV, music, movies, and books we're into this week
The days are getting longer, meaning you have more time to enjoy some great media!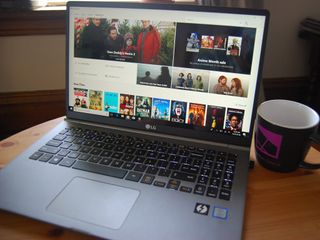 Winter is still hanging on, but at least spring is another week closer. If you're like most of us, you want nothing more than to kick back and enjoy yourself this weekend. Why not take in some great tunes, a quality movie, or a real page turner? If you're looking for suggestions, we put together a collection of some of the best stuff out there right now.
TV and movies
Here are some of the movies and TV shows Windows Central is enjoying this week.
The Foreigner
Recommended by Mark Guim, video editor
Run, Fatboy, Run
Recommended by Al Sacco, managing editor
Blade Runner 2049
Recommended by Cale Hunt, staff writer
Music
Here's some of the music the Windows Central team is listening to this week.
pH-1 — GATSBY
Recommended by Matt Brown, Xbox editor
Believe — Disturbed
Recommended by Richard Devine, reviews editor
Joe Strummer & The Mescaleros — Global a Go-Go
Recommended by Al Sacco, managing editor
Changing Colours — The Sheepdogs
Recommended by Cale Hunt, staff writer
Books
Here are the books we're reading this week!
Cryptocurrency Investing Bible
Recommended by Rich Edmonds, staff reviewer
Download Kindle book at Amazon (opens in new tab)
One Hundred Years of Solitude — Gabriel Garcia Marquez
Recommended by Cale Hunt, staff writer
Your favorites?
What have you been watching, reading, and listening to this week? We want to know, so drop a comment and share your recommendations.
If none of these recommendations strike your fancy, check out a list of all of our past recommendations. We promise you'll find something you'll like.
Tons more recommendations from Team Windows Central
Get the Windows Central Newsletter
All the latest news, reviews, and guides for Windows and Xbox diehards.
Blade Runner 2049 is a SUPERB film, different to the original but equally amazing, visually and with the story.

Loved it, too bad it wasn't a BO hit.

But neither was the original

Good guy Rich, feeding the crypto bubble ;-)

Bought a book and there's nothing to read, just a blank page. Waited for hours hoping something will load but nothing. Anyone experienced this before and how to solve it? In a process of a refund.

Did it come with a box of crayons?

Or an Amazon logo on the back

For me this week it's been Grizzly Bear's excellent latest album, Painted Ruins. At the cinema I saw the equally excellent Three Billboards Outside Ebbing, Missouri. And on the TV I've been watching the slightly less excellent, but entertaining none the less, spooky BBC drama Requiem.