TV, music, movies, and books we're into this week
By Remik Szul last updated
Here are the TV, movies, music, and books the Windows Central team is enjoying this week.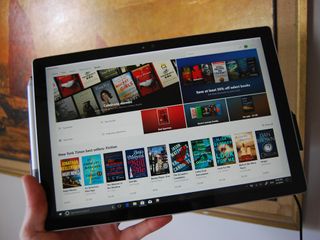 It's the last weekend of May 2018; where does the time go? Whether you're thinking about staying in and laying low, partying with some friends, or sitting outside in the sun with a good book, we have some great tunes, movies, and books to recommend.
TV and movies
Here are some of the movies and TV shows Windows Central is enjoying this week.
Game of Thrones
Recommended by Rich Edmonds, staff reviewer
Super Troopers
Recommended by Cale Hunt, staff writer
Music
Here's some of the music the Windows Central team is listening to this week.
Frank's Wild Years — Tom Waits
Recommended by Al Sacco, managing editor
The End of That — Plants and Animals
Recommended by Cale Hunt, staff writer
Books
Here are the books we're reading this week!
The Rook — Daniel O'Malley
Recommended by Dan Thorp-Lancaster, staff writer
Safe — Ryan Gattis
Recommended by Al Sacco, managing editor
Tom Clancy's Ghost Recon Wildlands: Dark Waters — Richard Dansky
Recommended by Richard Devine, reviews editor
Download Kindle book at Amazon
Your favorites?
What have you been watching, reading, and listening to this week? We want to know, so drop a comment and share your recommendations.
If none of these recommendations strike your fancy, check out a list of all of our past recommendations. We promise you'll find something you'll like.
Tons more recommendations from Team Windows Central
"The End of That" is one of those special albums that I listened to non-stop during a big year of change in my life, it's a fantastic album. I second Cale's recommendation for that album and anything else by the band Plants and Animals (esp. Parc Avenue).

I third this recommendation. Went through a similar change in my life around the time of "The End of That". I keep going back to every Plants and Animals album.

Dan, I know that you recommended Parc Avenue a month ago. I'd never heard of Plants and Animals before that and since that day I've played it at work a number of times. Now I shall have a listen to The End of That too. Also, Al, way back in the 80s, my brother had Frank's Wild Years. I never really listened to it at the time except for Hang On St Christopher which I really loved, so that's my favourite track.

That's awesome to hear! They're such a unique band, I listen to at least one of their albums all the way through on a weekly basis.

I see no point of articles like this except showing that WC has nothing to write about as Microsoft is boring b2b company now

Thanks for clicking into the post and leaving us a comment that adds absolutely no value to anyone's day.

Just like this article. I have time
Windows Central Newsletter
Get the best of Windows Central in in your inbox, every day!
Thank you for signing up to Windows Central. You will receive a verification email shortly.
There was a problem. Please refresh the page and try again.