Tweakolor, a coloring book styled photo editor for Windows PC and Phone
If you like manipulating the color in your photos, Tweakolor may be a photo editor right up your alley.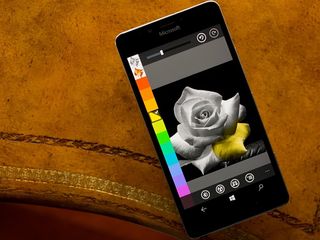 Available for both Windows 10 PC and Phones, Tweakolor offers you the ability to remove all color, remove selected colors and change the colors in your digital images.
Tweakolor has support to edit existing images in your Pictures Library or launch the camera within the app to capture new images to edit. It also has a Toddler Mode that makes the app more kid friendly and the ability to save your masterpieces as a copy of the original image file.
The app could use a little fine-tuning here or there, and after using the both versions of the app we found Tweakolor to be a fun and creative photography app.
The layout of Tweakolor has a color palette running across the top of the screen and an adjustment bar to size up your brush. You will need to use the hamburger menu to access the App Commands and Settings for Tweakolor.
The App Commands will appear across the bottom of the screen with options to reset all effects, open an image, save an image, share an image and a series of image adjustments. These adjustments include:
Brightness
Saturation
Balance
Queerness Filter: Yes, that is what it is called and is a sketch-like filter for your images
Fence Filter: Applies diagonal lines to your image
Accent Filter: Adjusts the Hue of your image
The Windows Phone version has similar buttons along the bottom of the editing screen with several options hidden beneath the three-dot menu. The Windows Phone version will also include the option to launch a camera app to capture a new image to edit. This option was not present with the Windows PC version.
The color palette has a dozen color options and two options to restore or remove color from your image. Your image is opened and transformed into a grayscale image, offering you a blank canvas of sorts to reapply colors. All you need to do is decide what colors you want to use and where to apply them. You can pinch to zoom or rotate your image to be more precise with your brush strokes and the brush size can be adjusted with the slider-bar along the side for smaller, precise strokes or larger, broader strokes.
Settings are somewhat minimal with options to turn on/off the brush boundary and pixel tiles. There is also a Toddler Mode that allows you to turn off key features that children won't need access to. With the Toddler Mode, you can disable the ability to launch the camera, open new files, save files and share files.
I did like having the ability to enlarge and rotate images to help get to the smaller areas of an image. The brush was very responsive to the touch and had nicely defined strokes. When you have photos edited to your liking, they are saved at the original resolution in the Saved Image folder of your Windows Phone or a Saved folder in your Windows PC Pictures folder.
Room for Improvement
While I found Tweakolor to be a fun photo editor with the ability to create some interesting images, there is room for improvement. For starters, the color palette needs to offer a wider range of colors. Twelve shades didn't seem to be enough.
You also need to have the ability to set the opacity or intensity of each color. You can adjust the saturation of the image to brighten and enrich the colors, but that adjustment applies to the entire image.
Lastly, I would have liked to have seen the app commands on the Windows PC version remain visible. It just felt cumbersome to tap on the hamburger menu every time you needed access to these controls and adjustments. The Windows Phone version does have the nicety of having the adjustment controls visible as you are working on an image.
All in all, Tweakolor is a creative photo editor for your Windows PC or Phone. A larger screen does allow you to be more exacting with your brush strokes, but the smaller screen of a Windows Phone isn't impossible to work from.
Tweakolor is a free app available for Windows PC and Phones. It does have a $0.99 in-app purchase to unlock the Undo/Redo commands.
Download Tweakolor for Windows PC and Phone (opens in new tab)
Windows Central Newsletter
Get the best of Windows Central in your inbox, every day!
George is the Reviews Editor at Windows Central, concentrating on Windows 10 PC and Mobile apps. He's been a supporter of the platform since the days of Windows CE and uses his current Windows 10 Mobile phone daily to keep up with life and enjoy a game during down time.
Good to see developers still care while microsoft doesnt

WC too.. Haven't launched their UWA yet.. Dont know what they are testing so much.. :/

Come off your high horse... Microsoft pushes out updates for all their apps every week and for thr OS every month... Most companies update apps once every three months and updates for thr OS once every six months. You are exaggerating... A lot!

That's just bug fixing update or update without Changelogs which actually does nothing but wastes money of people who are having limited data packs .
Meanwhile i could download 400MB app in 2 minutes on 2Mbps Wi-Fi network. Thanks to Windows Store in Windows 10 Mobile

Come on WC BRING THE DOWNLOAD APP BUTTON BACK

Seriously...stop the spam

It has been a year since win10 insider preview started
And to be honest the os does not have much changes compared to 8.1
Many camera features removed without a reason many apps discontinued without a reason
Ms keep pushing nice apps to other platforms
No lumia 730 or 830 successor till now
The market doesnt have a good midrange lumia phone at the moment
Imnot leaving the os but im frustrated with their inconsistency and the promises they gave
Remeber back when we were promised a new lock screen options by joe belfore and also nothing happens

If you are a platform lover and Mid Range phone user . Buy a used Lumia 520 , you will get all the O.S updates can show the love towards the O.S.
Buy an Android for your price range #ProblemSolved
I did like this , sold my 1320 , got used 520 and Moto X Style

That was pretty straight and awesome idea..

That old Windows 8.1 look... I want UWP app!

Definitely something I want to check out. This app looks good, and may do something I've been wanting to do with a few photos without having to open up my laptop to do it. Rather smart to make it free and make the "undo/redo" function $0.99. That way, people can try it out. Those that want free can deal without undo, and those that want to support a developer can make their editing a bit easier. Thanks, Airyware, for supporting our platform.

Installed it and paid the in-app $1 unlock for undo/redo feature. My 5yr old daughter loves it.

Interesting app. I'll check it out to see if it is better than lumia color pop

Fantasia is better than color pop

Color pop is way easier and it works well. I reserve Fantasia for more complicated tasks.

Fantasia for brushing unwanted objects, Creative studio for popping colours, photo editor for adding text on photos, Photo Funia for tricks, Collage maker for collages(disappeared from the store) and finally my favourite Adobe Photoshop Express for filters, adjustments and frames! Most of my photos pass through all these apps... I will try this one though

I use the same, except I Fhotoroom for edits, filters, adjustments, and HDR effect. I'll still try this new app out for color. No tool is perfect, so I like to try new stuff.

Ứng dụng cũng được . Nhưng khi tô thì những mảng màu vẫn bị lan ra ngoài . Có vẻ chưa được ổn cho lắm :)

Installing,let u know how it is