Tweet It! is filled with features, ready for Windows Phone 8 and on sale - need we say more?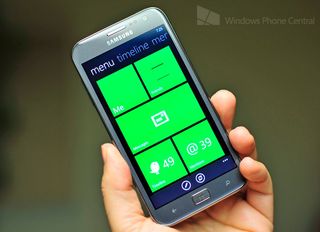 For those looking for a great Twitter client with a little personality, you may want to give Tweet It! a go on your Windows Phone. We've talked about the app in the past and gave it high remarks.
Since then, the app has gone through numerous transformations and it is up to version 5.1 (with the 5.x marker designating Windows Phone 8 status). That's right, you can now get Notifications (Tile and/or Toast), Lockscreen notifications, doublewide Tile and fast resume all into a nifty little app.
What's more, Tweet It! is on sale for $0.99 (usual price is $2.99) for a limited time and we think you may want to at least trial the app, to see if it's to your liking.
Tweet It! brings some unique features to the table, features which we really like. We'll just spin off a few of them:
Adjustable Font size
Voice input for Tweet
#nowplaying (Ability to one tap Tweet what you're listening to)
Street Mode (background goes clear so you can read while walking)
Bed Mode (orientation lock)
Shake to refresh
Photo uploading choices (re-sizing or not, takes into account Wi-Fi)
Pinnable Tiles: New Tweet, #nowplaying, messages, drafts, search + trends, lists
Rapid resume including type (normal or expert, the latter won't erase Tile history)
Gestures e.g. 'two-finger tap' for a certain behavior
Spellchecking to confirm before uploading of Tweet
Pocket/Read it later support
As you can see, that's a heck of a lot of things wrapped into a nice, clean Metro UI Twitter client. It's one of our favorites for a reason and the developer, Тимур Хамидов, who's behind My Amazing Big Fork, has even more plans for the app. Indeed, we know that another update is coming next week with:
Vine support (Twitter's new 6-second video service)
Notifications based on location
Call us crazy but those are two features we haven't see very often in Windows Phone Twitter clients, so we're kind of excited for 'em. As previously mentioned, the app normally goes for a pricey $2.99 but at $0.99 the app is certainly worth a moment of your time.
For us, we're putting this in our top five, easyily (though we do wish for multiple account support).
Pick up Tweet It! for Windows Phone 7.x and Windows Phone 8 here in the Store with a free Trial. Highly Recommended.
Daniel Rubino is the Executive Editor of Windows Central, head reviewer, podcast co-host, and analyst. He has been covering Microsoft here since 2007, back when this site was called WMExperts (and later Windows Phone Central). His interests include Windows, Microsoft Surface, laptops, next-gen computing, and arguing with people on the internet.
I'm guessing I should download this when my boss says it is highly recommended. Downloading now.

Twitter client overload. Any chance you guys would do a nice compare/contrast of features, usability, etc.? I used to use Rowi, now I'm onto Twabbit.

Yeah, possibly. It's hard becauses one man's "must have!" feature is another's "meh". But we can do a roundup. There's really only about 5 or 6 worth talking about. You mentioned two of 'em. In the end though, folks doing their own "trial" is probably the best test for a Twitter client--they're so personal, you really need to try it yourself.

Daniel,
Ik this is very off topic, but can you or someone at WP central do a deep look into the wallet wp8 app.
What does it actually do? Can I make a gift card on my phone? How can I make NFC payments with my 920?
I've been looking Into it and trying to figure it out for myself but I just don't understand the app!

does it have push notifications? if not then it isn't worth the $1, let alone $3

i keep buying these twitter clients and i dont know why. i have 99% of them.

lol, same here. It's good to have variety :)

Me too! I guess the search for the perfect Twitter client goes on! So far, I find Twabbit to be the fastest to fetch tweets. Goes well with my data plan.

Do any of the current apps have Vine?

Dude this is Windows Phone you're talking about, here.

lmao looks like i already purchased this. probably on my old surround. i like that msg that tells me i already purchased something.

I use this everyday! I love it because its simple and strait forward.. My favorite Twitter app by far!!

I love that I've been on WP so long that I'm finding apps that I'm rediscovering apps that I had previously downloaded (probably on a free weekend, too)!

Ditto. Just downloaded a previously purchased app.

I see that the developer has 80085 friends.

Thanks for posting this article. I really like this app. It's easy to update timelines with it.

I downloaded it, and I don't care for it. I wish the dev all the best. Back to Rowi I go.

Anyone catch that (probably intentional) cleavage pic?

Vine support? Is that available on ANY other WP Twitter app?? Will we be able to send Vines or just view them? If we can fully participate in something new and exciting then its worth buying ANOTHER Twitter app. :)

Damn! This app is beautiful!

Snappy and Clean... Only needs two more features to get pinned as my goto twitter app, listing retweets of your tweets (& by who) and multiple accounts.

Gah! Developer, please release this in Indonesia!!

Please exuse us. Will release it in Indonesia next week. As apology app will be free for your country.

Thanks! Can't wait to download it :)

are there any twitter apps that will instantly notify me when i am mentioned rather than performing the check about every 30 minutes? It's easy to miss out on a funny moment or a potential quick reply when you get notified of a mention 20+ minutes after it happens. I'm not sure but I think this is an operating system limitation.

MeTweets & Rowi Twitter clients are as near instant as you'll get on WP.

Off the topic. I can't rate & review apps & games directly from my phone. Help !!

I use Mehdoh now... any reason to change to this? Or is the one I use good enough?

I like mehdoh. But the cut off inline previews and opening links in IE always has me going back to gleek or for right now tweet it.

i cant buy it and am from nigeria, why make an app that is limited to certain countries. i cant buy any twitter app because the store says its not available for my country. dats ridiculous

I'm sure they are working on that problem.

Same here,but if u change your region to u.s, you'll be able to purchase it,my own question is what bank/debit card to use,coz I'm with zenith and I activated my card for internet banking but I'm yet to try it,I don't even know if its very secure

Sorry for that. There are some problems with moderation process for couple of countries. Will fix it asap.

I just bought it. It's a great app and the features are awesome.

Looks like a decent app, perhaps not as polished as some but fast and lean. Really could do with support for multiple accounts as this is where a lot of the paid-for apps come in useful.

I've been looking for a new twitter app since I'm trying to put Carbon which I love behind me this being on sale has made up my mind for me... Thanks alot Dan!

I see Mehdoh free today! Downloaded it as I was usuing it before I switched my ID to my American Windows ID. Therefore have no card info I can use so relying upon free apps until I get to Windows Phone 8. Mehdoh was my chosen Twitter lient when I was using my paid version on my other ID.

Which reminds me...why don't you do an examination of the fractured XBox purchasing. Why is it I can use Paypal to purchase Windows 8, and content on Windows 8 and exbox, but not Windows Phone. I hear that Windows Phone 8 allows for PayPal, but 7.x does not? Where is the logic.
back to your regularly scheduled programming already in progress.


Mehdon is 0.99 today also I don't see free I may get that also

I installed this app a month ago.
But I found twitter client with no real time push notification is useless at all. Many people use twitter not just to post a micro blog but to micro-chat as well, so it's absolutely impossible without push notifications though.

Love this app! Just bought it. Simple, clean and fast. Yes it doesn't have push, but it's pretty polished I would say. The inline image preview is much better than medoh. Thank you!
Windows Central Newsletter
Get the best of Windows Central in in your inbox, every day!
Thank you for signing up to Windows Central. You will receive a verification email shortly.
There was a problem. Please refresh the page and try again.