Tweetium dev releases multiple updates overnight, implements a bunch of improvements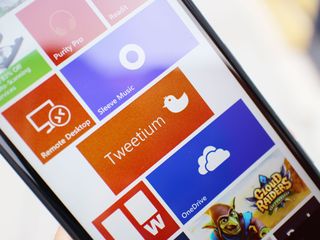 Tweetium is a popular, highly-rated Twitter app for Windows 8 and Windows Phone 8.1, and the phone version of the app has today been bumped to version 3.2.3. Version 3.2 hit the store overnight, but due to bugs being spotted in the recent release, the developer rolled out a further three updates to sort everything out – talk about rapid updates.
Here are the full release notes for version 3.2:
New conversation experience for phone
Updated nav bar visuals
Added Crimson and "XB Green" accent colors
Improved touch keyboard interactions/animations
Expanded view now shows a share icon with other controls (helps discoverability of share).
Fixed a bug causing the view to jump by a few tweets after quick resuming in certain cases
Fixed a bug where the updated last read position for Connect would not be saved correctly in certain cases
Fixed two cases where the quick action buttons in vertical mode would not display on the top tweet as expected
Fixed occasional duplicate notifications appearing in Connect+
Enlarged the touch hit targets of quick action buttons slightly
Touch keyboard no longer comes up automatically when expanding a DM thread with touch
"Gray" background is now the same achromatic gray as the gray accent option
Phone back button now dismisses reply boxes before dismissing the entire thread
Changed "n following" to "follows n" on profiles for clarity
The large tile now properly shows the sender (not recipient) for DMs
"Start at last read" no longer affects the Me tab or user profiles
Grouped retweets in search results now show the original tweet when clicked/tapped
Possible fix for DMs from the wrong account showing after switches in rare cases
Phone keyboard now comes up properly when sharing to Tweetium (OS bug workaround)
Fixed a couple of rare crashes
As touched on above, some bugs were spotted in the main update (since it's absolutely massive), but the developer released three patches overnight to address any issues. Here's a list of things fixed in 3.2.1, 3.2.2 and 3.2.3:
Fixed screen name shifting a couple pixels in last update when quick actions appear
Fixed missing updated dot for some tabs
Fixed UI problems some users experienced with the new conversation view
Fixed a rare crash
Fixed broken Newseen reader UI on phone in last update (Pro users only)
Fixed a couple of crashes in error cases
Phew! Impressive stuff. Give Tweetium a download from the Windows Phone Store (links below) and let us know how you find the latest version.
Windows Central Newsletter
Get the best of Windows Central in in your inbox, every day!
Rich Edmonds was formerly a Senior Editor of PC hardware at Windows Central, covering everything related to PC components and NAS. He's been involved in technology for more than a decade and knows a thing or two about the magic inside a PC chassis. You can follow him on Twitter at @RichEdmonds.
Dev., Please release a trial version!

Won't happen because of the token limit from twitter.

I guess they can't, because twitter will pull any app that reached a specific number of downloads

Like the other two said, it cannot be done for any 3rd-party Twitter client. In this regard of having a limit imposed, Windows phones have an advantage of low market share. It takes longer to reach max limit.

What about duplicate an app using different names to avoid reaching limit or this is not working?

There is a free trial available! Edit: looks like the free trial is not available for phones but is available for Windows 8.1/RT.

Hmmm... U gave me a ray of hope :P

I think I had try this on Windows 8.1 and it allowed to me to download in Windows Phone. But I really dont remember if I had already bought it at that time.

im pretty sure thats what I did before i bought it too

There's a trial version for Windows 8.1

Wow love this app glad to see updates being pumped out

spent some money to buy this app. Quite like the experience so far. Just hope it will not end up like mehdoh going down into oblivion due to twitter token bullshit.

Best twitter app, hands down.... But my live tile doesn't show my stream, even though I chose that in the settings... Anyone that have the same problem? L1020....

Nah!! Its working fine for me.

Hi there. Can you send me an e-mail using the support link? Or reach out on Twitter? (@TweetiumWindows) First thing to check is that the app has Background access enabled in Battery Saver, and to ensure your phone isn't is battery saver mode currently. ​ ​

For all the people asking for a trial version: Twitter has a token policy which limits the number of users a third party application for twitter can have. If the developer gives you a trial version you'll use up his tokens and you might not buy the app.

One amazing app .. Worth every penny .. Purchased it .. And loving it

Thanks for the info... Updating now... So far this is the best twitter client for WP... I'm using it everyday.... :)

this app would be the defacto WP twitter client IF the lock/glance screen notification icons were 'live' as opposed to delayed. but overall fantastic app.

Thanks!​ Just curious, are you a Pro user? Planning to tie the (Pro) push notifications into the badge soon, which should help there. It's a little complicated with multiple accounts though.

Hi Brandon, i am a Pro user yes. quickly becoming far more dependant on twitter than i ever thought i would :) so to see icon and count on the lumia glance screen, like with email for example is important to keep track of. and i just use the one account. thnx

It has been a while since official Twitter app just stopped sending push notifications, I would love to use an alternative option, but push notifications are really important for me and I don't know a single alternative able to do that.

Tweetium can do this if you subscribe to pro pack. It costs just $8 for a year so not much if you really need those push notifications.

Wow really?! That's craziness.. I'd rather not buy it then. What's the reason behind the yearly purchase?

Satisfy the need for money?

Hi there. There are two reasons Pro costs extra. ​1) Cost. The base app is extremely cheap (just $2.99 for all devices, compared to $28 for TweetBot on Mac+iOS), which isn't enough to cover the costs of the many servers needed to offer push notifications. There's also a monthly cost to me for TweetMarker, and Twitter's token policies make it so multiple accounts aren't feasible at $3 either. ​2) Twitter's API restrictions. Twitter no longer gives competing clients access to the API needed to efficiently build real-time notifications. So the only option is a less-scalable model which (cost aside) can't reasonably accommodate the number of non-Pro users the app already has. ​That's not even to mention how much work it is to support the current (and growing) number of Pro servers I have to maintain (and keep updated, secure, and spend time diagnosing when someone reports a problem). It's a lot for one person and without the Pro subscription it'd be impossible to justify the time and effort. Hope that makes sense! ​ ​ ​ ​

That's the main reason I totally hate this app. You only get a fraction of the notifications. And really overall the official app isn't that bad, it works pretty much just as good as the website. I purchased Tweetium from the store and that should be enough to get full service. I recommend you don't waste your money.

Hi Kev. What do you mean that you only get a fraction of notifications? ​As for the pricing model, please read what I posted in my earlier reply to this thread. It's designed to make the app as cheap as possible ($2.99 is way less than $28 for TweetBot on iOS+Mac), while paying for the ongoing costs of power-user services (and building a pricing structure that makes the app sustainable given Twitter's token limit policy). If you have problems with the app or notifications, or want to know more about the pricing model, please e-mail me using the support address.Thanks. ​

Thanks for the advice, but that payment policy makes no sense to me.

Hi Sergy. Please read my replies above where I explained the pricing model. If you have any questions please let me know!

I've read before about the restrictions that Twitter is pushing to third party developers, but I had no idea that it was this difficult.
It all makes much more sense now, I know it is hard to sell software -specially apps- when people doesn't think about it as a regular product they are consuming.
And finally, it's nice to see developers committed with the platform, I hope my carrier can allow store payments soon and give your app a chance.

Have tried to update, but unable to do so as it says it has to be installed on the phone and not the SD card :-( Are there plans to have SD card installation? L820, UK

Hi there. Unfortunately there's a bad OS (or firmware) bug affecting WinRT apps installed to SD cards. The only workaround Microsoft has available is to disable installation to them. Hopefully this will be fixed in a future update (or at least by Win10). ​In the meantime, the app is extremely small, so in this case it doesn't make much difference. ​

I love the app. Using it as my only app on Windows tablet, and even thinking about buying push notifications for the phone. This developer rocks!

Push notifications work a treat!

I like tweetium on PC but the official one is fine for me on phone

This is my Twitter client of choice. Will have to take a look. Well maintained app,

I'm not a fan of this layout but the app has a lot of features.

Feel the exact same way. The app in terms of features and performance is great, but the layout, IMO, isn't visually appealing. I've been on the Aeries beta for a couple of months now and it's a much nicer looking app than this, but still has a bunch of bugs. Either way, they're my two main Twitter apps.

Anything specific you prefer about that app?

Just the overall aesthetic of it, I feel like it looks more modern. Things like the color scheme, icons, and tweet conversations. But it still has a lot of bugs and crashes so from that standpoint Tweetium is much better.

Is it really worth the buy? I'm thinking of purchasing it and would like to know more of the advantages over the free garbage official Twitter app. Help me decide please.

There is a free trial according to the Store. That's how I first tried it on my Surface 2, loved it and purchased it within a few days of using it. On my tablet I prefer it over Twitter. But on my Lumia 920 I'm kind of torn between this and official Twitter which I actually like on phone. So on my phone I use them both. But Tweetium is an awesome well done app!

Say it with me..3..2..1..SPAAAMMMMM!!!!!!!!!!

I'm on the latest version (3.2.3.327) but the nav bar didn't change It looks the same as before with only 5 icons instead of 7 like in the screenshots above. And the 5 navigation icons I do have are all left-aligned at the top of the screen, like before, which doesn't make any sense on a large-display device like the 1520. I've looked, but is there some setting to change that nav bar view?

Hi there. The app comes with 5 locations pinned, and space available where you can pin your favorite lists, searches, or other views (users, the Favorites tab, etc). You can pin lists from the list drop-down, or any other view by pressing and holding on the tab while you're in that view and then selecting "pin".

I love this app so much. It is my favorite app that I use for not only twitter but for everything!

I just recently spent the $8 to renew my Tweetium Pro. This is by far the best Twitter experience. The fact that I get a cohesive experience switching between my laptop and my Lumia 1520 is amazing. Very happy to support the developer.

This app is awesome! Using it on my Surface 2 and Lumia 920. On the phone my only wish is that retweet is too easy to accidentally press when scrolling through the feed. Wish there was a confirmation for a retweet first before posting. And the app should actually close after it's closed like the official Twitter app does. Not linger around like the Calendar app does and some other apps that never close. Other than that great app and big thanks to the Dev for the continued Windows platform support!!

Hi there. Glad you like the app! As for your comment, Windows Phone and Store apps don't "close" when you leave them, but they are suspended and use no CPU or other resources except for memory, and the OS automatically terminates suspended apps to reclaim memory when needed. The task switcher keeps the last few windows you've used available (regardless of whether the app is suspended or has been closed/terminated). To remove an app from that list and force it to be closed, just open the switcher and tap the X in the upper-right corner, or swipe the app thumbnail/card down off the bottom of the screen. Hope that helps! ​

Yeah I've known about how all this works but just figured the app could close automatically like most others do now. I have been ending its task by swiping it down. Talking about phone only. Other apps like windowscentral, twitter, etc. all close when backing out of them. But some like facebook, the built in Calendar app, etc. do not close when hitting the back button. No big deal. But thanks for the reply Brandon and awesome support for the Windows platform!! Maybe offer up a short free trial for the Tweetium phone version so others here can see how it is. Thanks!

Guys, how is Tweetium compared to Gleek? Anyone tried them both?

Aeries randomly crash, I'll go back to Tweetium.

This is why I use this app. Great updates and the dev listens to your suggestions! Great guy.

This price there is a catch. You need to pay more to be a Pro users (anually), where you will receive notifications (reliable so far), multiple accounts and more. But I totally recomend the Pro version.

Does this app really hide the status bar at the top?

Hi there. By default, yes. You can still see it by swiping a little from the top edge of the screen. However the app also has an option to turn it back on, so you can have it whichever way you like :-)

Best Twitter client anywhere!

Enlarged the touch hit targets of quick action buttons slightly YESS!!! This was driving me insane! Thanks, dev!

Just paid for this last week. I should have gotten it sooner, is great app.
Windows Central Newsletter
Thank you for signing up to Windows Central. You will receive a verification email shortly.
There was a problem. Please refresh the page and try again.