Twitch TV for Xbox One launching on March 11, in time for Titanfall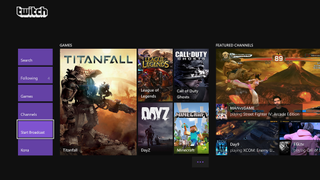 Microsoft hyped up its Xbox One announcement with Twitch TV integration, enabling players to stream their games online for free with little hassle - no requirement to add a capture card and the like. Unfortunately for early adopts of the video game console, Twitch has yet to launch on the platform, but today Microsoft revealed that the streaming service will be available for when Titanfall lands.
If you're not familiar with Twitch, the service is an immensely popular video platform and community for video game fans with over 45 million visitors a month. It's interesting for Microsoft to hold out to Titanfall to finally have Twitch on the platform. If you look back to last month, Twitch TV publicly stated it was Redmond who was causing delays to the release of the app and service for Xbox One owners.
The Titanfall beta was also streamed through Twitch, peaking at number one across all platforms with more than 65,000 concurrent views on February 13th. "Xbox, Broadcast."
Following other broadcasters will be simple and painless on your Xbox One when not smashing skulls and scoring unbelievable goals. Since each Xbox One owner already has the Kinect set up and ready to go, adding Twitch to the mix is painless for the consumer, a real advantage for Microsoft in the console war by catering to average gamers who don't have unlimited funds and simply wish to enjoy the games they play with others.
Twitch for Xbox One will integrate into the friends app and activity feed for your followers to keep track of what you're either broadcasting or watching. It's even possible to set up notifications to never miss out on another session from your favourite boardcasters. When viewing a stream, the usual Twitch experience is present with comments and more. If you're broadcasting and wish to have more voices on the stream, why not invite some friends to add their input off-camera?
There are even media achievements, which can be earned by spectating as you normally would or by checking out some Xbox One games you haven't seen previously. As noted above, Twitch will be available on Xbox One this coming March to tie in nicely with the release of Titanfall.
Source: Xbox (opens in new tab)
Windows Central Newsletter
Get the best of Windows Central in in your inbox, every day!
Rich Edmonds was formerly a Senior Editor of PC hardware at Windows Central, covering everything related to PC components and NAS. He's been involved in technology for more than a decade and knows a thing or two about the magic inside a PC chassis. You can follow him on Twitter at @RichEdmonds.
I've been waiting for this! So excited! I'm going to do so much streaming now!

Its going to slow down your internet and effect your game ping.

That a hard work, don't blame them for the delay Twitch have to be synchronized with the Xbox One HyperV running Windows OS, and Xbox OS. Not the same as the PS4

so is it HyperV the problem why they havent released a WinPho and Win8 app? oh wait...
is it HyperV fault twicth loves giving the spinning wheel like youtube and sometimes dont even give 1 second of video stream?
or what about the chat and how it loves not to work? not giving all the messages, or the twitch faces, or just not connecting? is that also hyperV fault?
or what about when you had to reset your password because twitch got hacked (although they never admitted it)... hyperV fault as well? what I mean its... Twitch sucks, while its popular, it is not a decent streaming site and it has too many problems they dont seem to care to fix, so if they dont fix their own site or just make "facebook" changes to the site where users arent happy about, like removing html in favor or Markdown, how do you expect them to care about xbox one and rush trying to give users the streaming xbox one feature? while xbox one its a Microsoft console, Twitch just doesnt care about many things so I believe they never rushed with Xbox one streaming feature, since people can also use capture card and do the same.

IMHO, it doesn't matter if it is more work than on PS4 or not, what matters for the users is that the feature is available or not. I'm very happy to see it coming to Xbox One now. But the facts is that it is here almost 4 months after the release compared to the PS4's immediate availability. Users don't care if it has anything to do with the Windows OS, the Xbox One VM, the hyper-visor or any other low-level technical explanation. Those technicalities don't matter. The thing is it seems like was not a priority to have it ready for launch or they would have had it ready by then no matter what, and that's fine as long as that was the plan. I'm just happy to have and use the feature comes March 11! :-)

Twitch plays pokemon, now on xbox one

Could they actually use that code from the xbox one app and transfer it over to Windows 8 or even Windows Phone?

From what I've been reading it appears to be a more full-featured stream experience than what is currently offered on the PS4. I'll give it a shot and possibly host a channel called, "Pastor Plays Games" I'm sure that'll bring some interesting individuals in...

I'll host a channel, too. I'll call it "Watch Me Get My @ss Kicked." Going to play a lot of Titan Fall, but I really don't have the reflexes for it.

My channel is TechWithKEM! I have a YouTube channel as well too! Please follow/subscribe!

I hope they bring Facebook integration!!!! Soon but they are doing great with all these updates they will have everything fixed all we need is the start menu and Cortana on windows 8 and Xbox!

Who cares. Where my HBOGO! in time for Game of Thrones?

Nah, Microsoft wants you to buy it and waste all your money for the season passes on Xbox Video...

People care that much about watching someone else play a game? I don't get it

It's not just about watching them play, it's also a nice way to preview games. For example, I watch streams about Wildstar to check out the gameplay by people who are in the beta.

I feel that way about watching soccer.

I feel that way about your comments

You can learn new techniques by watching those who have more experience.

Awesome news. Lets hope that they can make one for WP as well.

NHL Gamecenter Ice and HBO Go please. Thank you.

TWC app now? Yes, I still want it, even though the Xbox "supports" cable boxes.

I've said it many times: Microsoft needs to buy Twitch before it's too late.

Yup. It could also then grow into YouTube competition eventually, maybe.

Even showing that kind of commitment to the social gaming community would give them a huge one-up over Sony in that respect. And I'm sure Twitch could benefit hugely from Azure, their current service is very slow and unreliable a lot of the time.

How about no. I can see the Games for Windows Live: Streaming Edition already.

Sounds good. Looks like waiting until Titanfall to pick up a console was the right move. Sadly I had no patience.

Just give up and buy it! Kidding. :-)

About damn time. Been waiting on this for ages.

My bandwidth is slow. I don't want to stream video live....
Windows Central Newsletter
Thank you for signing up to Windows Central. You will receive a verification email shortly.
There was a problem. Please refresh the page and try again.