Ty the Tasmanian Tiger jumps onto Windows 8 and RT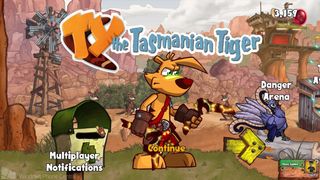 Windows Phone sadly did not get an Xbox release this week, but that doesn't mean a new mobile Xbox game didn't come out. It's just tablet-mobile instead of smartphone-mobile.
Ty the Tasmanian Tiger from Australia-based Krome Studios (developers of the Game Room series and Full House Poker for Windows Phone) is now available on Windows 8 and RT. Ty had previously soft launched in the island nation of Trinidad and Tobago, but now all Windows 8 users can buy it without the hassle of region-switching trickery.
The thunder from down under
Ty the Tasmanian Tiger is the revival of a classic platforming franchise that started life back in the original Xbox days. Whereas the console games were 3D platformers, this one switches to a 2D perspective. Not only is Ty the first Xbox platformer on Windows 8, the shift in perspectives gives it a great 16-bit gameplay vibe.
The protagonist Ty is the leader of a squad of rescue animals. His mission is to come to the aid of people in the Outback who get lost, stuck, or worse. Platforming levels have not only a main goal but also side goals like helping a character transport his trophy past a pack of bullies. On top of that, every level has several hidden items and lost orphans to find.
That's not a knife!
Besides jumping through levels and walloping enemies with his trusty boomerang, Ty also gets to collect lots of opal gems. They make a super satisfying sound when collected, not unlike the rings in the Sonic games or the coins in the Mario series.
Performing Ty's extra powerful special boomerang throw costs a few opals, but they're mainly used to purchase boomerangs from the store Ty's parents operate in town. Each boomerang has its own unique effect, such as revealing hidden platforms or melting walls of ice.
Players can also buy a wide variety of character skins from the clothing store via In-App Purchase. They're a little on the expensive side at $1.49 apiece. But the skins are completely cosmetic in nature, so you're not missing out on anything if you don't get them.
Smooth moves
Ty supports three control methods: touch, mouse and keyboard, and Xbox 360 controller. Touch works extremely well (unlike the wonky controls in Halo: Spartan Assault on Windows Phone). You can even reposition the virtual stick, jump, and attack buttons wherever you like. Just keep in mind you have to swipe up from the bottom edge of the screen in order to switch boomerangs; I had a bit of trouble figuring that out.
Or grab an Xbox 360 pad for a truly console-like platforming experience. With a 360 controller, boomerang switching and charged shots have their own buttons. The latter ensures you don't fire up a charged shot by mistake.
Throw a shrimp on the Barbie
From my brief time with Ty, it looks like a very well-made platformer. With 40 levels and lots of hidden secrets, it should keep players busy for a while. We'll have a full review soon, but in the meantime, you might want to take advantage of Ty's launch week pricing. It's on sale for $4.99 right now, with the price set to increase next week.
Get the Windows Central Newsletter
All the latest news, reviews, and guides for Windows and Xbox diehards.
Paul Acevedo is the Games Editor at Windows Central. A lifelong gamer, he has written about videogames for over 15 years and reviewed over 350 games for our site. Follow him on Twitter @PaulRAcevedo. Don't hate. Appreciate!