Ubisoft @ E3 2015: The Division, Assassin's Creed Syndicate, Rainbow Six Siege and "a few big surprises"
Ubisoft have outlined some of their plans for their E3 conference, which begins on Monday 15th June, from 3PM to 4.30PM (PDT).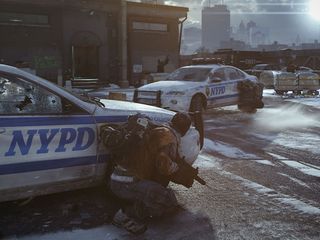 Ubisoft joins the likes of Bethesda, Microsoft, EA and Sony in having their own E3 2015 presentation. There they will be offering up details on what fans can expect to see, and just how to see them.
The conference starts at 3PM PDT / 10PM GMT on Monday 15th June.
You can stream the event live on YouTube using this link, or via Ubisoft's official Twitch channel.
All of the trailers and features displayed throughout the conference will be uploaded to Ubisoft's official YouTube channel here.
You can also head to Ubisoft.com

(opens in new tab)

which will act as a hub for all the above information on the day.
The conference will be hosted once again by actress and comedian Aisha Tyler.
E3 attendees will be lucky enough to go hands-on with Assassin's Creed: Syndicate, Rainbow Six Siege and The Division. I believe this is the first time The Division will playable at an event like this, which indicates to me that the game will be featured heavily in the conference.
Ubisoft CEO Yves Guillemot praised the gaming community in a press release teasing a conference jam-packed with fan favourites, and a "few big surprises".
I think there's a fair chance Watch Dogs 2 could be among Ubisoft's announcements, which is certain to include new information on Rainbow Six Siege, Assassin's Creed Syndicate and The Division. I'd also like to see a Child of Light sequel with a bit more ambition than its predecessor. Nothing would make me happier than an announcement that Ubisoft are dropping micro-transactions from the pause menus of its fully priced titles though.
The Division is a big contender for taking game of the show. However, with competition from the likes of Star Wars Battlefront and Fallout 4, the battle for supremacy will be fierce.
E3 begins with Bethesda's press conference on Sunday 14th of June (7PM PDT) and Windows Central will be on hand to bring you the game industry's biggest announcements throughout the week.
What games are you most looking forward to hearing more about? Hit the comments.
Jez Corden is the Managing Editor for Windows Central, focusing primarily on all things Xbox and gaming. Jez is known for breaking exclusive news and analysis as relates to the Microsoft ecosystem while being powered by caffeine. Follow on Twitter @JezCorden and listen to his Xbox Two podcast, all about, you guessed it, Xbox!
It's been 12 years..... Please give me some more Jade...

This a million times over.

Ghost Recon was great, too bad....

and "a few big surprises" Please be an Xbox One port of or sequel to Child of Eden, with updated Kinect 2 controls. The world needs this so badly.

Child of Eden is already on the Xbox One.

It is not. Maybe you're thinking of Child of Light?

I'd vote for Ghost Recon, the last one was epic, marred only by buggy coop they never fixed for pc version

Hopefully AC: Rogue for X1 is one of the surprises.

This! I've held off getting it in hopes of a port.

The division looks very impressive...and I'm not at all interested in Assassin's Creed after playing Unity...The series was awesome till AC III and after that it just became shit...

I feel the same way generally, but removing multiplayer on Syndicate has been a step in the right direction. Hopefully they bring the series back to its roots a bit more.

I've got my fingers crossed for a Xbox One Splinter Cell reveal.

That would be pretty damn awesome.

Came here to say the same thing

Just make it better then Unity...

All I want from Ubisoft's E3 conference is a new Ghost Recon or the return of Prince of Persia.

I miss the the Prince! This would be awesome!

I wish that UBISOFT was so good at making games as they are at editing videos xD

Come on Ubi, give us a Biscuit, Gravy and Egg surprise!!!

PoP reveal??? Its been a while and PoP:TT was great.

Im apprehensive about the division. Ubisoft has yet to prove they have any idea how to program a game that runs on netcode. I have very high hopes, but realistically I see it falling on its face.

Man, Ubisoft have made a mess of Trials Fusion. That wretched uPlay nonsense pops up all the time, and I need it for multiplayer? Why?.... Looking forward to Battlefront, but also the Siege one.

Sounds interesting can't watch though its in the middle of night for me :( but luckily Microsofts conference is in pretty much perfect time so I'll definitely watch it like every year.

Hope they announce a new Splinter Cell !

I want a Ghost Recon game!!!

Me as well! But I doubt it since they already have Rainbow Six lined up. They're generally on opposite release schedules

Ghhosst Reeeecon advanced warfighter 3

And I'm still hoping for Beyond Good and Evil 2. Will never forget badass Peij in that teaser.

Beyond Good and Evil; maybe a new Prince of Persia? I'd be very happy to know that Ubisoft which is known for supporting new peripherals is planning something for the VR and AR systems in the next year. Might be early to announce, but you never know.

Fallout 4.. War.. War never changes.

I'm SUPER excited for The Division. I just hope it's not another example of Ubisoft's ability to overpromise and underdeliver.

I've got my sights on The Division. But I'd like to see an announcement for Splinter Cell and fingers crossed for a big surprise announcement of a next gen Skyrim, Morrowind redo.

I needs more Division information! All the informations! Get them Jez and write them, the more, the better.
Windows Central Newsletter
Thank you for signing up to Windows Central. You will receive a verification email shortly.
There was a problem. Please refresh the page and try again.