Ubuntu comes to the Windows Store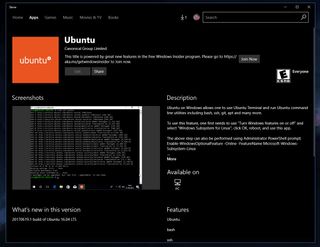 At Build 2017, Microsoft announced that three Linux distributions — Ubuntu, SUSE, and Fedora — would be coming to the Windows Store. SUSE has already made that leap, and now Ubuntu is available (opens in new tab) as well.
Initially spotted by Rafael Rivera and Necrosoft Core on Twitter, Ubuntu on the Windows Store will let you install and run the Ubuntu terminal on Windows next to your other apps. The Windows Store description reads:
Ubuntu's arrival, and that of SUSE, are part of a recent push by Microsoft to embrace Linux and the open source community more broadly. This began with the arrival of the Windows Subsystem for Linux in 2016, allowing users to use the Bash shell from within Windows.
Keep in mind that this is limited to the Fall Creators Update, which isn't set for a public release until later this year. If you're running a PC testing the Fall Creators Update through the Windows Insider Program, however, you should be able to download and try Ubuntu from the Windows Store just fine.
Download Ubuntu from the Windows Store (opens in new tab)
Dan Thorp-Lancaster is the Editor in Chief for Windows Central. He began working with Windows Central as a news writer in 2014 and is obsessed with tech of all sorts. You can follow Dan on Twitter @DthorpL and Instagram @heyitsdtl. Got a hot tip? Send it to daniel.thorp-lancaster@futurenet.com.
Important to note that Ubuntu was already available on Windows, it just now has a presence on the Store.

We need bluestacks on pc,and mobile app stores.

I think it's to ultimately switch DOS out. The BASH terminal I've gotten can still access the C drive like normal. So you can basically write Windows BASH scripts.

My favourite use of this so far (not the Store version, but the one they released a while ago) was to clean up damage done by the new OneDrive Sync Client. When I try to upload a large file, e.g. a video, to SharePoint through it, it keeps creating new files attaching my computer name to the end as the file names get longer and longer. Eventually they got long enough that the Windows file system refused to delete them. But Ubuntu could delete that huge file name, and if you know Bash enough to do things like tab-complete and * wildcards, you can clean up the problem fairly quickly! (After a few times I started uploading each file through the browser separately instead of trying to sync up, but it still catches me sometimes when I'm a little lazy about watching it)

Or just use PowerShell to do the same.

The reason for adding the name of the computer is because there is a existing copy of the document that has a different sync status, so it adds the name of the computer so that you do not lose data. As for the long file name, there are a couple things you can do on windows. You cold do a ren with a wildcard from a console window, and give it a different, short name. Then there is the token for using really long file names, ren \\?\C:\<restfpath> somethingshort.doc.

It was not the file system refusing to delete them but the tool you were using (e.g. explorer?). Just use Powershell to handle such issues with ease. Quite pointless using bash if you have PowerShell.

This will be very useful for users with Surface Laptop running Windows 10 S

Except Linux subsystems aren't available in Windows 10 S.

A Linux subsystem would easily defeat the security aspect of Windows 10 S.

You cannot install the Linux subsystems on 10s.

A while back, Microsoft's realeased a DOS app for a gag, and I think it's time to bring the real DOS back to life!

Yes, I look forward to re-partitioning my 1TB HDD to lots of 32MB Drives. Not my SSD as DOS would not know what this was. 😜

Yes, I look forward to re-partitioning my 1TB HDD to lots of 32MB Drives. Not my SSD as DOS would not know what this was. 😜

LOL Then get partition magic silly. We can start the OS revolution all over again!

32MB drives? What version of DOS were you using? 1.0?

Haha yeah I had that on my phone

Should I uninstall my previous installation before installing th one from the store?

Can someone explain the significance of this? What's this used for?

I use it for true access to ssh, rsync, grep, and other standard Linux commands, when it makes more sense to run a Windows 10 desktop full time (for outlook, ms office, etc). Alternatively I could always load up Ubuntu in a VM (which I also have - for those more technical jobs, and have done in the past) or load up putty and winscp and such. Or run a full Linux desktop and Windows 10 in a VM. But I think Microsoft are really on to something here - as a developer/sysadmin and a huge user of Linux I feel like I need to run Linux full time, but since they have brought the Linux subsystem in I can't come up with a compelling reason to.

For us dumb guys.... So, is it so you can develop for Android, or Linux, on Windows?

You could always develop Android on Windows. It is more so you can use tools that work well on Linux, but may not work well on Windows. A lot of web development is Linux/Unix centric so a lot of the tools that are developed work best on Linux/Unix. Windows web developers are often the odd man out in web shops that have a predominant Mac/Linux user base. Where in the early 2000's it was Mac/Linux developers getting left out, in today's dev world it's Windows developers who often get left out. With Linux Subsystem and Ubuntu's Bash developers who choose to use Windows get to use the same workflow that their Linux/Mac peers do but still use the OS they are comfortable with.

This is great if you are a sysadmin, a developer or a tester and you're working on UNIX shell scripts without the need to install Cygwin or work on remote machine, working locally for testing is always much better

So a more efficient and powerful way to use your Linux server tools? I wish i had got that last year with all the bash stuff.

I'm going to try this out, I need to install Kubernetes inside a docker container using Ubuntu so having Ubuntu in Windows is great to learn how to work with container technology

Its nice of Microsoft, but... There are only 3 OS's in the future, Android, IOS and Windows 10. All the old stuff will fall by the wayside. By the time I'm out of college in 2024, people wont even remember their names.

Obviously you don't know this topic.

What are you talking about, it's the year of the Linux desktop (for real this time) 😉

Ahh you are so up for a suprise when you finish college and start working with enterprises :)

While it may seem convenient, Linux users won't know who to blame if there's a security flaw.

At first I thought the operating system came to the windows store 😂😂😂

Why would you want to run Ubuntu Terminal?

to run all those linux tools without using a vm or cygwin

does this install on insider fast ring? I keep getting an error code can not install!
Windows Central Newsletter
Get the best of Windows Central in in your inbox, every day!
Thank you for signing up to Windows Central. You will receive a verification email shortly.
There was a problem. Please refresh the page and try again.