UC Browser for Windows Phone bumped, adds synchronicity and optimisations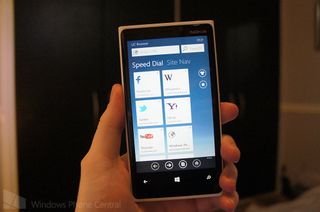 UC Browser, an alternative web browser for Windows Phone, has recently been updated to version 2.8. The developer has been busy pushing UC Browser further on the platform. We last looked at the app back in December when it was bumped to 2.7 and introduced a number of improvements and new features, so what's new in the latest release?
There are a number of improvements in the latest update, including full HTML5 support and a speed mode for those who require faster connectivity. To please those who were looking for such functionality, the ability to download music files and synchronise them to Xbox Music on the handset is also presently available (files are located in Music folder when connected toa PC).
Here's what's reported in the changelog:
Rendering Optimization - Full support for HTML5 features by default. If you need a faster connection instead of full features, you can use Speed Mode.
File Syncs & Ports - Downloaded music files will be synced to the Video+Music Hub. You can also find them in the Music folder when you connect your device to your PC.
Find in Page - Find the text in a lengthy page by key word to help you focus on your interest.
Fixed some problems (bugs) that caused browser lags.
Lumia 920 UI - A special UI optimization for Nokia Lumia 920 users. Enjoy a more pure experience!
UC Browser is a highly rated app on the Windows Phone store that offers a new user experience for those who wish to try something new, rather than sticking it out with IE 10 - should it not perform how you'd like. Looking at the frequency of updates being published, we can see UC Browser continuing to offer unique features to consumers who desire a third-party web browsing experience.
You can download UC Browser for free from the Windows Phone Store. Thanks, Pete, for the tip!
Rich Edmonds is Senior Editor of PC hardware at Windows Central, covering everything related to PC components and NAS. He's been involved in technology for more than a decade and knows a thing or two about the magic inside a PC chassis. You can follow him over on Twitter at @RichEdmonds.
Speed mode isn't new, and really should be turned off. I see all types of rendering issues when it's turned on. To turn it off load a page and touch the down arrow at the top-right. Otherwise a fantastic browser on my radar.

What on earth? This is incredible. I've never used it before why isn't the IE version like this? The IE 10 is so bare. This is awesome.

UC Browser doesn't support <a href="tel:555-1234567">Call Company</a>
It is supposed to ask you if you would like to call that number.
Instead the browser returns "Failed to open page" !

Facebook is still a problem with this browser. At least it does not cause my Lumia to heat up anymore

Try turning off the speed mode if you haven't. www.facebook.com and touch.facebook.com work fine for me when speed mode is turned off. http://touch.facebook.com is probably the best for most phone browsers.

Not bad. Just imagine how much better it could be if it could be built from the ground up instead of having to based off IE. Really wish MS would reconsider and allow true 3rd party browsers.
Another unfortunate thing is we can't set this browser as the default for clicking on links in emails or other apps, can we?

Yeah, MS essentially makes it so that i can't use another than IE browser. :/
It's really is a shame because the starting point of IE as far as UI goes is pretty crappy, while this actually has nice UI for power user. Just needs a polish and more open view from MS.

I believe it does in fact use its own rendering engine, which is why it supports some HTML 5 stuff that IE doesn't, etc.

Currently we use IE when "Speed Mode OFF" and our Speed Engine when "Speed Mode ON"
Speed Engine was to simplify web pages like "Google Moblizer".
We do have a full feature engine which we used on Android and iPad. But moving it to WP platform would take some time. :)

Holy crap I can't believe I didn't know about this apps. Its simply brilliant, 10/10 app and has now replaced IE for me. I've asked the developers for a PayPal link to donate because of how impressed I am with the app.

Really wish we could have third party browser options on Windows Phone. However IE 10 runs like a champ for the most part.

does it run on 7.8 .. it keep initializing .... here .. and can not start

Restart did the trick .. or it was enabling the wifi ?!?!

It should, it runs on my Radar with 7.5

Why do apps have region restrictions!! Its annoying not being able to use an app once you have read a good review on it

MS review tooks longer time for some region. So when submitting an update, we usually take the least time path and submit again for other region after the original update was released.
Don't worry it will be available in a few days.

Scrolling can't be native or?

Unavailable for me (region ID). It seems UC Browser didn't released globally :(

Should be available in a few days :)

That a great news. I've been using UC Browser since Symbian S60v5 era. It rather sad when UC Browser is available at WP but we have no means to use it.
Thanks for the effort :)

Ack, we just got rejected when applying for "Countries with stricker review rules". Because MS think our global navigation site contain links to "bordorline adult" sites. And we have no idea which site were they talking about.
We would narrow down the countries and try to do some change in our navigation. This would take some time.
Could you tell me what country were you in?

My region is ID. My country is Indonesia. It's ok. Take your time. Knowing you guys didn't left us behind is already a good thing :)

Wow, last article on the 2.7 version there wasn't that many people liking it. This time around is almost 180 degree different. I use this browser 99% of the time since it was still in Chinese. Let's acknowlege it, IE9 sucks and IE10 is better but not by much.

No Music+Videos hub integration in Lumia 710 :(

Sorry it was WP8 only.
On WP7 we can only integreate into the "App List" in the Hub, allowing user to open the app from list but not music/video they downloaded.
Don't think doing this would make any sense.

Hi Rick, thanks for the report. No idea how can I miss this post or I will be here answering every question instead of checking my post in the forum.
For additional info: Window Marketplace shows different discription for WP7 and WP8. So we didn't outline some features which was "for WP8 only".
At this version, "downloaded files sync&port" and "Lumia 920 UI" were "WP8 only" feature.


Windows Central Newsletter
Thank you for signing up to Windows Central. You will receive a verification email shortly.
There was a problem. Please refresh the page and try again.