UK bank Barclays releases official Windows Phone app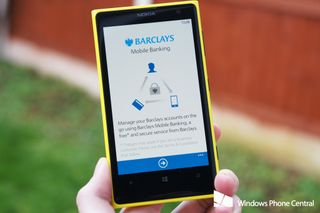 Barclays has released an official app for Windows Phone, joining other UK banks already on the platform. Should you hold a Barclays (www.barclays.co.uk) account and own a Windows Phone, it's now simpler than ever to manage your account while on the move. Head past the break for all the details and download links.
Fear not if you're not registered for mobile banking with Barclays as this can be achieved from within the app itself. You'll be required to enter your sort code and account number, verifying your identity with PINsentry or at a Barclays cash machine (unless you already have an activation code).
Once you're set up and good to go, all that's required from that point forth is a 5-digit passcode to log into your account on your Windows Phone – simple and secure. While accessing the app is pretty straightforward, it's still a good layer of security to protect your accounts from unauthorised access.
So, just what are the benefits of using the Barclays Mobile Banking app? Both personal and business account holders are able to manage their accounting without the requirement of a PC. You're able to check out recent transactions and current account balances and much like other banking apps on the platform, you've also got the ability to make payments to people you've paid before, as well as those in your payee list.
Locating your nearest Barclays branch or ATM is a breeze too. The app itself is well designed and works well. We really dig the UI the development team has utilised, offering an intuitive navigation system and making the client not feel like a ported app. A sweet feature of the app is that it has integrated mobile PINsentry, so you're no longer required to carry around your security device.
You can download the Barclays Mobile Banking app from the Windows Phone Store for free.
Windows Central Newsletter
Get the best of Windows Central in your inbox, every day!
Rich Edmonds was formerly a Senior Editor of PC hardware at Windows Central, covering everything related to PC components and NAS. He's been involved in technology for more than a decade and knows a thing or two about the magic inside a PC chassis. You can follow him on Twitter at @RichEdmonds.
Yer. About time too! Now I wont have to keep using the gf's ipad

Wish Nationwide would do this

Agreed, but it just gives more ammunition to fire at them on Facebook, they claim they're putting people first, except they consider WP and BB users as lesser citizens... Not very good press, so keep on at the on Facebook about it!!

Meet too, its one of the few left that dont have a WP app.

You can add HSBC to that very short list of banks that don't have a WP app as well.

USAA has an app last updated 12/10/2013

It's over 10k votes on their website now. Fired off another tweet to them earlier, but they still say they are 'monitoring demand'. Disappointing.

I completely agree. I keep getting the same response when I phone them 'We are assessing demand' the petition has over 10,000 signatures! What more demand do you need?

Yep, over 10k now and that's more than double the amount of votes than the second place suggestion. I tweeted them earlier about this and they don't seem to be that interested. They still say they're 'monitoring demand'.

post link to petition. I have no use for the app but will sign to help out.

http://your.nationwide.co.uk/your-voice/service-improvements/Pages/servi... Thanks Ryan. You just need to click on 'View Suggestion' for the Windows Phone app one. Then you'll see the thumbs up button to register a vote, nothing else is required. Cheers.

You can add Santander to the list... Changing banks for an app is just childish.

Excellent! I pay someone weekly with cash, hoping this will allow me to avoid that now.

What about the us Barclays accounts?

what about barclaycard and hsbc

Just set up the app and my barclaycard appears in the app.

Good show from Barclay's, and the other banks that have done so. Pity I don't bank with them. HSBC UK need to pull their collective finger out of the proverbial and get working on an app. edit: in fact I'm going to download the app, just to register it as a download lol

BAAAAAAAAAA Been waiting for this for 2 years! YES BARCLAYS YES!!!

YES-integrated mobile pin sentry. Such good news. I no longer have to carry that stupid card reader when I go travelling!
This is a great week for Windows Phone apps. 6Tindr and Barclays. Nice!

Hope hsbc will provide this in their app too. why would i walk around with that bloody pin generator when i am not at home. and thats where i need to make the payments

Finally! Nice app too! Worth the wait. Thanks for this article Rich. :)

They are leading the pack of UK banks, apart from Natwest and Llyods (which are of same parent). I hope First Direct and Santander can do this soon.

NatWest is part of RBS (they both have an app - quite a good one actually). Lloyds is separate.

Thanks for correction. My mistake. Unfortunately I am not customer of any UK banks who have already made WP app. So sad.

You can always switch... I think people are more likely to switch their gender than they are their bank account though... I know I've been with RBS since I was 15. They're not a great bank, but the WP app is actually surprisingly good. You can use it to withdraw money from the cash machine if you lose/forget your card. That's pretty sweet.

Ohhhh yeah been waiting years for this!!!

But nothing for US Barclaycard cardholders! Doesn't make sense....

We brits don't have a barclaycard app and barclays is a UK bank so =/ we were always going to see things before you.

Excellent to see Barclays on Windows phone, but I have already had a major fraud on my account from Barclays mobile app on another phone platform. Far too little authentication needed to set up payees and make payments. Strongly recommend all Barclays customers to ask their branch to set up a stop on mobile banking until they improve these apps with additional controls.

Sorry to hear about your fraud situation, but I strongly disagree here. I guess Barclays puts the responsibility on the end user rather than the bank. It's far too complicated at the moment to pay someone compared to what is allowed in Australia. Also, they block a lot of transactions just because they feel like it, such a PITA. For example, blocking an online purchase repeatedly even after responding to sms confirming transaction, not allowing set up of new payees on phone, not allowed to withdraw cash from foreign (non european) atms, etc.

When you have had four thousand pounds stolen from your account Charles, then feel free to disagree, sure. Until then, I suggest your opinion might be considered a little naïve. Barclays' mobile apps need similar levels of anti-fraud features as their internet banking. Period.

Sorry if you found that offensive, but if you don't mind me asking, how did that happen? I just don't see why the consumer has to foot the bill here. Isn't there any consumer protection laws? Did Barclays or your bank not have any policies regarding fraud? Is the responsibility not on the bank if your phone is hacked? Did you get your money back? Anyways, that's just my opinion.

Barclays handled it very well, and I am not now out of pocket, though there was potential for that and considerable inconvenience over a 6 week period. Fact remains that with the Barclays mobile apps, there are at present too few controls to register a device, set up new payees or make first payments when inside. All Barclays customers (whether they use mobile apps or not) should ask their bank to put a stop on mobile banking until this is rectified. I'm not sharing the details in public for obvious reasons.

We want bitstrips next :|

How about no. That fad has died now, along with anyone who enjoyed it.

Hopefully they'll bring out a Pingit app next.

Sorry, but what does Pingit provide that this app dosen't? You can still transfer to another account using this app.

PingIt is Barclays Mobile Wallet, it doesn't require a Barclays account like the Mobile banking app does and allows you to transfer money to others with just a mobile number. PingIt is coming to Windows Phone but there is no ETA.

I wish my bank didn't just have apps for android and IOS. It's really obnoxious

Contact them. The more people do the more likely they will develop.

Great! Now BNP Paribas please!

About time!! Haha! Great work! I can finally sell my Galaxy S3 ;-)

Blank screen on my accounts page!

Wooohoooo!!! I can finally sell my shitePhone (iPhone)

Yay! And very good it is too. Not very metro but nice to look at still and certainly fully functional. Now, only Grindr and Glympse to go, maybe more keyboard option, like Swype, then I'll be fully happy :)

Doesn't send me an activation code unless i hit resend code and then it says invalid code. Will try again later as only one try left

This is super awesome and looks like well designed app. Finally they are using that bail out money from the government for the customers instead of their overpaid bonuses and holidays!

IPad app deleted, WP app installed. One less reason to use the iPad now

First Direct and British Gas apps reportedly coming too. Platform recognition coming along nicely!

Downloading. My primary bank natwest's app is awesome, but hearing about pinsentry integrated into this app, i wish Natwest would integrate it into theirs!

Finally the best bank released the application for the best mobile OS!

About time now just need the plebs at EE to release the lumia Black/GDR3 update then i'll be in heaven. but i wont hold my breath EE don't give a shit unless you own an iPhone 5s. the useless git's don't even reply about info on windows phones!!!!!

Due to that reason I left EE and now just have a sim free ATIV S.

Come on HSBC, i reaaaally need an app from you guys.

Arggg so this is not pingit? Gutted. Thought pingit was expected Dec/Jan.

Windows phone 8 only, oh well...

Where are you capital one!!!???

how annoying! I managed to install it by changing my phones locale, but you need an uk mobile number to use it! Don't the dorks at Barclays know that most of their money is owned by foreigners? or at least my money...

work perfect thank you i also found great tutorial <a href="http://www.smartphonestutorials.com"> How To Backup IOS</a>