UK mobile operator GiffGaff is now offering 4G LTE on monthly plans starting from £12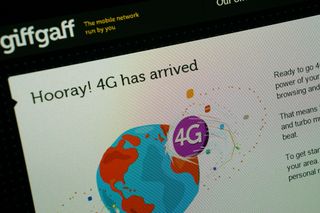 UK mobile operator GiffGaff has unveiled new plans to take advantage of faster 4G LTE speeds. Utilizing the O2 network, the virtual mobile operator is offering 4G on plans that start from £12 a month (for 1GB of data). There's no option for unlimited use, however, limiting power users to 5GB of 4G data for £18 a month.
Since GiffGaff works on the O2 network (800MHz), you'll need to have a 4G compatible mobile device (phones aren't included with the affordable plan pricing), but it's positive to see the network to offer LTE and provide more choice for consumers in the UK.
Will you be looking into GiffGaff's 4G LTE offering? Let us know your thoughts on the network's pricing in the comments.
Source: GiffGaff (opens in new tab), via: The Next Web
Windows Central Newsletter
Get the best of Windows Central in your inbox, every day!
Rich Edmonds was formerly a Senior Editor of PC hardware at Windows Central, covering everything related to PC components and NAS. He's been involved in technology for more than a decade and knows a thing or two about the magic inside a PC chassis. You can follow him on Twitter at @RichEdmonds.
Three all the way. Unlimited 4G and 4gb tethering for £28 along with unlimited minutes and texts! Ftw!

For £15 I get 2Gb of Data, unlimted texts and 500 minutes on EE :) I hear in America they need to pay like 60 dolars for the same

Send help, America is a disaster. I'm on a family plan on tmobile for $130, and only 1gb lte speeds :'c

Nice, currently getting unlimited min n txt with 5GB 4G for £11 on EE. Just 12m rolling though as im waiting to see what the next flagship WP will be. Cant wait for mwc or build to find out :).

So for twice the price you are recommending Three??

Yeah, 'unlimited' being the operative word. Also, that is £28 including a device, whereas the EE prices quoted here, are sim only plans.

I have a 3 sim with unlimited internet, I'm paying £12.99 a month, but I believe it's now up to £15. So it's not twice the price, Rockstarz scenario gives unlimited calls giffgaff does not. Each to their own though, if I didn't want "Feel at Home" from 3 I would have gone with GG too.

Just asking cos I'm currently on GG (£10/month 1GB, 500 mins, unl texts which is plenty for me) but I have virtually zero network signal in my own house so am wanting to swap networks. Perhaps 4G coverage will be better and I can try moving to that, otherwise I am thinking of moving to Three myself. So just seeing what the PAYGO options are on 3 and if people here recommend it.

Yea 3 all the way. 2000 mins any network, 5000 mins to three network, 5000 text any network and unlimited 4g and tethering £15

3 = worst 4G in the UK though. http://opensignal.com/reports/2014/10/uk-networks-report/

Damn, people in the US really are getting robbed blind. Have to pay quadruple or more for the same offering.

I expect it's because it's such a large country, and sparsely populated. More phone masts, more engineers, more help desks etc

Nope ill stick to unlimited 4G data and tethering with Three UK :)

According to the post above that costs double what the GiffGaff offer is however?

No it's £15 for me. Going to hopefully keep this plan forever lol. Don't need to upgrade.

No it doesnt, the above poster was quoting a price with a handset as well. For £15 a month you get 4g, unlimited data and 300 minutes, 3000 texts. Giffgaff keep increasing the minutes and reducing the data.

Ah ok, so much the same then really. I can cope with a £2/month difference. What I cannot cope with right now is no signal in my house (I'm lucky to get G, never mind 3G and spend half my time standing outside just so I can make calls). Perhaps 4G would be better on GG, but I think it's time I just switched to Three, the international roaming could be handy from time to time as well.

3 = worst 4G in the UK though. http://opensignal.com/reports/2014/10/uk-networks-report/

Will, not according to the comments.

Don't be fooled, Giffgaff will change all these tariffs on January/February. They will also be doing away with unlimited data plans.

Giffgaff use O2 which barely has 3g in many places, so good luck getting. 4g. Maybe in 10 years time they will have 3g where I live. Moved to 3, no regrets.

Yes, O2 4G coverage in the UK is dreadful. Slightly better than none at all, unless you live in one of five cities as far as I recall. I've been with GiffGaff for ages but have been considering switching to either Three or EE due to the 4G coverage. Actually, forget EE - their customer service attitude sucks.

Thanks for these comments, am in London on GG and rarely get any signal in my house, so am looking to move. All the voices here seem to be voting for Three, so I think that's my next network.

Andrew, the reality: http://opensignal.com/reports/2014/10/uk-networks-report/

Three is better than O2, are you crazy! Three has the worst network coverage for any UK network and that's not just my opinion, it's scientifically proven! Three's coverage might be good in the middle of Westminster, but anywhere else its absolutely crap.

Barley get 2G where I am from any of these. At least the cities are getting faster and faster!

I have Three's Sim 300 plan + unlimited data add-on: Plan: £10pm
Add-on: £3pm Also covers me for unlimited 4G, 3000 texts, 300 mins.

Unlimited data? Can't find that add on. How did you get it? I only get £5 for 3GB add on. Link please? Will switch to this plan! Lucrative!

I pay £15 a month for unlimited text and 3G internet (no tethering) plus 500 minutes... Giff Gaff to Giff Gaff calls are free... Unbeatable value! :-)

I get 3GB of 4G on giffgaff with 500 mins and unlimited texts for £12 (part of the 4G trial) and the coverage is excellent where I am (near Lewisham)

4g with 1gb quota is like driving a Ferrari with only 1 L of fuel

The main issue with any UK 4G plan is the comprehensively awful coverage offered by all networks

In Pakistan 10GB 4g data costs around $15.

I used my US Lumia 900 on giffgaff in 2012 and had great luck with it while vacationing in the UK (England & Wales). For 1 month, had a few hundred minutes, unlimited text & data, and tethering for <20USD. (Had good voice and data coverage everywhere I was, too.) I really missed the price and convenience when I came back to the States to my $50/month contract plan (with no texting)...

GiffGaff is no longer cool. It used to be. Lycamobile is offering for £15 unlimited net minutes and texts but it also uses the O2 network. And yes O2 has godd coverage in 2G at least you can make a phone call if anything much better than my friends who are on three and just in the process of swapping to something else for the poorest coverage ANYWHERE in the UK. But UK sucks in all the way possible when it comes to internet providers. I got a 4.4MB download on my "fibre optik" sky subscription and I opened a champagne! In EasternEurope they are now offering cable downloads of up to 150MB download speed for half the price in UK