Unboxing the Toshiba Encore 2 Write (8-inch) tablet with Wacom pen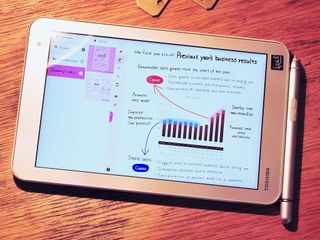 When it comes to tablets, people vary on how much they value a good pen. While a stylus is the old way, companies are now focusing more heavily on quality pen inputs, thanks in part to the Surface Pro 3.
Toshiba's Encore 2 Write (2015) is their latest entry into the competitive Windows tablet race, and it looks to be a hit. Coming in 8 and 10-inch versions ($349 and $399, respectively), the new Write tablets utilize Wacom's latest pen recognition technology dubbed Active Electrostatic (Active ES) to ensure highly precise input.
Microsoft is currently selling the 8 and 10 inch Write tablets online, although physical stores do not have them in stock. Buying through Microsoft ensures that they are Signature Editions, which just means it is pure Windows with no bloatware on board. I have one on hand to show you what you get in the box, specs, and our hands-on video. So, is this tablet worth it?
In terms of specifications, the Encore 2 Write looks solid for 2015:
8 or 10-inch HD WXGA IPS LED (1280 x 800) touchscreen
Wacom Active ES pen technology
Intel Atom Z3735F 1.33 GHz with Intel Burst Technology up to 1.83 GHz
2GB memory/64GB eMMC (47 GB available)
Up to 11.1 hours battery life
Windows 8.1 with Bing, 32-bit
3-in-1 (Micro SD/SDHC/SDXC)
Dolby Digital Plus
Micro USB 2.0
0.83 lbs (0.38 kg) / 1.20 lbs (0.54 kg)
GPS and micro HDMI out (10-inch version only)
The 11 hours of battery life is questionable, but Intel Atom processors are known for their longevity. The display, although not super high resolution, is adequate for the price range and category. Color and sharpness is excellent as is the brightness. It is highly glossy and prone to fingerprints but also ideal for using a digital pen.
Speaking of, the pen uses a single AAAA battery and is comparable to the pen on the Surface Pro 3, which is high-quality and well-balanced. Interestingly, you can clip the pen to the tablet for easy transport. It has two buttons, like the Surface Pro 3 pen, including one used for erasing. It, however, does not have a clicking end-cap button.
The Encore 2 Write comes with a few bits of Toshiba software that can be uninstalled (but I do not recommend it)
User Guide + Support – Self-explanatory, it is a rather simple but nice app
TrueCapture – Similar to Office Lens, this app lets you take photos with the rear 8 MP camera of whiteboards, notes, etc. and then it can remove glare and clean them up
TrueNote – Analogous to OneNote, TrueNote lets you pick different templates for note taking, create notebooks, pin pages to the Start screen, etc. It contains a cloud backup solution, and it looks quite feature-packed
TrueRecorder – For audio recording in meetings, TrueRecorder can "analyze voices to automatically identify specific speaker, and allow you to mark important comments in the recording". It features noise suppression (pen noise, continuous ambient noise) and it can even pre-record up to 10 seconds before you hit the record button. This is a _very _cool app.
Overall, Toshiba's apps are some of the best – and most useful – that I have come across. This tablet is made for students, artists, reporters, and those in business. The rear camera I would rate higher than average while the front-facing camera is merely adequate – it works, but it is nothing special.
So far, I am very impressed with the Toshiba Encore 2 Write (8-inch). The price is just right at $349, and it even comes with a year of Office 365 Personal in the box ($69.99). The real selling point is, of course, the excellent pen. Many people have been waiting for a superb 8 (or 10) inch tablet with a kickass pen, and this device looks to fit the bill. Reviews so far on Microsoft's website are high with a 4.5 (out of 5) star rating and my initial thoughts match other people's experiences. Time will tell how much I get use out of this 8-inch tablet, but the stylus, non-propriety AC charger (micro USB), built in GPS (for photos), supposed battery life and solid rear camera have certainly piqued my interest.
Head to the Microsoft Store (opens in new tab) or Toshiba's Encore 2 site for more information. Also, check out our interview above with Toshiba about this tablet back at CES in January.
Have any questions? Ask away and I'll try to answer them.
Daniel Rubino is the Executive Editor of Windows Central, head reviewer, podcast co-host, and analyst. He has been covering Microsoft here since 2007, back when this site was called WMExperts (and later Windows Phone Central). His interests include Windows, Microsoft Surface, laptops, next-gen computing, and arguing with people on the internet.
AAAA? Like the cells in a high-quality 9V battery?

No, those are AAA. Either way, what does it matter?

Actually some 9V batteries do use 6 AAAA cells: http://www.instructables.com/id/How-To-Get-AAAA-BATTERIES-OUT-OF-9V/

Haha funny, I did this for my Dell Venue Pro 8 pen. Except you gotta watch out, the polarity is reversed on those 9V duracell cells, so you gotta put a battery bar on the concave side for +. Otherwise, if you put the battery in backwards, you can wreck the pen, and it might even overheat and melt internally in some cases. I also noticed my local Microsoft store actually sells the AAAA batteries. I couldn't find them anywhere else.

Yeah I tried to put but it didn't work so I removed it. Nowhere I can find AAAA batteries for my dvp8 stylus. I thought I can follow that trick but when I put the battery in the stylus the bumped up side as +ve the battery was not stable in the pen. I thought battery was not sitting tight so that is the problem. So did your stylus work after inverting the batteries ? ​

EBay has some rechargeable ones from China. I haven't tried them yet, but I am ready to order a few

Yes it worked. You gotta take one of the battery bars, and crumple it up. Put it inbetween the battery and + side of the pen. That will allow the indented + side of the battery to contact the pen. http://www.nightanddayphoto.ca/misc/forumpics/POTN/misc/dellPen.jpg

oh thanks........ i also put tin foil of medical tablets to make it work.... how lonnng dddoes your bbbattery last?

Radio Sha.... nvm. We have AAAA at Staples here in Canada.

Instructables has a Windows Phone app :D

Some old cheap Bluetooth earpieces used them. I had an old Jabra that did. Had to get them at Batteries Plus because nobody else sold them.

You can get them off amazon :P.

Definitely will consider getting this!

400 bucks seems a little spendy

For the specs I agree, its the wacom pen touch that justify the price. This would be perfect for a student.

not really . this is wacom's lower cost and not as good alternative to it's traditional EMR pen tech. it's basically a better capacitive pen. from what was shown here it isnt even as good as NTrig.

I've had the 10" version for a month and the pen is actually very good for handwriting. It's more accurate around the edges than Wacom's EMR tech.

It's a good thing it's $349 then!


No, only the 8 inch version is 349.

Agreed, I'd like to see 4 gigs of RAM for that price, especially in the 10 inch version.

Well im pretty sure these are 32bit devices, so 4GB isn't even possible from my understanding.

You do realize that it has 2400 levels of sensitivity. That is way more than most pens. I haven't heard anything that says out isn't quite good. If you have some sources I would love to know.

Like it, but I'm fine with my pen tablet.

I was waiting for this. Thanks Daniel.

I am board and uninspired. Seems I have hit a limit on consumer tech. Nothing new and exciting at the moment. In my opinion

*bored. Unless you really are a plank of wood

Only a plank would use that term interchangeably :P.

We need a damn Toshiba W10 device❗

How was the pen using Photoshop?

Haven't tried, sorry. Not much of a Ps user.

Was this the tablet that was advertised as having a "pen and paper" feel?

I've been looking at the Yoga tablet 2 with AnyPen. I'd really be curious to know how the two compare.

Yeah, we'll probably get one of those too. I think this is better for productivity/artists/students, Yoga 2 is better as a general consumer device.

Will the pen work with any Wacom tablet? Posted via the Windows Central App for Android

no it doesnt use WACOMs traditional emr tech. it uses "Active ES" which is just marketing speak for projected capacitive

I think AnyPen doesn't do palm rejection until the pen touches the screen. No hover = no palm rejection.

I got an Asus VivoNote 8 for less with the older, non powered pen tech and it works great. I use my old tablet PC stylus and the eraser nub even works.

I have one. I hate the cheap glad they used on it. It's a fingerprint magnet, and when you clean it, the pen catches on the screen.

Looks like a great tablet at what I think is a reasonable price. It certainly looks like something I'd get great use out of.

Nice tablet for sure. I wish more tablets had GPS... You dont need cellular Service to have it.. it would be very handy for situations not just photos but maps where they can be downloaded....

Yes, I'm curious about the GPS too. My ThinkPad Tablet 2 has GPS, and works well with HERE 'offline' maps. Can you verify if Encore 2 can do it?

Have 2 of the Toshiba Encore 2 and thinking seriously of getting rid of one of them and getting one of the 10 inch model.

I'd say productivity wise there doesn't seem to be much else like this on the market at that price point. Guess it's almost what the supposed Surface Mini would have been like..

I came in here to ask if the Ecore 2 Write had any competitors, guess not. I really want an 8 inch tablet with pen functionality.

I ordered one from Amazon two weeks ago...great little tablet. I just couldn't pull out my SP3 on the crowded NYC trains, so I wanted to get something small, but with a pen. Let me just say, this tablet is awesome, the pen responds very well, and the battery life is not bad either.

I just got the 10" version from Amazon today. Still setting it up and updating, but I like it so far.

How's the tip? Is it loose like most Wacoms or sturdy like SP3? Posted via the Windows Central App for Android

It feels like the other Wagon I have (a Bamboo). That being said,I should have heeded the Amazon reviewers' warnings. Updates killed pressure sensitivity in desktop apps (Modern works fine). I'm still looking into it.

Can you use Photoshop on it, or can you use it as a graphics tablet for Photoshop?

You will be able to run the 32-bit version of PhotoShop, which is not, unfortunately, touch optimized. It won't be your go to device, but small things can be done. Sketchables, and Sketchbook by AutoDesk are two very good drawing programs that also export to .psd files, they have layers, good tools, and are easy to use. They will be your best options.

What about using the tablet as a graphics tablet for Photoshop? And what about Photoshop CC?

I like the pen support. I can't justify the purchase though, as I have a 1st Gen DVP8.

We bought a Toshiba Encore 2 (non-write) just before the Write was available. These 8-inch tablets by Toshiba are great devices. We were able to get our non-Write one on sale for $140. Incredible work Toshiba is doing all around, in my opinion. We also own two laptops of the Satellite series and they are fantastic. If I was a student, I could definitely see the benefit of getting the Write for taking notes and more.

Daniel, how does this compare with the Dell Venue 8 Pro, especially in so far as the pen I concerned? Thanks.

From reading around and my limited experience, the Toshiba is the more superior for pen usage by a long shot. If the pen isn't important, DV8P is definitely a better deal.

Thanks. For my use the pen is indeed important. But the problem is I don't this tab is available I the UK as yet! Edit: When you get a chance will you please do a comparative review with particular focus on the pen? Thanx

While the pen on this is better, not seeing the advantage at this price over my year old Dell Venue 8 pro. Even the processor on this is slightly slower.

No difference in specs between the 8" and 10" other than the weight? Interested but I'm worried that the specs might be too low for my profession (graphic designer). Daniel, could you please test it for Ps?

Wish it comes to Canada soon. On another note, Toshiba should consider a HSPA/LTE version of this for $399.

Specs are yawn, 1080p 4 gb ram would peak my interest. Why do these companies go balls out on android hardware then cheap on windows hardware. Posted via the Windows Phone Central App

Well, you have 2 options with SP3 and TP10. A little pricier, obviously, since you get more.. butoptions are available.

Because Android needs higher specs to hide poor performance and also because companies have been doing this for years with Windows computers/laptops to squeeze out more profits. When Windows 8 first launched there were a ton of companies selling computers with lower specs for the same prices they had for computers with better specs running Windows 7.

This is a budget tablet... there are far more powerful models on offer if you want to pay twice as much.

Stylus is fine for computer artists. You can't really compare a proper graphic tablet pen to those stupid plastic things old PDAs and touchscreen phones used to come with. Just so long as you don't make a stylus mandatory for the UI then there's nothing wrong with them.

2 quick questions Is there an i3 version available of the Toshiba Encore Write (I have a 4G LTE i3 Dell Venue Pro 11 which works surprisingly well with my horrible handwriting)? Are there keyboard docks available to transform it into an ultrabook, similar to the DVP11? (Possibly other accessories too)

No, no Core i models. I did see a keyboard for the 10-inch version at CES, so I know it's out there (or coming). Thing looked like a legit laptop with the keyboard.

Gah the lack of Core series makes me glad I chose the Dell (£235 for i3, 128GB SSD, 4GB RAM, and 4G LTE support, not complaining!) since I plan to use OBS regularly on it (with a Blackmagic Intensity Shuttle) but I'm interested to see how the Toshiba looks with the keyboard. From what you said it looks like it's gonna be a head turner.

Alot of bezel on that thing.. I'd like to see OEMs up the ante with screen resolution now.. It's time that 1080p becomes the standard for devices 8" upward.

yeah. you need a bezel to hold it.

Lenovo's 8" is 1080p with Dolby and AnyPen tech. I had the Encore 2 non write and it was excellent but I wanted full HD for comics and bluray rips and the Yoga 2 8" has it

Does the Toshiba app have ink to text recognition? Would you use the Toshiba note taking app with stylus over OneNote. If so why?

I'd really like Daniel's opinion on this too, I'm a big OneNote fan.

My 10" version works great with desktop OneNote. For OneNote this is a great device.

Great! Have you tried the Toshiba note taking app? What are your experiences with that?

I've tried TruNote a bit but I really can't see a reason to use it over OneNote, OneNote is infinitely more useful as a note taking app, and OneNote is free if one is willing to use the cloud for storage.

It's a great tablet, but I really think its expensive right now. In my opinion, $249 and $299 could be the best price. Just to remember, I bought Xbox One in January/2014 for $499, and I'm talking about the full version of Xbox One (w/ Kinect). So, $399 for a tablet with a pen, even if this is a great tablet, it's still expensive.

Yeah, those price points would have been better. Although since I have no idea what the cost vs profit margin is, not sure if that would actually be feasible.

I wonder how the writing is compared to your SP3.

Android doesn't need higher resolution, yet OEMs have put out lots of 1080p and higher screens. Would out have killed Toshiba to put a 1080p screen in these? Or 1920 x 1200, which would have made for a much nicer note taking and reading experience?

Yeah, I would have liked a higher res screen. This isn't bad or anything, but not as wow-worthy as it could be. Maybe they were concerned with battery life?

How is the accuracy of the pen when you get near the corners? With my original Surface Pro, the accuracy goes wacky when in the corners. So if I have a fully maximized window, it's actually difficult to click the X in the corner to close the window.

Acurracy around the edges is MUCH better with this new Wacom tech.

I was really hoping this would be the 8" device to finally replace my iPad Mini 2. I use a Bamboo stylus to take handwritten notes throughout the day so I was really looking forward to this after watching a demo about a month ago. The problem I have is downgrading from a Retina display to 1200x800. For movies and games, Retina is amazing. I'm assuming I'll see half the columns & rows in Excel in normal view. I'll have to wait for a retail store to get it so I can look at it but I'm thinking no.

Hey Daniel, any chance you guys will be doing a review on the Toshiba Portege Z20t? Really love the design of that machine and am curious to see how you think it matches up with the SP3 :)

Hadn't planned to do so, but will see what we can do.

2 GB memory worries me for photoshop work. Also, Wacom pen never used batteries...why this?

I dont think a product like this was designed with Photoshop in mind. The pen is there to take notes or scetch a little. If your serious about Photoshop, get the Wacom tablet or a SP3. Im an artist myself, and the 10" tablet is interesting for doing quick scetches while I do light reading. Its got a lot of utility for someone like me, without costing almost a grand.

Its too bad the screen couldn't be 1920x1200 for that price though. My 2013 N7 has one. If it wasn't for that, I'd be sold on this tablet.

I already have a 7", 10", 11", and 12" Win8.1 tablets. Still waiting for a Windows tablet with active pen and Atom 4GB.

A Kindle like e-ink tablet with pen, and a Windows OS special for it... That's my dream...

Is the Active ES technology similar to that use by Synaptics/Dell in the Venue 8 Pro? I.E is it a cheaper alternative to the digitizer technology used in more expensive tablets like the older Surface Pros,or does it replace that tech when it comes to Wacom digitizers going forward?

Sad to see the lag with the pen. My old ThinkPad X201 had no lag at all. Properly because of the tiny Atom in this one. Better to wait for a cheap Core M edition in my opinion.

At least add a 1080p panel although I'm sure the display is very suitable nonetheless. But at those price point, a Nexus 9, the new Dell android tablet and an iPad mini 2 is much better value at that price although pen support is a nice addition. Posted via the Windows Central App for Android

You mentioned "This isn't bad or anything, but not as wow-worthy as it could be". I wonder how does this compare to Lenovo Thinkpad 8.
Been waiting for years for a good 8' tablet with handwriting for taking notes during meetings, but I like some high quality material (as Lenovo's seems to have).
I think Daniel has a Thinkpad 8 as well.

ThinkPad 8 is fantastic except it has no stylus at all, one of the reasons why I think it failed in the market.

Have you ever tried using Bamboo stylus (or any Wacom for that matter) on Lenovo Thinkpad 8? Well, I'm asking here as forum topics seem dead for Thinkpad 8. There are a bunch of Lenovo Thinkpad here in Brazil in the hands of small commerce stores. People here have no idea of Windows tablets and those who have don't know that it pretty much failed elsewhere, so its a good opportunity.

Is it better than a asus transformer book T100?

Can anyone test if this has some decent ouput to HDMI via a microUSB to HDMI converter?
thanks!!

Yeah, thanks to Asus being totally stupid and not releasing any information on the Transformer Chi series, I may have to default to getting this device which is really my 2nd choice due to no keyboard included and the bulkiness. I prefer the T90 Chi due to the small bezel (in portrait mode) and the thinness.

Daniel, How is the weight compared to the iPad mini? I'm on the fence with this and the Asus T90 Chi which is supposed to be thinner and lighter. I tried playing with the previous Toshiba version at Best Buy, but I couldn't get a feel for how it feels in my hand due to the big ass, bulky anti-theft device that BB puts on their electronics.

Just a couple of grams heavier, nothing noticeable or significant.

Can you go through taking pictures in OneNote and annotating them?

Feel like the price point just isn't competitive for what amounts to last year's specs, at least on the 10". Nice pen though.

Does this version of windows allow desktop? I haven't seen any video showing desktop

Compared to the $130 Winbook TW802 this Toshiba has 32GB more storage, GPS and the stylus support. Otherwise they are similarly spec'd (the now discontinued TW801 actually had USB 3.0 due to its Z3735D). Not sure the extras are quite worth $220.

The TW802 also lacks 5GB AC WiFi support, compass and the cameras are crap. Nothing wrong with the TW802 but I think the price difference between it and the Encore 2 Write 8" is reasonable.

Hello Daniel,
Hopefully you will answer these two questions : Does this tablet support 2.5HDD via USB converter or it doesn't give enough power? Is it possible to copy and install Toshiba's applications to another tablet like thinkpad 10? Thanks in advance

Dan , does windows 8.1 allows apps/software to be installed on SD card ?

Two days with this tablet and I LOVE IT! Replaced my broken dell venue 8 pro. The only thing I don't like is that compared to the DV8, the Toshiba doesn't feel solid. The DV8 did. But other than that, this thing ROCKS! I bought the 10.1 inch. I love the pen.

Does anyone know if this device supports connected standby?

I've had the tablet for two weeks and love it. I also have the Pro 3 which is outstanding. I have tried numerous 8" tablets and this is the first one in which the stylus compares favorably to the Surface Pro pen. It's great for note taking (OneNote) as an alternative to my Pro 3.

Anyone who is left-handed try this tablet?
Windows Central Newsletter
Get the best of Windows Central in in your inbox, every day!
Thank you for signing up to Windows Central. You will receive a verification email shortly.
There was a problem. Please refresh the page and try again.