Toshiba's Encore 2 Write tablet is perfect for the traveling artist in us all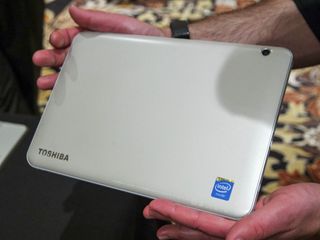 Toshiba's new Encore 2 Write is the perfect marriage of sleek, snowy, Windows tablet with an excellent focus on writing and drawing with the Wacom stylus.
A few nights ago, we got some hands-on time with the device, and it is certainly worthy of your attention.
Here's a quick tour of what the 10-inch can do.
Toshiba Encore 2 Write (8 or 10-inch)
8 or 10-inch HD WXGA IPS LED (1280 x 800) touchscreen
Wacom Active ES pen technology
Intel Atom Z3735F 1.33 GHz with Intel Burst Technology up to 1.83 GHz
2GB memory/64GB eMMC
Up to 11.1 hours battery life
Windows 8.1 with Bing, 32-bit
3-in-1 (Micro SD/SDHC/SDXC)
Dolby Digital Plus
Micro USB 2.0
Micro HDMI
0.83 lbs (0.38 kg) / 1.20 lbs (0.54 kg)
The Toshiba Encore 2 Write is the first tablet to feature Wacom's new Active ES pen tech, which they described in their presser:
Legitimate question: Any artists, casual doodlers or hardcore stylus fanatics considering this svelte looking tablet?
You can pick up the Toshiba Encore 2 Write at the Microsoft Store (opens in new tab) in either an 8 or 10-inch versions ($349 or $399, respectively).
Windows Central Newsletter
Get the best of Windows Central in in your inbox, every day!
Daniel Rubino is the Editor-in-chief of Windows Central, head reviewer, podcast co-host, and analyst. He has been covering Microsoft since 2007 when this site was called WMExperts (and later Windows Phone Central). His interests include Windows, laptops, next-gen computing, and for some reason, watches. Before all this tech stuff, he worked on a Ph.D. in linguistics, watched people sleep (for medical purposes!), and ran the projectors at movie theaters because it was fun.
Gonna buy one.
I would like to use a stylus on an 8 inch screen.

Buy everything..Saying the same thing..

Huh?
You gonna buy one too?

I think that he's assuming that everyone who says that will buy, really won't.

He's saying that on every article..

I'm not buying the Portege Z20t. Stop trolling.

Love the Asus VivoTab Note 8 and a Wacom stylus is great on eight inch tablets. Especially since you also get palm rejection and wacom is much better than the DVP pen (used both). I am envious of the microHDMI

If I didn't already have a tablet, I'd be all over it as I've been waiting for a tablet that lets me draw for about this price. I wound up with a ThinkPad 2 since the price was too good but I'd consider this in the future for my drawing needs.

The only thing I would worry about is performance. Although I have never used an atom machine my concern is that PhotoShop, Illustrator, or Corel along with multi-layered compositions may bog it down. Has anyone done any serious digital painting with these low power chips?

I've put Photoshop and Illustrator CS3 on my ThinkPad 2 and they run alright though I haven't done anything more serious than sketching so far. It is by no means a high powered service so best to use an older software version to be on the safe side.

What would make these truly Adobe worthy is of they were 64-bit, because the touch controls for Adobe products are limited to 64-bit Windows installed. They still run, but not nearly as convenient. That being said, there is a lot that can be done in programs like Sketchables, Bamboo Paper, etc, that can than be finished on your desktop. I haven't experimented much with it yet, but for basic retouching, LightRoom should Rob will as well.

Very true and if I remember correctly, Sketchable lets you save your work as a PSD file for importing into PhotoShop.

Yes it does, and it has been well supported by the developers. A really good drawing experience.

I know. I use it as well. Good stuff. :-)

You may be better off with the SP3 if you intend to run heavier applications. The new atoms are pretty powerful, but better suited to light and mid-weight applications for a really awesome experience. If you don't mind decent but not necessarily incredible performance then go for this tablet, the price looks pretty good too!

Before I decide whether I'll buy it or not, bring that tablet into our country first. Heck, even the first generation of encore is non-existence here... (-_-)a

But it already is in "our country" :P

I am in the market for an 8 inch tablet to use while I'm exercising on the eliptical (a larger tablet would cover the machine's readout display). I already own a Surface Pro 3, and it's amazing. But being an artist, I have a strong tendency to gravitate towards devices with good pen and inking support. So I immediately put this Toshiba tablet on my short list. I will probably wait until I can try one out at a local Microsoft Store though. I want to see how the pen performs near the edges (a traditional weakness of Wacom tech). And I want to put the touch + pen and palm rejection implementation through some paces to see if things flow nicely between using both heavily and in rapid succession.

I'd like to know about accuracy in the corners too. That was my first thought and main concern.

Eh, not at 10 inches. I still feel cramped on my Surface Pro 2

This or Dell Venue Pro 8?

The only reason why I bought the DV8P was to use one note, but the pen performance is truly horrible. It's so bad I just don't use it! Hopefully this will be a suitable replacement.

Did you ever get the newer stylus?

If you didn't get the newer stylus, let me know. I have one around here (if I haven't misplaced it) I'd love to give to a good home.

Yeah I have the latest rev stylus. Thanks for the offer! The problem is that I own an SP2 where the pen is exactly how I'd expect one to work. It doesn't draw on the screen when the pen isn't touching the screen so much like the old rev pens used to do, but it has a way of making handwriting look really "shaky". Not fun :(

I have the brand new stylus and it works flawlessly. the last stylus (and then the following revision were no good). Dell only sell the new WORKING stylus now. The Venue Pro 8 is fantastic. But I agree with the others I am waiting for a 64 bit implementation with 4 GB of RAM, before I move on to another 8" note taking tablet.

I do wonder if its just me but I do have the latest working stylus. I can be half way through a sentence and the pen just stops writing. You have to double tap on the screen with the pen for the pen "dot" to appear on screen so that you can continue.
Personally I'd love a bit more battery life and I'd go for a 64GB version this time, but I find the existing specs perfectly suitable for one note and a bit of Plex. The extra RAM or 64bit isn't needed for me, but extra always helps! I'll probably go for the Toshiba if the price drops a little.

Quick question: Does the pen have an "eraser" button on the top? It apears to have a button or two on the side... but nothing beats an eraser that works like you expect a real pencil eraser would.

I couldn't watch the video (issue on my end), but does this have palm-rejection?

Not a 100% sure, but will find out soon

Thanks! Fingers crossed, would love to pick this device up if it has palm-block.

Damn, if this tablet included LTE, then it would have been perfect. With the Wacom tech, it easily qualifies as what the rumored Surface Mini should have been. Maybe, they'll introduce an LTE version down the line. Still, looks to be a solid offering.

LTE would be great! Im replacing my Dell Venue 8 Pro for this. So far with my DV8P I just turn on the hot spot on my phone (Att HTC M8) and problem solved. yeah, it sucks I have to drain the battery of my phone for this but it's not all that bad. :)

Great usefull Device with good pricing! Goodluck Toshiba

Daniel, under the specs you're listing for "8 or 10 inch" versions, you have micro HDMI. Is that on both? The few pictures I have seen seem to show that a micro HDMI is only on the 10" tablet.

Non retina screen is a deal breaker. Will wait for 1200p

Non retina screen? It will always have a non "Retina" screen, because that is just an Apple branded term.

The obsession with "retina" screens blows my mind. I get it if its 1020x600, that would suck. But 1280x800, especially if the screen is as good as the one on the DV8P, its MORE than adequate. The only thing that higher res seems to do is waste more battery and graphics processing power. "Awesome 4K!!!! On a 5 inch screen!!!( Sweet, cause 1080p SUX!!! I can see jaggies when I zoom in 300 percent, wah!!!!". RIGHT......

Don't think anyone needs 4K but problem is that minimum required resolution for Win8 I believe is 1366x768. So this artifically upscales to meet that I believe and you can't put apps side by side. Remember the 10" also is only 1280x800. Would have been nice to get at least an 1080p option.

Wrong on both counts, no upscaling is being done as Win8.1 supports this resolution and even an 8" Dell V8 Pro can snap two apps aide by side.

Even on my HP Stream 7 that works. They changed that in 8.1.
1280 by 800 is OK on 8", on the 10" a higher resolution would be better. The Click Mini has it but no pen.

Have to disagree about the DV8P, it's adequate but not great, especially for text. I'd love to have a successor with 2560x1600 screen. Double both vertical and horizontal pixels so the Desktop remains usable with touch. I'm hoping they do a Window's version of the Venue 8 7000 with 4GB of ram.

Wow it actually looks good.

I might be tempted to buy this one eventually... Even though I'm trying to hold off buying another tablet until W10+Cherry Trail come out :(

I still find 8" tablets useless. But the 10" version is nice. The pen is a big plus. Aside from that, though, the Nextbook 10.1 is a better deal with the keyboard and cameras (albeit they are HORRIBLE cameras).

I like my new 8" tablet and get plenty of use out of it. That's why there's choice.

Shout out to remembering the lefties of the world. Looks like a fine device to me. Posted via the Windows Phone Central App for Android

I think its a great device for designers. But for students, why someone will prefer handwriting when it's possible typing?

Complex equations involving integrals and derivatives, annotations, sketches like circuit diagrams, hand plots etc. Aside from heavily text based work like journalism and literature, the average engineering and science student and professional prefers a digital pen any day!!

I have already accomplished creating some pretty cool pieces using Fantasia and at first an 822, then a 1320. I have seen the results on much higher resolution screens and the look even better. An artist, even digital can create amazing work painting on an old shoe using a q-tip and nicotine stained phlegm if that's the resources in front of them. To quote Refused, "great frames wont save bad pictures" in this case, great specs wont make great artists. Still, I would like to have one, maybe in about 6 months when sales inevitably tank and the price drops by 75%, or they start handing them out for free with the purchase of MSFT band integrated sweat tracking gym socks......

Atom is both the advantage and disadvantage. Yes its full Windows but that's barely enough horsepower to use PhotoShop.

Depends on your use, I guess. I have a ASUS VivoTab 8 and I haven't put Photoshop on it since I do complicated work like that on my laptop, but I have put my screenwriting software on it and it's great for that. I think the version of Windows would be the problem. Doesn't the newest version of PS require a 64bit OS?

How was playing Castle Siege on this?

It's fine as a decent stylus... Just try not to oversell it. The Surface is still King in stylus.

Pretty pricy compared to Nokia N1 which has much better screen etc. Though lacks pen and runs android.

Oh, money. I know this device fits a slightly different niche, but that's $349-$399 I could put towards a more powerful Surface Pro 3/4 or Portege Z20t.

I wish tablets w/ active digitizers received more love. This sounds like it could possibly combine the best of Wacom and N-Trig (better pressure curves in Wacom and lower offset in N-trig). The price sounds really good, too. I still have an Atom powered Ativ that I'm fairly happy with for drawing on the go (still have an i7 laptop and Intuos at home for more heavy lifting), otherwise it'd be a serious consideration. I almost want to get this just to encourage these manufacturers to make more.

On some reason I am more excited about a TruNote app! I hope it's not exclusive to this vendor!

Nice again. Wow really a lot of stylus/tablet/OS combo reviews. I love this. I think I'm in heaven. Finally the attention to the stylus is back in focus. So we have a better stylus and a nice truenote app in the toshiiba, we have anywrite in the Lenovo tablet and papyrus has shown some app updates for a.o. the surface pro 3. Still what is missing in (almost) all is the "true" ink to text recognition as you can see with windows store app like MyScript mobile (the instant inline ink-to-text recognition). Then thing I pick up from all these videos and articles are: why is still not part of the windows 8 OS. It makes so much sense to have this integrated in windows 8 or 10.x for that matter. I would very much like to use these highlighted features, but it's just not doable to keep switching apps because of spread out features in different app for stylus. I wish these clever people would just make business amends and form an aliance. Now that would be big news and big business that makes sense.

Why can't the truenote app be available for all windows tablets?

Looks like we got a winner here, hehehe

I could use a pen-based tablet as a handwriting/drawing "peripheral" to my desktop system. With OneNote and other software capable of syncing this could be just the job. It would also be interesting to turn on Windows 8's voice I/O on the tablet and use it as a remote voice input device.

I would want to try it with Evernote Touch. My Surface Pro (1) is horrible with it's "print-to-text" input function - basically, un-useable... But I am attracted to the possibility of a hand-writing-centric Evernot input device.

Interesting, but I am not seeing why I should get this over my Thinkpad 10. Perhaps if it were 64 bit.
Windows Central Newsletter
Thank you for signing up to Windows Central. You will receive a verification email shortly.
There was a problem. Please refresh the page and try again.