Unlocked Nokia Lumia 1520.3 now receiving Lumia Cyan update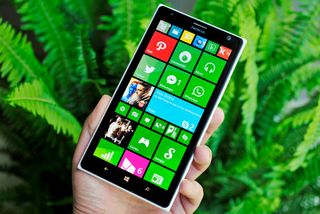 If there is one Lumia 1520 that is the king of all 1520s it is an unlocked 1520.3 variant, which for those in the US comes with LTE support for AT&T and T-Mobile, in addition to 32 GB of internal memory and Qi wireless charging. Yes, it has everything.
Luckily, if you own that phone, you can now get the Lumia Cyan update, assuming you are not of the Preview for Developers edition of 8.1.
Quite a few members in our forums are confirming the update is live, starting at 1 PM ET time today. In order to see the update though, you do need to downgrade your phone first to 8.0 and then take the proceeding updates to the 8.1 and Lumia Cyan. The process itself is relatively simple, but it can be time consuming to restore your backup if you have a lot information.
Regardless, the choice is yours. Head into our discussion forum to talk to others about the OS update and who have the Lumia 1520.3.
Thanks to mattdistro and others for the tips!
Windows Central Newsletter
Get the best of Windows Central in your inbox, every day!
Daniel Rubino is the Editor-in-chief of Windows Central, head reviewer, podcast co-host, and analyst. He has been covering Microsoft since 2007 when this site was called WMExperts (and later Windows Phone Central). His interests include Windows, laptops, next-gen computing, and for some reason, watches. Before all this tech stuff, he worked on a Ph.D. in linguistics, watched people sleep (for medical purposes!), and ran the projectors at movie theaters because it was fun.
Come on lets keep spreading the cyan love.

Do ALL windows phones with dev preview need to uninstall it before getting cyan? Or does it just affect things like the 1520(.3) which were newer?

All of them at this point in time. Microsoft is the one that is not allowing updates to the Dev Program while they fix some issues (like the Bitlocker one). Once they re-enable updates for the Dev Program, Cyan should be available without the need for a downgrade

1520 Malaysia update available,

Still anxiously waiting for Cyan in Malaysia. Tomorrow might be the day, perhaps? :D

Wait, what? I'm still waiting and checking every minute, still unavailable. *sigh*

are u using 8.1 DP ?, if yes, you have to downgrade

Can you downgrade from a mac computer?

No, you need a PC running at least Windows 7 I think. If you can get a copy of windows somewhere you can always bootcamp it

Yes 8.1 DP. I check the availability by using the Cyan Update app. It still stating 'Under Testing'. I guess I have to trust you with the availalibilty. It's time to downgrade. Thank you. :)

Currently installing 8.1 in Malaysia. Thanks for the info cariocap and also Daniel for this post hehe

I have a malaysian 1520 too (Indonesia here). Downgraded to 8.0 few weeks ago and just noticed that an update is available. How big the update is? I'm currently out to town with no wifi (balik kampong)

Forgive my asking, but will the update eventually become available for those of us with 8.1DP who don't want to downgrade?

No. It will never ever ever happen. Lol just kidding. Who knows

They just stopped Cyan for those with 8.1DP because of the bitlocker-bug. MS is supposed to release an update for the DP which fixes this problem. But this is not official so maybe it will be possible in just a few days to upgrade from 8.1DP to Cyan or maybe we will never see a fix for that... But I'm confident there will be a fix in a few weeks

Oh, ok. Cool. Thanks for answering my q.

But will it be through our carrier or directly from MS?

It will come eventually. But most likely weeks after Cyan has already been rolled out worldwide.

Lumia 1520.1 RM-937 •059V421 RM-937 VAR APAC PH CV BLACK •059V423 RM-937 VAR APAC PH CV RED •059V422 RM-937 VAR APAC PH CV WHITE •059V424 RM-937 VAR APAC PH CV YELLOW Recieving CYAN updates as well.

Omfg I don't have PC to roll back my 1520.1

I have RM-937 , 1520.1 APAC_HONG_KONG_222. Am I good to go? What does the PH stand for in VAR APAC PH CV

PH=Philippines HK = HongKong CV •059V253 RM-937 VAR APAC HK CV BLACK •059V255 RM-937 VAR APAC HK CV RED •059V254 RM-937 VAR APAC HK CV WHITE •059V256 RM-937 VAR APAC HK CV YELLOW The HK version is also recieving CYAN as I type - I'm updating my other 1520 059V254 HK CV

Thanks for the explanation.

Thats not true! I have a same product code (059V254) and i have not any update. And yes I'm on WP8!

The HK version is not receiving updates yet. I have looked for updates and nothing is popping up. Please do not spew false rumours.

thanks for letting us know. i almost downgraded from DP. glad i checked the comments again! :)

I've got the same model, but there's no update available. So, I switched back to DP.

I don't know all the specifics on my phone, but I have a Lumia 1520.1 that came from Hong Kong, and I am not seeing any updates at all... :(

I WANT IT!!! I LIVE IN F*****G RUSSIA!!!! UUUUUH!!!!!

Remove that 1. Wow update for 520 available ^_^

Have patience buddy... U will get it soon.. I too have a 520 with DP 8.1

I too got Lumia 520 DP8.1....waiting for cyan update but it's under testing in India... Oh goddddd....

DP 8.1 users are not receiving any updates even though announced !!! Now i m feeling bad about upgrading to WP 8.1 DP !!!

What do they mean by 1520.3?

That's the 'unicorn' 1520 that has all the LTE frequencies that you can use in the U.S.

The 1520 RM-938 supports LTE over 700MHz and AWS, the two frequencies Verizon uses. Why wouldn't it work?

And that's the one I have. How do I know if it was originally unlocked or not? I bought it used.

Argh can't take this, downgraded to WP8 in anticipation, but its a whole 'nother beast. Going back to DP for now, lol.

Yap. Me either. Just installing back the DP

Ugh! AT&T 1020 please!!!!!

Still nothing happens for HTC 8X. Just want to dump It and buy myself a Lumia 930.

Cyan is for Lumia phones. Not for HTC 8X's.

If the phone is unlocked, what carrier is approving the update?

I have the global ROM for my 920 and Cyan's not available yet either...

Now Sam just needs to receive a 1520.3

Yes. Had a rough start with 8.1dp, would lose connection, drop calls and then the killer, my internet sharing didn't work. Rolled back to 8.0 last night to fix that. Was really missing 8.1 - then bam official release today. I noticed after the upgrade that my Cell-SIM setting are identifying ATT and have the APN settings right there. Previously it was a different node in settings, hopefully this a sign I might have better performance.

All users have to do a downgrade to 8.0 or only specific group of users in order to get an update?

Every one on 8.1DP that can't wait for MS'es promised fix ;)

Thanks, guys. Ha, "promised fix" might be a year away...so, I am on my way to downgrade :D

If you want cyan, then you downgrade to 8.0

Guys, excuse the stupid question: How do I know if my 1520 is ".3" ? Thanks in advance :)

thanks a lot, I missed it lol....its really tiny at the botom! :D

Also, you would know if you have a 1520.3. They don't just fall out of trees. Lol. You have to go hand pick them specifically.

You can do two things. Check its box or go to Settings>About. You should see 1520.3 or 1520.x in there.

Yay! Just back up your stuff and use the Nokia tool to downgrade!

Will u lose the photos and media stored in the memory card ???

Finally...
Just installed 8.1 on my german 1520

What is the RM- name of the 1520.3?

I'm from Albania and my Lumia 1520 is RM-937_eu_italy_904 (Firmware Revision Number: 1028.3562.1402.0003) i asked for update and not with out any update, please Daniel can make me know whether this is the right phone for L1520.3 ??? And currently i'm at the WindowsPhone 8

It should be written down on phone box itself, from the side, for sure. And, I think, 1520.3 model is the only one with 32GB internal storage. Hope it helps. Regards from Serbia.

Nah! All models have 32GB except for the AT&T one.

My Lumia1520 is 32 GB...???

When AT&T first released the 1520, all models were 16 GB and had built-in Qi wireless charging removed. Later, AT&T released a black1520 with 32 GB; it still doesn't have Qi. The AT&T models are the RM-940 part number in Nokia talk. The RM-937 is the "original" model with LTE radios for Europe, Oceania, Asia, etc; the RM-938 has LTE radios for the Americas; the RM938 is (or was to be) a China-specific model with different radio technology;

Settings -> extras+info -> more info Then read under Model/Modelo

*with a certain 90s cartoon theme song playing "...hear what Daniel Rubino...has to say.......the choice...is yours!!!"

I have RM-937 , 1520.1 APAC_HONG_KONG_222. Am I good to go? What does the PH stand for in VAR APAC PH CV

APAC = Asia Pacific PH = Phillipines

Okay if Microsoft does not want to give my 1520 cyan then let them give me 8.1 GDR1 seems I will be their beta tester forever because I'm not gonna DOWNGRADE

if we go the nokia software recovery tool route, once we successfully update to 8.1 with cyan, can we then hard reset and restore the phone from backup, and will it restore our start screen and app data as 8.1 promised? or do the apps themselves have to support that feature on an individual basis?

As long as you enable backups once you update to 8.1 and hard reset you will be able to restore you apps, txt messages and data.

where does one get this 1520.3??

Newegg I bought one from them for T-Mobile..

thanks. purchasing as we speak.

You won't regret it.
Heads-Up: New Egg is not like Amazon, they may call you to verify before charging your card but shipping is right on-time with your chosen shipping metho..ie. 1, 2 or regular ground.

I got mine from Newegg for $599, I use it on ATT. Awesome device.

You can get one from Mexico :P

1520.3???
Don't you mean the 'original' version that was released by Nokia everywhere apart from the U.S. (where it was castrated by the carriers)
Fully unlocked (CV), 32gb Qi charging etc
Mine says 1520.1 on the box..... Keep up U.S.
;)

The 1520.3/rm-938 (North America) has different radios than the 1520.1/rm-937 (world), 1520.2/rm-940 (AT&T).

This is ridiculous just because I have 8.1 developer edition I can't easily update. Damn Microsoft dropping the ball.

But you're a developer, so these steps shouldn't be hard ;-)

Remove that 5 and replace it with 0! :D

This is fantastic. Now I just need someone to send me this phone and I'll be all set!

Now the 1520.3 can appropriately be referred to as the Unicorn Halo device we've deserved from the beginning. The fact this device has all the frequencies is worthy of a smirk in AT&T's direction. Bump you AT&T! Thanks Nokia. The last of your name went out with a true beast of a device!

It is simply the best Windows Phone. And having used it for the last 3 months, and with hopping between sims, and carriers and all over the place, I couldn't be happier with getting a fully 'banded' phone :-)

Just got the update installing on my 1520 as of now it said I need about 10 minutes.

Waiting for 8.1 to arrive here in Singapore.

I have Lumia 1520 from StarHub and am downloading the update now :).

Enjoy! Country variant handset here..maybe that's why it's not here for me yet.

This is great news..downloading now. :D

Hopefully they will fix this bitlocker thing soon... I guess a lot of "usual" people updated to 8.1 DP and still want Cyan :D

Normals should never use developer software, MUGGLES!!!

My Lumia 1520 purchased in Malaysia & being used in Canada is currently installing an update. I'll keep you all posted once the update is completed.

Where can I get the 64gb Lumia 1020. I'm in India

How can I get this phone?

They are for sale on newegg right now only $495

I have lumia 1520.1 rm-937 in lebanon..can i get lumia cyan because i have wp8.1 dp
?? I don't want to downgrade to wp8 if not available

Rm-937_im_mea3_932 pls somebody answer to know if i can get cyan update or no

still waiting for fix for developer preview rather then downgrading...

I think they will fix with 8.1 update 1 developer preview upgrade

So can anyone tell what should I expect to see in the new update ?

Finally but too late to downgrade tonight

What about 1520.1 Middle East version? I'm on DP and don't want to downgrade unless I'm sure going to get the Cyan..??

No answer maybe i'll try to downgrade tomorrow and i'll tell u if i get it for mea

Nothing in the UAE region. I'm in WP 8.0 and I am not seeing anything.. :(
**patience :(***

let me know if you get coz i also live in dubai

Got Cyan on my 1520.1 CV Black in France. I was in 8.0 freshly restored and i immediately found the update, while in 8.1DP 15 minutes ago it didn't find Cyan. Time to install and restore all my 200 apps, it will need some time

bloody hell i want 8.1 , in the UK on my 1520 ?, now!!!!!!!

Lumia 1520 - StarHub Singapore getting the update.

Are you sure? My carrier shows as singtel variant. Does the mean it is locked to singtel? Also did update from dev preview?

installing on 1520.1 in France.

L1520 country variant philippines 8.1 + cyan is live. But im just too busy to install. Later may be.

Cyan Is cool and all. But its not that crazy awesome for me to downgrade when my 1520 works perfectly with DP 8.1!! I'll wait! No rush here! :)

Nokia Lumia 1520.3 HongKong no Cyan update. This is major b.s. In both cyan update apps it says under testing

Bro, there's no such thing as 1520.3 HongKong. 1520.3 (RM-398) is designed for America LTE bands, and used Latin America software. HK version is 1520.1 (RM-397). you can find your phone's update status under the Asia Pacific > Hong Kong > 1520 Country Variant. It's correct that Nokia's update page shows under testing, but for this udpate they are not updating the page so promptly... the page still showed under testing for AT&T 1520 for 4-5 days after the update was pushed out. However, having said that, my 1520 is also Hong Kong Country variant and i'm also dissapointed that this update is taking so long.

Both Microsoft HK and Nokia HK are pretty incompetent when it comes to getting content and support for the region. I suspect they get drowned out by the sheer size of the China region, or incompetent managers are lumping HK into China (HUGE mistake - the market requirements are entirely different). It's a shame as both Google and Apple does a better job at making nice gestures to HK - such as Siri supporting Cantonese and Google making a separate Cantonese phonetic input keyboard for Android.

Lumia 1520.1 Bought in US but im in Brazil, no update as well

So you can't downgrade with a hard reset?

Where can we get the official ROM ?

pieterj Durban South Africa@03h40.Now installing the update. Lumia 1520. I think mine is a country variant. Yes, happy days are here!!!

The Nokia software recovery tool says I can install version 1028.3562.1402.0001. This is the same version as the WP 8.1 DP I'm currently running. Interesting.

Yes its normal and I did reinstall it and it did downgrade to 8.0

1028.3562.1402.0001 is the version of the firmware, not the version of the OS. This is why it's the same number whether you have 8.0 or 8.1 DP

next to be release L1520 CV global please.........

Well, I just had a very enjoyable time downgrading to WP 8.0 from DP 8.1! /s I just got the 0x80131500 error, and here is how I got through it! FYI, I got this error MULTIPLEtimes, and I was afraid I now had a useless 1520.3. I'm trying to recall this from memory. When told that the installation failed, I chose to cancel. This allowed me to choose another option that initiated the firmware download again. I let the firmware completely download again. I then let it begin the install process. The progress bar on the phone will reach 100% when the progress bar on the recovery software reaches 50%. The phone will restart and the progress bar will start from the beginning on the phone again. The progress bar on the recovery software will start at 50% and go to 100% just as the progress bar on the phone. Once this is complete you phone will reboot a few times. The recovery software will say something about rebooting and have a countdown timer. Once all rebooting is finished, you'll boot to the WP setup screen. Go through this process, download all the avaiable updates. I imagine that the error is caused by a corrupt download. I hope this helps someone who might be experiencing this issue.

Is it available in India for 1520?
I think 620 will be the last one to receive the update yet again

Cyan is installed, and my apps and settings have been restored!! I'm going to sleep!!

I did the download for 1520.3 using it in the USA. But no Cortana????

I purchased an RM-938/1520.3 used. It is unlocked and running 8.1DP. I believe I can roll it back no problem. How do I know if it was sold factory unlocked, or sold through a carrier and unlocked privately? I don't want to lose 8.1DP if there's significant doubt about getting 8.1Cyan.

Got my update woo hoo for my 1520 on T-Mobile.

I will probably wait until the ROMs are available and then flash the phone directly with the new firmware, saving myself one step and no need to downgrade.
I am currently checking through Nokia Care Suite and mrcrab.net , both still reporting the old firmware. I am pretty sure it will be updated soon, when Nokia updates their Cyan status page.

AVAILABLE IN THE PHILIPPINES..

Looks like the 1020 will get this update last!

WOOOO I've been waiting for this for what seems like YEARS.....Malaysia btw

Does anyone know if it's available in Australia yet? I don't want to downgrade if it isn't...

I downgraded last week back to 8.0. Still no 8.1 update in Australia yet... So slow...

What about 1520 in India... Even we have to downgrade from DP 8.1 to 8.0 ?

windows 8.1 cyan now is available in The Hashemite Kingdom of Jordan for lumia 1520 .

8.1 Available in Argentina... at last!!!! Lumia 1520.x

NO LOVE FOR HONG KONG? :( huhu
The update for Philippines is here but my device is RM937 apac hongkong 222
:\

I have a Nokia Lumia 1020 RM-875_eu_euro1_211 CV GBIE
Do you have any info of when the Lumia Cyan and WP 8.1 is available for this phone?

Btw the coumtry is Great Britain