Unlocked Nokia Lumia 920 coming soon but no T-Mobile bands just yet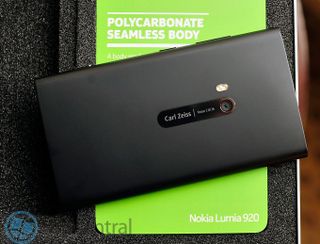 Up in Canada there has been some confusion around the status of the Nokia Lumia 920 on Rogers. It appears that early shipments of the phone were SIM unlocked and what's more, they had the AWS 1700 band on board allowing it to work on WIND and T-Mobile US. That prospect at least offered some hope to those on those carriers without the 920 (aka most of them).
We've since verified that the later shipments of the 920 on Rogers are not SIM unlocked though you could pay the Canadian carrier $50 to do so (assuming you bought it under contract). As terrible as that is it's still better than AT&T, which to our knowledge has not given out any unlock codes for 920 users.
Negri Electronics, a popular online distributor, is set to sell the Nokia Lumia 920 unlocked this Wednesday but for a price: $777.50. We're not sure if that's due to the extremely tight supply or just the unsubsidized cost but it's not pocket change. The bigger question though is will it support AWS 1700 bands? The answer is no.
In our forums, the company responded to a discussion about the upcoming device and this is what they had to say:
The good news there is it sounds like at some point there may be some unlocked Rogers Lumia 920s aka the ones with the 1700 band on board but it may be awhile as regular Rogers customers get first dibs.
The non-1700 band and unlocked Lumia 920 goes on sale this Wednesday, so for those of you who really hate contract, you may want to consider. We s suppose since the 920 is so hard to find even on contract, waiting for those phones to be unlocked and re-sold could take a few weeks until Nokia ramps up production capacity—whenever that happens.
Source: Negri Electronics; via Windows Phone Central Forums
Windows Central Newsletter
Get the best of Windows Central in in your inbox, every day!
Daniel Rubino is the Editor-in-chief of Windows Central, head reviewer, podcast co-host, and analyst. He has been covering Microsoft since 2007 when this site was called WMExperts (and later Windows Phone Central). His interests include Windows, laptops, next-gen computing, and for some reason, watches. Before all this tech stuff, he worked on a Ph.D. in linguistics, watched people sleep (for medical purposes!), and ran the projectors at movie theaters because it was fun.
I just want a Lumia 920 why does this have to be so complicated. Could Nokia really have f'd this up any more?

Well, depends on what the problem is, right? If the 920 is selling so well that Nokia can't keep up with demand, well that's just life. If it's because they forgot to make enough 920s, then that is an issue. Point is, we don't know the cause. It seems premature to condemn the company since we're all speaking from a position of ignorance.

I wish we could get more information (either officially or unofficailly) on why Nokia chose pretty much only one carrier per release country. IMO, they would've sold more units by following HTC's lead and releasing their flagship on pretty much every major carrier.

But...they can't even meet demand for single carriers in various countries. Why would "selling more" be a good idea if they don't actually have enough to sell? ;)

Which is why we need details on whether the shortages are caused by demand or low stock. That being said, in either case scenario it wouldn't make a difference as we're still short on the 920 everywhere.

Sales might also be much lower if they went with multiple carriers. There's no way all the carriers would have subsidized so heavily for a non-exclusive model. $99 with free wireless charger is simply an amazing deal on this phone. Just amazing.

What I mean is that they have like 10 versions, all supporting different bands, and yet they have ALSO released a version which has ALL bands and gave it away at BUILD.

So why not just have the one model? It's so complicated, even if they do offer an unlocked version it's going to be difficult to be sure if it will work on a given carrier.

I feel you there! Nokia could have avoided this crap if they simply released the 920 on all carriers. Problem solved and everyone's happy. How difficult could that had been, Nokia?!

If they can't produce enough 920s as it is, how could being on more carriers be better for everyone?

I was just in store to pick up my 920 and was told sorry stock did not arrive. Now I am expected to wait another 10 days. And to top it off was told I will not be getting the free headphones or charger as there is no stock. What a halls up Nokia, its hard to stay loyal to this sort of stuff up. :(

Man, this phone is never going to come to Croatia! :( I've been following all the stories about 920 ever since it was officially announced and it seems it's selling like hotcakes in "selected countries". No wonder Nokia doesn't have the time to bring this device to unimportand countries such as mine, when they have troubles supplying the big markets. I was looking forward to playing with it this Christmas, but local supplier unofficially announced the 920 for Q1 2013. Yaaay. :S

I'm just glad select countries includes Canada for once. Nokia likes to ignore us.

Dreaming of a day when my country will be included in the first wave of releasing... well, anything... :)

According to statcounter 0.6% install base, probably even lesser marketshare. How about Canadians ignoring Nokia. Lol. Only reason they even bother to sell there, is because Elop is Canadian and lives there.

I found a bug in Nokia drive , if Yu change the theme to mauve and make the tile small ,it loses it text

That's an issue with the os not the phone

Uuuuuuhmm... that's by design I believe. All apps I've seen do not display the title with a small tile. There isn't room to make it legible. No bug here.

I had the no name issue but thats not the reason why. It only happened whenever i first turned my phone on. All you have to do is unpin Nokia Drive then repin the tile back.

The black Lumia 920 is just stunning. It looks like some high tech equipment batman would use. I bet that's how he survived the nuke in the last movie; steering the BAT aircraft from a safe distance using his Bat app.

Then I guess it's safe to assume he didn't use Apple maps to navigate away from the nuke? (I know, I know. I'm pushing an old joke. I just couldn't resist)

It is rather frustrating that my only option for the AWS-capable Nokia 920 is to effectively get one outright through Rogers. Expansys lists the 920 also, but they all appear to by AT&T-branded or without AWS. (I was thinking about the T-mobile 810, but even that's a little unclear whether it'll work on WINDmobile in Canada - it should?)
The HTC 8S is quite tempting, just for the lower price point - but it's unclear whether they'll support AWS too (doesn't seem like it?), so I'm holding off on pre-ordering them.
I really wish it were possible to just buy these things directly from Nokia/HTC if we wanted, not tied to any carrier, with a clear selection of antennae. Or even from the Microsoft Store (the new one in Toronto was only offering the Rogers models on a contract).

@cyber_k9 - If you can get a Lumia 810 unlocked, yes, it would work on WIND.

I just got a response from cellunlock.net that they have the unlock codes for Lumia 920(AT&T) available for $40. I'm placing order today. Will check with you guys in a few days.

Please keep us posted! Thanks!

I'd really like to know if these websites actually come through and they are not scams. Please keep us informed whether you receive a working unlock code.

Hey, how did the unlock process go. Did the code you received work successfully?

Any word on if the unlock worked? Also, if it did, a few follow-up questions. Are you able to get full HSPA+ speeds on T-Mobile? Is MMS working? Can you use the Internet Sharing feature?

Have you received a response from cellunlock.net?



I was on board to get the 920 months ago, but without tmo support the 8x is the only real candidate. Nokia shot themselves in the foot with their exclusivity deal with AT&T there are many of us who explored the 8x as a viable alternative and found a phone we may like better.

If Nokia is having production problems, maybe it is because there are too many versions. It is one thing to have multiple colors, but different sets of radios? That has got to be a production nightmare, nevermind diminished economy of scale. I also do not understand why an unlocked, unbranded phone isn't available direct from Nokia (or any other Windows Phone device manufacturer) or through Microsoft. I highly doubt this option would be any competition to the carriers, as US customers love their handset subsidies. (Although, perhaps T-Mo's tentative steps toward bring your own device might be making the other carriers take notice...)

I'm already happy with my Lumia 810. I gave up on getting a Lumia 920. I'm over it. I'll see what will happen in the 6 months of at&t exclusivity. For now Lumia 810 is fine for me.

Okay listen here is the truth about the Rogers 920. I know this because I've already gone through the hell. You don't have to have a contract to unlock the 920 on Rogers. If you buy it outright you have to get a pre paid line activated and have them put $50 on it. Once that's done call Rogers and they will unlock the phone and take the money from your pre paid account. There is one problem though. I can't get internet sharing to work and mms does not work either. Microsoft finally put in mms settings but didn't put the full mms fields required for this to work.

Nokia told me at first that it's Rogers that needs to unlock the Internet sharing and Rogers said the same but that it unlocks once the service is activated. So I signed up for a month to month plan just to get the done. It didn't work. With a Rogers Sim it will do internet sharing but with the Wind Mobile Sim it will not work. Now I'm waiting on Nokia to call me back with an explanation. My previous HD7 did not have this issue with internet sharing.

People, this is not that complex.
There are 2 versions of the Lumia 920, the RM-820 which is the North American version that supports the AWS 1700MHz and thus runs on T-Mobile/Wind, although it's locked and branded to Rogers and AT&T, and the RM-821 version sold outside North America, which doesn't support the AWS 1700MHz but comes mostly unlocked.

You might be wrong because AT&T version doesn't have 1700 AWS. At least thats what they say

mine specifacally says

WCDMA 850/900/1900/2100/1700_2100 LTE 700/850/1900/1700_2100 GSMQUAD

I originally planned to buy the HTC 8x from Rogers, unlock it, and use a WIND SIM card.
The listed frequencies for the HTC 8x were the same as what you have said in your comment, however since it doesn't explicitly say "AWS", it is not AWS capable and won't work with WIND unless you want to be in WIND AWAY 24/7

How about the nokia just release in Vietnam, http://www.nokia.com/vn-vi/san-pham/dien-thoai/lumia920/dac-diem-ky-thuat/ . The website show that their nokia support WCDMA 1700 and LTE 1700

Nokia released the phone here in Thailand on the 17th November. Other then the phones that were handed out at preorder. There is 0 phones available.here my pre order from the 17th Nov has been bumped till the 8 December. To top it of the Nokia sales person wanted me to cancelled my order. Nokia need to let everyone know what is going on with delivery dates.

<p>Buy nokia lumia 920 unlocked in india :-&nbsp;https://www.firangibhai.com/products/Nokia-Lumia-920-Factory-Unlocked.ht...

Buy nokia lumia 920 unlocked in india :-https://www.firangibhai.com/products/Nokia-Lumia-920-Factory-Unlocked.html

Nokia Lumia 920 will definitely works with T-Mobile USA, the Canadian version for sure which is locked to Rogers,because because I tried the Rogers version on WIND and currently using on Mobilicity network, both networks are on (1700/2100) AWS after unlocking, which costs me 25$ only.
Windows Central Newsletter
Thank you for signing up to Windows Central. You will receive a verification email shortly.
There was a problem. Please refresh the page and try again.