Unofficial Nest app for Windows Phone looks to bring control over your thermostats, now free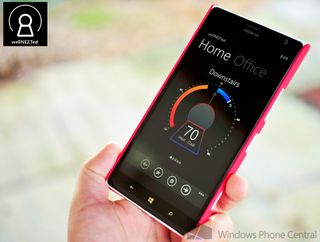 Nest (www.nest.com) makes the popular 'connected' smart-thermostat that allows users to control the weather inside their homes remotely. It's quickly becoming the poster child for the wired future, where all our appliances 'talk' to our phones. Recently, Google acquired the connected technologies company for $3.2 billion. Although much has been made of the deal, what concerns Windows Phone users most is whether or not they will ever see an official app.
In the past, we've seen unofficial apps come to Windows Phone, only to have them yanked through a Cease and Desist (C&D) letter from the Nest lawyers. This has made owning and developing these apps a precarious venture, though we're happy to see another creator take the plunge.
But this situation is a bit different and more importantly, through a special partnership with Windows Phone Central, the app is free for 24-hours.
The app is called wellNEZTed, has been available since October and it's made by Anthony Pham in his spare time (he's also active in our forums). It's a solid app with great reviews, offering many features that Nest owners want, including:
Set Target Temperature(s)
Change Mode (Cool, Heat, Heat+Cool, Off)
Set Fan Mode
Set Away Mode
Supports Multiple Thermostats and Locations
Live Tile Support
Pham is also looking to add more features in future updates, when he has a moment (he has a new member in his family).
So what makes this app less likely to be yanked by Nest from previous attempts? We spoke with Pham and he did his homework on the matter:
Smart move. So while wellNEZTed may have an awkward name and it doesn't look as familiar as a Nest app might on Windows Phone, that's all done by design to avoid the Nest lawyers. It has been available for quite a few months, which lends credence to the idea that this will get a pass from a legal standpoint.
wellNEZTed usually runs for a modest 99 cents, but to celebrate a recent update and its surprising longevity, Pham is dropping the price to free for the next 24 hours in conjunction with our announcement. That means if you download it now, you will have a perpetual free license on the app, regardless if you switch devices or even uninstall it.
If you have a Nest thermostat or are thinking about getting one, you may want to grab this app today. Head here to the Store to pick it or scan the QR code below. Windows Phone 8 only.
Need support? Head into our forums where you can interact with the developer right here!
Update: Sorry if you posted a comment and it was lost. Database issue caused that, so please feel free to re-comment.
Windows Central Newsletter
Get the best of Windows Central in your inbox, every day!
Daniel Rubino is the Editor-in-chief of Windows Central, head reviewer, podcast co-host, and analyst. He has been covering Microsoft since 2007 when this site was called WMExperts (and later Windows Phone Central). His interests include Windows, laptops, next-gen computing, and for some reason, watches. Before all this tech stuff, he worked on a Ph.D. in linguistics, watched people sleep (for medical purposes!), and ran the projectors at movie theaters because it was fun.
In title, should be "over" instead of "voer" Caught you, Daniel :-)

google i dont need your official apps anymore

Except I worry that Google might lock the API now that they are buying nest. I hate for that to happen and I really like my Nest.

if they do so , microsoft should ban chrome on windows, which will never happen i know but a strict action towards google should be taken from microsoft, scroogle campagin is just okeay but not enough.

I think maybe he hasn't received a C&D yet is because nest has opened up a developer program. Their api is not closed anymore. It's supposed to be exclusive to Control 4 for 6 months, but it's probably not worht the hassle to get this app off the store for 1-2 months. Just acting like they don't know it exists.

hope Scroogle doesn't request a take down

Of course they will, they're Scroogle after all.

Great looking app. Kind of a bummer Google owns the company now. Think they could had been successful w/o them.

I'm not about to drop money on nest. Anyone use Grasshopper with z-wave devices?

Always download temporarily free apps, even if you don't need them now ;-)

I will never need or want this, but going to download it anyway because someone may someday buy be a nest that I will never need/want/use

Let see how long this one stays in the store before getting yanked like all the previous apps.

Well, it's been 3 months so far...

But with Google behind the wheel... I would hope that not that much of an ass, but Google is so unpredictable.

We can hope, but the track record isn't so good. Fingers crossed, it seems to be a pretty good app.

Let the unofficial become official and official become unofficial.

Never got a Nest because of no official app support. And now I am very glad I didn't, certainly don't want any Google products in my house.

Now I just need a Nest. And somebody tell Rudy to develop 6nest or something.

I hope that Anthony Pham can do the same for the Honeywell Thermostats that utilise MYCONECT 2.0. Great job Anthony.

If he does get a C/D and he has to pull the app ...what happens to those who already downloaded it?

Google will come to your home and confiscate your phone.

And take your children (or future children if they haven't been born yet).

Now way I am putting a Google product inside my house to give them more ways to track me!

Great job on this app! Kudos!

Google doesn't need to wardrive anymore, they are inside your house.

Have been using the app for a couple months already. Works well. They've recently added some additional nice to have features such as displaying the current humidity in the house, whether the fan is currently on and also the ability to indicate the current temperature in the house on the lockscreen. Overall, it's been a good experience and worth the $0.99.

I've had this app for a month or so. It's had it's ups and downs. I paid the 99 cents and would again if i had to. I don't mind paying when a person picks up the slack for a company. Didn't know the back story until now, but this guy makes this in his spare time and the company itself doesn't? Kinda embarassing if you are NEST if you ask me. BTW, NJ Natural Gas (our provider) offers you the new nest at $150 if you log into your account and buy it from them. That's $100 less than home depot.

Thanks for the kind words. Can you share with me what ups and downs you have had? The app hasn't really changed all that much in the past month so I would like to hear about any issues you may have had. Feel from to PM me or email at wellnezted@outlook.com so I can try to resolve any problems.

It's all good for me right now. Had a couple weeks where it didn't seem to do anything even after saying "sending" and then refreshing. It knew the temp in the house just didn't alter it. But it's been good now. I appreciate your follow up. It's apps like yours that keep people like me from leaving windows. I don't need the games or instagram, but i like apps that control my gadgets. Want to make us a Liftmaster MyQ app for my garage door opener? Lol.

Have been using this for some time. It is functional but the design leaves a lot to be desired. Trying to find a nest replacement at this point. Been working on ecobee, but that doesn't look terribly promising.

I am open to any suggestions. Please fill me in on what your ideal/desired design is and if it adheres to the requirements of not infringing on trademarks whilst providing similar functionality. I wouldn't mind any help you may have to offer. :)

There is now an ecobee app for Windows Phone: the "ecobee remote" app.
It supports multiple thermostats.

Nice article Daniel.
I did tip you guys on this several times (nudge, nudge) ands been a hot topic in the WP forums and the Nest forums for a year. Might have been a bit speedier about writing this, not waiting till Google got in the picture. Ok, grouching over. There is at least one other Nest App in the Marketplace which takes a very different approach than this one, as well as one that dies nothing in terms of controlling the thermostats and, given its name, should be pulled as it is clearly intentionally misleading. My point being, its past time for a review article on the topic :D

Question for NEST owners: If someone already has a digital thermostat programmed for different temps for diff times of the day, are there that many real-life advantages of a NEST unit? In other words, after the novelty of it has cooled down (yuk yuk), are you actually doing that much with it? Are you using the app for this frequently?

Not having to get off my rear end. I don't own it personally. But I can see where not having to get up would be nice. But in all seriousness, google can go away now.

Assuming you have analyzed your data to optimize the timing, if you keep to the same schedule all the time its only real advantage is the ability to adapt to external conditions (weather essentially) and internal conditions ( equipment performance, humidity levels etc) better than 'dumb' programmables.
However f your schedule is variable, this kind of thermostat will keep your family much more comfortable while using less energy as it adapts to both internal and external conditions as well as your changing needs in real time. With 2 working Parents and 2 kids our schedule is always changing, but I don't have to worry about the kids roasting in the summer or freezing in the winter if they come home unexpectedly, nor about them mucking up the thermostat settings and wasting energy.
So yes, they do save energy and are much more convenient than simple programmables. How much so depends on how much variation there is in your needs.

I've used this app with my 2 Nests for a couple of weeks now and it's great. The biggest advantage for me is that when I travel (which I do frequently) I can turn the heat up in my house when my plane lands and it'll be nice and warm when I get home. I live in New England so this is definitely a big plus for me. I do the same thing if I'm going to be out and about for the day - turn the heat down before I leave and turn it back up remotely when I'm heading home (I can even turn the setting to 'Away' remotely if I forget to do it before I leave the house). There's also been a noticable reduction in my gas consumption in my last bill. John