Download the unofficial Smartwatch Fans app for Windows Phone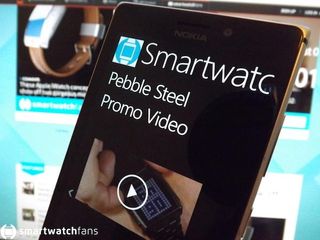 Greetings! Adam here, Editor-in-Chief of Smartwatch Fans - Mobile Nations' newest site. I just wanted to drop by quickly and let you know that there is a brand new (unofficial) Windows Phone app for SmartwatchFans.com — making Windows Phone the first platform to have a SWF app! Our Android app is right around the corner, but you all get the fun of having the first app.
Our friend jrnag1 developed the app and will continue to update as needed. With it you can view all of the latest news, rumors and reviews and even check out all of the great content from our YouTube channel.
The app is totally free and totally awesome, so if you are into smartwatches at all (and you should be!) then you'll want to grab it right now (opens in new tab).
Windows Central Newsletter
Get the best of Windows Central in your inbox, every day!
Editorial Director - High Yield
Getting his start writing about BlackBerry in 2008, Adam is the Editorial Director of High-Yield content at Future. Leading an outstanding team, he oversees many of the articles the publisher produces about subscriptions and services – VPN, TV streaming, and antivirus software. From buying guides and how to watch content, to deal news and in-depth reviews. Adam's work can be seen on numerous Future brands including TechRadar, Tom's Guide, T3, TTR, Android Central, iMore, and Real Homes.
I suppose a "First!" comment is totally relevant in this case!

Those comments are blocked. :P

Was this made via the Windows App Studio? If so, I am not slamming it; that is a great way to get a app out quickly and start providing info. I can also be updated to a more feature rich experience later.

It definitely seems that way.

Yes I made this app with app studio as a base app and I am now updating and adding features in the source code itself

Glad to hear that! I think app studio is a great tool and you are using it well. I don't know code and was able to make an app in there as well. Really fun tool!

I like app studio it allows me to quickly create a base for the apps I make and then use the source code it generates to add additional features that app studio cannot provide

The power of appstudio! Correct me if I'm wrong:D

Yes I used app studio to create a base for the app now I'm using the source code it generated to fix bugs and add features

Off the subject, anybody seen GTA yet. Suppose to be here already.

An official app would've been better (since an official app is coming to Android), but this is still great!

We're going to keep working on our 'official' apps across the board in 2014. Great to see the community jump in with a big head start!

Would love to see the WPCentral app reskinned for the new site. Until then, this app is great!

That is what I see as a goal to eventually make the app as good as the WPCentral app

Lumia black is rolling out for unlocked Lumia 920 and 820.

I would lov buy one but no WP support... From Pebble ------
JAN 08, 2014 | 12:18PM PST
Eyad replied: Hello Cesar, Thank you for your interest. At this time, Pebble is only set up to support iOS and Android. While it is possible that we might support other smartphone OSs in the distant future, I cannot guarantee it. All of our energy is currently focused on perfecting iPhone and Android. However, we do have 3rd party developers who are actively working on other platforms:
http://pebbledev.org/wiki/P3bble
Best Regards,
Eyad

I feel the same way about the Toq. I would love this watch but no WP support.

That Nokia SW render looks awesome

+1 like one on my wrist too.

Love to see a Nokia smart watch already

What is the point of a smartwatch

Unfortunately 99.99% of those smartwatches dont support windows phone.

There is a watch that fully supports WP :) the Kreyos

After seeing this I went ahead and made my own Mobile Nations app. For those who understand Urdu or Hindi...
http://sdrv.ms/1kyzpa2

Most of these "smart" watches just look like big bulky colorful toys from the people at Playskool. I'll be back when they look more professional...and support Windows Phone.

Yes it does at the moment I will be adding a way to remove them soon. I am also working on the problem of the app only providing low resolution images and not showing the full article or using the full width of the screen resolution on larger devices