Unofficial Snapchat client for Windows Phone, Swapchat updated with minor fixes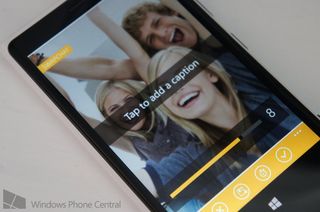 It has only been a handful of days since Swapchat, an unofficial Snapchat client for Windows Phone, was released into the wild but the developer has published an update that addresses numerous issues consumers have been experiencing. Swapchat 1.2 also enables users to draw on photos and unblock friends (just in case you both happen kiss and make up).
Here's a list of what is fixed in version 1.2:
Fixed crashes on Messages page
Fixed incorrect aspect ratio and image rotations when taking pictures
Front facing camera is now flipped horizontally
Minor tweaks and bug fixes
Not a bad update. It's good to see the developer quickly throw out an update to fix issues raised. You can download Swapchat for $1.29 from the Windows Phone Store (both Windows Phone 7 and 8 supported). Thanks, Nikhil, for the tip!
Rich Edmonds is Senior Editor of PC hardware at Windows Central, covering everything related to PC components and NAS. He's been involved in technology for more than a decade and knows a thing or two about the magic inside a PC chassis. You can follow him over on Twitter at @RichEdmonds.
It now has the draw option and flash control. (did it always have the ability to save the image you are about to send?)

Yes, the save function has been present from the first version.

great app. I've a lot of time for this developer! Keep these apps coming :)

Yes that's all we need is more knockoffs!

Except it didn't fix the stretching

Its better than the snapchat(unofficial) app, but I don't want to buy it since snapchat is coming soon. I used the trial but after a few pictures the trial ends.

You can reinstall it to reset the trial! :)

now all i Need is an update from what'sApp or Kik! :-)

yea!!!!!! come on whatsapp!!!! 3.0!!!

+1000
Kik is so terrible on WP at the moment.

true... last update for kik was 2012.. can you imagine.. !! they seriously need to update !!

Y whatsapp update is taking ages to come ??

Does the app have toast notifications? It has a live tile but i cant work out how to turn on notifications

I'm still holding out for the one from the instance/itsdagram developer, but my patience is waning

The app still needs so much more work it's ridiculous. The FF camera on the HTC 8X is still skewed. Toast and tile notifications have still not come. You can't add contacts from phone/FB contacts so I basically have 2 contacts on it... Also when drawing there isn't even a black or white option. Seriously?!

It literally only costs $1.49. That's like a pack of M&Ms. He's working hard on it.

I don't care how much I paid for it (although thanks for suggesting that I do), the app lacks basic functionality for me. Photos of me are distorted beyond belief, I am restricted to having two contacts because I don't know anyone's usernames, and I don't get notified when someone snapchats me. What is the point in releasing the app with such limited functionality? I'm baffled about its high ratings, people must just be so excited that Snapchat has finally come and looks nice, but underneath it's shockingly bare-boned. The fact that he's focussed on unimportant things like being able to draw on a picture (seriously) instead of crucial functionality bugs is beyond me.

Thanks a lot dev!!! Cant wait for the video update! But I'm glad this is fixed was bothering me a bit

Now I can finally rate 5 stars since the app is now actually usable!

just out of curiousity. isnt the official snapchat coming soon. and isnt daniel gary making his own?


It's good - but it bothers me that i have a big line on top with empty space with the 8X - it needs high res support! And I still look fat on the front facing camera. Also, the drawings are not smooth and very edgy.

I don't mean to criticize, but those were the bugs that I found. I appreciate that someone is actually making Snapchat for us. But I would really like to have a way to add your Facebook friends or somethin'

Why do I constantly have to keep accepting my friend's friend request? It's like it isn't saving it each time.

Swapchat now has a free version!!

Does anyone else see a severe decreasein battery life? I'm on a lumia 920

Does SnapSwap send pictures to those using Snapchat on iPhone?


My swapchat glitched and wouldent let me log on, so i uninstalled it and went to re-install it but when i went into the apps store and searched for it, there were no results anyone know why or how to get it back?


Same as well, looks like it might have been pulled?
Windows Central Newsletter
Get the best of Windows Central in in your inbox, every day!
Thank you for signing up to Windows Central. You will receive a verification email shortly.
There was a problem. Please refresh the page and try again.