Unofficial Windows Phone Vine app, 6Sec launching today at 9pm GMT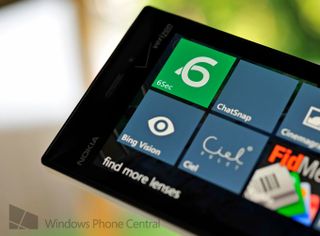 We've followed the development of 6Sec, an unofficial Vine app for Windows Phone, for some time. Being part of the beta program has also enabled us to bring to you the latest features that have been implemented, prior to the app being published to the store. Rudy Huyn, the developer behind 6Sec, has now tweeted that the app will be going live later today at 7pm GMT (or 19:00 for us 24-hour folk).
We'll keep an eye out for when the app goes live and will fire across a link to download 6Sec from the Windows Phone Store.
Source: Twitter; thanks, Nishy, for the tip!
Rich Edmonds is Senior Editor of PC hardware at Windows Central, covering everything related to PC components and NAS. He's been involved in technology for more than a decade and knows a thing or two about the magic inside a PC chassis. You can follow him over on Twitter at @RichEdmonds.
Also confused about that.

9pm because there's no such thing as 19pm

Lol 24 hour time format duh

Its 19.00hrs not 19pm...are u 9year old or something?

Who are you referring to? I'm stating that the article has two different times!

19pm takes fewer characters than does "19:00hrs." Have "u" never used twitter?

...of course, 7pm takes even fewer :-)

"19hr" is more sensible than "19pm" which doesn't exist...get your time right

That's the first thing I thought when I read the article. Hopefully someone will confirm soon.

7pm UTC+1(+1 because of summer time) (France timezone) In less then ten minutes actually!

Sooo.. that's 2PM eastern US. Gotcha :)

Cool, I'll give it a try as soon as it is out.

Has the be much better than Viner

It it in a different league, I guarantee you the official app won't be as good.

Well, only one thing to do about that... Stop sucking. :)

I was in beta, Its is amazing. Far better than android was (up until a couple weeks ago anyway, I haven't used the official android version since they just updated it).

Will get it as soon as it drops!

Free BUT the ability to upload will require an IAP 'cause the developer had to set up his own servers (since Vine uses Amazon's). Just not clear if you'll have to pay per upload or just once (I believe it's the later one)

Any word for a WP 7.8 version?

I was in the Beta. 6Sec is amazing, really slick and polished.

This is all WP8 needs for my girlfriend to get rid of her iPhone 5!!!! Super excited about this app!

So excited, this developer is amazing

Looking forward to this although the official app will be on board soon I love to see the Devs hard at work with no exclusivity

Having the Beta I have to say, Vine will have a hard time creating an official version that beats this one. If Twitter was smart, they would simply buy 6Sec from Rudy and turn it into the official Vine App.

As a beta tester, I would say this app is perfect. U will enjoy creating vines.

Good developer, reported many problems with the app and each update they were fixed in the beta. Cant wait!

6sec is perfect!!
Rudy is the best and perfect example in how to give support to their users!! And, 6sec will be available in about 20 different languages. I'm sure that the official will never has so many languages supported like 6Sec. Even Twitter hasn't...

As a beta tester, 6sec is at its best right now

Nokia should hire Rudy to help them make apps. His talents are phenomenal.

Then people will moan when the apps are Nokia exclusive.

The publishing process takes some time after you click "publish" so it might not be available right after 7pm.
I've never used Vine but there is a lot of interest about it so I'm looking forward to try this app.

Had it for a month beta style and i got to say, its awesome! Much better than what i assume an official app could be.

Here comes the metric system USA lol!!

It's about time British and Americans join the rest of the World! LOL XD

I hope it will available in Indonesia region...

It's there. Cek aja, udah ada kok. :)

Im more excited about the app next to 6sec, chatsnap, now we really need a snapchat client to replace swapchat

Vine, to me, looks like what a flash back from a drunken binge would be like when it all came back to you the next day. Still, good to have and I'm gonna get it... and start drinking. :D

Yeah I'm excited for this app! I was a beta tester and it really is awesome!

I'm new to Vine, so I've a question. Do I have to create a new account for Vine, or will my Twitter credentials work (since it's Twitter's own)?

It uses your Twitter credentials. But then prompts you to create an additional account.

Must be trying to rush it out before the official app. Rudy is a great developer and appreciate his work... But I think I'll wait for the official vine

Really looking forward to this. Now, where's that Instagram video for Instance at?

I know right.. We need an update for instance!

Nice of releasing vine when everybody uses instagram vids now. A lil 2 late. I mean people still like vine better and more apps are welcome to the windows phone store. Lets go WP!

If everyone likes Vine better, then it's not too late. :)

Just installed it. Nicely done app.

http://www.windowsphone.com/en-us/store/app/6sec/f3e56189-4be6-4e43-9ea4... for everyone that can't find the link :)

Hopefully someone does a full review of the app.

I've got a six second long review up on Vine. Check it out.

Its up and I've dow loaded! Woop!

Just downloaded. Not familiar with the official app. But this one is another Rudy Huyn beauty.

The announcement of the official app kinda kills the hype you think?

You guys need to update the article, I downloaded it nearly an hour ago now
Windows Central Newsletter
Get the best of Windows Central in in your inbox, every day!
Thank you for signing up to Windows Central. You will receive a verification email shortly.
There was a problem. Please refresh the page and try again.