FTW: Unofficial Vine app for Windows Phone gets Lens support, Live Tile in latest beta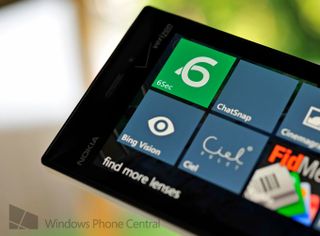 If there's one thing you can say about Windows Phone developers—they know the community and what they want. After our post last night, Rudy Huyn, the man behind the upcoming 6Sec app for Vine on Windows Phone, seems to have set him into full gear. A big update was posted today for his private beta users and it should set Windows Phone apart from the competition.
First up, we have the big one: full Lens integration. That's right, when this app goes live in the Store (expected in a few weeks), the app will come with direct Windows Phone 8 camera support, meaning users can quickly launch their camera and hop into 6Sec to directly record their Vine.
As you can see in our video below, it works flawlessly...
The other big features is Live Tile support for notifications. In our video, you'll see it matches our Accent color, but the latest update that came after the video supports the default "green" color of Vine, which we much prefer.
Once again, Rudy is leveraging the Windows Phone OS to make the most out of his Vine app and it's quite impressive.
We also demonstrate in the video the "slide" feature for Vines, whereby users can rotate around the Vine panel to reveal the Like, Share and Embed features that the iOS and Android Vine apps have on board. To say it's beautiful, is understatement though discovery of that feature is a tad difficult. (In the past, Huyn gets around this by using overlay tutorials to teach users certain functions, which we suppose he can do here too for the final release).
Anyway, that's your daily update on the 6Sec development process. Needless to say, it's going to be a great app!
Update: If you want to try and sign up for the beta, you can follow this Google Docs link to sign up. No guarantee that you will get in, as last we checked Rudy had 900 testers. But you can try anyway, good luck!
Daniel Rubino is the Executive Editor of Windows Central, head reviewer, podcast co-host, and analyst. He has been covering Microsoft here since 2007, back when this site was called WMExperts (and later Windows Phone Central). His interests include Windows, Microsoft Surface, laptops, next-gen computing, and arguing with people on the internet.
Yeah, this app looks amazing! Looks so much better than the official one I have on my tab 2.

it does, the UI is very clean and smooth, but the campture functionality isnt as sensetive as the official app.

I'm so jealous of everyone on the beta. :(

My beta still has the "impossible to upload" message

Uninstall and reinstall. I had to and it works great

Just did it and you were right. It's terrific

Good to see indie devs enthusiastic about developing for WP. The sucess of Instance definitely helped with that.

I'm loving it so far and the lens support was the one thing I really felt was missing.
My only issue right now is I have nothing worthwhile to actually post
Can't wait for it to go live for everyone (sidenote: can instance get lens and/or share from camera support soon)

I don't understand lenses? Aren't they just a collection of photo apps like the game hub? When I heard the term "lenses" I imagined an overlay on the default camera app... But it just takes you to the app you choose.

It are actually just shortcuts. If you want to make a fast fine (because of an Alien xd), just press camera button then to lenses instead of open the app itself.

Wait...how have you got this update already? Come the Heck On Store & refresh already

Just re-load the beta Store link from the email, it'll show you the update.

I had lense & live tile last night. Did you click on the link in the email he sent us? That is how I check for the updates.

Been doing it for the past couple of hours. Just rebooted, will try again

Total AWESOMENESS! Can't wait!

looks like it is going to end better than the official app...

So angry I missed the beta invitations. I use my HTC one almost just for vine.

Stupid question Daniel but how do I change back to the vine green tile?

Yeah, it loads initially as vine green but then reverts to your Accent color. File under #bug, I'm sure it'll be fixed in the next update or two.

I'm using it and its great. I have the original on my work android and 6sec kills the original app. Big up's to Rudy..

Yup. Downloaded it a couple minutes ago. Good stuff!

I'm more excited for this than I am the 3rd-party Instagram apps! (They're not bad, but more people I know use Vine, and use it much more fun and creatively at that...)

Im not even sure what Vine is.. But that flipping tile in the app looks killer!

that's so fucking bad ass right!!! Shit looks sick I hope to the Windows Phone Gods that they all start doing something as equally creative because Windows Phone is the superior OS. :)



Anyone know how to sign up for beta? Or just download this in general? Thanks

You can try to sign up here, but space is probably full on a 1st come basis. Good luck! https://docs.google.com/a/smartphoneexperts.com/forms/d/1fTECY0VOyG7tL8Hq-_DRUG0zCS-VedE2lztyFVfLPfc/viewform

I noticed in lenses it showed chatsnap. is that the app by daniel gary? any updates on that?

Still in development, but haven't had an update since the 7th....I think with Swapchat out and doing well, he's working on Instance a bit more instead. He's but one man :-/

Its such a good beta! But what's that chapsnap app in the image?

This App is the everloving BOMB! I wish Icould make a Vine with a tenth of the creativity as Rudy has making Apps

This app is great, Microsoft should give Rudy and all the great developers like him the $100,000 for this kind of apps

Rudy is a monster! Much respect!

I guess this would be impossible for 7.8 users?

I read on his twitter that he was porting to wp7 right after the release

One of the best apps on the platform. He does amazing work.

I'm looking forward into trying it out

Just updated Rudy's app and it is beautiful. Always loved his previous apps and now loving #6Sec also.

Rudy.. You're awesome! We love you man.

I've never used Vine before, but I can't wait to try it once this app finally gets released!

Dang I missed the beta train. Is there any chance I can join the beta user list right now?

I wasn't a fan of vine... but now... THIS makes me want it.

I want Vine!!! (mainly BC other platforms have it)

Rudy is a man of his word!

Off topic but Daniel can u tell when will update to whatsapp will finally arrive......its been in beta for such a long time....please give an insight on this ..

Think instagram for video shorts

Ugh if I had known I would've hold off paying for Viner...:/

This app works flawlessly, every update I get improves the app and every update WORKS!!! great job Rudy

Beta sign-up form says Beta will be released today?


I signed up for beta and was told it would be available in the afternoon, heard nothing since :-(

Does the app support 520 620 720 Lumia devices?

Windows Central Newsletter
Get the best of Windows Central in in your inbox, every day!
Thank you for signing up to Windows Central. You will receive a verification email shortly.
There was a problem. Please refresh the page and try again.