Unofficial Vine app for Windows Phone, 6Sec, gets upload ability in latest beta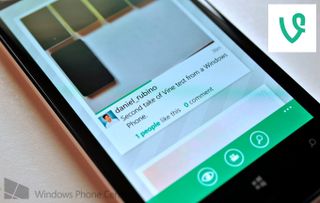 We told you about the unofficial Vine app called 6Sec and made by Rudy Huyn a few weeks ago. The app is currently in a private beta and progressing nicely with daily updates. The latest brought with it the much coveted upload ability, allowing those with a Windows Phone 8 device to finally create and share actual Vines with people.
The system is much like Instagraph in that it doesn't "hack" any APIs but it does use a relay server to pass on your six second creation to Vine's servers for posting. Rudy had to wait until he got the hardware to handle the process and today, along with an app update, it was all put together.
We tossed together a short video tour of the app's current status, which you can take a peek at after the break...
In addition, users can now connect to their Twitter account for easy social sharing and presumably other social network abilities will be brought online in the coming days.
Vine, a creation by Twitter, takes the same philosophy of the short messaging service to video. It enables users to create six-second videos (which are really more or less animated GIFs) and like Twitter, has resulted in a new "art form" for many due to the creative restrictions.
Currently only iOS and Android are officially supported but with Huyn's recent progress, it shouldn't be too much longer before Windows Phone users can join in on the phenom.
Update
Rudy Huyn, the developer, has passed on some interesting statistic and upcoming features of 6Sec. Very exciting and impressive, to say the least!
Upcoming features
Live Tile + background agent (tonight
protocol extension (tomorrow)
Lens (tomorrow?)
A better UI (I'm looking forward to show you it)
Some numbers
600 videos have been uploaded!
Development Time: 68 hours
Number of Developer : one :D
Number of beta versions: 11
Number of beta users: 900
Daniel Rubino is the Executive Editor of Windows Central, head reviewer, podcast co-host, and analyst. He has been covering Microsoft here since 2007, back when this site was called WMExperts (and later Windows Phone Central). His interests include Windows, Microsoft Surface, laptops, next-gen computing, and arguing with people on the internet.
WOOO Happy Day! Thanks Rudy

Can't wait for this app to be available to us all!

Love using the app! Very well designed too

Me neither! Hopefully that release date will be soon.

I haven't been able to log in since the last two updates...

I keep being told 'The session key is invalid'.

Do you use twitter or an email/password to log you ?

Try to sign out and sign in again.

I use an email. But I'm not logged in to log out.

Upload process is very fast. Hope it is able to stay that way when there are a lot more users.

Make sure you start out using it on Wi-Fi until you know how much data you use. It uses a ton of data according to DataSense. That is a lot of video to stream.

I was there on the video demo :D your second follower it seems Daniel ;)

Wow Rudy wow! Its as good as the official vine app...

I saw the tweet and I thought that an article must be coming :D

AWESOME app ..now i'm waitin for official Snapchat app or a good alternative which supports video and push notifications unlike Swapchat and lastly ... an update from What'sApp and Kik !! :D

That app looks REAL good.

Nice app, I hate Vine and all the teen masses with the shity Kik-vine-snapchat apps.
Just go to a house with a red light outside if its hard to find a girl. Stop masturbating watching legs with heels from snapchat.
Damn, Im gonna listen Slim Shady to chill.

The app UI looks very clean and beautiful. Even after the video though, I'm still not sure how vine works. :S

Just think of a mobile live "stop action" app, like how claymation is done. Same concept. It records videos, but only short snippets. it then pastes them together to make a "full video" which is just a collection of smaller clips. Not much different than a six-second time lapse video. That ability plus the time-limit, forces users to get creative with what they do with it--so while there are some dumb clips (like my phones above) some people have really done some interesting things.

It's epic. And it's still in beta. One of the best WP apps so far

It is Epic. Rudy is one of the most, if not the most, talented developers there is for Winphone apps. His apps are always so well thought out while conforming to the principles of Metro. I love this app, it is truly beautiful while still efficient and functional...

Mine is not taking video, I hit the camera button but nothing happens

Well, beta is beta. Use the Bug/Report button to give Rudy feedback on UserVoice...that's what it's there for ;)

Shutter button has been added in the 2.1 version, so update your app !

In fact, there is now two way to make video :
- the standard way with Vine client : hold the camera preview
- hold the shutter physical button (new)
It's take video only when you hold

Figured it out Rudy, with the help of wpc members, it was mainly my stupidity. It is a fantastic app as are all your apps. Keep up the great work

No such thing as a stupid question! Ask ask ask away! WP fans are here for each other :)

Hey Rudy! I just sent in my ID for you to add me to the beta. I tried downloading it, but it said I didn't have permission too! Please help!

Meant to say I hit the camera button then the screen to start a video and I get nothing (no green line across the top)

I've held my finger on the screen and it records while holding my finger there.

Thanks Micah works great and I feel pretty stupid right now :)

I haven't been able to sign in since last update :( i tried signing in using twitter as well. But that did not work either. Says my session id is invalid.

I've just fixed this by reinstalling the app. I let Rudy know on Twitter.

Kudos to the developer, great app!

Anyone who is getting the "session key is invalid" message just uninstall the app and then reinstall it and you will be able to log in no problem! (The link to install the app is at the bottom of Rudy's email he just sent out to everyone about half an hour ago if you can't find it).

Devs are taking notice at making work around apps for major apps that windows phone is missing its a cash cow

Rudy is doing great work with the app and I had fun really trying it out and sending my first Vine. http://vine.co/v/hBJJJ0F5g1Z It did take me a couple of tries to figure out how to slide to flip a Vine to see more options. It's fast and useable on mobile data. I had LTE service when I tested. I will probably turn off the auto play while scrolling. Some are really loud and I wonder about the data use and battery drain. Overall, its a really great app.

Let me guess, no love for windows phone 7.8 users right? Sigh.

He's 1 guy, no idea if he plans a 7.x version, but he's not even done with this one so you'll have to be patient regardless.

Thank you Mr. Huyn, you and developers like you are really doing the Lord's work when it comes to adopting big name apps for the platform. While I don't use Instagram, Vine, or Snapchat, I will buy their 3rd party apps just to show support and hopefully encourage other developers to bring apps to WP in a timely manner. I think 3rd party apps don't get enough credit. I'm starting to liken it to name brand products (food, clothes, medication, etc.) and the store bought brand. Why worry about getting Kellogg's Rice Krispies if the store brand tastes just as good or is somehow able to improve upon the original? I think more sites need to review and make the public aware of great 3rd party apps for WP.

Its better if the dev takes his time to provide a great app, rather then a rushed one with bugs

Indeed, I'd much rather Rudy didn't make the same mistakes as the Instance developer and launch with a load of bugs.

Good news in a good day. Cheers

Thank you Rudy!! I am looking forward to giving you some $$$$$$$$ $2.99 and down is more than fair to me at this point

Either you have no news to publish either Rudy huyn is the only Windows Phone developers.
This is really favoritism to have so many post on just a BETA. 3 news on a beta, who got such treatment?
Can you give us a break?
There lots of good developers outside and some way better than rudy. I'm sorry to say that so far i haven't seen any revolutionary concept in rudy's app. Check out the store and you'll find some really beautiful jewel


I get what you mean but this is news simply because it offers an alternative to an app that is massive on other platforms. (Full disclosure - no interest to me).
It also gives the developer some good exposure for their efforts and promotes the more exciting developments on the platform.
No one is forcing you to read the articles... Also, both Instagraph and Itsdagram/Instance had at least as many stories on their betas, if not more.

How about you don't read it then?? Sounds to me like you are a bitter dev who gets no love :P

Bitter dev? you can add several s to that word. Trust me, lots of developers starts to be really upset about the fact that there is only one dev on WP Plateform.

Do you visit wpcentral every single day? If so how do you seem to miss the numerous articles they do on completely fresh apps? They even cover minor updates with no visible changes! And this app( also instagram & snapchat clients) are covered a little more only because people here are desperate for them, they're insanely popular services officially not on wp. And yes in my opinion Rudy,Daniel Gary deserve fame for their work (not to say other devs don't )

6sec, Viner, Instance, Tumblr, YouTube (when it was here), Facebook Beta, Twitter update. 7.x gets no social app love

Will this still be coming out although an official Vine app is in the works?
Windows Central Newsletter
Get the best of Windows Central in in your inbox, every day!
Thank you for signing up to Windows Central. You will receive a verification email shortly.
There was a problem. Please refresh the page and try again.