Upcoming Windows RT update won't support new Windows 10 Universal apps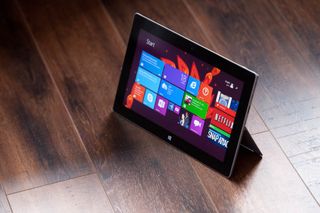 The upcoming Windows RT update that will add a new Start menu and lock screen for devices like the Surface RT and Surface 2 tablets won't be able to run apps that are made on the new Universal Windows Apps system that Microsoft developed for Windows 10.
The Windows RT update will be released sometime in September for the handful of tablets that used Microsoft's ARM-based operating system. Even though the Universal Windows Apps are designed to run on both x86-based processors and ARM-based chips made for smartphones and small tablets, ZDNet has now gotten word from a Microsoft spokesperson that those apps still need a Windows 10 core to run, which won't be available for Windows RT users.
Here is Microsoft's statement on the matter:
Source: ZDNet
Windows Central Newsletter
Get the best of Windows Central in in your inbox, every day!
Should use my 2520 for firewood Posted via the Windows Central App for Android

Haha. Firewood for the whole locality.

MS, if you not going to deliver universal app. Don't bother doing anything, save yourself money and redirect the developer effort elsewhere. Either way currently the same amount of people will be pissed off at the end of the day.

They did offer a chance for people to trade in their RT devices for money towards a Pro device giving a fair amount of money for the exchange. I am not sure what else they can do. I really dont get the outrage. My device has worked great for the time I have had it, and MS has gone above and beyond anything I expected them to do.

when and where did they do that? I'm sure they didn't do this in Belgium... Not that I'm complaining, since I'm pretty happy with my surface 2.

Don't get wrong, happy with the device but start menu brings nothing, with UWA id have got touch office apps, edge maybe, new email and Calender. Hence MS might as well spent there effort building a bigger app store.

The outrage is that they make Windows 10 work on all sorts of IoT devices, Raspberry Pi's, and who knows what else, but they don't make the effort to make it work on their own devices. It's bean counter mentality -- the same one that kept Windows Phone 7.5 devices from getting support for 8.0 when many could have run 90% of the apps that later came for 8.x.

There is no upgrade for RT because there is no Windows 10 ARM device with a desktop and complete file system, and no 10+" screen with free Office. So technically there is no way to upgrade RT device aside from clean install and loosing many features, and that is not something that upgrade should be, right? Anyway, at that price range most non-Google Android devices have never received any update. Clearly you can say that iPad did, but I am just saying that in situation like it is this makes a lot of sense.

Nonsense. There are tons of Windows mobile devices, and Microsoft IS going to deliver a pair of flagship phones running on (you guessed it!) ARM processors with Continuum, allowing them to run (you guessed again!) a desktop and Universal Windows apps.

WOW, please share your impression on what happens when you wake up and realize that you live in a dreaming world. Continuum for phones has nothing to do with a desktop (there will be only full screen apps), so there won't be any kind of desktop and let alone desktop apps!

This was a first time product, there is a risk. I got the use out of it I expected. Sometimes products are eventually abandoned. The end. My Google TV was eventually canned as well. I got over it.

Windows 10 does work on IOT devices but it's nothing like regular Windows 10 or anything you would want to use on a Surface RT or 2(it would destroy any remaining functionality the device had). Windows 10 IOT runs a single Universal App specifically designed for the device to be somewhat of an OS, it doesn't even have the Windows 10 shell. Microsoft has said RT devices would not be updating to 10 right from the Windows 10 announcement.

I thought this was usa only?

That was my thought. There is no point doing anything as people are used to the device as it is. If there are no gains from bringing UWA then there is no point making any changes!

Or they can just put Windows 10 mobile on all rt devices.

Yeah, at least have an optional 'upgrade' to Windows 10 Mobile. You get UWP, Continuum (maybe), and some other new features available on Windows 10 Mobile.
Windows RT aims to be competitor to iPad-like tablets but with a confusing message because of existence of 'full' desktop that doesn't allow you to install desktop apps, which the only big value over there is the Desktop Office.
For me Windows 10 Mobile would be a viable 'upgrade' path from Windows RT. The only big thing will be missed is the x86-like Desktop experience and Full ARM version of Office 2013. At least by offering Windows 10 Mobile for RT devices, it gives the platform a proper goodbye but making those devices extended use for a long time. It also shows that Microsoft is committed to their existing customers to make them stay happy and make their devices relevant until no one is using it.

Well said, I'm super pissed off. I spent a lot of money on my Surface 2, now Microsoft has stabbed me in back. I don't want the start menu, when the new apps start coming in, give people an optional update to Windows 10 mobile.

My surface heats up when playing any game already. All the firewood I personally need, i guess..

Lol Posted via the Windows Central App for Android

i don't think it'll stop working for you due to lack of win 10:) Plus as of today, i think there are more apps for win RT then specifically for 10 :) Cheer up...

My surface RT works today, it will work the same way tomorrow.

I'm sure ms and the rest of the developers will keep updates flowing for RT... They barely supported them before 10

Why are people on surfaces rt's? Lynx 10 has quad core intel chips and for £130 ish not a huge dent to hers win 10 actual o/s also the 7" is £59. Alot cheaper than rt was when out

Why? It's still a perfectly fine device.

2 years ago. I have since moved on to S3 since there are x86 programs I need and the hope that some of the apps I would like be expanded into RT never happened. I was hoping universal apps would had at least made it, but... And I'm sure there's people that say WP 7.8 is still a fine device as well. Posted via the Windows Central App for Android

and the CEO said that they are commit to RT. lol Can we trust next time?

They should just give the option to flash Windows 10 Mobile rather than develop a separate SKU (which they aren't doing given the handful of RT users).

What are the technical problems in doing this? Perhaps screen size, which is supposed to be max. 7.9" for W10 Mobile?

There are no technical problems, but there are legal problems. Since you'd be reflashing the device with an entirely different SKU, you'd need a new license, and there's no way for a normal consumer to have a license for the mobile SKUs. Plus, Windows 10 Mobile can only be used on 7.9 inch screens and below. Microsoft would have to change the rules for just themselves to get it to work. I suppose Microsoft could get around the rules by licensing it to themselves, but that seems rather unfair to their partners "tehe, guess what we can do and you can't?". And while RT users don't like to hear it, they're so small that they're fundamentally unimportant. Maintaining good relationships with their partners is more important.

Microsoft shouldn't care about pissing off their partners if it makes the users happy. Thats the same bs excuse m8 owners use for Microsoft not having Lumia exclusive. I seriously doubt most OEMs Will care considering rt users are a small bunch.

I can't find any logic in helping a few tens of thousand users over their partners which ship 300 million devices/year. Either way, its about Microsoft showing that they're willing to break policy if they feel the need to, and that's what would piss OEMs off, not the why. Please think in facts and not feelings

Fact is...what are their OEMs going to do? Get pissed and swich to making Chromebooks exclusively over Windows despite the fact that outside education, Chromebooks are a flop....oh gasp, maybe they'll make this the year of Linux. Logic is, this is not the first time Mictosoft screwed their customers over(See WIndows phone 7) and brought a gimped update that is more of an insult than anything useful(see Windows Phone 7.8)....when you continue to burn your users who support you, that also makes them go "Microsoft sucks" and then become team apple or android. How many people left Windows phone when they discovered their brand new Lumia(and lesser windows phone) were obsolete and unable to upgrade to Windows Phone 8.....while the number of RT users is far less than WP7 users, that still does not put the OS and company in the best light....Besides most RT users were from Surface/Lumia 2520. So i seriously doubt they'd piss of OEMs considering those OEMs gave up on RT long before Microsoft did.

No, fact is that if I were an OEM and my biggest partner broke their own policy for something so mundane and fundamentally unimportant as an update for Windows RT, I would definitely start pushing the product of my loyal partner (in this case Google) a lot more than I would normally.

Well good luck with that. Push google and watch your company become the next Nokia/Blackberry. I am not sure what the big deal is if Microsoft pushes the update to all RT devices(Surface and Non).....

"I am not sure what the big deal is..."
I literally just explained it. I'm not surprised you didn't actually read my comment though...

Why break policy when they could just release the exact same version as Windows 10 Mobile and just call it Windows 10 for RT, Windows 10 for Surface ARM, or whatever they want to call it... It would only be available for RT tablet and the license upgrade would go exactly like the upgrade from Windows 7/8/8.1 to Windows 10... click ok and done. Assuming that ARM processors were as easily portable as touted by them when they released Windows RT, it should be easily updated as it would be the same version as Windows 10 Mobile.

I think yeah, they can able to go around that policy. It's not only Microsoft will benefit from this but also other OEM who make RT devices. At least those RT devices will be kept relevant for another year or so and keeps the user not feel their devices are irrelevant. Especially that they're actively pushing UWP, RT with UWP will be soon 'useless' faster than light.

Yeah as an RT owner (original one) I'm not mad. MS is a business and as a fan I want them to make money not collapse. A business has to do what makes business sense. Sometimes that's keeping people happy. But not when the customer is a tiny % of overall business

The same way current 8" Windows tablets dont get Windows mobile could be applied to RT devices. Its a one off and on top of that only the Asus Vivotab runs RT so the numbers are miniscule. No partner will be pissed off as the hardware is so old only a few will be holding on to it anyway so future sales are minimally impacted. Plus since RT was pitched as a tablet/mobile OS they could upgrade to Win 10 mobile as a logical path. Reality is they just cant be bothered, there dont seem to be any technical or other reasons why they cant update them.

If there doesn't seem to be any reason for Microsoft updating, then its you, not them. "Oh, we can update the thousands of Windows RT users to windows 10 without any cost to us or other OEMs? Nah, let's not do that." Is not a conversation that took place. Microsoft is a huge company. If spending the time and resources to develop windows 10 for RT made sense, they would have. Yes, it sucks that they aren't. I'm regretting buying a Surface 2 for my sister. But Microsoft isn't being malicious, and they definitely have a reason for neglecting RT. Posted via the Windows Central App for Android

The RT user count is in the millions. The majority of them are the original Surface that people bought on the cheap. I got mine refurbed for $200. I would like an update that would run universal apps. It would be great to have W10M, but I can't be too upset. I would be more upset if I bought a Surface 2.

You've got it backwards, man. If Microsoft broke policy for something so unimportant as an update to Windows RT, I would be even more pissed if I were an OEM. That would tell me that Microsoft is willing to bend the rules for whatever arbitrary reason it felt like.

OEM already abandoned their RT devices, they don't care already for a long. At least giving it W10M upgrade, it to makes their mutual customers keeps happy.

I'm assuming this is it. However, I still think RT users should have some option. I'm sure that someone will find a way to flash W10 on it somehow though.

There's still the possibility of a jailbreak. Now that Microsoft won't support RT users just have to stop receiving updates and hopefuly someone will use an unpatched bug to jailbreak.I've read rumors about that already being done but they won't publish it because Microsoft could patch it.

Yeah I find this really odd... maybe some inventive individuals will figure out a way to do it... cuz this seems like quite the waste. They're already developing Windows 10 Mobile for ARM devices, and it'll be designed to run on 'small tablets'. It may not be ideal, but dropping the 8" Tablet UI on slightly larger tablets seems like a much better idea than leaving them out of the loop and sticking them with "Windows 8.10"

That's the point.they should people let get win10 mobile.

Windows Phone 7.8 all over again

This. Fuck off Microsoft really.

Yep I totally agree with you. Keep screwing early adopter is never good. Why should I ever recommend a MS tablet to anyone after this?

Because they're actually running the same OS this time around.

Intel based tablets are the way to go.

The writing was on the wall from the earliest days of RT being available. It really shouldn't come as a surprise...

I really get tired of hearing this reply on these forums. Microsoft gave the impression at the time that they were going to support RT for years to come. I even waited until the second device just to make sure. Shortly after is when they changed their minds. I'm sure it is better for them, but at the same time they have lost much trust in any future products they release. I know that I will be very leary of ever purchasing a new product from them again for myself or the company I do the IT purchasing for.

Technology moves on, we have to too unfortunately

Yes maybe.. But the devices like the surface rt, surface 2, and Lumia 2520 that came out literally.. Less than 3 years ago are left behind... Sure they'll get some regular windows 8 updates.. But nothing close to win 10? Why did I waste 500 on my surface 2 then if MSFT doesn't care to update it properly?
Of course this just all my opinion, and I am in no way attacking you or directing questions at you. Just something for others to think about. And hopefully MSFT. Which I will be complaining to.

So I got screwed one more time, first with Windows Phone 7.8 and now with my Surface RT...

Same, but I'm hoping there will be a future update with Windows 10 Mobile. If the Raspberry Pi 2 can run Windows 10, why can't the Surface?

This really puts Windows RT dead without a proper burial. :(
If they at least just deliver Windows 10 Mobile for RT users instead. But doing that is too much sensible. :/

Screen size limitation is probably why they're not.

Its a self imposed limitation, there's no other reason RT devices cant run W10M. Even if they deliver a reduced feature set as is rumoured for 512MB WP devices it makes for better PR and keeps users happy. However nowadays MS seems only concerned with keeping ios and android users happy......

Yeah, its an artificial limitation. Windows 10 Mobile can't run on 10 inch or even more since its got Universal apps that scales from phone size to Surface Hub. They should at least make an exemption with RT devices just to keep costumers happy and loyal. This decision is a ouch on the face and kick at the back for RT users, especially who just bought recently.

I worry this means that existing apps for RT will never see updates again.

So sell your Surface and switch to something with a future...e.g., one of the myriad of cheap Windows tablets/convertibles!

Or how about a platform that has a booming app ecosystem like I don't know maybe Apple or Google. RT is a major blackeye for people that have supported MS mobile efforts. I've already reached the end but seriously this should be enough to show people that MS support is a joke, just go elsewhere and buy something that will last the long term.

Really? You think Apple and Google support their devices longer? Standard support for these products is 2-4 years, then you no longer get OS updates and then app support falls off as updated apps come along and the older apps no longer work because they updated things on the server. It's the same with iOS and Android, so don't think it will work out any better.

Well that's just not true. iOS 9 supports back to iPad 2 and iPhone 4s which both came out in 2011, I'd say that's a much better record than most MS devices including Lumia, it'll be interesting to see how many of the older devices officially make it to 10 and then taking carrier support into account it'll be even less than that. Also looking at it from a desktop OS it's even better, El Capitan will support Macbooks from 2008 and iMacs from 2007, for me that's pretty damn good.

Yes, they've been supporting them longer, but the first few iPhones still only had around 2 years of updates. And while the iPhone 4 was supported for 4+ years, it was only discontinued 9 months before its final update and was being sold in developing countries a few months before that update. And don't even try to compare desktop OS. I've installed Win10 on computers over ten years old without issues. Apple has nothing on that.

iPad 1 release 04/2010. Last OS update (5.1.1) 05/2012. i.e. 25 months support.

Its actually harder to sell Surface RT. Its completely dead now.

"There are lots of apps that work on RT" lots... Ahahahahahahahah

There are hundreds of thousands of apps, whether you like them or not. Chill.

They aren't even apps. Come on stop fooling yourself.

Whether you like them or not is another question, they are still apps by definition.

Yikes.. Read the post correctly, dude. The main point is that a quote in the article stated that 'there are lots of APPS THAT WORK ON RT'.. But you're over here arguing that there are lots of apps. I mean come on.. Different arguments bro

Hundred of thousands... Posted via the Windows Central App for Android

There was an article a long time ago about the Windows Store passing the 200 000 apps mark.

And nearly a handful of actually useful ones!

There are hundreds of thousands...

Time to vote for this suggestion on Uservoice, fellow Windows RT users (and everyone who wants to support this cause!) https://windows.uservoice.com/forums/265757-windows-feature-suggestions/... Thanks! ;)

Just put in mine. I don't even own any RT devices, but think that's a great idea.

I don't own RT too, but RT users don't deserve abandonment like this. Its technically upgradable to Windows 10 Mobile and offering that to RT users keeps those devices proper goodbye. Users will be happy at least.

Vote all you want, it wont change anything. Microsoft is very clear on stuff when they say a product is done, it's done. I cant say I actually remember then turning around even after a fair size demand. Features on a current device is one thing but, a offiicaly disconstiuned product....nah

It's not that you lose something trying to change their minds.

3 RT devices here. Using web, Netflix and office are fine and will be for at least another year. That would mean I've gotten about 3 years of use out of each one. So I'm fine upgrading later.
Those who bought more recently, I can understand...but RTs future was probably already known as limited by the time you bought them.

Just Hijacking your comment with this link that has currently something over 1000 already :). And I see it like kiba, with voting we won't loose anything. https://windows.uservoice.com/forums/265757-windows-feature-suggestions/suggestions/7012012-build-an-upgrade-for-windows-rt ​

We deserve more features in the upcoming update for RT, please sign this petition !!!! http://answers.microsoft.com/en-us/surface/forum/surfwinrt-surfusing/petition-more-windows-10-features-in-the-upcoming/f0a73988-2022-4297-82ce-eb49d2873db0?tm=1439080687128

Final nails on the coffin...sad very sad

They actually didn't put it in a coffin, just straight into grave. No proper goodbye to RT.

Always believed this OS would be a total waste, never should have even bothered with it.

RT devices should become Windows 10 mobile devices with Continuum built-in given it's 10" screen. It won't ever happen, because MS doesn't want to spend resources on the transition. RT devices will still be useful for the next year or so then.... Ever tried using a WP7.8 device lately? Pretty sad.

Need help downloading FIFA 15: UT on my 640 Windows Phone 10 Build 10166.

Maybe you should try the 640 forums.

Click download. Posted via the Windows Central App for Android

I know but I don't get the Download click. I just got: Sorry, FIFA 15: UT is no longer available. For help go to http://support.microsoft.com

Have you checked if your device can download it? If it can, I suggest you change regions on your phone and see if it's available on other regions.
Because I just checked and I'm getting the game as available to download on several devices with 1GB and 2GB RAM.

Yep, they said that RT is done.... it will work for years for browsing the web and the same tasks you are doing now. Just like 7.8 did. If you drop a SIM into a Nokia 900 (WP 7 device), it will work, you will get texts and you will get emails if you set it up to do so, it just doesn't get the newest of new... I'm glad I never got into RT, I always wanted a pro anyway due to some programs I run are started Windows programs, not store based.

Yep, I still use my HD7 as my main phone... primarily as there haven't been any WP8 devices worth upgrading to (flagship WITH microSD). I have a $40 Lumia 530 that I use for playing with WP8 & for dev testing, but I don't feel like I'm missing out on anything on my HD7... I still have plenty of games to play on there, and most apps work fine

Why not just give us Win 10 Mobile that automatically runs in Continuum mode so we also still get to keep the Desktop?

Hey, actually a very pretty idea!

Too sensible for Microsoft to do that. Its easier to just put DirectUI Start menu and that's it. So sad. :(

Dead. Why even update it???

I'm burning my Surface 2. And I'm so disappointed with Microsoft!!

Guys, guys, guys, let me lie down first, then you can pour your buckets of dust into my eyes.. :P

I wonder if they'll offer a upgrade program for surface RT models to get you into a surface 3 or 4 at a discount?

Best Buy always has this. Not much, but even a good condition S2 32GB gets you $57.

I would trade my Surface 2 for a $150 credit towards a surface 3.

they gave that earlier this year didn't they? i got 100$ for my surface rt to buy a surface 3, granted usa only i think

lol I own all 3 and honestly hate the Surface Pro 3, I preferred the 2. It's such a useless POS compared to pretty much any other device I have. Heat and fans suck, battery sucks and even with cover down it'll randomly run out of juice. I can't even develop Windows Phone apps on it without jumping through hoops and labotimizing it's awesome tablet power saving features. One of the worst purchases I've ever made. Ended up replacing my Surface Pro 3 with a Macbook Pro 13 and couldn't be happier.

I love my Surface RT - not the fastest but for the price i paid, I have gotten a ton of use out of it. I will keep it and probably pass it done to one of my kids to do school work on when I upgrade.

If true, it's devastating to RT users because many devs are transistioning to universal apps. Non-universal apps won't be support for long.

That's the new Microsoft...

That sucks, but wont really effect anything for me, ill still continue to use my Surface 2 as I have been. RT works just fine for me, I was hoping they would've done a Surface 3 RT.

So the Minecraft: Windows 10 edition for surface rt/2 is out of the question

If true, Microsoft MUST offer a huge upgrade offer for RT users, like $300 for trade-in. Then I will fine.

That's more than I paid for my refurb Surface with keyboard years ago!

OK, $100 for RT 1 tablets. $250 for RT 2. Applicable to Surface 3 purchase. That's a fair deal. They were selling Surface 2 not too long ago. People who bought them are now stuck. MS must take care of loyal customers.

They aready did this once. Hopefully they will do it again.

It's a shame, I'm not going to buy a windows product anymore

Yes you will. Unless of course you're going to stump up a serious wedge of cash for a Mac?!

This is why I sold my Surface 2 this past weekend. I got less than a third of what I originally paid for it. And I included a type and touch keyboard, a 32GB card and two wall chargers. Glad I was an early adopter /s. I think I stay away from another Surface for now.

that would be extremely silly. all surfaces run full W10. they are great devices. I'll run my surface 2 for now and as soon as there is a great trade-in program, I'll switch

Why not release Windows 10 Mobile for the ARM powered devices? After all, it would be able to run all universal apps (in Continuum Mode, maybe). Meaning, they are expected to run across all screen sizes. We know that there was a leak of the Surface 2 running Windows 10 Mobile a while ago which implies, technically, there are no limitations. If there are problems rendering phone apps to the Surface, Microsoft should make the required changes to the OS and overcome this hurdle, too. They are masters of this game. After all, they should provide full support to the people who purchased Windows RT devices when they had (or still having) a hard time doing business. C'mon Microsoft you can do this. Please go for it. Maybe I should post this comment as a UserVoice suggestion also to get more attention by MS. Good idea.

Why no Windows 10 Mobile? Because you would downgrade from a full OS to a mobile OS. This is as far as functionality is concerned. From usability point of view, you would go from an UI optmized for 2-hand use to an UI optimized for 1-hand use (or even worse, going to Windows 10 tablet mode/continuum which is total crap)

On a happy note RT is the only Windows tablet with non-crappy tablet experience (in addition to W8.1)

But the question is, will that change when they update the start screen?

It will. Instead od the handy fully-screen all-apps list that we can now swipe in from the bottom of the screen, we'll have this small clunky mess jammed in the narrow left area of the new W10 start screen.

The suggestions here on what to do with the RT other than what Microsoft has planned sound so logical and creative... Therefore.... I wonder why they don't come up with a way to use it as an interface with the Xbox or other systems like smart tvs, home security, etc...surely someone can come up with better uses than what MS has in mind.

And this is the end of Windows RT. I have a Surface RT and I'm not happy.

i don't think it'll stop working for you due to lack of win 10:) Plus as of today, i think there are more apps for win RT then specifically for 10 :) Cheer up...

Yes, but what happens when they drop out of the 8.1 store. You know, the ones you paid for but won't be able to reinstall. At some point this will happen.

Still the same Windows 8.1, why would someone think it will be able to run Windows 10 apps?

I feel for everyone who has an RT device but you're taking a chance that this will happen everytime you but an electronic device. Posted via the Windows Central App for Android

Thank god my Lumia 2520 was free, as was the powered keyboard case.......this news sucks but it doesn't sting nearly as bad

So... anyone wants to buy a 1,5 year Surface 2? Very practical as a kitchen cutting board, it even has a kickstand for easy dry after wash... a must have for any home chef. :P

Lol, that's basically what it is now. Ugh

I don't get it... your device can still be used for browsing, pictures & videos. It doesn't suddenly stop working. You'll have a huge choice of apps/games for some time to come still. It's like say WP7 is 'dead' but you can still get games & apps from the store

Crap, I was worried they gonna say that ...
Uh well, my Surface runs fine as it

Not a fan of this decision.

What is it about the RT that makes it not like a regular computer? Why can't you just wipe it and install Windows fresh like any other computer?

Because its ARM. But that's doesn't mean it can't handle Windows 10 mobile.

The fact that its ARM based. You cant install full Windows on it.

Looks like,the way of ios,on iPad one,SUCKS!!!!

Yeah - I have an ipad1 that cost a LOT of money back in the day, but it's basically useless now

I get screwed 2 Times by Microsoft. The first one with my HTC HD7 running WP7, and now with my Nokia Lumia 2520 running Windows 8.1 RT... I love Microsoft products, but they're seriously bullshiting right now !!!

You didn't actually get screwed. Both those devices are working today exactly the same way they worked when you bought them. All this means is that you won't get further updates. Neither device really had many top apps from the very start and years later they still don't. The current apps still work, the first party apps work, and the browser works. So, you can continue using it the same way you always have. You just won't ever get new functionality either from updates or from new apps. This is a fact of life with electronics. Devices last for about 3 years and then get obsolete and you have to get new devices. This is a fact with IOS and android as well. The latest IOS update won't install on older iphones or ipads. The update is needed for many newer apps to work. SO, people using those devices are in the same situation as surface users.

Your saying iOS won't install on a 3 year old iPad? or iPhone? Ummm your wrong.

You know, I should be annoyed about this, but given that A) My Surface RT ended up being free due to a glitch in the Shipping system and B) It's actually useful for when I travel and I want something with awesome battery and an ok keyboard to keep writing, I'm not too pissed. OneNote on RT fills my need, along with Bookviser/Nook/Kindle to read. It does all I want it to do.

Good thing I sold mine last year!

It will remaind basically a browser with office. This is dissapointing for sure, but the app situation is already so bad it barely moves the needle. I hope they offer a generous credit for trade ins.

So shouldn't the android apps that are coming be able to run unless it requires windows 10 as well. What I don't get is why can't RT be turn into windows phone for tablets like 8inch or lower

oh they could ... but since microsoft decided in their infinite wisdom to use nvidias tegra 3 & 4 in their tablets, being literally the ONLY company to ever use this chip, they would have to make sure windows 10 mobile supports this chip. that would cost a little money and they obviously are not prepared to spend it on that small group of their most loyal customers. so surface owners just are left in the dust. not supporting the 2520 with its snapdragon 800 inside on top of that is just pure evil because there are litterally zero, nil, nada reasons not just to allow an upgrade to win10 mobiel on that device. but then that tablet has even less people owning it than the surface 1&2 so they just dont bother it seems.

I dont think i'll use my 2520 less because i wont get Win 10 on it. I'll continue to enjoy it as i do today since it fits all my requirements. Though having Win 10 would have been great.

What is this I don't even? So my RT device will get a worse start experience and nothing else. Why even update when the start screen is far better than the Windows 10 start menu. Even worse than the whole 7.8 debacle. And combining this with the OneDrive changes it really shows that they don't give a fuck about their early adopters.

Has a uservoice campaign against the new start menu for RT been started yet?

My 2520 died a month ago any way (just days after the warrant expired). Just Microsoft way of making these devices unappealing for continued use and encourage people to buy surfaces.

You have to define scam. The surface RT devices worked and continue to work. They never had a lot of apps from the very start. I also believe that Micrsoft promises like 2 years of update support for those devices. So, it would be hard to argue you got scamed. You just didn't get improved user experience you hoped for. Everyone was hoping the app situation would improve. It didn't. Now they are moving forward. Although, if there is no technical reason they can't install windows 10 on it, they should really do it as a goodwill gesture. I bet the only issue is driver support for the older chipsets.

I feel like I totally saw this coming, but it still sucks. I had the original RT and I still have the surface 2. That's a lot of money I threw down for someone on my limited budget. Changing the start screen is the one thing I don't want them to do, yet it's looks like it's the only thing they are doing. I now have a surface 3 through at&t and I have mixed feelings about it. Being a loyal Microsoft customer lately certainly means being at one with their growing pains.

My Surface 1 (RT) has been a great device, which I used daily for quite a while. Lately slowed down and is a bit painful to use. I should be more upset about and the lack of Win10, but I'm not. It's time for me to move on. When I think about it, all I used it for was the following: web email video (netflix, hulu and local files) onenote light office It still will do all of this just fine for more years to come, assuming the battery will still hold a charge. I'll probably just set it up as a device for my kids. I feel for the Surface 2 buyers. They didn't get nearly the same usable lifespan.

Problem is this breaks the "unified" experience for RT users who have other devices with W10. No Edge (meaning no tab, bookmark synching with W10 Edge), no universal Mal/Calendar, no Groove, and most of non-universal apps will probably not be supported by developers for long. Not even a bug patch because they will not maintain two versions of their app: one for RT and one for universal.

I hear you and I agree. I have no arguement. None of this will change how I use my Surface RT. I was a day-one adopter. It's nearly 3 years old. I'm ready to move one anyway. I'm hoping MS will offer a decent trade-in incentive.

I'm a tad disappointed, but my use cases are simple enough that I don't mind all that much. edit: that said, after this and wp7, I'm not in a hurry to invest in any new ms platform (be it band, ar, vr, or other)

So no updated core apps either huh? Really glad I didn't grab that 2520 when they dropped below $200 now.

You do realize that at some point in time all iOS devices are also left behind, not upgradeable? I have a Surface RT and I'm not at all upset. It does what it did when I bought it, and I was never promised anything more.

You do realize the iPad 2 will get the newest update? Yes, the origianl was left behind but even it had a longer lifespan then I will get out of my Surface 2.

iPhone 4S is still upgradable to iOS9. That's a 2011 device!!

iPad 1 had precisely 25 months between release and last update. Surface 2 was released 10/2013, so if RT update comes out in Sep or Oct then that's 23 or 24 months respectively. I think 2 years of updates is reasonable. iOS barely changes functionality-wise, and newer features are often limited to newer devices (i.e. they can upgrade the OS, but it doesn't have 100% of features)

I disagree about 2 years of available applications being available being acceptable. This was a $500 device, not a toy. You didn't even get the keyboard with it, so closer to a $650 device.

I said 2 years of updates, not 2 years of applications. You will have a multitude of applications still available for another 1-2 years. It's only the new W10 universal apps that won't work. So current (and presumably non-universal apps) will still work...

#rtbutthurt. #getwhatupay4

Wow, same as wp7 devices. Shame

Well, I guess that's the end of, what was already very limited, use of my Surface RT. I'm with everyone else being confused on why they don't make an exception and put W10M on them since they're such a limited number out there anyway.

Literally nothing has changed with what you could and still can do with your RT device. Apps were always limited, but they are still good for browsing, videos, pictures, music, office etc. Download the apps you want now and it'll be good for years

No matter how pro-MS I am sometimes, one has to be admit that Windows RT is one of the biggest tech blunders ever, an aim-less, featureless, gimped OS that only brought artificial fragmentation to Microsoft's ecosystem.

I don't necesaily disagree, but I understand what MS's goal was. They wnated to make a device with the capabilities of an iPad with a similar price. I think what kept that from working was that they introduced the Pro at the same time and it left consumers confused.

I still think it was a great idea, but it failed for lack of apps. If they had waited until W10 came out with the universal app platform and Android/iOS porting tools and then come out with RT after more apps where in the store, it would have been fine. The OS was not gimped. It was the available apps your could run. My parents and in-laws both have RT tablets and they have been great, no-nonsense devices for them. I use my Surface 2 daily and love it. It does everything I need in a tablet, I just wish it had more apps available.

Seeing that my 2520 does all I need it to do. I'm happy for the update, but I really don't need it. Having access to apps I currently don't use doesn't move me. I just wish there was a SimCity Buildit app, but since there is no app available now for W10...I'm not missing a thing.

Windows RT accounts for about 7-8% of Windows 8 sad 15% of Desktop market share --- do you guys really think Microsoft needs to waste resources into supporting such a small group of users?

actually yes ... because those few people are about the only ones who were carrying the torch for microsoft in the mobile market. the move they just made (especially not simply making windows 10 mobile available even as an update at your own risk) is like lining up your evangelists and shooting them. a single negative opinion has the statistical impact of 10 positive ones. even a 1% marketshare total can be very vocal and thanks to social media a few people can create quite an outrage. granted, thost things pass within a few days but what remains in the head of joe noob is the underlying message "microsoft is untrustworthy, they screw their customers over". he will not remember where that came from, he will not be able to point to any specific reason for believing it but it will cost microsoft a veritable metric f*ton of effort and money to get that foul taste out of their potential customers mouths and that is on top of the general opinion that already exists and says microsoft is useless in the mobile market because "there are no apps" (which also is only partly true for almost two years now but persists nevertheless even with all the effort from ms). so yes, they should have invested the resources into suppporting such a small group of users - they are called early adopters and they set trends if you treat them well. microsoft obviously still has not learned this lesson.

I was just hoping for an updated browser at least. I also find it strange they won't let Windows 10 mobile get installed. It would be nice if they would offer a trade in promotion towards a Surface 3.

I was on the fence awhile back trying to decide Windows RT or stick with Lumia 1520 as my Phablet. Glad (so far), I stayed with 1520!

Ok guys. Very few guys are using windows rt....i don't care... next time, I'm gonna buy an iPad...

Why would you buy a limited device like an iPad when you can get full windows 10 device for the same money or less?

because the ipad has a lot more app that work well with touch interface I dont want to use a mouse with a tablet LOL

Fu** you Microsoft Posted via the Windows Central App for Android

I hope someone at XDA Dev manages to squeeze Windows10 mobile into the Surface 2. Come on XDA people, work your magic!
Please :)

I think it is technically possible. We will see.

It just seems so wrong to slap your most loyal customers around when there's an actual solution that doesn't really anger anyone.

Well, time to sell my Surface RT then...haven't used it in a year since I got my HP Stream 7 which works just fine at 1/5 of the price

I never understood the point of Surface RT. SP3 was really the only only product in my book...which I happily purchased and would do so again. Posted via the Windows Central App for Android on my BlackBerry Passport

Anyone want to buy a surface 2?

Oh well. Time to move to android/google devices for everything. At least I know what I am getting.

and its official ... microsoft is screwing its early adopters ... again. no wonder they have problems getting mobile market share, every single time they promise that they are behind something they leave it behind when it does not work out as they planned and do not even give you a workaround you could follow at your own risk. yes i am an early adopter, and you know what? after windows phone 7 and now windows rt i am actively warning everyone not to adopt any microsoft product early on, especially if microsoft promises to support your buy and is 100% behind it. if they do you can almost be sure its dead within a few years and unlike with android you do not even have the option to root your way around the limitations, you just are screwed. so thank you microsoft for making sure every surface and surface 2 an overprized paperweight in about 3 months time. that will go a long way for your reputation with early adopters but do not worry, i am sure those people are not the geeks everyone in their circle goes to to ask what to buy next. this will not cause any negative side effects at all ........

You're being ridiculous. Is this dumb? Yes. Does it make sense? No. Will it turn the device into a paperweight? Not at all.

I don't care, still use my RT device quite a bit and will continue to do so. Definitely got my money out of it. I'm more annoyed that Microsoft spent any resources to provide a Windows 10 update on RT when they could of used those resources to provide a better tablet mode on my SP3 running Windows 10.

and the CEO has said that they are committed to RT. lol Can we trust next time?

What's the point of even having this update then? They've stripped out everything worth wanting now.

I think you just described the entire point :/

How i disable automatics update?
I'll need this by September.

its a 10" lumia damn it, just put w10 mobile on it, its supposed to scale to any screen right? "na lets just give those guys motivation to get an intel tablet"

Cant they just install Windows 10 mobile for surface rt/2/2520?

This makes no sense. The universal apps will ruin on Windows mobile 10, which will run on most of the current phones, which all use very similar, if not identical, processors, RAM and storage to the handful of Windows RT models out there. Why in the hell would they release an update that doesn't do what the update for similar and lesser powered devices will?

We deserve more features in the upcoming update for RT, please sign this petition !!!! http://answers.microsoft.com/en-us/surface/forum/surfwinrt-surfusing/petition-more-windows-10-features-in-the-upcoming/f0a73988-2022-4297-82ce-eb49d2873db0?tm=1439080687128

Fuck youuuu Microsoft. I bought surface because I thought it would have a longer life span than an ipad. Fuck you again.

Well, MS is royally screwing with the most loyal customers, same as he did with WP7. It should provide optional upgrade to Windows 10 Mobile, there is no HW compatibility problem. So, i would recommend people with Windows RT devices to look/write/support people on XDA forums. There is hope yet.

Just rdp to a windows 10 device and you can use anything you want. LOL.

Wow, talk about a death knell to those users who supported a platform they were trying desperate to push. I'd be absolutely infuriated if I was one of those users, especially with how hard Microsoft is pushing developers to basically drop support for the old APIs and move to Universal Apps. Also, the resale value of anything running Windows RT has dropped to about $10, lol. What a joke.

OK, this little tidbit of news is very discouraging. I love my SurfaceRT, and it drives me nuts that they are going to treat it like the Zune. It's a "Tablet" for crying out loud, and should never have been marketed as anything else. IOS isn't OS-X, so why should RT be all that different from Windows Phone 10 OS???!! If you want a "Desktop equivelent", then shell out the dollars for the "Pro" editions, otherwise, UPDATE this ARM based RT model and treat it like a phone, minus the PHONE PART! GRRRRRRRRR.......... Stupid Microsoft... I've been an evangelist for you for years, yet with this, you seriously have irked me!
Windows Central Newsletter
Thank you for signing up to Windows Central. You will receive a verification email shortly.
There was a problem. Please refresh the page and try again.