Update for offline Map data for all Windows Phone 8 devices now going out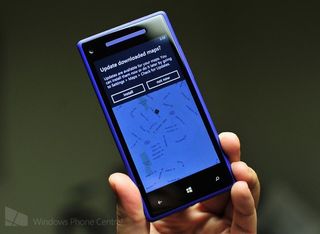 Do you have a Windows Phone 8 device? Do you use offline Maps? Then you may want to peep under the app's setting to see if you have an update.
We're getting reports that Microsoft (and technically Nokia) are pushing out Map data updates to devices with Windows Phone 8 and while you'll eventually get a pop up notification telling you as much, you can get the data early by fetching it yourself.
We just updated our New York State file (156.5MB) and it only took a few moments over Wi-F on both our ATIV S and Lumia 920. There's no word on how many states or regions worldwide are getting this update, so apologies in advance if you don't have one.
There's also no details on what this actually updates, though it's safe to presume more accurate points-of-interest (POIs) and street names are likely candidates. We last had an update nearly 30 days ago, so it looks like this could be a regular process.
To check for updates, launch Maps > Settings > Check for Updates (If using 'Nokia Maps', then launch that app > Download Maps > Update Current Maps). Thanks for all who sent this in.
Daniel Rubino is the Editor-in-chief of Windows Central, head reviewer, podcast co-host, and analyst. He has been here covering Microsoft since 2007 when this site was called WMExperts (and later Windows Phone Central). His interests include Windows, Microsoft Surface, laptops, next-gen computing, and for some reason, watches. Before all this tech stuff, he worked on a Ph.D. in linguistics and ran the projectors at movie theaters, which has done absolutely nothing for his career.
Got an update for the Swedish maps now for my 920!

Bout time - it was looking a little run-down :-)

Looks like majority of states are getting an update. I had MA, CT, RI, NY, NJ, FL, Maine in my Maps and all got an update.

MA here too and I'm right in Boston. I can see some 3D buildings that weren't there before, but the POIs are MASSIVELY lacking. I don't get why local scout, Nokia lens, and maps all have different POI. Local scout is clearly the best, at least in Boston

Update for Netherlands Maps also available. Downloading and installing now on my Lumia 920.

Will have to wait, gotta offload some videos.

I had to go to Maps > download maps > update current maps not via settings at all. Had me scratching my head for a moment. Why would it be different?

Nokia Maps v Maps. The latter is for all WP8 devices, the former is only on Nokia. Updated with that info.

Same here. Was lost there for a moment. I am not sure why would it be different or he just wrote it wrong :S

YES it is confusing, i dont even know why we have 3 maps apps (Lumia 920) Nokia should megre drive + Beta, maps & city lend into one app.

Downloading updates for Germany, Austria and Switzerland right now. 740MB in total.....It seems that they have changed quite a lot

Gah! Can't update due to 'other' storage! When are they going to fix this?!

What the hek is other storage? Biting up 8 gigs for me :(

Zune had something like this. it was for the sharing feature (squirting) and when you synced media from a computer not related to your main Zune installation.
maybe you are using BT sharing too much or syncing songs/media from others

Yeah, nice!
Could you please check something for me?
Are the aerial view maps blurry for India on your phone too? When you zoom to the highest level, it is clear? For me, it was perfectly clear on WP7, but on WP8 they changed the maps and now I get blurred maps for India. Tried deleting offline maps and then too it was the same.

UK and Germany 864.7 MB - woho

Got update in Finland aswell

920/ATT/California is a go.

I just pulled down updates for England and Rhône-Alpes (France) totalling about 400MB.

Maharashtra/Goa, Scotland and UAE update available for 193 mb

I got update in UK, but it was 0 Mb.
It was 0, because I haven't got download map?

Could be, the update for UK was around 200Mb

Is there a way to automate this when I am on Wi-Fi? This isn't something I would ever remember to do unless I was told.

i think the news says - trigger the update manually if you dont want to wait for the notification

Mall of America switched from BB to Nokia Lumia 920.
http://press.nokia.com/2013/02/21/mall-of-america-switches-from-blackberry-to-nokia-lumia-920/
Thought not relevant but posting it because its a good news for WP.

Fantastic news, thanks for sharing, + for wp8, - for bb, now if they can just get office to have all the features as the desktop

Got an update in California too, 920 212.3MB

Province of Manitoba in Canada = 50MB. Nokia Lumia 920. Directions and POIs in Winnipeg still suck. You shouldnt get onto Henderson from Poplar South Bound. Most curling clubs not found. sigh.

I would love to use offline maps. Unfortuantely 90% of my device is being used by "other" so I can't download maps.

I was about to send you a tip for this. But figured you would have received a ton of tips already. Anyway Philippines Map is already updated! Great!

Due to a recent phone reset, I hadn't downloaded the maps. Upon reading about this update, I immediately downloaded the Illinois, USA map and then checked and an update was also available. Odd that the most recent downloadable map was also receiving this map update too, no?

Oregon and Washington are updated.

hmm odd my phone never even warned me

Anyone with a HTC 8X - are your map blurry in Aerial view when zooming in?

Yes, for some regions. I have map for India, and it is blurry, but the Belgium map is totally fine. They definitely messed something up when they moved to Nokia for mapping data in WP8. It is totally fine on WP7.

Yes, even in Denmark some regions are better and some very blurry on wp8! All is fine on wp7 - strange!

US - State of Georgia is also updating.

Oh joy! My home is still an undistinguishable blur, i'd love to abandon google maps but until the nokia sort it out, then how can i?

Are you really that confused about the appearance of your house that you need Google Maps to show it to you?

Quick question: When I set up my 822 this past weekend I think I had the entire U.S. map loaded. If I try to add maps now I only get a listing of other countries, not individual states. Do I need to uninstall US to see individual states?

Can you store the maps on an SD card yet? Would help a lot of people with 820s and 8Ss.

Just updated the Washington State map (2/21/2013) and it STILL can't find a Subway sandwich shop two blocks from my office. This business has been here for a LONG time. I will not use Nokia Maps or recommend it until the POI database is accurate and robust enough to find something as simple as the largest fast food chain in the world. Hurry up and catch up to the competition Nokia, your maps are useless without a robust and accurate POI database. Bing Maps finds it right away... Why is Bing Maps' POI database so much better that Nokia's (for North America)?

Updating Mexico. I like that Nokia/Microsoft are updating their maps regularly adding more data.
When WP8 launched the map of Mexico was only 150mb. After two or three updates including today's, the map size if slighly above 300mb.

Have Alaska, bc, florida, and washington state. 2.6 gig download haha

Pre-Update, Illinois was 134.3 MB, and Missouri was 117 MB. Post-update, they are at 137.5 MB and 119.7 MB, respectively.

I'm afraid to download the US update, afraid it will eat another 2.6 gig of Other storage instead of just replacing the existing data.

I don't have enough room to update...bummer.

Got update for UK maps 292 MB

Are the maps used in Nokia Drive on 7.8 also updated? I just uninstalled and reinstalled mine and they are the same size.

Can anyone tell me how to free up space on my device Nokia 822 it says I have a 2GB update but my phone needs more room. I check space via the windows phone for desktop and it says I'm using a lot of phone storage for "other"

Maryland, Virginia (US States) and Washington DC are all updated!

never mind i just erased the stored us maps and just downloaded my region


Nok, plz, give me ability to store maps on SD card (:o...tnx for the update though ;)

Got the update, I'm in Malaysia, total size 117.9MB.

I can confirm update for Australian Maps as well I think it was about 250mb file.
Does anyone know what extras are in the updates? Or is it just norma extra roads buildings updated ect?

I think more 3D maps in Melb CBD and surrounds are one thing I can see. Looks good I dont think Crown Casino was there previously.

Malaysia and Singapore updated :)

England and Iceland updating here.

Still Points of interests are far less precise than Google Maps
Windows Central Newsletter
Thank you for signing up to Windows Central. You will receive a verification email shortly.
There was a problem. Please refresh the page and try again.