Updates pushing out for two of our favorite 500px apps, my500px and Shoopix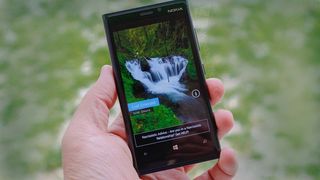 If you're an amateur or professional photographer you probably have a presence on 500px. If not you probably at least browse it for inspiration from time to time. So it's a good Sunday when two of our favorite third party apps for Windows Phone gets updated. Shoopix and My 500px both have added a handful of features. Let's check them out.
Shoopix
First up is relative newcomer to the 500px scene on Windows Phone. We first looked at it about a week and a half ago. Our biggest complaint at the time was the inclusion of an advertisement that you couldn't get away from. While it's hard to complain with free apps, we'd gladly pay to remove the ad. There is now a premium version of Shoopix that costs $0.99 and removes the ad. Nice. What else is new with Shoopix? Quite a bit, like:
Added "following" photos stream when logged in
New comments layout
Added ability to comment on photos
Support for Windows Phone 7.8 Wide Tiles
Added option to purchase an ad-free version of the app from the app's settings
Fixed crash when Background Agent was disabled in phone settings
Fixed wrong stream selection for live tile on Windows Phone 7
More enhancements and bug fixes
Folks on Windows Phone 7.8 will be happy with some doublewide tile support and performance tweaks/bug fixes. The ability to now leave comments along with the new comment layout should please many 500px users. We should be good so long as you don't go around saying "voted/followed and check out my work".
You can grab the free, ad-supported version of Shoopix right here in the Windows Phone Store. Use this link to get the $0.99 ad-free version in the Store. QR codes below with free on the left and paid on the right.
My 500px
The second 500px app to get updated is My 500px. We first saw the app back at the end of 2012. Since then the app has had a few updates with minor fixes. But the latest, version 2.0, is a big update with a redesign of the home page. Here's what's new in the latest version:
New beautiful home page with tiles for main feeds and custom feed.
New set app live tile to any feature feed, search feed, or user's feed!
Code re-write for improved performance and fixes.
Cleaner image detail view.
The new tile interface on the home page of all the main feeds is really nice. It's a quick way to jump to popular, fresh, or editor's choice and see the latest images in each. There's a custom feed which will display photos based on whatever filters you set for it. For example you could make it show the latest landscapes that have been awarded editor's choice by the 500px team.
There's also a new live tile that you can set any feed, search or user photos. This complements the secondary live tile that cycles through twenty images of your choice from the My Cycle collection.
My 500px is available for Windows Phone 8 users. You can grab a free, ad supported version in the Store right here. Or use this link for the version costing $1.99 (trial included). QR codes below with free on the left and paid on the right.
Both apps are worth checking out if you're a 500px user or fan. And with both offering a trial you can find the one that you prefer.
Windows Central Newsletter
Get the best of Windows Central in your inbox, every day!
Thanks Sam.
The Download App link in the app isn't displaying both apps, it takes me to the free version of Shoopix in the store directly.

Here is the link to the paid version :)

Click on the view links and select the last one which will bring up the original post of 500px and allows you to download the app from that article posting. A quick work around

Got to get 500px for 1.99. Ad box blows up some ascetics of any app it touches.

I've been using the app "480px" which is pretty darn good. Those who want a 500px app should also check this one out. Layed out nicely, lockscreen support ect.

Small update will be pushed out for My 500px (paid and free) to fix some bugs. Also Free version should be availalbe in all markets if Microsoft passes it. It was denied a few times before for specific regions because of non-nude photos showing too much skin.