The U.S. Marines are having problems updating their old PCs to Windows 10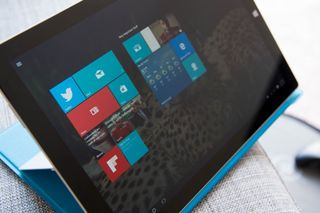 A new report says the U.S. Marines are having problems updating their old PCs to Windows 10. The Department of Defense wants the military to upgrade to Microsoft's newest OS by the end of January 2017.
According to Federal News Radio (via WinBeta), the Marines thought they could remotely update about 60% to 70% of their PCs to Windows 10. Brig. Gen. Dennis Crall says that due to the older hardware on most of their rigs, that kind of remote updating will work on just 10% of all of their PCs:
He added that the Marines are working with Microsoft on a solution but some of their PCs might have to be replaced with new ones with Windows 10 pre-installed earlier than what they had originally anticipated. While the Department of Defense officially says they are confident that 80% of their PCs will be upgraded to Windows 10 by the deadline, the report says the remaining 20% might not get that upgrade for years, due to the fact they are being used on weapons and vehicles overseas or engaged in military operations.
Windows Central Newsletter
Get the best of Windows Central in in your inbox, every day!
Guess they are also not free from driver issues.

Quick, have Doctor Watson escalate this failure to General Protection Fault! Posted from Windows Central for Windows 10

PC shipment market share will rise.

What do they mean by remotely? And what's the real reason because I updated a PC that was running XP to Windows 7 along time ago and now it's running Windows 10 just fine?

Same here. 9 years old PC.

My old PC runs 10 pretty well I approve this message.

Does this 9 year old PC have good hardware. Usually the US government saves money by getting cheap and old hardware. That combination might be what is holding them back. L950

When i had it on my 10+years old PC it wasn't smooth at all. But I will get it back on 10 before the free update expires

Remotely means they are connecting from another machine off-site to do the update. Posted via the Windows Central App for Android

I have an HP desktop purchased in 2010 that can't be upgraded due to an incompatible UEFI implementation. It will be stuck on Windows 7 forever.

Change the bios settings to Legacy

"What do you mean you can't upgrade it to Windows 10, it's got a Pentium!"
- U.S General Posted from Windows Central for Windows 10

For a fee I will update those PCs in the field!

Knowing how the Corps gets all the Navy hand-me-downs they are probably still on 486's.

I don't think this is a true statement. When I was a Marine, our equipment was different than the Navy.

I was in the Corps from until 1990. We had a lot of hand me downs.

We were in about the same time and I didn't see this. Weapons were very different. Admin used a computer calked the Green Machine which was USMC only. Our amphib vehicles were also USMC unique. What kinds of equipment were you seeing as hand me down?

The Corps usually gets Army hand me downs actually. You want logistics, join the Army. Marines make do.

You give marines guns not computers

I think those old PCs came with XP preinstalled having frustratingly old hardware to compatible with Windows 10, due to driver issues.

Most of the PCs are probably over 8 yrs old. And when they were purchased, they were already older cheap models. So the technology is probably around 10+ yrs old.

Most military hw still runs on intel i386 as stability requirements are super high :)

now days an Apple Computer (Mac) also known as heater. I think Government Should Put Ban on Apple Computers because it's not good for Environment.... :)

And for human brain too ;)

You're not good for the environment.

oh....for real..... I'm much of Winter Lover....nd I hate the Environment Lover Hater..... :)

Win10 isn t waterproof ...? :)

oh... common who gives Priority to (Eye candy) design without thinking about Heating in terms of Electronic Equipment. even with low spec (Mac Mini) heating up vary quickly.

Game over man! Game Over!!! Posted from Windows Central for Windows 10 Mobile BETA

There's an old joke from way back when called "The Marines" ;) tough love brothers, U.S. Army Hooah!

It looks like the Corp will be ordering a lot of new computers. This should be quite easy to get approved by the government. What are the chances some expenses get cut elsewhere to fund new computers?

Improvise. Adapt. Overcome.

Not surprising. I had a hell of a time upgrading my 4 year old Alienware rig. Go Dell!

Lol changed out their basic Wi-Fi but since w8.1 intel drivers for Wi-Fi drop signal quite often so w7 is still my primary os till i run cat. 6(maybe ill splurge for 7) to my room

"Yesterdays systems tomorrow" nice quote which translates to a 2 year old system being more like a 5 year system in the hands of a business. I pretty sure I could of anticipated that. Seems they succeeded on the 3 "P"s assuming you understand it to be Piss Poor Planning...

Adapt. Improvise. Overcome.

DoD machines have TPM and full-disk-encryption requirements that can require BIOS/UEFI changes. These are the kind of issues they're running into when trying to do across-the-wire upgrades. The PCs may be a bit "long in the tooth" but they're not "10 years old" like some of the comments suggest. On the other hand, their infrastructure is ALWAYS a few years behind, thanks to the bureaucracy of the JITC APL certification requirements (not so much on the SOF side).

that is more likely the issue. All kinds of lockdowns...

That's the problem I have had since day one. Incompatibility with my hardware. I presently have a redundant fingerprint sensor. I was superb on Win 7. But since the second update to W10 I have been unable to use my sensor. This is a shame because W10 is excellent in almost every way. Come on MS get it happening please:)

You need to talk to your Fingerprint sensor company. If they release a driver it will then work. The trouble with cheaper fingerprint readers is that they aren't really that secure and only use their custom software. Have one on a cheap Lenovo here and it still works but it's not the same as the Windows Hello fingerprint reader on my higher end Thinkpad that uses the TPM module etc.

Odd to hear those PC's that need the best security (ones on weapons overseas) will not be getting the best security.

Blue screen of death will get literal meaning Posted via the Windows Central App for Android

Yeah they cannot screw around with anything that has to do with the weaponry or any ongoing mission/deployment. Can't risk that. Very understandable. Posted via the Windows Central App for Symbian

Let's play Global Thermonuclear War.

I updated my 8 year old laptop, no problem. It runs better now than it did when I bought it brand new. As for my 11 year old laptop... It's stuck on Windows 8.1 Posted via the Windows Central App for Android
Windows Central Newsletter
Thank you for signing up to Windows Central. You will receive a verification email shortly.
There was a problem. Please refresh the page and try again.