USA Today's universal app heads to Windows 10 Mobile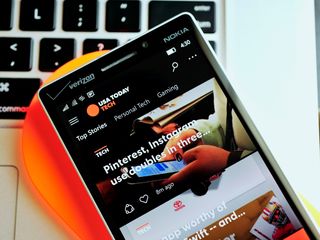 Earlier this month, USA Today released a Windows 10 version of its digital newspaper. The app is a complete redesign of the Windows 8 edition and with it brings an all new format and layout. Presumably being a universal Windows app, it was just a matter of time before the phone version arrived.
Looks like that day is here as the Windows 10 Mobile version of the app is now listed alongside the Windows Phone 8.1 one (yes, there is a double listing).
Like its big brother for Windows 10 PCs the mobile version lets you sync saved stories between the apps and it has a much lighter feel. The app also lets you use the universal Share picker to send articles to other apps. The app also handles inline videos very well, which is good since so much of USA Today is going to that format these days.
USA Today is very barebones with not a lot of features or settings. There does not appear to be support for Live Tiles, the ability to pin individual sections, nor any sort of notifications. Performance is very fast and lean, which is what we expect from Windows 10 universal apps. Navigation is handled primarily through the hamburger menu at the top left although users can also use the categories at the top.
Overall, USA Today has done a nice job with their Windows 10 offerings and we are certain they saved time using the one-app model. We'd still like to see a few more features to make it a more useful app, but so far they are off to a good start.
Grab it yourself if you are using Windows 10 for Insiders and let us know what you think!
Download USA Today for Windows 10 (opens in new tab)
Daniel Rubino is the Editor-in-chief of Windows Central, head reviewer, podcast co-host, and analyst. He has been here covering Microsoft since 2007 when this site was called WMExperts (and later Windows Phone Central). His interests include Windows, Microsoft Surface, laptops, next-gen computing, and for some reason, watches. Before all this tech stuff, he worked on a Ph.D. in linguistics and ran the projectors at movie theaters, which has done absolutely nothing for his career.
A lot of new Universal Apps, please let this continue! New redesigned Facebook app, and WC app next.

Facebook app should be redesigned as soon as possible for windows 10 and WP 8.1, it's been a lot since the last update.

Yes please get rid of our terrible Facebook app as soon as possible. It's just a shame after all these years the app is still so far behind. But Windows 10 is really the answer.

just give us the android facebook app and tweak it for windows lol. I'll keeping using facebook.com on my desktop.

Yes! The Android version is pretty awesome.

I'm surprised there's not yet a Windows Central universal app.

They said it was coming in August, so I guess the wait won't be very long. ;)

dan must have his fingers bussy codeing :D

Dan doesn't do any codeing. Jay Bennett is the developer of the Windows Central app

I'd like it if the ellipsis is moved to the bottom. It's at the top for Slack too. I know that's where it is for android, so ported apps will "fit", but still :/ Most of the Microsoft apps have it at the bottom


Try holding your start button sometime ;)

That doesn't even work on all phones. If it doesn't work on his you just made him press the start button expecting something. You evil bastard.

I like the new design language. It's a refreshing change and I think it simply works better for mobile devices. Fans of other OS's would be able to adjust easier than previous Windows Phone versions.

It doesn't work better. UX on Android and iOS is terrible.

Millions are addicted to what came first. It's understandable that MS prefers ruining the good design of wp8.1 to gain market, but please don't use that argument to say it's better this way.

Thank you. Posted via the Windows Central App for Android

iOS's design is just plain BOOOOOOORRRRRINGGGGGGGGG Android Design is Pretty nice But windows/phone 10's design is bold and sexy

I don't like hamburger buttons, that said, why can't they be in the upper right hand corner? Or have an option to put it there rather than the left side. I would think most people are right handed and it would work much better for those like me who use their phone with one hand. Just a thought...

Maybe the person who designed it is a leftie like me hehe.. Never know ;)

@Charles
My coworker who is left handed says he doesn't see the problem either... Lol!
---------
But he does have issue when he has to go to the upper right when using his iPhone 6.

" don't like hamburger buttons, that said, why can't they be in the upper right hand corner? "

That's like saying why not put 'File' in the upper right-hand corner. The Hamburger menu is analogous to File for most OSs. Think of how every OS works and where the menu listings are found.

@Daniel
I'm not going to disagree with your analogy. I do realize we have become accustomed to the placement. But as someone who uses one hand on the phone it just seems to be such a great option if it could happen.
----------
I downloaded CBS fantasy football app and every time I needed additional information that stretch with the thumb became tiresome. It would be much easier if there were an option on the right. Again, just a thought. :)
-------------
EDIT: Most people were accustomed to the URL on the top of the web browser, but I'm here to state for a "FACT" it is absolutely better on the bottom on a smartphone. Thanks to Microsoft and their great innovation. :D

@Whodaboss Sounds like an appropriate "ask for" in the idea section. Microsoft should learn to crossover the good functionalities from the prior OS which took a lot of time to resolve rather than just throwing away everything. Right and Lefthanded UI is a matter of fluidity(my guess) and would be a nice feature rather than wasting time solving solutions that was already resolved in the prior OS.

This answer is so incredible. Touch interfaces should not resemble mouse interfaces!!!!

True, but there is the issue of making a universal app and which elements you move around, etc. Fact is, people are generally used to this menu and it's easy for developers. I'm not going to say these menus are ergonomic, easier, or the best design possible for mobile. Far from it. What I am saying, is for Windows 10 to go forward, this is the best route. Talk to some devs and they'll tell you that they're happy with this move.

Fair enough. My concern is that devices are becoming bigger I'm just looking for an easier way to use them.

How about a corner left to Right swipe to get that hamburger menu? Is it there? It's a better solution than going on the top and pressing the hamburger icon...

I am a dev :) and I agree this was the right move from MS (see my other answer above). But you defended the choice with some strange reasons , your second answer makes sense instead ;)

Or, how about right-handed and left-handed "theme" options. Physical buttons cant be helped, but it seems like mirror-image layouts could be done...

Amen. Posted via the Windows Central App for Android

Tells me to update my version of windows altho i have the latest one lol. 640xl

MS puts their apps on Symbian before they do WP... Hahahaha❕❕❕❕

Don't know whether to laugh or cry at that post, rodneyej!

Now that's funny rod lol!

They're working on Office for Atari.. Did you hear❔

Hmmm I still got one of those boxed up somewhere...

As much as I hate half baked apps, always a thumbs up for developers or services that support the platform that I love. (y)

Got it since I update to build 10512

I automatically respect companies way more if they make a Windows 10 app. So far - Fitbit, USA today and well, twitter a little bit.

Looks and functions like a cheap mobile website. That being said I'm glad we got an app at all, poor design or not.

Everything at the top.... Awesome

App does have live tile. Shows up after a little while.

App will not download. Says I need latest version of Windows 10. I have the latest tech preview??

Seriously loving this app. The design still feels like a Windows app. While I don't have a problem with hamburger menus I think if they were moved down to the bottom of the screen it wouldn't be too much of an adjustment and it would make Windows ever so slightly unique from the Android and iOS ones.
Windows Central Newsletter
Thank you for signing up to Windows Central. You will receive a verification email shortly.
There was a problem. Please refresh the page and try again.