USAA pulls Windows Phone app, claims there's simply not enough consumer interest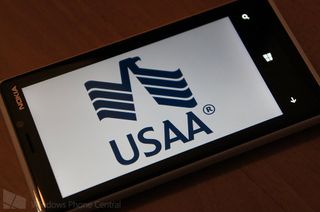 It's unfortunate that we have to break the run of banking apps being released for Windows Phone with news of the United Services Automobile Association (USAA) app being pulled. The app has been available on the platform for quite some time, but will not be updated for Windows Phone 8 and will no longer be supported. So what's happened?
USAA states that only 0.2 percent of traffic was through the mobile banking app available on Windows Phone, but it has not been confirmed whether or not this percentage is alongside personal computers, as well as mobiles. Not only that, but it also goes into how features of the Windows Phone 7 app are not functioning correctly on new hardware and the apparent lack of use failed to merit further development.
A USAA spokesperson wrote the following in an email to BTN:
We've witnessed reports on our forum that the app has indeed been pulled (probably due to issues on newer hardware). Microsoft has commented on the situation:
It's one thing for a developer to announce that they can no longer support Windows Phone as the ROI (Return of Investment) simply cannot sustain future development, but for a bank to turn around and pull an official app in this way won't please consumers who happen to hold accounts. A Facebook page has been created by those who would like to see the app returned to the store, so be sure to add your thoughts and "like" the page if you've been affected.
Source: American Banker, via: WMPU
Windows Central Newsletter
Get the best of Windows Central in in your inbox, every day!
Rich Edmonds was formerly a Senior Editor of PC hardware at Windows Central, covering everything related to PC components and NAS. He's been involved in technology for more than a decade and knows a thing or two about the magic inside a PC chassis. You can follow him on Twitter at @RichEdmonds.
Nooo D:. I actually occasionally used this app.

How many people reading the thread wrote USAA an email to complain about this issue?
I wrote them, did you?

I wrote them an e-mail as well...pretty much blew me off. Unfortunately, I can't just up and change banks as I like them otherwise and am pretty invested in their services.

That freakin sucks!! I'm a USAA Member.. I use the app all the time

I'm a USAA member and didn't even know this app existed... In downloading it right now

no you're not because they pulled it.

Actually I DID download it... It's still listed and the article says "is being pulled" not that it has been pulled yet... Got it before it's gone.

I have never even heard of USAA...

Never did until I moved to a military city like San Antonio. Everyone uses it here. Oh and its headquartered here I guess too...lol

I live in San Antonio and don't see many WP phones out in the wild here, maybe that's why. I loved the USAA app, but it had progressive issues after each update strangely. I have used the mobile website, but I can't figure out a way to bypass the security question....that's really annoying.

Ah cool! Yea that is right. I don't see many WPs in the wild here either. But yea, no my comment below kind of explained the same thing. Few updates, with relatively no bug fixes.

You're not a veteran, are you?

USAA is the bank that appears to have forgotten that it always put customers first and gained a great reputation because of that.

Thank you, who are they, let them take there app, if they were a regular mainstream Bank people would know them

I thought it was an airline app...

In my opinion they are the best bank in the Country simply because of theyre outstanding level of customer service. I use the app multiple times a day.

I also use the app quite often to deposit checks (since they do not have actual branches)...but I use it over the wireless internet at home with my old iPhone 4 :(

As a customer, I have interest. And this is pretty poor from USAA who like to think they lead in customer focus.

I don't understand how this is not costumer focused? USAA is saving money in development cost. The mobile site works very well, even with dual authentication using VIP services. I think it will only be a matter of time before iOS and Android Apps cease to exist to. Mobile web is the best route for any banking institution.

Can't deposit checks on mobile web. Also, using mobile web, can't save login/authentication info to phone to be able to only login with a simple PIN instead of tapping in username, password, and pin every time. It was an option for people who wanted it that way.

man, windows phone is kinda looking more and more like a charity case, if its fate were only tied to usage and not apps, it would be top OS

Wow, you comment sounds like you don't even use WP.
I smell a troll...

That sucks...it took forever to get a decent USAA app on a Windows (mobile or phone) OS and now they pull it cuz of "lack of use"......

I wonder if USAA would care if it lost .02% of its customers?

Its not like it cost money to just keep it there

If something isn't working, customer might contact USAA for support. That costs money and time.

Yeah, it was pulled when Windows Phone 8 came out. When you deposit a check in WP8, your images go to the camera roll. They didn't want to fix it.

I actually work for my bank. Our online banking system was purchased from intuit, who already actively rails against WP. Don't expect to see a mobile app in my immediate future.

Can I ask why that is? What is Intuit's problem with the OS?

For a while this stumped me too, then it hit me! These guys have been rivals for ever. Ever since Quicken vs Microsoft Money, they used to go at it. I suspect that culture still exists and they don't want to see the OS succeed. Funny thing is, if it weren't for Microsoft, we wouldn't know who Intuit is since Quicken and Quickbooks became (and still is) most popular on the Windows Desktop. My personal belief is that Microsoft has a winning strategy with the unified metro experience across desktop & mobile devices and in the next 5 years (yeah, it does take a while) it's market share will increasingly grow as people will move from thinking WP8 is the strange new kid on the block to.. "this is the same interface I use at work, I'm familiar with it and I like it."

As that happens.. all of these companies that are abandoning the platform will return if only out of necessity. In fact it's already happening now as I believe the rate of adoption is far outpacing the rate of abandonment. There is a reason almost every major carrier is carrying WP now as opposed to the early WP7/7.5 days.
My .02 cents.


That was more like 5 cents ;)

Vote with your wallets folks.

Not having a mobile app really sucks as a USAA member, but dropping them altogether over this would be incredibly stupid and childish. There's no reason to walk away from probably the best US bank over something like this. Get real.

What makes this b ank the best? Curious if I am missing anything

They appear to be lying about the reason why they don't have an app on Windows 8. They don't have an app because they pulled the app after it was apparent it had the bug where the pictures of your checks would show up in the Photos Hub. I guess they didn't feel like fixing it. I lost the app about a month ago when I had to hard reset my Lumia 920 because 3/4 of the storage was allocated to "Other". They had already pulled the app from the Store.

Well eff. I use this app regularly too. However, I think this is USAA's fault here. There was bugs in the app that made the experience less satisfactory...at least to the BoA app that I also regularly use. Plus there was like only 2 updates to the app since it came out. BoA pushes updates out to their banking app every 3-6 months.

Does USAA not have a decent mobile site? I think that should be any banks first interest, apps second.

I often switch between the site and the app. I honestly, prefer the site than I do with the app. However, I dont believe I've tried to do check deposit though the site yet...if it has it. It's going to suck if it doesn't -as the nearest UPS/USAA store is about 30 miles away from me.

Ya. Check deposit is nice.

No check deposit on the mobile site.

Gaaaaaaaaaaaaaaaaaaaaaaaaaaaaaaaaaaayyyyyyyyyyyyyyyyyyyyyyyyyyyyyyyyyyyy!

Is there any way to share that app? I wanted to download the windows phone 8 version for backup purposes for precisely this reason, but I can't now obviously. Is there a way to get ahold of it?

As a USAA member I am extremely disappointed. Loved the wp7 app and I've been frustrated that they didn't bring it to wp8.

I use this app all the time. It works great. Why pull a function product?

Must be coming close to them having to pay for another year of having the app posted on the marketplace.

Guess banks are falling on hard times.
You'd have thought they'd pay a veteren to maintain WP presence.

This sucks this is a blow

I put this on their Facebook page: VERY disappointed that you pulled the Windows Phone app. That was one of my considerations in deciding to start doing all my banking with USAA. With you pulling the app, I'm out of luck when I upgrade (still using the app for now), and I will likely switch back to banking with someone that has local branches. Without branches, one would expect USAA to do the best they can to make themselves accessible, not do what they can do diminish accessibility.

hopmedic, 100% right, that's what I was thinking being a customer.

I'm disappointed as well. But, I saw this coming. My iPad app received updates on a regular basis, but that was not the case for my HTC Trophy. I upgraded to the Lumia 822 and I'm curious to know if the stat they are using is representative of the number of users who no longer use the app because they upgraded as well. Of course the apps aren't going to generate a ton off traffic, because most users still use computers when available I'm sure, but I still want the option.

I switched to Chase from Wells Fargo, while not the only reason, the fact that they had a Windows Phone app was a major consideration.
A move like this is ridiculous when they already have an app. Microsoft needs to not get discouraged with idiots like these and keep pushing forward making people want to switch.

Moved to Chase from Regions. Best decision I've ever made.

Moved to Chase from Charter One (RBS affiliate) for mobile apps and better ATM deposit options.

No doubt Chase has the best apps & website. ATMs are cool too, I like the way they suck in a stack of cash or checks and add them all up...

I can sort of understand not publishing a WP8 app (though I think it's lazy not to), but completely pulling it from WP7 when it works perfectly well makes NO sense. They say it's only .2% of traffic, but pulling a functional app guarantees 0% of traffic. .2% > 0%. I just don't get it. USAA doesn't have any physical branches, so the mobile check depositing was the easiest way for my wife and me to deposit our money. This is crap. I hope they don't do anything to break the functionality for those who still have the app installed...

That is a very important statement... they have no physical branches.

Which makes supporting all platforms a priority so all their members have access to banking facilities.

WP needs the big boys first. And it got those (get off your ass Wells Fargo! ). It's unfortunate but niche apps like USAA only survive on iOS/Android because of the critical mass of users got so big. The amount of total users using mobile USAA apps is going to be dwarfed by a larger bank like Bank of America, Chase etc. anyway.
I'd also like a breakdown on the marketing behind this WP app. I'm guessing it was akin to just releasing it unlike the in-bank/TV/radio advertisements that probably occurred for the iOS/Android versions.

Sometimes these companies that have apps for all platforms ONLY advertise for the top two...sick. =/

No, they pulled it cause the app sucks. Definitely needs work.

WTF USAA? I loved to use the app!

Make sure you are expressing your concerns on their Facebook page. The squeeky wheel gets the grease.

"We know what it means to serve"...I guess that makes sense since they serve only their investors. Switching banks to Chase and insurance to All State (non-invested) company. Makes me ashamed to call myself a USAA customer and slapped in the face for serving my time then trusting in such a company. Glad I made the first right step and quit working in their IT department for a better job elsewhere. Yeah some would say: "Why leave over a little app?" One word: Principles and USAA has none. I realized that working for them. Well...If anyone wants to send a real message to USAA, just close your bank account with them. Every closed account hits their share prices. Just sayin...

I'd like to point out that USAA does NOT have investors. None. Zero. They are owned by their members - literally. You will not find "share prices" for USAA as they are not a publically traded company. If you actually worked for them (Top 50 companies to work for 2012) you would know that.

Their investments are not public...But they do have share prices. Which are affected by member accounts. They have private shareholders.

You obviously don't understand. There is no public trading of anything to do with USAA, they are member owned. There's no share price, and the "private shareholders" you speak of are its' members. You claim to have worked for USAA and you didn't know this? I doubt you actually did. I'd bet you got fired from your IT job, and as a result you're going around bashing them and you don't even know how they operate. The more people that follow your stupid advice of leaving one of if not the best banks in the world would cause them even more harm, and they'd have to offer even less services. It would be a terrible feedback loop to create, and you'd be standing there looking like a fool for leaving the best bank you could possibly do business with. Not having an app is really frustrating, I'm a member and it really pisses me off, but taking your advice is absolutely idiotic.

I had it on my 920 and it was working fine. After doing a restore it did not reinstall. After doing some research I found a post that someone had contacted USAA and was told the app was pulled because there was an issue with the deposit@mobile feature putting a copy of the check image in the camera roll. I verified this was the case with some check images being uploaded to my skydrive and this was not the case with WP7. It looks like the app is still available for WP7.

Here's where you can leave them feedback:
https://www.usaa.com/inet/ent_memberemail/MemberEmail?action=NewMessage

All the Banks on this planet want you money ,but to do something make your life easier is just not worth it for them !

Only .02% of people use USAA, so maybe they should just shut down too /troll
Or USAA members should switch to BofA, they have a great wp8 app w/ check depositing

If people switch from USAA to BofA they'll have much bigger problems than not having a functioning app.

Bank of America? Are you serious? That's the worst bank in the US behind Suntrust.

you know the farce of all of this is it costs them ZERO dollars to keep the existing app AS IS in the store. This is just maliciousness.

I barely used the app not because of lack of interest but because it was terribly made. I mean it was better than nothing, but not by much. Maybe if they had made it better.

It's only valid if they pull the apps for the other platforms too...but developers and companies can afford to be lazy on them =/

I mean... look, lets not take this too seriously. I used to have a USAA account myself, but not anymore... and its widely known in military circles because there used to be a requirement that to open an account, you had to be service-connected.
But while its not a little hole in the ground, its not exactly Bank of America, Chase or Wells Fargo either.
Or rather, no one is judging or measuring the worth of mobile device operating systems by whether or not there's an USAA app. Oh no, my credit union doesn't have an app either! It must mean something! (ah, not really).
A small percentage of a small percentage is insignificant... that sounds harsh, but its really not and it makes sense.
And yes, I understand that the reason this might make some headline is because there WAS an app for WP7... but all this does is speak more to the size of USAA than WP8.

There's no reasoning or logic to the perception of Windows Phone in this market...it only means one less application and one more reason, no matter how small, that people will continue to ignore us and say we're no one. =/

I use it daily, it is unfortunate to know that they are pulling the app out. I guess I should consider switching my finances. Their funds are performing pretty bad for the past 2 years. Market is doing great and usaa funds are faring pretty bad.

I would of expected this from google not USAA... Freaking jerks

Sucks. I used the app often. Submitted a concerned email and just hit up their FB.

The reply to my post on their FB:
"We do not have a Windows Phone 8 app due to the low adoption rate, as this platform currently accounts for .2% of the total mobile traffic generated to our site. We're working closely with Microsoft to evaluate the cost and effort associated with converting the old app to Windows Phone 8. As a member-owned association, we have a responsibility to ensure that we are being good stewards of association funds by making decisions that are in the best interest of all members. We thank you for your patience as we move through this process. For now please use mobile.usaa.com, which has been redesigned to give members quick access to USAA without having to download our app. - Raul"

oh so in other words they are whoring for payola.

I hope they're serious about improving the mobile site at least...if they don't want to support an application, then we would need something! =/

Lol never heard of them before. Are they a bank or an AA?

Bank. Used to be a requirement for all military to have an account with USAA and it used to be only for the military. -I think that is changed now. Anybody can open an account now with them. It is really popular in military cities across the US. It is headquarted in San Antonio. I switched to them from BoA as BoA and the other main banks (Wells Fargo, Chase...etc) had started changing the way transactions were processed -causing the account to look like it had more money in it than what it actually had in it. -As a college student, this was bad for me and I ran into a lot of overcharges/overdrafts with BoA.

Cheers I did not know that

When I had my htc hero 2 years or more ago this was the problem android had with developers not being interested until it blew up and now I have no problem finding the apps I want (with the exception of my galaxy tab)keep your head up guys when you blow up you will be swimming in apps

I am a USAA member, have been for over 20 years. I just called to express my displeasure over this and was told this is false information. USAA is completely unaware of the BTN story and told me that they will be contacting WPCentral and BTN to rectify this information. What I was also told is the WP7 app will remain, WP8 is still in the works, as is Windows 8. They are hainvg lots of issues with Windows 8 due to lack of Java in the OS, but it is coming.
The representive seemed very concerned that this type of information was spreading, since she stated it was not true.

As much as I would love for this to be true, it directly contradicts the information and behavior coming out of USAA over the past few months. Did you speak with someone in their development unit, or does this rep happen to have some sort of insider knowledge? Something's not adding up here.

If only they understood that there is more than just 1 programming language out there. Most of their inhouse applications utilize C#, Visual Basic (Which is what's utilized in both W8 and WP8) and .net.
Just take a coder or two away from their in-house application for a day or two and make the WP8/W8 app. I mean hell, BlackBerry share isn't that much bigger than WP7/WP8 and yet they continue to code the BlackBerry app.
Hi kettle, I'm pot!


WP8 app is not coming. They have been responding to members for months now stating that if there is demand they will reevaluate the need for a WP8 app at that time. I got a reply from someone at USAA to my account from their website... they are not developing a WP8 app. There's not enough demand. Sounds like they're doing some despicable damage control if someone is telling you that they are.

Hey guys, don't believe me? Go back and look at the BTN article. The author and I have been communicating and she contacted USAA. She has changed the title to "USAA Mulls Windows 8 App" from "USAA Quietly Drops Windows Phone App" after confirming what I posted. She has also revised statements around USAA's stance and added the comment "UPDATE: USAA's app is still available on Windows Phone 7."

Well, crap. This sucks. I use the app all the time, and I think USAA is hands-down the best bank I've ever worked with. Not even close.

Uggh. HUGE bummer.

WP8 is slowly becoming untenable for me. For most people losing the USAA app means nothing; for me it's big. Arggh.

I used it on my windows 7 phones but when I upgraded to windows 8 phone I couldn't download it. Wasn't a big deal for me, I don't use USAA for my banking, but I can understand where its frustrating for lots of users.

Can't blame USAA. If there's no demand for your app it's assnine to pour money into developing an updated version

Huh, all this time I thought USAA had something to do with the United States Air Force... Learn something new everyday.

Hm, strange times to be pulling apps.. WP growing and all.

Wasn't this app one of the major demos during the unveiling of WP 7.5 at MIX'11? If so, that's really sad.

This freaking sucks. This app was the only way means my wife could deposit checks. I've been with usaa for 12 years and this is the first time I am not happy with them

As big of an inconvenience this is, there is still the option to deposit your checks at ANY UPS store in America. But yes I definitely feel you and the deposit@mobile feature is a HUGE time saver and convenience. "These are troubling times in the kingdom."

man, i thought things were going well with all these new apps and updates on alot of them and then this happens. hopefully they will come back soon for all the people that used the app

As a USAA member that has just switched to WP8, this royally pisses me off. I don't know why they seem to think that they don't have to make this app available, they were the damn pioneer of mobile banking features and now they pull it. I'm so pissed at them right now, this is the first thing they've ever done to make me mad and it's a huge hole in their services.

I also use this app all the time. I sent them two emails to complain and ask they continue support for the app. I suggest everyone do the same. Email them, call them... get your voice heard!

I just called and was told 7 & 8 are under evaluation. I was encouraged to use the mobile site. I think the more people that call or email will get them to commit to a solid app.

WP8 is dead, not even Microsoft is updating their own apps anymore...

You're right. You should stop wasting your time in WP forums too.

I just spoke with a website tech at USAA and it was the first he'd heard on the issue and he is going to escalate the concerns I voiced with him. There is hope yet!

That's crummy! Was going to download their app next week after I establish account for my family. Truly hope they support WP8. Convenience is where it's at!

USAA just pissed on all their Window phone users. As someone else said, speak with your wallets.

I would have used the app more if it worked right and if the app was available for WP8

The direct deposit feature is broken. Bring back the USAA app!!

My company develops the apps for them. USAA have monitored usage and it doesn't stack up - I know its sad, believe me!!! The only way you can get it back is by using the mobile page and they will monitor device usage and review again.

So, in order to prove need to the WP8 app, I need to use the mobile site? That makes no sense. If I have an app that only requires a 4 digit pin to authenticate, why would I be bothered with USAA's email/txt based authentication on the mobile site every time I wanted to view an account, make a transfer or deposit a check? Oh wait, mobile depost functionality does not exist on the mobile site. So yeah, that seems like a flawed methodology to track usage.

USAA should be the LAST bank to pull out of mobile and this doesn't make me happy. It's a bank for military families and is vital since there is actually only one physical bank in Texas. I do ALL my banking with them virtually and this is sad to see. It was one of the first in the mobile space and on WP7. I have it running just fine on my Lumia 920 and would be satisfied if they just kept the current version up and running. As a WP fan, it sounds like my devices may make up the large percentage of users too :)

Check out the Twitter feed for @usaa_help. A lot of WP comments.

That's just a cheap insult to their customers!!

Mobile site is good but the mobile deposit is awesome. If u take the app away u better provide the functionality on the mobile site!!!

I want the app again...WHY USAA...WHY!

This is the first BAD decision I have seen from USAA in my 35+ years with them. I have written to them asking them to revisit this issue and to reconsider their decision. They are moving in the opposite direction of so many of the world's banking institutions on this issue. I use this app on a regular basis on my WP7.5, and it works like a charm!

It was probably the right decision for USAA. 0.2 percent use is tiny. Unfortunately WP7 amd WP8 are really completely different OSs and neither has much market share.
If WP8 proves successful, I am sure that USAA will hire some WInRT developers to write a new app.


So USAA has a buggy disfunctional app and instead of fixing it they pull it due to lack of use. Makes sense right, if people aren't using your buggy app then they must not want an app at all...

The app Webapps was just updated. It includes USAA now. You still have to enter username and password though.

You can check out Ez USAA for quick access to USAA.

The app has been brought back this week for WP8! I'd link to it, but WPCentral thinks it's spam.
Windows Central Newsletter
Thank you for signing up to Windows Central. You will receive a verification email shortly.
There was a problem. Please refresh the page and try again.