Use this handy tool to sideload apps to your Windows 10 phone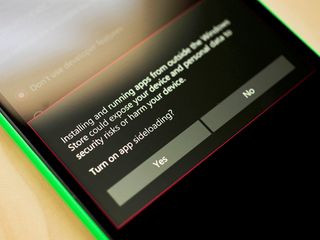 Thanks to a handy new tool from Microsoft, WinAppDeployCMD, sideloading apps to your Windows 10 mobile devices just got a whole lot easier. You will still need the Windows 10 SDK installed in order to do it, but once installed you can use the new utility to complete the process easier. This process won't be for everyone, but for those looking to install an older version of an app, or test something for a friend, you can get set up in a few easy steps.
First you will need to install the Windows 10 SDK preview, 10166 or newer. After this, you will need to enable the developer settings on the device, and select the mode to enable side loading from WinAppDeployCmd.exe. If interested in this tool, be sure to check out the link below for all the details, and how to get started.
Remember, apps from the Store cannot necessarily be sideloaded if you do not have a license. However, this could be good later this year once developers start making Windows 10 apps more frequently.
Source: MSDN (opens in new tab)
Windows Central Newsletter
Get the best of Windows Central in in your inbox, every day!
Jared started off writing about mobile phones back when BlackBerry ruled the market, and Windows Mobile was kinda cool. Now, with a family, mortgage and other responsibilities he has no choice but to look for the best deals, and he's here to share them with you.
I saw a video where a guy sideloaded Swapchat onto his phone. While this is a good option to have, I hope people don't abuse it and ruin the integrity of the Windows Store.

Most people won't be able to use it, so I don't think it will ruin anything. And even if you do know how to do it, it's easier to just download it from the store. In my opinion at least.

Don't get peoples' hopes up. The Snapchat apps will still get you banned if you sideload them.

how will it get banned ? if app is not in the store msft can't remove or ban it

The company, Snapchat, will block your account. That was the whole issue.

LOL it looks like Snapchat really hates WP. They wont make an app also wont allow 3rd party to make

it's all because of security concerns about third parties stealing user private pictures.

Can't tell if its hate, a decision to protect their product or using MS as the leverage to promote its product. Apple did. Google did and is still doing it. It could be the dev is either selfish or stretched to the limit and close to filing chapter 13 but other than pre-teens, who gives a crap. Once they get older, they will move on and snapchat will become as stupid as Myspace.

They're scorching the consumers because they want money from Microsoft. Fn©k snapchat

you know that is how android got famous.

Android got famous because all the OEMs have been pushing it.

how does it matter to you, if people are doing it ? its always been there in android

Oh yeah, because Android is the most insecure OS ever..

if that's true then Windows is the most insecure OS too ? android and windows are the most popular therefore virus/trojans are created more to attack such os ...

I've literally tried, as in, I put forth effort to getting a virus on Windows Phone and its impossible. Windows, however, is insecure, yes...

don't know what you definition of virus is and what you tried to exactly do. if you are going to tell me if you tried getting system level raw access yea its not possible in wp or android. In Android its possible only if you root the device

Omg that is a great idea!! I am a developer and I really need snap chat, so ill just side load 6snap and get it from WPhub.

Remember tho SnapChat will still ban your account if you don't use their official app (only available on iOS & Android). They went super strict & cracked down this hard because they got mega-hacked a while back.

Off the topic - is windows phone app store down? I can't download or update any app on my 830 ( India )....

I didn't get it. There is a developer option; enable it. Then??

yes, been there for a while now

Just got it, the sdk thing is run on a pc and the app is kinda burned on the phone :P

Hi, Armaan could you plz elaborate the process step by step. i have xap's downloaded from wp store via website in my sd card and i was able to install xaps from sd card to phone in wp 8.1 via install local apps from wp store option but i now i have installed wp 10 ver 10166 and not able to install apps from my sd card. Plz help.

With this build the Developer option not working. It quits on me when I try to enable on L730. But I was able to enable with build 10149.

Yes.. Even i wanna know.. What does it mean?

it means install apps without windows store ... if you get hold of app you can install it ... same way android allows it

Can we install the old YouTube app from Microsoft?

@wesley if you are able to get hold of that app and if its supported by new windows phone 10 sure you can install

As pointed below, it won't work as Youtube changed their API.

I would install the older uc browser. The new one is missing view it later option

when a new edge is going to be par with chrome why do you care about UC ? BTW how are you going to find older UC browser ?

Thanks guys for explains what sideload means

Yo man background are not working on this build.10166

Works on mine Always hard reset after install upgrades are still buggy as hell

Great! Now people download install MS' old YouTube app and sideload it!

Remember all those updates to like a billion YouTube apps that were posted on here a few weeks ago? Yeah that was to update those apps to the latest YouTube API. The old app won't work.

Ok ppl beware, decided to give my 920dev a rest an use a 930 as dev tool since the options become available since 10149, that 930 is now a brick and void of any warranty because of w10tp. Now when i say brick i mean a dead SoC, iam no newbie so unless you must use the dev tools on 10tp then keep a wide berth

If it's a brick you are ok, they cant tell its because of W10 unless you are retard enough to tell them so.

Wrong, every devices imei is registered with the insider program, easily discovered. You make retards look good.

Too bad we can't sideload tetra lock screen 1.2.0.0

You people don't see tips received at all. No thanks. :/:P

Bad bad people, you broke the kid's heart..

And look, who came with the ointment.

Can we get showbox with this?

We could do it if someone made showbox for windows phone

1box is pretty darn close

Wish I could side load my delisted games...

If you have the XAPs, you can.... but, if you dont, your SOL...

The xap are still available from the WP store they are just delisted.

Well if they are in the store, they are encrypted, if that is the case your SOL for sideloading sad to say.

Side loading Apps is one thing, getting the App to work fluidly in Windows 10 mobile is another. It seems most of the current Apps (MS Core or others) need recoding updates in order to work errorless in Windows 10 mobile....Bottom line: don't get your hopes so high!

Slick I may try and sideload palringo. Posted via the Windows Central App for Android

I have no PC so how to sideload apps in my windows 10 mobile build 10166?

Good thing I kept a few XAPs on the side

And how about sideloading all those apps that the store got 80070003? Can the sideload be a bypass?

If it's encrypted, it wont install. How to tell ? take the file, rename XAP to Zip, Once as a Zip file, try to open it, If it is NOT encrypted, it will open with a Zip program (in windows or winzip), if it gives you a invalid file (as a zip) or damaged zip, then it's encrypted and the only way to load it is from the store.

Worried about official WP 10 update will be lot of bugs.

Can we take android APKs convert to windows 10 apps and side load? Eg snapchat apk

>I don't see why not Is it documented anywhere, where anyone could take a APK from android and convert it to a XAP to sideload it on a Windows 10 device ? If so, I would be all over this, I could get a bunch of apps, like Bank of America and other de-listed or never updated apps...

Can somebody give me the link to download the Free Market xap ?

Now, here's a question based on what I saw on 10149... I used the 8.1 SDK and enabled on 10149 to side load, I use the 8.1 SDK and it would not allow me to side load an app, so I used the unlock app and it unlocked my phone and I was able to sideload fine. Now if I dont have the 10 SDK installed, Can I take a XAP and drop it on my One drive and install it from there ?

Could this be used to sideload 6snap?

So, this trick will let us install paid xap apps for free?

Wish it was. I tried with Terraria and it's doing some errors.

The app you trying to sideload is corrupted. Try contact administrator. I tried many files and all they gaved me that answer.

It's the price of a coffee. Ffs...

It won't. It still checks license from the store.

That could work, depening if it's encrypted or not but, do you really want to go down that road ? No Xbox live achivements, no updates, and you would be called a theif here because that is what it is...

People you won't be able to sideload paid apps onto your phone this way, because, first of all, microsoft has the license indentification system, if you try to intall an app that is paid it will check if you bought it, and if you didn't it will not allow you to install it, same thing goes for free apps which is a bit weird but i understand.

Can anyone testament that "Lumia Storage Check Beta" does still work in W10M? This awesome app for storing your maps in SD card got removed by the Store. Anyone with the latest XAP and a proof that it does still work with latest OS? If it could be possible to sideload it after an Hard Reset of W10M that'd be 100% failproof. Because I can't think of trying W10 on my daily driver if I know that in any bad circumstance I have to Hard Reset and loose this awesome app.

The big thing if it was download from the store it would be encrypted. This would mean you cant side load it. If you have a copy, I can test it :) You can side load fine with the 8.1 SDK...

I would be fantastic if I could deploy my app from visual studio to my phone over WiFi like I did with Symbian and N9. It's about time to remove the wire on Windows mobile too.

i cant see apps like mixradio and lots of lumia apps on windows 10 mobile after hard reset. just found an option on store website to download the exe files. can these be sideloaded easily in window 10 mobile. they worked before when i did the upgrade from 8.1 for build 10149 please help!!

Installing cracked apps! Yess! But I hope the sdk doesnt fuck up my motherboard,

Project Astoria. Iss best

Ok, If your still running the 8.1 SDK , it still does work on 10166. Even though I selected "Side loading" option in Windows 10, It still does not work, so I had to go into the Dev Unlock tool, Unlock the phone with my dev account and I was able to sideload apps on 10166 with the 8.1 SDK with no issues. I use this to sideload the Pebble Notifcations app so I can use my Pebble watch. There is an issue though, when you go to list appps, it hangs with "loading Applist", Microsoft must of changed how applications are displayed on this version, so I can only get email on my Pebble, not all notifcations and that sucks...

Could I actually install a delisted app this way? If I wanted to go back and get that last achievement in FIFA 14 for instance (sadly my phone died the same day it was delisted, naturally), would this allow me to install it again?

There's a Windows Phone 8.1 game called "Cel", I downloaded the file to my Windows 7 computer and I'm trying to figure out how to install it on my L930 runing Windows 10 Mobile 10166. Any thoughts?! Please... I tried searching for the app in the Store and couldn't find it. Also opened the link in Microsoft Edge and that did not trigger the Store to open as it usually does for some apps. So please help me. My phone is Dev. unlocked by the way...

Hii frienda can any body exppain me what is sideload and how to use it & how to download apk files of android apps on my phone
Windows Central Newsletter
Thank you for signing up to Windows Central. You will receive a verification email shortly.
There was a problem. Please refresh the page and try again.