LockTemp puts weather a Glance away on your Lumia lockscreen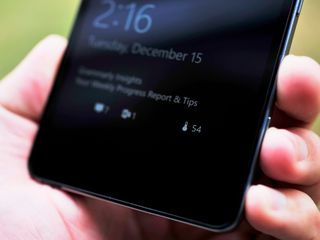 One of my favorite apps for Lumia phones is still LockTemp. The app is super old and hasn't been updated since April 2014, but it still works and serves a purpose on my Lumia 950 or Lumia 950 XL. I've been using for years, writing the same tip back in 2013 and I still swear by it.
The single function of this app is to show the current temperature with a nice little thermometer on your lock screen. The best part is it even works with Glance so that you can just peek at your phone to know the temp.
LockTemp is simple enough. You download and install it. Run the setup and enable geolocation and then add it to your quick status area under your lock screen settings. The phone displays the temperature in Fahrenheit or Celsius and updates once an hour.
And that's it. Sure, you can use a full weather that takes over your lockscreen or use the native Weather app's detailed status setting (which is truncated and looks terrible, by the way), but sometimes the simplest solution is the best.
LockTemp has a free trial and otherwise costs 99 cents.
Download LockTemp for Windows Phone
Daniel Rubino is the Executive Editor of Windows Central, head reviewer, podcast co-host, and analyst. He has been covering Microsoft here since 2007, back when this site was called WMExperts (and later Windows Phone Central). His interests include Windows, Microsoft Surface, laptops, next-gen computing, and arguing with people on the internet.
This doesn't work well for the parts of the world where Celsius is used and the temperatures are below zero :(

Never tried yet as we use Celsius and starting to have below zero. We'llsee that.

EDIT Nevermind I get it. Cant have negative notifications. Same problem in Fahrenheit when it goes over 99 I guess.

Hence why metric is superior.....

Lock screen notifications can only range from 1-99.

Wen in space? Need Kelvins.

I don't see why Microsoft couldn't open the notification up past 1 and 99 and let the developers decide the range limits. I've always liked this app concept but found the limits rather short sighted. Then again, I also think the quick notifications on the lock screen should be active rather than static (I.e. Not limited to a certain number of apps).

Still no glance on 830...

I guess it depends on how the developer puts in the data. I am now using The Weather Channel app and that first shows your location and then temperature on the Glance screen(annoyingly intermittently). In my case: Kyiv -6. Below that a full sentence with info. Possibly The Weather Channel app uses text info instead of (negative) values.

If only my glance screen kept working. Since the last update it crashes after a few hours. Restarting fixes it temporarily. (Lumia 925)

Same on 950. Always has on all 10 builds for me.

Yep, glance screen isn't working properly on windows 10m..

I wish the MS weather app would get this back. I really miss it. one of the things I like was that it would update the picture based on the current weather. Probably is my most missed feature that hasnt already made it back.

Yes, please. I'd also like the weather summary not to be truncated on the lock screen as well. That's just slack design.

If only it did negative temps. Useless in Canada. I mean, I get why it can't.. hard to have negative notifications, but still.

Eh, when it rolled over the other way you knew it wasn't 99deg outside, so... You could still know quickly what the temp was.

It kind of defeats the purpose of a glance notification when it says 87 and i have to figure out what that is.

I guess. I know it isn't 87, and I guess I can subtract quickly.

Just seems silly to buy an app that for half the year i'd have to subtract from 99 to get the actual temp.

It was due to a WP limitation, fyi.

Yes, I already said understand why it is this way.. notifications go from 1-99. I'm not bashing the app, I'm saying it's not nearly as useful for colder climates that use celcius. I'd imagine it works quite well for fahrenheit users given when it rolls over 100 it makes more sense than when it rolls below 0. 101 being listed as 1 makes more sense than -1 being listed as 98.

why buy it? same functionality on trial version.

Support the devs that support us?

Move to Vancouver then!! We only have a week of sub zero weather hahahahaha

I love this app! I have stopped using it since you can now add weather to the lock screen from the MS app. But, I am thankful this app was around when the function was not there. And yes, the weather is truncated and annoying, but serves its purpose.

I don't think this works in Windows 10 Mobile, right?

Unless your lumia is a 930 that is.....

It's the reason I didn't keep my 930.

There is another way to do that, but only on windows 10 mobile, you can actually select weather app for the 'detailed status' on lock screen which gives you the weather snippet, which normally appears on the msn weather app live tile, on your lockscreen and so on your glance screen as well. I have been using it for quite a while now and it is actually very usefull as it shows the temp as well as a bit about how the weather is going to be, it is a great help especially if you are living in the UK.

And it truncates that snippet on the right hand side of the screen.

i mean, i totally mention that including how it truncates the weather and is kinda lame, lol (plus I hate giving up calendar reminders there)

Thanks for clarifying this Daniel. I didn't think the weather worked on lock/Glance the way it did on WP8.1. I'm really hoping that functionality is restored, or that they'll let third parties use the top area of Glance.

Cool I remember that i had actual weather images in glance screen before I don't know if you can still do that!!

What app can you use for the full lock screen on WP10? Thanks.

The weather app already tells you the temp on glance

Not in a good way, or a way like this.

OOTO, I miss the TAP SCREEN to Wake up option badly in my Lumia 950.Is there a way to bring it back?

"Time Me Tile" has the same feature and a lot more.

Interesting, will check it out, thx!

How about an article about all the ways we can tweek glance? Seems rather boring as is, although this temp add on seems nice for those willing to spend the buck.

Yeah, working on some things. Not a whole lot of options these days.

I am more concerned about the number of items I can show on my GS - I use Phone, SMS, Whatsapp, Skype and Mail - and could use couple more too, but there are only five slots available! :-(

Agreed. There's plenty of screen space on my 1520 for more than just five.

At least you guys have glance...

Weather app do that... for free.

Btw... This app has a fully functional trial

When weather apps started pop up in the Store about two years ago I probably installed every single one of them.. now I have none :)

Totally forgot about this app. Downloaded and using it now since MSN weather hasn't regained lock screen or glance screen support yet.

This is what lumia glance should have

It's not much use in Arizona in the summer.

uninstalling doesn't work on Lumia 920 or 950XL
Windows Central Newsletter
Get the best of Windows Central in in your inbox, every day!
Thank you for signing up to Windows Central. You will receive a verification email shortly.
There was a problem. Please refresh the page and try again.