Here's how to always see the current temperature on the Nokia Lumia 1520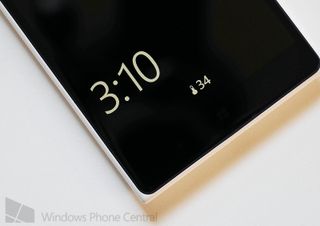 If you're one of brave who have committed to a life of BAP with the Nokia Lumia 1520, congratulations. You have an awesome 20 MP camera loaded with a 6-inch 1080P display that will catch everyone's attention in public. It also means you have the latest firmware from Nokia, dubbed Lumia Black. That release allows notifications to be displayed on the Glance screen so that you can easily see what's important in your busy life.
Here's a quick an easy tip to get the current temperature always on that Glance screen, which is especially useful in the winter months. And if you don't have a Lumia 1520, but instead another Lumia with Glance, bookmark this for when you get your update early next year!
Since the Lumia Black update allows notifications on the Glance screen, users can head into Settings > Lock Screen and choose up to five apps for 'quick status' aka icon notifications. The defaults are email, messaging, missed calls, but you can add WhatsApp, IM+ or even our own app to that list. This way, even when the phone is in standby, you can still see what's important to you.
To get the current temperature, you'll need to grab the app LockTemp from aephid technologies. We covered this app earlier in the year and gave it a thumbs up. This app simply puts the temperature with a little thermometer icon in your 'quick status' notification area. Combine it with the Glance screen update in the Lumia 1520 and you can now have the updated temperature permanently on your display. As you can see in the lead image, it looks awesome.
It's clever, easy and let's be honest, for some people, always knowing the temp outside is important. LockTemp can use an inputted location or your phone's GPS to constantly keep it based off your current whereabouts. It also has Celsius or Fahrenheit options.
LockTemp has a free trial and otherwise costs 99 cents. Pick it up here in the Store or scan the QR code below.
If you know of other lockscreen temp apps or other useful Glance tricks, let us know in comments!
Windows Central Newsletter
Get the best of Windows Central in in your inbox, every day!
Daniel Rubino is the Editor-in-chief of Windows Central, head reviewer, podcast co-host, and analyst. He has been covering Microsoft since 2007 when this site was called WMExperts (and later Windows Phone Central). His interests include Windows, laptops, next-gen computing, and for some reason, watches. Before all this tech stuff, he worked on a Ph.D. in linguistics, watched people sleep (for medical purposes!), and ran the projectors at movie theaters because it was fun.
Thank you
I was thinking!

LSD = large screen device ? ;P

Yes, thanks. I was pretty sure it wasn't Black African Princess.

I want paella with seafood and red Camaro.

Paella sounds good right now actually....

I would like that preview for Black :)

Would be nice if Microsoft allowed this to display negative numbers and numbers over 99. That is the limitation of the lockscreen notification. And thanks to whoever explained what BAP is, because I didn't know!

Would be nice to see them remove that lockscreen restriction, but it works pretty well if you're comfortable with Fahrenheit. If it's >99 it is really freaking hot. If it is <1 it is really, really cold. Anything above or below those extremes and you probably just want to stay inside.

Over 99 is common for F in summers and under 0 is common for C in winters in many places. Maybe we should switch by the time of the year.

I live in Idaho. Over 100 F happens in the summers and in the winter below 0 temps are a daily occurrence. Yesterday it was 20 F and we were excited because it was warm.

Unfortunately something like 95% of the World's population won't be comfortable with Fahrenheit. 99 F isn't that bad anyway - it's actually 38 C (100.4 F) for me today and it will be 39 C (102.2 F) tomorrow. It's good weather to go to the beach or swim in the backyard pool. It can get up to 44 - 46 C (111 - 114 F), usually on Christmas Day or Boxing Day and then again in February at the peak of Summer. Not having a minus would be fine, as I've never experienced anything below 0 C (32 F) haha. 0 C is still a record for us, set more than a decade ago as recent Winters have been very warm.


Well, this is the right time to switch to Celsius like the rest of the world XD
EDIT: actually no... I wasn't thinking... < 0 is pretty common with Celsius...

And to metric system like the rest of the world. Quarter pound burger, six feet tall and parking allowed next 200 yrds tell me nothing :(

Yeah, but it's the same way for metric with us. If our government wasn't busy whoring itself out to whatever corporation could shovel money into their pants the fastest, at the very least we would be making a concerted effort to use dual measurements for everything, all the time, for at least a generation, and then complete the switch to metric.

Paid the .99. 34 degrees in Indy according to my 1520. Thanks for the tip. Works like a charm.

I assume that's F for you? It's 38 C for me, but it's Summer right now in Australia

Yea its F because its cold as ice cubes in a freezer here in the northern us

Not having to wait for Lumia Black was one of the reasons I picked up a 1520. Love love love this phone. Best Lumia I'ved owned and I've had the 920,1020 and 520.


Agreed. The only thing better for Lumia is the 2520 though :-)

I disagree.. i have both and I love my 1520 WAY more.

I was using this on my 920 until last month. Now the temperature is below 1 degrees, so it's useless.

Is there really a meaningful difference between 1 and -X? Would you walk outside and think "WTH, my phone said it was 1! It's easily 5 below"?

for me, it does. I walk to my college, and so 1 is not same as -15 for me.

There is definitely a difference. In Canada we use Celsius and we also regularly are dipping into the negative category from October into April. So it would be pretty much useless as a temp gauge for about half the year. Allow negatives and we'd be golden. FYI: Currently -24 right now here in Winnipeg.

Yes. A huge difference. 0° F is bearable. When we get down to -10, I need to start wearing another layer under my jacket. -15 I need to be starting the vehicle a bit earlier. -20 I need to be more mindful of the winter gear I need to keep in the pickup.
I'm not trying to complain, or even go for "shock value". This is how I go through winter, and the limitations if the operating system cripple this potential app feature to the point that I can't use it four/five months out of the year.

Completely useless app for celsius when the mercury drops below zero.

Why does Nokia slow down the update process like this? I'm sure we all could have had Lumia Black by the end of this year.

Because they want to sell new phones. And there's people that can't wait. I can wait though because there's nothing up to the snuff for replacing my 920. And if ATT keep taking QI out then there won't be another good phone from them. Sigh what to do. What to do.

Its a real shame since the 920 did so well and the wireless charging got positive feedback. The next flagship to come (Spring maybe?) better have more memory and wireless charging. I mean what is the point of having wireless charger if they wont include it on the phone. I know AT&T doesn't support Qi but still...

I just set it up on my 1520. For those setting this up for the first time it can take up to 30 minutes for the temperature to show up so don't panic if you don't get a reading right away.

Current? Nothing on my windows phone is ever current. Right now it's showing me a scoreboard from the 1st period of a hockey game on Wednesday and weather from 24 hours ago.

Sounds like you need different/better apps for those things. What sports app and weather app do you use?

ESPN Scorecenter is still showing me the score from wednesday Both Bing Weather and Weather Flow need to be updated manually, the tiles almost never pull up to date info.

I think the much more exciting thing is that lock screen notifications are showing with glance on the 1520. None of the reviews I have seen have shown that... I assumed this was not in place yet. Can we get a video showing email and groupme and such on the glance screen? Because THAT is exciting to me!

They need to do the bit with battery need ir so bad!!

You can. Using battery pro + app or Insider Pro.

Weather is everywhere on the phone.....is it that important

yes and you can turn t off too if not interested..

I wish att would ship my 1520! I ordered it 3 weeks ago!

This would not work very well in Phoenix in August if you chose the temperature unit for display as Fahrenheit!

The temp notification seems to come and go on my 1520

I'm still not understanding how this would not affect the battery given this isn't an AMOLED screen? The 1020 would be a much better device for glance, I don't understand why Nokia isn't pushing more AMOLED screens for this feature. Don't get me wrong I love their LCD's but AMOLED is best for glance

I have 1020 and 920. On the 920, the glance display is very dim... I think on non-AMOLED they use the lowest level of backlighting to conserve battery. Definitely doesn't work as well... I agree OLED is better.

What I really seriously truly dont want to accept, why the balatant idiots at Microsoft dont allow the stupids (it is meant to be us, all WP owners) to customly set the brightness level to the absolute minimum that the hardware is capable of using. Instead all we get is 3 pre-set value, low, medium, high. The low is way to bright for using it in the dark at night. The display is capable of using much much much less light, the glance screen on 920 proved it, but there is no system setting where I could set the same low brightness level manually. That stupid Android has a simple slider, and I can set brightnes as I like. But not on the windows phone, MS thinks their average customer is too stupid to handle a slider, so instead they offer only a 3-stage dropdown box.

Loving my BAP! Big Ass Phone!! In fact my 920 is what feels odd now when I use it.. lol Gotta upgrade my other BAP,Beautiful Ass Princess.. So we can be two BAPs Beautiful Ass People.. Which we already are.. Ha!

Is there a way to get the battery on there? (which actually works in reall time not every half hour)

No there isn't. Keep in mind, this temp trick updates every 30 minutes as well, not in real time.

It's a great app. Just be aware that sometimes their sources' servers go down and the temp doesn't get updates properly. The app can be set to alert you of that. I keep the fantastic Bing Weather running, too.

Is this app draining the battery for anyone? My battery has been going much quicker since the install.

$0.99... nah. Free - yes! I think this is something Bing weather should implement or weather channel, or AccuWeather. Why is the is a need in a separate app just to see info other already installed apps should display already. Less apps - more functionality plz.

This little app deserves a little bump :) nowadays almost everyone has black.
Windows Central Newsletter
Thank you for signing up to Windows Central. You will receive a verification email shortly.
There was a problem. Please refresh the page and try again.