VAIO personal computers are returning to the US later this year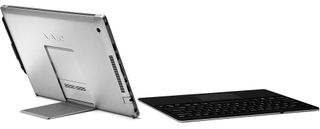 VAIO plans to return to the US later this year. The newly reformed company in Japan has exclusively built, launched and supported hardware in the region without rolling out in other important markets. But this looks set to change with the company planning to sell computers outside Japan.
The VAIO Z Canvas PC, a 12.2-inch notebook, will be made available at some Microsoft Stores (as well as online) this October with pricing expected to start at $2,200 – depending on configurations.
Interestingly, VAIO CEO Yoshimi Ota noted in an interview with the Wall Street Journal that while the company plans to launch new products in the US, VAIO will also look into a slimmer laptop with cellular support, as well as wearable gadgets and even factory robots.
It's clear VAIO have some ambition and we're rather excited to see the renowned brand return to the US, with hopefully other markets on the horizon. Head to the VAIO US website to register your interest.
Source: VAIO, via: Wall Street Journal
Rich Edmonds is Senior Editor of PC hardware at Windows Central, covering everything related to PC components and NAS. He's been involved in technology for more than a decade and knows a thing or two about the magic inside a PC chassis. You can follow him over on Twitter at @RichEdmonds.
Starting at $2200... Whoa. Were VAIO machines ever really that coveted?

Yep. at least the Z series was.. and when Sony stopped making them, there was a gap in the market for an all around premium ultrabook/convertible

Caught my eye too. Has to be a misprint.

It's not a misprint. This is actually about what I paid for my last VAIO Z-series laptop. wait until you see the specs on it

STARTING at $2200 for a 12 inch laptop? Gimme a break. By way of comparison: http://www.windowscentral.com/lenovos-latest-mobile-workstations-offer-4...

Do they throw in the rootkit for free?

but the specs you get in that machine are incredible. That's why vaio was always more expensive. I am tired of all manufacturers putting in the lowest processors. All current ultrabooks have i7 5500u; why not 5550u? it has the same power requirements, and better gpu. Some people are willing to pay for it! That's why I bought vaio years ago.. it had i7 2640m, not the lower i7 2620m as all the other manufacturers. Add to it dual GPU (intel + amd 6630m), and you got the fastest 13 inch laptop that's only 1 inch thick on the market at that time. (Only other manufacturer not using the lowest processors in the series is Apple with Macs and Microsoft with Surface, but surface is a generation behind.)

Made in the same factory as Surface Hub?

Vaio has always overpriced their products so I am not surprised at the price point.

I'm writing from my enterprise VAIO notebook and it is worth every cent they paid for it. Crazy build quality, looking cool, crazy specs, a jewel.

Realistically, they are not overpriced

I've had my VAIO S15 for 3 years now. It was worth every penny, and cost about the same as any similar spec laptop at the time.

On amazon is 3300, and it has only one on stock so, from what I see, this is an improvement. Also, core i7, 512 GB ssd storage and 16 gigs of ram. Surface pro with this configuration isn't that far away, you know

THIS!!! Who knows why only Apple and Microsoft ever uses better intel GPUs..

That's pretty expensive for a 12" machine.

Hey my 12 inches ain't cheap

Well done. Posted via Lumia 520 XL

I see the Sony tax is still alive and well!

Its not a Sony brand anymore, they sold it.

And so. Sony start building a notebook

Sony is still a major shareholder in the company. Hence... Posted via the Windows Central App for Android

Starting at 2200 I'm expecting them to be i9, 6TB, 8k screen with 20 days battery life

That is ridiculous for a small form factor like that. Alienware starts their cheapest laptop configuration at $870 and jumps to $2,300+.
I don't know what configuration that Sony has but I doubt it is as great as the $870 Alienware configuration. Let alone "premium".

VAIO, its not SONY anymore.

$2200? The production chain must be at the beginning of its learning curve.
They've timed the comeback well, being the launch year for Windows 10

Love my VAIO!! Gorgeous piece of machinery!!!

Same here I love my VAIO too.. It's 10x better than the Dell HP etc

I also love my Vaio S 2012 . I hope they release another machine like that, semigloss FHD IPS Mg Alloy... with improved audio for around $900 for base model.

I have never seen a laptop that I would rather have than my Vaio S, even three years after I bought it.

Sounds like a mac.... Pretty case..... And..... Pretty.... Very pretty

With exceptional build quality, and reasonably solid hardware to back it all up.

$2,200? Come on, you can do better VAIO! I know you've still got it in you. Where is the limited rose gold edition or perhaps a banana yellow carbon fiber model for $3000+, hell make it scratch and sniff banana for $3,200...

Just asking.. Does the "kickstand" are secured and stabled? What if some kids wanted to play on it, and do a very hard tap...

I hope for their sake, that it is, but it seems very flimsy. I can't really see how the stand is gonna hold much of anything.

They always used cheap screws and wete a pain to repair.

The SURFACE is strong with this one.

If this was a 22 inch artists' tablet with the same design, that'd be a reasonable price.

It looks thin and nice but at the price point they have it will this Company sell enough of them to make a profit. a lot of people want a SUrface Pro 3 and will not buy one because they cost too much for them. perhaps maybe Microsoft will sell cheaper Surface pro 3 tablts using the current old Intel CPU's.

Sony made a mistake by selling the VAIO division, if they have kept it, they could have made an app for VAIO Windows 10 machines to stream games from your PS4 to your Vaio convertible/laptop/tablet. Now PS4 is only compatible with Xperia Z3 phones, VAIO could have made them sell more PC's and more PS4 consoles in the long term, and by effect, increasing profits for the company.

They can still do that. Sony isn't restricted from using the Windows SDK without a dedicated PC division. They can still develop and launch PS4 streaming for Windows if they so want to, and they could even [attempt to] work out a limited partnership with Vaio to make it exclusive to their machines (however this could hurt adoption of the feature/app)

The entire PC market is shrinking, and has become extremely cutthroat. Sony doesn't have the money to make VAIO competitive in the face of Lenovo, Dell, and Microsoft. Selling VAIO was a pretty brilliant move. Honestly, they can still offer an app for Windows 10 that will be available on all PCs... not just VAIO.

Nice to see Vaio return to markets outside Japan again and this time they are going the right way with limited premium only models and no budget laptops catalogue which led to the sale of the Vaio division from Sony to Japanese investment firm.

Starting at $2200? LMAO! I see they still haven't learnt their lesson!

They have learnt their lesson the hard way and are going on the correct path by targeting only premium customers with good margin, the loyal vaio z customers don't care about price and have paid 2-3k usd in the past, it is all the budget and low end vaios which diluted their quality and profits.

5th Generation Intel Core i7 4770HQ Processor + Intel Iris Pro Graphics 5200
• 8GB RAM + 512GB SSD
• 12.3 inch WQXGA+ 2560 x 1704 touch display In case anyone was wondering. That's for the $2500 configuration but it gives you an idea of what you're getting.

The high end Dell Alienware 13 (Intel Core i7, Quad HD touch display,Mini DisplayPort, 16GB RAM, 256GB SSD, is 1 grand less and comes with Nvidia GeForce GTX 960M which is compatible with HDMI 2.0. Looks like VAIO is overpriced by now, hopefully they can lower their prices to compete with premium laptops from Dell and other brands. I wish the best for VAIO PC's.

no one wants a kids configuration alienware machine

Sony or not it's still premium, $2200 - good luck this time VAIO.
But if they make this Z Canvas model 12.2" with 128GB, 4GB RAM, Intel i5 for $899 they have a chance to sell the device.
Windows Central Newsletter
Thank you for signing up to Windows Central. You will receive a verification email shortly.
There was a problem. Please refresh the page and try again.