Vector Smartwatch review: a classy smart wristwatch for the Windows 10 Mobile crowd
The smartwatch selection for Windows 10 Mobile users is slim. But the Vector Smartwatch is more than just an option; it's a compelling exercise in compromises with huge benefits.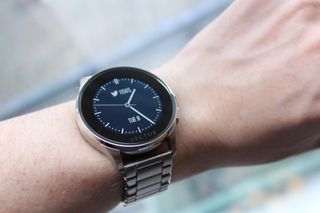 The Quick Take
Vector's own take on what a smartwatch should be is an interesting one, if only because it removes a lot of the "smart" functionality in favor of longer battery and a more classic design. This isn't a bad thing of course, and over the last month of using a Vector watch, I've come to realize that. Outside a few syncing issues, my Vector watch has done basically everything I would want a smartwatch to do: notifications, a basic app store, and a few other Vector-unique features. This is a smartwatch for those who want the added benefit of being able to count steps, see notifications on their wrist and take advantage of basic smartwatch functionality, not for those who are looking for a full-on smartwatch experience.
See at Vector Watch
Vector Smartwatch full review
You can imagine my surprise when I heard there was an actual smartwatch company out there who were actively supporting Windows 10 Mobile. After news broke that Microsoft had halted plans on a Microsoft Band 3, I started looking at alternatives to satisfy my need for a wearable. I'm a simple man: I want my watch to be able to show me notifications as they come in, count my steps, and perhaps a few other additional things. And to tell the time, of course.
Above all, it needs to last. Your average smartwatch has 1-2 days worth of battery life max, which is a joke compared to normal classic watches which can last years iff a mere cell battery, or forever if it's a mechanical watch you simply keep wound up. Of course, the comparison isn't really fair when you look at the complex innards of a smartwatch compared to a standard wristwatch, but that doesn't mean having "usable" battery life should be off the table.
That's where Vector comes in. They make smartwatches that aren't exactly full smartwatches, but aren't exactly classic time-only watches either. A mix of the best of both worlds, with excellent battery life, basic smartwatch functionality and a premium, classic watch design.
Vector Smartwatch design
Let's kick off with the aesthetics of the device. Vector actually has several different designs and variations available to choose from, all incorporating the same features and functionality, so you won't be missing out on anything depending on the design you go for. You've got the two main styles: either Luna which is your traditional circle-faced watch, or Meridian, a square-faced alternative.
You've then got different Vector bands to choose from, ranging from more traditional classic steel with butterfly clasp 3-link bands, or more relaxed Leather with buckle bands. Luna can take advantage of both steel or leather, whereas the Meridian model can only use leather. Regardless, much like with most standard watches, you can change the band once you have your Vector Watch with a standard watch band toolkit.
We're reviewing the 44mm custom solid 316L stainless steel case with mineral glass Luna watch with 3-link silver bracelet, which I chose personally as I like the traditional watch appearance. From the get-go, the Vector Smartwatch is one premium device. It's all metal, which feels excellent in the hand and on your wrist, assuming you get the watch band sized correctly with your wrist. After some adjustment, mine sits comfortably on my left wrist, with no issues or itching, which some wearables have given me in the past.
The watch face sits upon a brushed stainless-steel housing with super high quality buttons on the left. The whole housing is solid, with no creaking or mushiness to be seen. Seriously, showing this watch to someone with no knowledge that it was a smartwatch, they immediately assume it's a normal, premium watch based on its appearance and quality alone.
The actual watch part is a little thicker than your standard watch, but that's to be expected because although this watch looks and feels like a normal watch, it's still a smartwatch at the end of the day. It still has a screen, a vibrate motor, and a pretty big battery to keep that all powered for as long as possible. Don't get me wrong, it's not huge, but compared to some of the slimmer wristwatches on the market it can be a bit chunky.
On the side you'll fine three buttons, two of which are used to navigate through your watch faces and apps, and one which is used as a multifunction button. Press it once will open an app, hold it and the app will close. Unlike many other smartwatches (Microsoft Band, Apple Watch, Android Wear), there's no touchscreen here — think more along the lines of a Pebble watch than a Band.
The underside of the watch face is where you'll find the Vector Watch charging connector, a magnetic adapter that pulls off with ease when needed, and can charge the device almost completely in around 30 minutes.
And as an added bonus, the watch is waterproof! You can in theory take this swimming, although Vector advises against fiddling with the buttons underwater (you could let water in) and dousing it in hot water. It's probably best to take the watch off if you're going into any water, but the waterproofing is there if you need it.
Let's talk about the screen, which from the very beginning is pretty interesting. Unlike most smartwatches, Vector went for a monochrome, low-resolution and low-refresh-rate non-touch display. Because it's monochrome you won't be viewing any photos or seeing any bright and beautiful apps on the Vector Watch, but that's not really what it's for. On paper the display doesn't seem like it'd be very appealing, but trust me, after using the device for just a few days it became clear to me that Vector made the right call in using what might seem like a lesser screen technology.
Because of low-power the screen, Vector is able to keep the screen on 100% of the time, even when the watch isn't in use. Much like a real watch, you wouldn't expect to have to press a button or make a gesture with your hand before you could see the time. The Vector Watch screen stays on all the time, and that doesn't effect battery at all because of the screen technology used. You can trigger a backlight for when it's dark (press the center button and the display lights up for around 5 seconds), but you won't need that in the daylight at all.
Vector Smartwatch software
Since the display is so basic, Vector has bundled a lightweight, basic firmware that features lots of watch customization and battery life optimizations. It's not running your typical smartwatch OS, with apps, sounds, and all that jazz, instead the Vector Watch is rocking a much lighter software that has access to a few lightweight apps and watch faces/streams.
There are a lot of watch faces to choose from in the Store, and developers can submit their own for users to download. Vector has built a few of their own, too. I personally used a traditional analog watch face called "Simple Minutes", which also had the ability to add a couple of streams to the face too.
Streams are little widgets you can add to a Vector watch face. They can range from basic status data like the date or weather, to how many steps you've taken, and even to your count of Twitter followers or the distance you've travelled in a single day. You can grab plenty of custom streams from the Store, and depending on the watch face you're using, you can have multiple on one face at a time.
Some of the streams, such as the Twitter one, will take a bit of time to update. For Twitter that's fine; it only has options to show your counts of your followers, the retweets and likes of your most recent tweet, the top 3 trending tags on Twitter You won't be tweeting directly from the watch. In fact, other than telling the time, checking notifications, and perhaps checking a few apps and health stats, you won't be doing much from the watch. That's the beauty of the Vector Watch, however.
There is an App Store with a basic app selection. You've got things like an Activity Tracker, which will monitor steps, distance, calories and sleep, but don't rely on the Vector Watch too much if you're in the market for a dedicated health band. For starters, on one of the days using the Vector Watch, my step count had exceeded 122,000 — roughly 55 miles — which I thought was a little generous.
Other types of app include alarms, news, music, camera, calendar and other ultility-type apps for you to control your smartphone directly from your watch. Apps like the camera app will allow you to take a photo with the press of one of the three-buttons on the watch, great for group photos where you've set your phone up at a distance. The music app will allow you to control what's playing on the phone, but again, the Vector's hardware is pretty basic and there's no speaker on the watch.
There are even apps for Nest and Uber, in case you need them. They aren't super flashy, but they definitely get the job done, much like everything on the Vector Watch.
Vector Smartwatch Windows 10 Mobile app
To get the most out of your Vector Watch, you'll have to set it up with an app on your phone. Thankfully for us here on Windows Central, they make a Windows 10 Mobile app. I wouldn't say it's perfect — there are many syncing issues, notifications don't always come through, and the app is prone to crashing frequently. I also often find the watch disconnects from my Windows phone randomly, even though the phone is in my pocket. But it exists, which is more than can be said for many other wearable manufactures.
When downloading watch faces and apps, more often than not the download will get stuck and simply hang with no way to cancel the process other than to restart. It's odd, because sometimes the app will download new stuff to the watch absolutely fine, and other times it'll simply not work at all. I imagine a lot of these issues have to do with the app being not as well made as it is on Android and iOS, which is to be expected really. I've noticed that iOS and Android get software updates before Windows phone do; these updates come to Windows phone users eventually, but usually not right away.
Vector Smartwatch notifications
As the Vector Watch connects to your smartphone via Bluetooth, the watch will attempt to stream your notifications from your phone to your watch, allowing you to see and dismiss them without getting your phone out your pocket. This is excellent, and is basically all I need from what I consider a smartwatch to be, however notifications aren't entirely reliable. I'd say about 30% of the time, notifications won't immediately come through, and sometimes they won't come through altogether. I'll feel my phone vibrate in my pocket, and the watch simply won't do anything.
When a notification does come in, the notification won't display on the watch unless you raise your hand and actually look at the display within the first 5 seconds of it arriving. This is great for those who are privacy conscious, and as a bonus the Watch can be setup to dismiss the notification from your phone once you've seen it on your watch, keeping your phone notification center clean and tidy.
If you don't raise your hand in that 5 seconds, don't worry, you haven't missed it. A ring will appear around the watch face indicating that you've got an unread notification, and pressing the middle button will bring you to your missed notifications. Pressing the middle button again will dismiss it from the watch, and if setup, the phone too.
You can't respond to notifications directly from the watch, but that's perfectly fine for me. That may be a deal breaker for you, but if that's the case you probably already found the lack of a touch screen and super basic display a deal breaker too.
Vector Smartwatch battery life
Now, this is where the Vector Watch shines. A simple OS and a simple screen have one huge benefit, and that's reduced power demands. Most smartwatches on the market these days get 1-2 days of battery life at best. Some health wearables can get maybe a couple weeks, but that's the absolutely maximum. The Vector Watch blows all these other smart watches out of the water with an advertised 30 days of battery life. Yep, a whole month. I've haven't even had to touch the charger during my review time.
I've had the watch for over a month at this point, and it's still going. Although Vector advertises 30 days, I'm pretty sure you can get 40 or maybe even 50 days out of a single charge. Admittedly, I only have a few watch faces and apps/streams installed, but for what I need a smartwatch to do, I'm happy with the experience and battery life is just amazing.
Outside of the epic battery life, you can also fully charge a Vector watch in under an hour — charge it up once a month when you go to bed, or heck, when you're getting ready in the morning. Putting my watch on charger once a month for an hour is perfectly fine with me. It's honestly shocking how long the watch lasts, so much so I've actually misplaced the watch charger a couple of times because I put it away with the mindset that I'm not going to need it for a while. Incredible.
Who is the Vector Smartwatch for?
It should be clear by now that the Vector Watch isn't your typical smartwatch. It doesn't feature a pixel-dense color touchscreen display running a powerful OS. It's basic and monochrome and driven with buttons. But even so, it's still super customizable.
But who is this device for? It's for people like me, who can't deal with the typical smartwatch's paltry battery life, and don't need a smartwatch to do all the flashy things most of them do. I personally want my watch to tell me the time and show me notifications, and the Vector Watch does just that with amazing battery life. The Vector Watch actually does more than I need it to, with the added bonus of apps and streams, all great additions for those who want to get the most out of their smartwatch.
If the typical smartwatch experience is too much and yet too compromised for your liking, then the Vector Watch is for you.
Vector Smartwatch: The bottom line
The Vector Watch is an interesting take on what a smartwatch should be. Instead of using a futuristic, almost geeky design like most smartwatches, Vector has opted to go the classic route with stylish premium designs. What's more, they stripped back a lot on what we consider a smartwatch to be, instead offering basic alternatives to fill the gap between a standard wristwatch and a more powerful — and power hungry — smartwatch. The end result is a premium, basic smartwatch device with incredible battery life.
Admittedly, the app on Windows 10 Mobile could use some improvement; I'd like to see the option to customize the order in which your watch faces and apps are listed, and I'd also like to seem some syncing issues fixed with downloading new apps and syncing notifications. Outside of these issues however, the Vector Watch is a solid watch.
If you're a Windows phone user in the market for a smartwatch, I'd definitely recommend you check out the Vector Watch. It may take you a few days to get used to the more simplistic approach Vector has gone for, but once you are used to it the experience is fantastic.
Make sure you check out the Vector Watch website for pricing, models and more.
Get the Windows Central Newsletter
All the latest news, reviews, and guides for Windows and Xbox diehards.