Verisure launches official Windows Phone app to help you monitor and control your home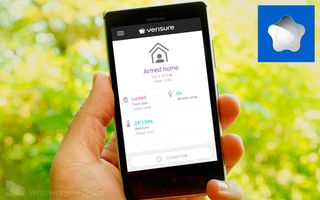 Verisure is the consumer branch of Securitas Direct, a company in Europe that specializes in safety and security solutions for homes and businesses. Home owners can install a Verisure system to help protect their assets. There's also now an official Verisure app for Windows Phone so you can control and monitor your home when you're on the go. Details below.
Have a Verisure (www.verisure.com) system at home? You just might. Verisure is one of Europe's largest home security companies. If you do have it, you'll want the Windows Phone app so you can:
Control and monitor your connected smart home on the go
Arm, disarm and check the alarm status
Receive notifications when your children come home
View temperature and humidity information
The app seems like a must have for anyone with a Verisure system at home. If you have the SmartLock module installed you can control the lock with the app. Which means you can unlock it remotely for when you have a friend or family member coming over and you can't physically be there to greet them.
The design may feel a bit like iOS 7, but we're sure there are a handful of you out there that are still pretty excited to at least see the app available.
Want the Verisure app for Windows Phone? Then grab it in the Windows Phone Store or swipe to the right in our app. You can also use the QR code below.
Thanks for the tip Xaphoon148!
Windows Central Newsletter
Get the best of Windows Central in in your inbox, every day!
Nice, but still waiting for the official Crestron & Lutron apps

That icon should be more metronized. Well. I see it is a simple port so there is no need to metronize the icon. would make false impression of a modern ui application:P

You're being nice, that Icon is horrible, just plain horrible. The half butt-ed that one.

Perfect timing, had the security system installed today!

Good! I did pester them about the lack of an app when I installed their services :P

Will that even matter when Nokia is absorbed by MS?

Only as long as I'm still using a Nokia. I said I will not buy Microsoft produced phones, not that I would immediately throw my Nokias out of the window.
Also Nokia is NOT going to be absorbed by Microsoft. Only the people who are part of their D&S.
(those who accept moving that is)

I'm waiting for the Xfinity security app.

http://www.windowsphone.com/s?appid=fdfaa695-9d2a-47e5-9bc0-18b13515bd8a
Lumia 1520 users

We use Vivint security systems at our home, and there's a very well done Windows Phone app for them, Alarm.com. Of course, it controls more than the alarm, and you can see history of events your system has registered. Very nice.
Windows Central Newsletter
Thank you for signing up to Windows Central. You will receive a verification email shortly.
There was a problem. Please refresh the page and try again.