Verizon and Samsung announce ATIV Odyssey Windows Phone. Due out in the coming weeks.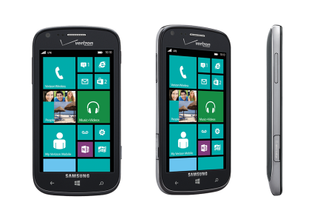 Well, it's official. Verizon and Samsung today have announced the ATIV Odyssey Windows Phone coming to the CDMA carrier "in the coming weeks". The 4" device is expected to fill in the entry-level range for Windows Phone 8 on Verizon and will also be a "global phone".
The phone will be on display at Samsung's booth during CES when the floor opens tomorrow, which means of course we'll get some hands on time with it very soon (we may be even able to sneak in a peek later tonight at PepCom).
Head past the break for the full presser.
SAMSUNG MOBILE launches its FIRST Windows PHONE 8 smartphone in THE U.S. with Verizon wireless
Samsung ATIV Odyssey™ features Super AMOLED display, 1.5 GHz dual-core processor and 4G LTE connectivity
LAS VEGAS, NV – January 7, 2013 – From the 2013 International Consumer Electronics Show (CES), Samsung Telecommunications America (Samsung Mobile), the No. 1 mobile phone provider in the United States and the No. 1 smartphone provider worldwide1, today announced the Samsung ATIV Odyssey™ will be available in the coming weeks at Verizon Wireless Communications Stores and online.
The ATIV Odyssey boasts a brilliant 4-inch Super AMOLED™ touchscreen display (800x480) that allows users to watch movies, view pictures and play games in high resolution. This compact, versatile smartphone is Global Ready™, giving users the ability to call and email from more than 220 countries in the world. The ATIV Odyssey is equipped with a 1.5 GHz dual-core processor to quickly access the Internet, stream music and download content at blazing speeds using the Verizon Wireless 4G LTE network.
The ATIV Odyssey runs on the sleek and intuitive Windows Phone 8 operating system, the only one with Live Tiles, designed to keep you closer to the people and things that matter most. The ATIV Odyssey also features unique Samsung sharing applications such as Photo Editor, Mini Diary and Now, an application that provides weather, news, stock and currency updates instantly.
The ATIV Odyssey is enterprise ready with enhanced security features to offer customers an extremely powerful business tool that keeps sensitive company data secure. Security solutions include advanced Microsoft® Exchange ActiveSync® features and policy control and on-device AES 256-bit encryption.
For more information about the ATIV Odyssey, visit www.samsung.com. To learn more about pricing and wireless plans available for the ATIV Odyssey, visit www.verizonwireless.com.
Key Product Features:
Super AMOLED™ Display (WVGA 800x480)
5-megapixel rear-facing camera with LED flash and full 1080p recording and 1080p playback
Front-facing 1.2-megapixel camera for video chat
Global Ready calling and email capabilities in more than 220 countries in the world
Wi-Fi connectivity (802.11 a/b/g/n)
8 GB on board storage (actual formatted capacity is less)/ 1 GB RAM
Support for up to 64 GB microSD™ card
2100 mAh battery
Photo Editor – Edit photos (crop, rotate, resize, etc.) and adjust colors (contrast, RGB and hue) instantly; users can also add effects such as Pop Art, gray-scale, fixed red eye and add decorations that include frames, stickers, etc. and share on Facebook, Picasa and Photobucket.
Mini Diary – Contains daily activities, photos and drawings; users can share their diary via social channels including Facebook, email, Picasa and Photobucket; users can back up and store information in the free cloud service SkyDrive.
Now – Provides weather, news, stock and currency updates instantly
Windows Central Newsletter
Get the best of Windows Central in your inbox, every day!
Daniel Rubino is the Editor-in-chief of Windows Central, head reviewer, podcast co-host, and analyst. He has been covering Microsoft since 2007 when this site was called WMExperts (and later Windows Phone Central). His interests include Windows, laptops, next-gen computing, and for some reason, watches. Before all this tech stuff, he worked on a Ph.D. in linguistics, watched people sleep (for medical purposes!), and ran the projectors at movie theaters because it was fun.
Is this what Windows Phone was hinting? pretty dissappointing.


sprint just announced samsung and htc to sprint, that is what was being hinted.

No, this is what was being hinted: http://newsroom.sprint.com/article_display.cfm?article_id=2486&q5052791=1

another entry level WP8 device..

I posted this on the earlier Samsung Odyssey specs story, but does anybody know anything about phone battery life? Is this 2,100 mAH battery going to last a good deal longer than the 1,800 mAH found in the Lumia 822?

Lumia 822 got smaller screen and lower resolution, so i would imagine similar or less.

The resolution is WVGA on both, no?

The Samsung has the smaller screen and the same resolution. Am I missing something?
EDIT: It seems the Samsung should have a better battery life, I just want to know if anybody has any idea (approximate) of what difference I can expect with the 1,800 in the Lumia vs. the 2,100 in the Samsung. This would be for my mom, first smartphone, less concern with Nokia apps, etc. My girlfriend's Lumia 822 has a bit of a disappointing battery life.

A few hours maybe..there's a lot of variables that make it hard to tell but it really depends on usage. Your girlfriend may be much more active than your mom so mamadukes can probably go a couple days on a charge.

Yeah, sorry was thinking of the high end ATIV.

Samsung Windows Phones are looking very nice.

-said just this one person ever.

Wow. that is a impressive battery for a entry level phone. Good job. my cousin might get this phone :-)

They needed to bring the Ativ S to the US, not a knock off.

Looks I will be buying an unlocked Ativ S this year!

Disappointing specs.. Here is the problem.. Partners are making phones with mediocre specs that does not compete with high spec Android phones.. What's up with that.. This is going to be another year of Windows phone lacking is phones that stand out.. 800x480 (crap).. 1.5 Ghz (crap). I read all the time that these are economy phones.. Hows that when anyone can get an iPhone for 199.99 or a Galaxy S 3 for free. This is the continuation of Windows Phone trailing behind everything else. As a consumer constantly defending Windows phone as a viable competitor, it's really frustrating. Wait till Black Berry 10 comes out. I bet it's going to be all positive press.. Watch how much support BB10 will receive..

Someone is giving away a $530 phone for free? Sign me up!

Its better than nothing, but still no High End WP8 phones for Verizon. I expect the Sprint Samsung & HTC models will also be low end. Glad I'm on ATT with my Lumia 920. :)

Isn't this supposed to be a free phone? And 1.5 GHZ dual core is "crap" now? I don't get this "high end/flagship" mentality. The vast majority of people out there don't care about these specs. The vast majority of people won't know the difference between a 480x800 and 720p screen on a 4" device. They want colors that pop and are vibrant (which is why the Lumia 822 looks so nice compared to the 8X screen). Verizon obviously wants to hit multiple price points, and considers Windows Phone a good entry point to the market (hence the $0, $50, and $100 price tags).
This community drives me nuts as of late. First it was "specs don't matter, the OS is sooo smooth" and now it's "where are the specs?!?!?!!" Which is it? If the OS is smooth, why do specs matter? If the phone boots up and runs great, why do specs matter? I miss the old posters who spent more time in interesting discussion and less time complaining.

Well I have purchased 9 WP devices and I am utterly disappointed with Samsung, yes with specs. It has more to do with the attitude and pitiful effort on the OEM rather than just wanting the best specs. We suffered thru Android fanboi attacks about how WP7 was crippled, not by the lack of specs but by the inability of the OS to support it. Now that OEM's have the ability to add quality hardware some choose to toe the line at barely standard still.

The old members simply loved WP. Now, there's a new crowd coming to WPCentral, that want quad cores, and an all out arms race, with Android phones, that must be as high spec'd as Star Destroyers, to run an inefficient app ecosystem, and a bad hardware/software management system. Listen people. WP8, doesn't need your quad-core Exynos/Tegra3, or even Snapdragon S4 Pro, procs, to run buttery smooth. That's why it sits perfectly, as a value pick, AND high-end, in the same breath. Stop crying at every article, about a phone that doesn't make you want to spend your rent money on it! Because 1) with WP, you don't have to spend an arm/leg, for top tier, 2) you're probably reading this on your darn Lumia 920/HTC 8X, anyway, and 3) the masses, will ALWAYS, choose the phone under $100 (subsidized)/under $500 (unsubsidized). So, if this phone's not your cup of tea, Sammy didn't design it for YOU, and the Apollo Plus phones won't arrive until Summer, at the earliest. Stop whining.

I would like a Deathstar sir.

Chi28n2k - I agree completely. I do miss the times when we had less trolls and more WP enthusiasts who were willing to discuss the platform - both the good and bad - but didn't flood every story posted on this site about a new phone with "ZOMG t3h specz suxx, no quad corez!!!" It's also annoying reading all the comments about "guess I'll continue waiting because X phone is crap". Cool story? You can continue to play the waiting game forever to get a phone that has a few more Mhz or a few more MP camera or an HD screen (on a 4" device lol). Most people will opt to buy now for a fully functional well performing phone.
I have an HTC Trophy. It's a single core, "low spec'd" phone. Guess what? It runs the OS just fine. No, it's not as nice as the Lumia 900, or the new Windows Phone 8 devices, but it works for me until I can upgrade later this month. I don't need a phone with "moar corez" to make me feel better about myself, or do 99% of the things I do on a phone. And I'd say my type of usage is similar to most people out there - playing a few games, checking email, web browsing, phone calls, texts, and some mapping -, aka not the power users (who probably should be on Android anyway).
Almost all Windows Phone 8 devices are pretty decent, even this Samsung Ativ Odyssey. I think it's a great looking little phone for a first time smartphone user/buyer such as my mom. Good sized battery (this is huge to many people), decent sized vibrant screen, light, solid build, expandable memory. No frills, no gimmicks but still runs the OS smoothly with almost no problems. An established name in Samsung. Free to cheap on contract pricing. Sounds like a winner to me. I don't get the complaints, hitting the "low end" is huge for Windows Phone. It's where Android continues to win.

Samsung announces the ativ s then gives us something lesser while they let HTC and Nokia do everything with WP8. Why do they even bother? I feel bad for the people holding out for the ativ s in the US.

As soon as I heard it was not the S, I ordered my 8X. Should be here in the morning! And I got the 8X because of screen size more than anything, was looking forward to that 4.8 but oh well, HTC gets my money and not Samsung.

This has to do with Verizon and windows phone and not much to this, but when will other carriers like AT&T get data sense?

Samsung must be pissed at ATT if they are going to release the ATIV on Verizon instead of ATT first. We've been waiting for the ATIV on ATT for 2 months.

Wow another entry level phone. Where are you super phone? We need you.

Nice to see Samsung releasing more handsets with WP. The more from them the better. But they really need to sort out availability and distribution.

I'm surprised nobody mentioned its basically a Sammy Focus 2 running WP8.

That's quite a butterphone ...

"display (800x480) that allows users to watch movies, view pictures and play games in high resolution"
"(800x480) . . . high resolution"
I'm sorry, what? HD starts at 1280x720, Samsung.

HD = High Definition High Resolution ≠ High Definition or HD



Urgh... Silver is the only color that is good for android, but not good for windows phone.

Looks like the first focus... Which is not a bad thing... Though it not a real looker, that was a super solid phone. Although I moved to the 900 and 920, I miss that phone... And will get it it back to use as a media device once my brother finds it.

Samsung's Photo Editor, Mini Diary and Now apps aren't really worth advertising... Now in particular wasn't that good.

Why is my comment triggering the spam filter? Why can't we let the community decide if my comment is a spam and flag it instead of an erroneous automated filter? Is there a character limit to this or a certain keyword that's causing this?

Checked both pockets and couldn't find a single f*** to give. I loved the 8X when I checked it out but non-removable battery and no sd slot with only 16gb storage is a non-starter for me. Where is a high end Nokia device or the Ativ S Verizon?

UUUUUGGGLLLYYYY!!!! Samsung is addicted to making UGLY ass phones.

Other than expandable memory...Meh!