Verizon Announces Samsung Omnia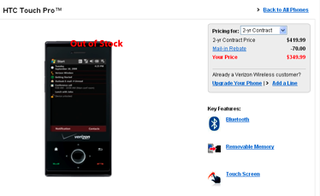 The Omnia's announced (opens in new tab), everybody, at long last. It'll be online tomorrow and in business channels around the same time, in physical stores on December 8th. Counting legacy devices, the Omnia is the 7th phone currently available on Verizon's network. That's nothing to sneeze at. Neither are the Omnia specs, which match what have been rumored:
240x400 screen
Windows Mobile 6.1
5mp Camera
624 MHz Processor
128 RAM (sigh), but 8gb onboard storage
TouchWIZ interface
Opera 9.5 Browser
WiFi, Bluetooth, EVDO
GPS
DIVX support
Samsung's sticking with the optical mouse and the lack of a 3.5mm headset jack. What they're not sticking is 'it-to-you' with the price, which is a reasonable (for these features and specs) $249 after rebates.
Check the press release (opens in new tab) if you're into that kind of thing, otherwise the Giz has some first impressions. [via Engadget]
Windows Central Newsletter
Get the best of Windows Central in your inbox, every day!
Wait a second... Please don't tell me that Verizon is going to allow the GPS on this phone, but lock it on the Touch Pro?

Guess I should have been clearer:
VZ Navigator is on board, as is GPS. In other words: we expect the GPS will be locked.
Fret not, we have a rant for this locked GPS stuff in the works.

That's good to hear. I don't really have a need for the GPS but I'd rather have it unlocked and working since I have the phone.

Look at this link about GPS in 2009 http://www.unwiredview.com/2008/12/17/verizon-to-open-up-gps-on-devices-...

I did the sofware update and think it's worth it for multiple reasons. Though I still have yet to get google maps or live search to recognise the gps. I did the phone setting for the gps and get a message when I restart my samsung omnia. Though still no luck with my gps chip that is supposedly unlocked. ~ANYBODY~

I bought the samsung omnia with gps but verizon has it locked thats just wrong. To me that is the same as buying this phone for the 5.0 megapixel camera but you cant use it unless you pay verizon 10 bucks a month to use it. Isnt that extortion?