Verizon begins rolling out Windows 10 Mobile to Lumia Icon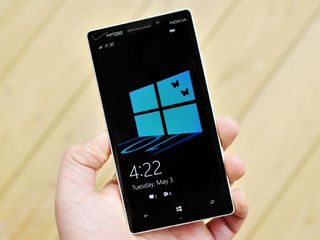 As promised, Verizon Wireless has started rolling out the Windows 10 Mobile over- the-air update to the Lumia Icon.
The upgrade will bring the Lumia Icon up first to Windows 10 Mobile build 10586.107, and a second over-the-air update will bring it to 10586.420. You can go to Verizon's support page (opens in new tab) for more info on the upgrade.
Note: Owners of the Lumia Icon will have to download the Windows 10 Upgrade Advisor app in order to download the new OS on their phone.
Thanks to Bryan for the tip!
Windows Central Newsletter
Get the best of Windows Central in your inbox, every day!
Any firmware??? For those of us already on the insider program.

I don't think there will be firmware updates. Because if you want to go back to 8.1 with WDRT, you won't be able to because it's not the up to date firmware package

Do I have to go back to 8.1 to get it

I wish AT&T updated the 1520, it's amazing how slow they are.

They just made the announcement. Posted via the Windows Central App for Android

Having to go through the upgrade advisor to get W10 is lame. This means, only people who read this and are aware of the news will know how to update. Verizon's crap stikes again...

I must be dreaming. Quick, someone pinch me.

Just drop Verizon go to another carrier. Switched to AT&T a year ago same quality of service with the phones you want. I got tired of higher prices and only android and apple phones available.

We are considering leaving. We are testing, month to month other services.

My family has switched to AT&T and they have not had a very good experience in my area so far. I still have an unlimited plan on Verizon, so I stayed in case AT&T wasn't good. Glad I stayed, and that we are finally getting this official upgrade. It just means they are still paying attention to Windows Mobile which paves the way for future support of phones.

Only problem with AT&T is when you leave the city it switches to 4G. Verizon stays at LTE no matter where you are.

Re: Jim_MAY,
No it does not. Egocentric?

People, people. You do realize that it depends upon where you are, right? And Kevin, how does Jim's comment make him "egocentric"? You like AT&T, he likes Verizon. It's an opinion. No need for adhominem attacks.

Just in time to be way too late to matter!

Looks like you've found your herd!

Beautiful phone but lack of Glance screen ruined it. I should add and Verizon too

Same feeling here Windows is my love , Android is the reality , I need apps that wp cannot offer

"Windows is my love , Android is the reality"...totally agree with that. At least for my phone...I am happy to see this official upgrade for the ICON though. Will dust off my ICON and check it out. I have the ICON on the insider program but may roll back to 8.1 and get the official Windows 10 Mobile.

I need the glance screen and double tap to wake.

Ditched my Icon in November last year for a Note 5 because of the reports that the Icon wouldn't get Win 10. Now I see this...and I don't really feel I'm missing out on anything. Loving my note and happy for Icon users. I would still suggest either leaving Verizon or leaving Windows platform at least until windows open matures. Posted via the Windows Central App for Android

Same here...In October, when it was finally confirmed that the 950xl would not come to Verizon or work on Verizon, I went to the Note 5. I moved on. Sure, I kept my ICON and updated it on Insider until they stopped it on the ICON but then again resumed it. Having moved to Android, yes, I miss Windows 10 Mobile but now I am using a few apps or features I can't get on the ICON. Not sure if it could be come my daily driver again.

The platform is mature, it just hasn't gotten the support that it needs. Windows Phone has been around for 5 or 6 years! It's mature. Lol, what you're saying is like a proud 15 or even 16 year old stuck in the 8th grade (I've seen it before...I couldn't even laugh...). Posted via the Windows Central App for Android

The platform has been around by name, but its far from mature. The OS has been completely redone on WP7, WP8 and again for W10. Posted via the Note 4/Nexus 7 (2013)/Lumia 1020/Lumia 2520

Why are you here then? An advertisement for Android? Android still after all these years still suffers a lot of core teething issues. Only let up it has it apps. Still can't do Bluetooth texting worth a flip on my GS6 and get tired of singularly dismissing notifications and they still don't auto dismiss when in the app. Simple things Android should have figured out by now.

Haters gunna hate. I'm stoked

It's great MS changed their mind for the Icon. I hope Samsung could do the same for the Ativ S which seem to work very well now on W10M.

Never lose hope
#allphoneslivesmatter

@melvinmajor: you talking about the ativ se or ativ s? the ativ s wont get w10m cause ms doesnt support the soc

The Ativ S. Basically, its problem id that MS require a recovery part on all WP8.1 phones, which Samsung doesn't want to add. The Ativ S has a modified SoC and runs better on W10M than his brother, the Nokia Lumia 920.

It was more like Verizon allowing this and doing the necessary testing. Nice to see some support. Unfortunately, a little to late to make W10M more than just a fringe OS.

@melvinmajor, I don't think it was Microsoft holding up the icon update. The L930 is completely identical bar the CDMA radio and verizon rom.

Can't wait for the headlines "MS begins rolling out update 3 for Surface Phone, Surface Phone XL, and Surface Phone Pro""

HTC one m8 crying in the corner

Question...if you already do the Insider Program, then you should just stay on it correct? Or is this build a good, stable build just for the ICON, even if it doesn't include firmware?

You gotta answer that question yourself mate... Stay on Redstone if you want the latest but kinda broken... Get out of Insiders if you want stable... You choose...

Only been on the official build a little bit but, so far so good.

You did a hard reset after upgrading?
It's good enough to don't need the hard reset? I don't want to lose mi data and battery (not so good anyway, but it could be worse), and I'll love to have 10

I like the lock screen on the Lumia in the picture does anyone have link for it? ;)

If you're talking about the Bing photo of Matera, Italy here is the link. It's a larger photo of what fits on the screen. The right side of the photo is what's on the lockscreen. https://bingwallpaper.com/20160623.html

??? When I look at this article it has a picture of a Windows Logo with a "10" shadow and two butterflies in the upper right pane. Where do you see Matera, Italy?

Downloaded waiting for install. Gone fishing! can't wait for when i get home.

do you know if they upgrade the firmware and radios?

The guy above said they didn't. I haven't decided whether to revert from Redstone yet. I'm not sure there's a point without updated firmware/radios other than better battery life.

The revert using the tool could also revert the firmwares. Would be nice if somebody post the about pages

Well only if they did indeed change the firmware. Otherwise it would have remained the same in all preview ring stages from 8.1 to 10. Nothing firmware wise has been updated since 8.1 a long while ago. Again the gentleman above said the same firmware versions which is sad if they didn't update anything, but also not shocked if they didn't.

You should be able to plug into your PC and run the recovery tool. You can get to the part that tells you the latest it offers and will show you OS and firmware before you commit to running it.

Yay! I finally got my update, loving it so far. :)

Finally! This is excellent news for icon owners. But with this I don't think windows phone fans can bash Android fans about not receiving updates on time at all. It'd just be the pot calling the kettle black. I can't think of any recent Android flagship phones that didn't get Marshmallow. Posted via the Windows Central App for Android

Oh great.. W10M market share will become .2% to .2%

Considering Verizon's Windows Mobile market share.... Naw, .2% all the way up to .2075% Unless you're reading Thurrott, then you're right. Posted via the Windows Central App for Android (it's a long story)

Good for those who still have those devices. Posted via the Windows Central App for Android (V10 or N5x)

hmmmm..... my Icon can't seem to find the WIN10 update :(

Have to download upgrade advisor from the store and enable the upgrade.

I Downloaded the Advisor and it says The Windows 10 upgrade isn't available for your phone (Icon 929). Did I miss the window of opportunity?

Right after the 810 Posted via the Windows Central App for Android

Re: Verizon Lumia 822, a great midrange phone. I'm skeptical that we can expect anything official from Verizon. I appreciate Verizon upgrading the Icon. It makes me think that maybe Verizon has a little bit of respect for it's WINDOWS PHONE CUSTOMERS, despite it's so obvious history of horrible treatment of Windows Phone.
We're hopefully looking to the future. There's an opportunity for Verizon to speak up loud, clear and often. One way or the other.
Best Wishes

T-Mobile, still waiting... Might cave in to insider preview for my 640 from metropcs

Just use the insider builds T-Mobile usually takes awhile on software updates

Suggest you stick to the Release Preview ring. Much more stable, and you'll get 10586.420, which is what Verizon's rolling out. Stable as heck. I had bad experiences with the Redstone preview releases on my Icon. Not going near it again until it's more properly baked.

Installed, working great, no issues, start screen layout still intact,

Installed! Seems to be ok after a reset.

Way too late. They will never get another dime from me.

Can't believe people are still with this useless carrier instead of GSM carrier like T-Mobile or AT&T unless you use an iPhone since Apple knows how to treat these crappy carriers.

Unfortunately some of us have no choice but Verizon if we want a cell signal. That's how you can believe we are with this useless carrier since the others are useless to us.

I know this rant: "oh, there just isn't any other viable carrier, that serves us" is a popular story. Does it give people an excuse to stay on Verizon and leave Microsoft, thinking otherwise is hopeless? A story encouraged by Verizon, but we're skeptical. So our family is going to actually test the other carriers using a single month to month contract. We are going to find out. No harm done. We're going to have new Windows (mobile) phones.
Best Wishes

What we had to do was setup our own tower for the signal (we live in a remote area of NW Montana near the Canadian border). We also did this for internet as well. That signal is being beamed from 20 miles of our location. It works though. We can get 35Mbps down/up. DSL was only 1.5Mbps down and .20 up. But we pay dearly for it. Verizon & ATT&T (outside of off-shoots that use their towers) are the only game in the area but no ATT&T at our location. Be nice if there was so we could have a nice Windows Phone. But the ICON is good. We all had the 928's but since that will not be supported for Win10 we bought the ICON's (used or refurbished).

Suggest you avoid projecting your experience to everyone else. For many, it's FACT that Verizon is the only viable carrier. That's certainly not true for everyone, but it's true for many, whether you believe it to be propaganda or not.

@ Kevin
No disrespect intended but all the major carriers may work for you where you live and you have excellent choices for service. A month ago I lived in one of those areas that Verizon only worked. I would be happy to pm you my previous address so you can go there and test various carrier services there. As mentioned have since moved and investigating other options at this point, though I love my icon and would hate to lose it, well at least till I can afford to pay outright for a 950 lmao.. Have a great day lol.

Anyone seeing issues with the Xbox app? I can't sign in and I'm getting a 0x406 error

Anyone have an extra Icon!

The installed failed on my phone and now it just shows me the gears turning for a few seconds and then a sad face, wtf? I've tried reseting it but nothing happens just the same cycle. Any ideas?

Battery drain is enormous! 3 hours of mild use, I'm at 55%

I had the same issue after the install. Hold down the power button and down volume until the phone restarts. I haven't had any crazy drain after the reset.

I did that right away but still experiencing drain. However it oddly seems to have slowed over the last day or so?

Goodness, did they get the bugs out first? I went "Insider" and let it update my Icon to Windows 10 Mobile and found it buggy, ended up reverting to WP8.1.

Re: Smallmountain,
When, exactly, did you "try" insider "once"? When, is a really important part of your story. Don't you think? I'm surprised you wouldn't tell the whole story.

Absolutely no issues. Reset to 8.1 first, then updated w/o any problem. Pretty sure starting with a clean slate is key. Thank you Verizon and Microsoft. If my Band 2 pairs as easily I'll be rocking the Icon as my daily driver once again! Posted via the Windows Central App for Android

Has anyone noticed if the the proximity sensor works when making a call with the production build? I have been using insider preview on the Icon and when you make a call (no bluetooth) the screen is practically impossible to get it to come on. Very hard to hang up, have to wait till the other party hangs up. That is about the only issue I have had with Insider Release Preview, but if they have fixed this on Verizon version, I will make the effort to recover and upgrade using the supported version.

Where can we get this background from??? So many times this has been asked in posts this picture has been used!

Official update drains my Battery in about 4 hours. Fast ring build with firmware made it last much longer.

Did you try restarting? That fixed it for me.

I did, a few times. It seems to be doing a little better now.

Seamless Band 2 integration, battery life is fine, and a boatload of music transferred, via the desktop app, w/o any issues. ICON is Back...8).

My husband and I just updated to Win 10 Mobile yesterday on our Icons. Installation was easy and problem free. I love the interface, it's elegant and glitch free. Cortana works with my auto bluetooth just fine. Having no problems thusfar. Battery usage is higher though FYI.